WHY DOES ANYTHING EVER REALLY HAPPEN?
It's such a hard world, and the main news we get every night is of people offing each other. And they're usually people who said at some point that they loved each other! It's so discouraging, but deep within this sad, grey reality is the beating heart that keeps us going forward! Passion, people - what drives a man to kill might also drive him (or his woman) to make a record instead, and totally kill with his (and hers) new songs. And so we channel our murderous rage into another record campaign, as we have for so long now. Thus does footprint clutch the earth, with whitened toe-knuckles, as if to strangle the very loam from which we have emerged. Die! Die! Or buy our records, you fools! You have, at least, a choice!
THE REINVENTION OF DRAG CITY
Yeah man - Drag City! Heard you mythed us, well we're brand spankin' BACK. And in black! And half-new! And half-true! Drag City - putting the 'shun' back in innovation since 1989! Or how about: Drag City - putting the 'pollution' back in distribu-tion with our ultimately narcissistic belief in hard-product plastics via an anachronistic rejection the digital (r)evolution. Well, half-rejection, anyway. Does it matter that we have our reasons?
Anyway: it's a new day at Drag City, let us tell you what-fer!
A NEW BEGINNING
Ah, we just joshin' ya. Egads, wouldn't that be a kick in the face, starting over after all this time? Well, it could happen at any moment, so don't be surprised if we end up opening a hotel chain, "Drag City Suites," with its own exclusive form of muzak in the lobby and elevators and on the clock-radio. You can only hear the new Bonnie 'Prince' Billy in the showers of this place, or when you flush the bidet. That oughta put the asses in the seats huh?
Don't wonder, it ain't on the schedule...YET.
There is something new around here though, to be serious for a moment - and that's new records. Every new release date is a new beginning, another life to be shared among the millions. And this week, we laid upon you newbies from Ty Segall, Bill Callahan and Al Cisneros - plus an all-new CD compilation of Venom P. Stinger classics from 1986-1991 that we've entitled 1986-1991, just so you could find it easily after reading this. Yes, that was always on our mind! Also on our mind was remaking the vinyl copies of VPS clasx Meet My Friend Venom, What's Yours Is Mine, "Walking About" and "Waiting Room" on their original, eternal formats, so that the young might experience that young feeling that they're supposed to have, while the old get their CD copy after all these years, like they're supposed to! A place for everything in the new world, that's what we're promising you.
Don't read the fine print! Just keep moving on.
LET'S LIVE FOR TY-DAY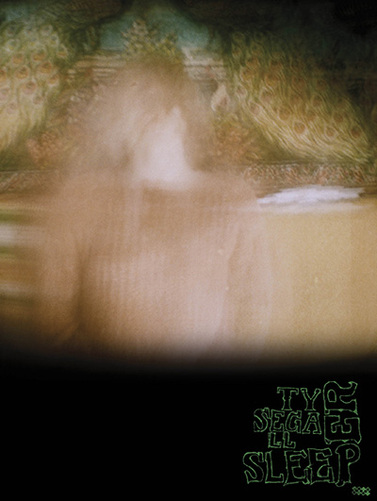 FINALLY, Sleeper is out and the world can resume turning! Man, waiting eight months for a new Ty Segall record is something that's kinda hard to get used to - and yet, the feeling that's rising from the nations around the world right now is a real sensation of gratitude, that genuine feeling that comes from experiencing a thing within the window of what some would call "real time." Now, this commodity may not be around forever more, so hear us out - it is an artifact of the first century of recorded music, pre-digital delivery, when record = record. Sure, there was radio airplay, but mainly if you wanted to hear something, you had to go get it, or have it sent to you, all of which happened in a time roughly approximating how the crow flew. And just because entertainments can now be experienced in virtual and viral fashion, it doesn't necessarily enhance our ability to absorb them. So, while there's thousands out there who'd love a leak that would instantly dump dozens and dozens of Ty songs directly into their heads, getting a solid ten to work over for awhile is an encounter that only time will tell you the value of - though, spoiler alert, IT MAKES IT DEEPER. And that's good for the Sleeper encounter, as this is a half-plugged, long-night-of-the-soul album from young Ty. Mind, this doesn't mean he's stripped out his rhythmic sensibilities - naw, instead, they're informing the music in less overt ways while still generating the pulses that inspire hips to shake and feet to hop.
One thing that irks us about this Sleeper record is how everybody's talking about it being so personal. Man, just because it's got mostly acoustic sounds and mostly no drums? That's weak. Look past the obvious soundposts, people, and you will see that Sleeper is actually a speculative audio opus about the taking over of the earth by counter-subversive Matrix types who want everyone to conform! This takes place in the world that happened after Who's Next. As you readers of ancient rock history know, this is the album where Pete Townsend tried to save the world with vibrations and accidentally predicted the internet, but because The Who's record label wanted a hit, they cut those songs, and then the album was a hit, but the hippies failed to reach their potential as a result. Then the internet failed to reach ITS potential, due to the evil deadbeat dad Jobs, which left the YOAL (youth of all nations) in need of a new approach. The only way to see the world as it is involves something called awake dreaming, and once you do that, you can feel emotions and love and the future depends on you staying awake to the new order. THAT'S what Sleeper is about, idiots! So go out and buy it - get the cassette version, save the earth.
FALL ON YOU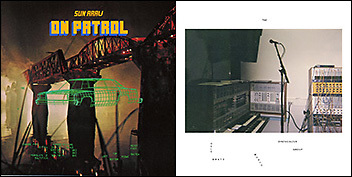 The good news is that the Ty isn't the limit, 2013-wise. The ivory bunker is stuffed full of the September, October and November harvests - and word is, we're gonna have new records in December as well! The next ninety days are guaranteed to include new contributions to the album format from Bill Callahan, CAVE, Mike Donovan, Celebrate Music Synthesizer Group (on Sun Ark), David Novick (on GOD?), Magik Markers and Mick Turner, as well as archival editions from Carol Kleyn, Sun Araw, Frederick Michael St. Jude, Gastr del Sol, J.T. IV, Royal Trux, and Eiko Ishibashi. Plus a single from Magik Markers coming up next month that totally BLOWS! Minds, that is. What else did you expect? Speaking of your sweet, stupid expectations, there's one more record we're talking about throwing on the November date that you can't know about yet, which means we can't tell you. And given that this is a NEWS-letter, fuck! That BLOWS. Our mind, that is. Because that BLOWS - as in, SUCKS, that is. Gee, when did blow jobs become such a estimate of disappointment? That kinda snuck up on us. This seems unfair to all of us who enjoy a good blow job! Hm, we'll have to exploit this further in newsletters down the line. Fortunately, there will be many newsletters in our future, while we sell all the INCREDIBLE new releases mentioned above - along with the one we didn't mention 'cause we can't - and lots of other ones too.
PLUS ALSO TOO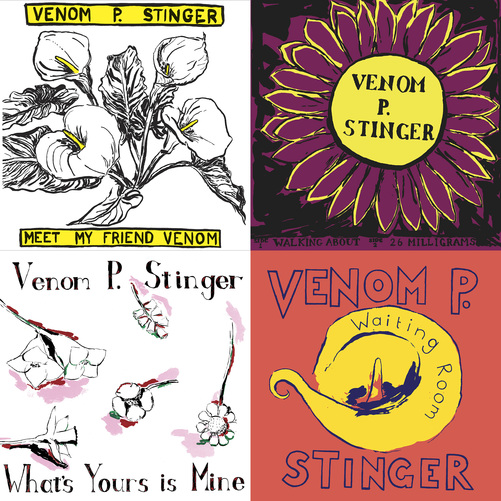 But before all that, we've got a cornucopia of formats to offer you today along with the Ty LP, CD and cassette. Some of us like to go out to the record store for variety, you know? And for those pretentious fucks, we have the following for you to add to your shopping list: a 7", 2 LPs, 1 12"EP, a 2xCD, a 12" single and a 10" single. Yeah! Mostly it's down to Venom P. Stinger, whose early discography we've been jonesing after for a while now. And if you can't find rare originals from the Australian punk scene of the 1980s, just make 'em yourself, right? Are we just a couple of videos shy of inventing YouTube here or what? Whatever...anyway, Drag City presents to you the Dugald McKenzie era of Venom P. Stinger, all on one 2xCD, entitled 1986-1991. All the guts and glory of the Venom P. approach; the martial-and-elsewhere drumming of (baby) Jim White, the larval soundscaping of (mini) Mick Turner, the savage bass scraping of Alan Secher-Jensen and most of all, the tortured-yet-stoic screamed prose of Dugald McKenzie, whose dark-eyed view of the world was the perfect foil for his bandmates post-punk rampage. This CD was made for old fans who've spent their lives pining for digital versions of the old Venom classics (and drinking too much). What, guys, haven't you ever heard of heroin? This music would sound great on heroin. However, if you've got enough for dope AND records, definitely go for the vinyl versions we made of Meet My Friend Venom, What's Yours Is Mine, "Walking About," and "Waiting Room." Decorated with Anna White's roughly-hewn floral still-lifes and including whatever inserts the lads originally demand go in, these records capture the amazingly open environment from which this music emerged, all of which reflects in the punch that it hits with to this very moment. Restored to the canon, one Venom P. Stinger!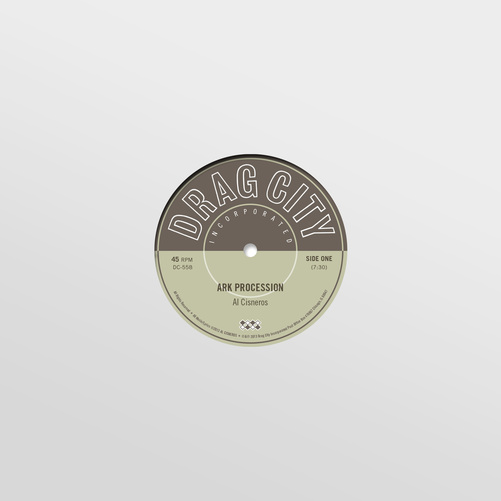 So let's see...that leaves a 10" single and a 12" single. The 10" is from OM's Al Cisneros, who's been rocking dancefloors courtesy of the two Alpha & Omega dubplates that were made out of a couple of Advaitic Songs. Man, them's some bejeweled dub versions! So here comes Al with a little solo record, also of the single variety. The shocker? It's not a dub record! At this point, one had to wonder. Instead Al's dipping back into deep (and yes, bass-driven) mysticism, spread minimally over two sides and never, EVER, leaving the groove behind. Hot? Not. Cool, dude - spectrally so. When vibrating honestly about the "Ark Procession," chances are you're gonna reflect on the ancient chill of some tombs, right?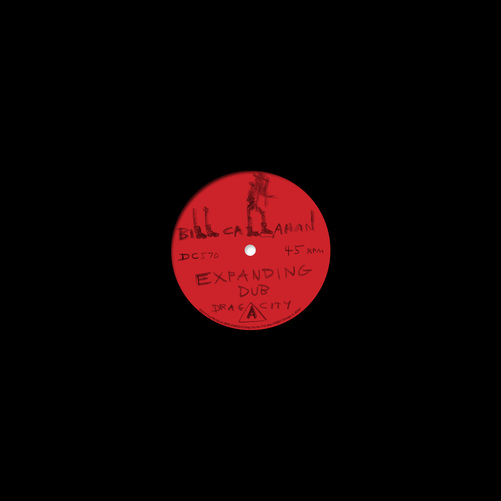 Finally, the 12" is the official advance single from the Callahan camp before floating Dream River our way. Given Bill's sly sense of humor, are we taken surprised that the single consists of two dub versions of songs from Dream River? Yes, we are. Of course, Willie did a reggae album a few years back - maybe Bill got the idea for "Expanding Dub" while idling around the Perdanales studio? The happy news is that the Callahan sound shimmers sweetly through the version, with Bill's vocals stringing through. And fascinating it is! Dream River sounds like it's gonna be a hell of a new one from the old man. If only Bill would let us hear it before it hits the streets...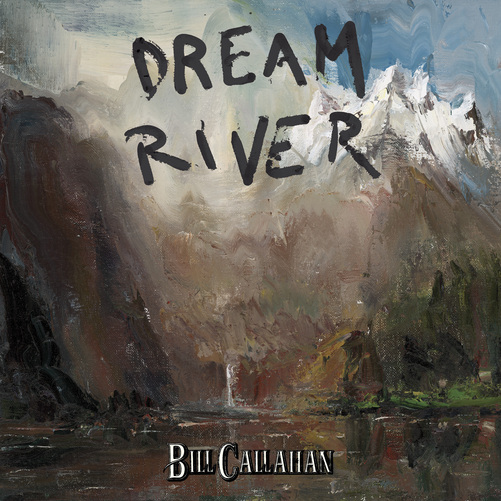 Out now! Everything you need man. Until next time...
WAS/IS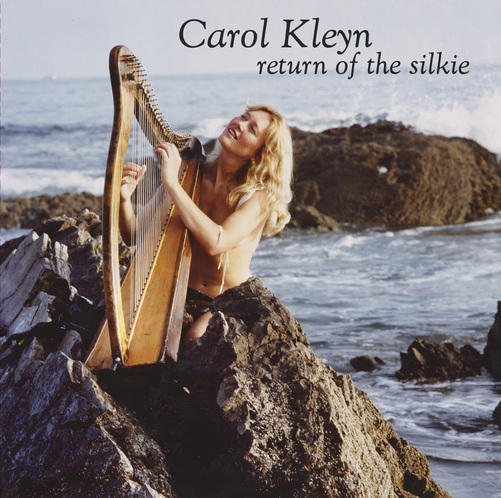 It isn't just us - the past is steadfastly a greater part of the present these days! We're not sure if it's because the present has less of an identity than it used to, or if it's because of the blogosphere, but all previous eras seem to be much more easily consolidated fashion into today than, for instance, the 40s fit into the 80s? We're not gonna get too much more philosophical than that, because this "broadsheet" (case in bloody point! - unbearably smug ed.) is about "news" and "nows" and not a load of idle blather, right kids? We're really just mentioning this as a way of touching upon the reissues we've got set for the fall season. They really come from all over the places in time - the Carol Kleyn Return of the Silkie is from 1983, Sun Araw's On Patrol came straight outta 2010; Here Am I by Frederick Michael St. Jude hails from 1977; Gastr del Sol's "Mirror Repair", 1994; J.T. IV's Cosmic Lightning barely saw the light of day in the mid-80s, then again in 2008; Royal Trux Veterans of Disorder from 1999, and finally Eiko Ishibashi's Imitation of Life is the most recent release here, from 2012, which oddly enough feels like the farthest year from where we stand right now! People like to say that time changes everything, and they haven't ever really been proven wrong - but now it seems like everything is changing time, and we can only believe it's going to make all these reissue releases that much more profound when they touch down at three distinct points in the very near future. What for them, and take note, for life as you know it will be changing very soon afterwards.
KEEPING UP APPEARANCES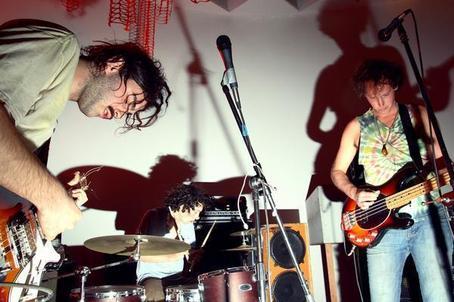 It's not the past and it's not the future! It's something slippery called today! And here are the groups working their present-magik in the hear-and-now: Bitchin Bajas, whose Bitchitronics LP we hope to have back in stock someday SOON, in Indiana, Ohio, Illinois and Missouri. Or what about Black Bananas, opening for MGMT at selected venues of the WEST? After a year singing What the Brothers Sang with Dawn McCarthy, Bonnie 'Prince' Billy in on his lonesome again, and he'll be playing loads of solo shows all around the US for the rest of the year. But not as many as Bill Callahan, whose new Dream River flows our way on September 17th, after which he plays like, 40 shows before Thanksgiving, even! Other forthcoming-releasers, like CAVE (whose new album Threace is gonna rock your worlds) and Mike Donovan (whose Wot is the Paul Simon solo debut of today, or October, to be precise), are also playing extensively in North America this fall. Scout Niblett, whose It's Up to Emma shook the earth this spring, is finally getting back in the USA and touring for weeks and weeks. Dope Body'll be on a bunch of those shows, that'll be an awesome two-fer. And speaking of two-fers, Mick Turner will be opening a bunch of dates for Bill Callahan as he stretches his (long, cool) legs right around the release of his first solo album since 2006, Don't Tell the Driver. Plus, Magik Markers will be playing their very own shows, pre-constructing for their Surrender to the Fantasy LP/CD release which hits in November with Mick's. And naturally Neil Hamburger has some assorted dates - not just in quality, which we expect, but in terms of his "support" - a few with Major Entertainer Mike H, a couple in the company of the "Too Good For Neil Hamburger Band," and a couple big NYC shows with television personality Tim Heidecker doing some routines as well. Blues Control are going it again, with their 14th tour for the Valley Tangents release of last year. And Carol Kleyn will be celebrating the reissue of Return of the Silkie by playing at the Vashon, WA Renaissance Faire on September 28th - fans of harps and lutes and troubadours are all welcome to attend should thee wish to! Even motion picture sensations Death are getting in on the act, with appearances at the Afro-Punk Fest and the I AM Fest. Really, FESTS R US: both Bitchin Bajas and CAVE will be at the Cataracts Festival in Indianapolis, Blues Control are playing at Cropped Out (which CAVE, Bonny Billy and Matt Sweeney as well as Mayo Thompson (doing Corky's Debt!) will be appearing at too) and the TBA (Time-Based Art) Festival, Bill Callahan's playing two nights at Fun Fun Fun, CAVE's also playing at the Seattle Psych Fest and the Athens Intensified Fest, Ty's also playing at FYF, Neil Hamburger's on the bill at Tenacious D's Festival Supreme on the Santa Monica Pier, Scout Niblett's playing HOCO Fest in Tucson, Mike Donovan's at the MusicFest NW, Dope Body and Scout Niblett are playing Boomslang in Lexington, David Grubbs, Magik Markers, Scout Niblett and Purling Hiss are playing Hopscotch in Raleigh, And Magik Markers and Scout Niblett will all be at the End of An Era Pt 1 and Ty Segall and OM at the End of An Era Pt 2 (ENOUGH ALREADY!!!) ATP shows in November. Meanwhile, Masaki Batoh will be bringing his Brain Pulse Music to the Supersonic Festival in the UK and the SOY Festival in France, OM will be playing Festival BBMix in Paris and Le Guess Who in Utrecht, and Scout Niblett will be there too. Yeah! It's just like we've been telling you, we're in the world and we're all around the world! Woo! Too bad festivals SUCK!
FOR REALS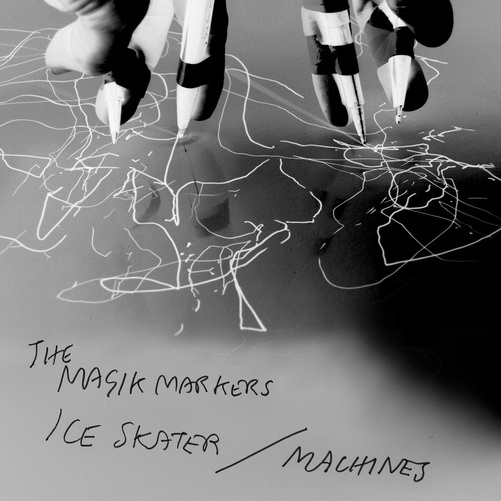 But let's not get ahead of ourselves! As of today, you've got the new Sleeper LP/CD/CS from Ty Segall, the Venom P. Stinger LP reissues and compilation CD, the "Ark Procession"/"Jericho" 10" single from Al Cisneros and Bill Callahan's official Dream River advance 12" single, "Expanding Dub" b/w "Highs In the Mid-40s Dub." Then on September 17th, in addition to Dream River, we're slinging Carol Kleyn's Return of the Silkie LP/CD, Magik Markers' 7" single "Ice Skater" b/w "Machines" and two releases from the annals of Sun Ark: the all-new Celebrate Music Synthesizer Group (featuring Cameron Stallones, M. Geddes Gengras, Butchy Fuego and Tony Lowe) and the long-promised return of Sun Araw's On Patrol! Then on October 15th, CAVE Threace LP/CD/CS, Mike Donovan Wot LP/CD/CS, Frederick Michael St. Jude Here Am I LP and David Novick LP. And after that comes November! Then December! But let's not get ahead of ourselves!
So, see you next time?
Rian Murphy
Drag City Inc.
August 2013