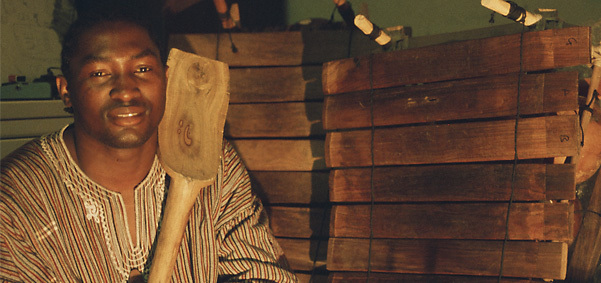 Photographer: Cameron Stallones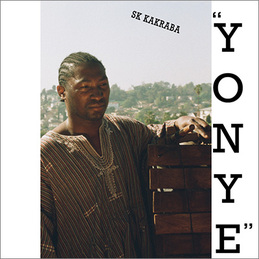 YONYE is a collection of solo recordings made shortly after SK Kakraba's relocation to America.
In his words:
"The songs on this album are Lobi traditional music from…
Discography
| Title | Format | Cat # | Date |
| --- | --- | --- | --- |
| Yonye | LP/MP3/FLAC | SA038 | 2015 |
| The Hunting of the Sun Ark | LP Bundle | SA038/SA039 | 2015 |
| SK Kakraba Band | Cass | Holy Page | 2013 |
| Xylophone Music of Ghana | CD | Pentatonic Press | 2002 |
| Songs of Paapieye | LP/CD | Awesome Tapes From Africa | |
Bio
SK Kakraba Lobi is a Master Xylophonist from Ghana, the nephew of Master Xylophonist Kakraba Lobi. SK is a Master of the Gyil, which means he is both an instrument maker and a virtuoso performer. The Gyil is the Ghanaian Xylophone, and the primary instrument of the Lobi, Sisala, and Dagara people of Northern Ghana. It is constructed of 14 wooden slats suspended over calabash gourds that have been fitted with resonators. SK was an instructor of the gyil at the International Centre for African Music and Dance at the University of Ghana, but has recently moved to Los Angeles, CA. SK has performed at festivals in Europe and the Middle East, and he has toured West Africa and America.
SK KAKRABA also BUILDS GYILS and OFFERS LESSONS, for more info click here: skakrabamusic.com