We can't put our finger on it, but as we all of a sudden find ourselves winding up the first decade of the new millennium, there's something about '09 that doesn't feel like the end of a decade the way '99 did, or even '89 (which was unlike any other year in history, since that was the year of Drag City's inception). However you define the "00tts," we personally will continue to be defining ourselves by what we ought to do next...which is keeping our eyes on the prize, the prize in question being a third decade of hits, "hits," "hautes," "shits" and everything else that we find ourselves liking that doesn't fit into one of those four categories. So keep hanging around, and keep "hitting" us up for new sounds, sights and ways to laugh.
And oh, how we've laughed! Amongst the jokesters in the stable (no, Bonnie 'Prince' Billy doesn't count - well, not over a million anyway), Neil Hamburger has brought you his classic routines on Drag City Records since 1996. It's been a long climb to the "top," but The Onion just named his 2002 album Laugh Out Lord as the one of the best comedy albums of the decade, see?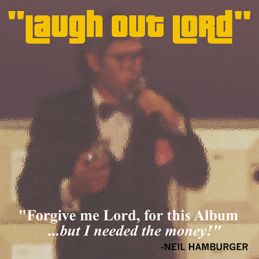 It's about time they figured it out and told everyone about it! But time means nothing to us or Neil - he can be found touring (and us promoting his tours) any time of the year! Like, uh, right now for instance? If you haven't already (and really - why not?), check him out for yourself.
11/20/2009 @ Paramount Theatre – Denver, CO with Puscifer
11/21/2009 @ Paramount Theatre – Denver, CO with Puscifer
11/24/2009 @ McFarlin Memorial Auditorium – Dallas, TX with Puscifer
11/25/2009 @ McFarlin Memorial Auditorium – Dallas, TX with Puscifer
11/27/2009 @ Jones Hall for the Performing Arts – Houston, TX with Puscifer
11/28/2009 @ Majestic Theatre – San Antonio, TX with Puscifer
11/29/2009 @ Spaceland – Los Angeles, CA with Puscifer
12/2/2009 @ Rialto Theatre – Tucson, AZ with Puscifer
12/3/2009 @ Orpheum Theatre – Phoenix, AZ with Puscifer
12/4/2009 @ Orpheum Theatre – Phoenix, AZ with Puscifer
12/10/2009 @ Common Ground – Gainesville, FL with Daquiri
12/16/2009 @ The Back Booth – Orlando, FL with Daquiri