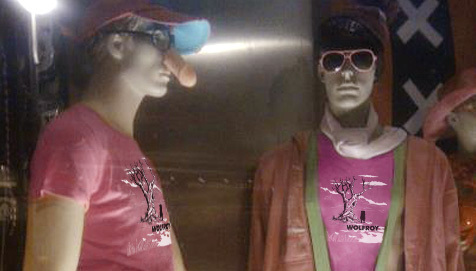 As the holidays approach, look sharp! You've got dinners to go to! Gift-getting ceremonies! Arraignments...no matter where you are, a t-shirt always says "I woke up just for this occasion." And we've got a sweet-smelling shit-ton of them here to clothe your exhausted (upper) ass! No matter how many classics we got in stock, we can always count on the Bonnie 'Prince' of Billy to supply us with fresh designs for his fiends and mignons alike. The latest is a pink reason for living - well, another one anyway - that also brings us back to the legend of Wolfroy, who went to town and gawd only knows what he did there and saw there and ate there. You can see him though - his silhouette anyway - and a tree and some clouds that are exquisitely traced in thin lines of white against the pink sky. Take a look! It's just like everyday in the life of Bonnie 'Prince' Billy and just like everyday, you can put it on your own damn chest too, if you want.
While shoppin' 'round for this special item, TAKE NOTE dam you that we've also got back in stock in all sizes for the first time in awhile the "I See A Darkness" and "Ease Down the Road" shirts, both of which set a new bar for shirt designs and colors and what people like in both them areas when they too were new. Now they're a little order and kinda venerable in their ageless awesomeness - and most important, they've now back to clothe your upper-middle parts.
Seriously though - if T-shirts R U, or U R a gift-giving son of a bitch(stress?) who's got another T-shirt wearing SOB in your androginal sight, then you just can't stop there! A couple of our other perennials just washed back into stock (no, they're not pre-washed, not stone-washed either - that's just a turn of face, dam your hide): Death Tees, so the whole world sees! Both designs in either black or white, so take your pick and then choose one. Speaking of two shirts, what's about Ty Segall - not his new "Twins" tee, but the "Goodbye Bread" shirt as well! They're both back the fuck IN and we're rarin' to shovel them straight onto your back. And this doesn't even begin to touch upon the two colors that the Blues Control shirt comes in, and it's so wicked as well. And then there are the other classic Bonnie 'Prince' Billy shirts and the Palace Music "Days in the Wake" shirt, which could have started it all (but didn't). Thank our Yankee creator that we're still selling a record here and there. It means we deal with the shirts that really matter.