GOODBYE
Yes, goodbye and farewell to everything that 2010 came to symbolize, as well as everything it actually was! As all the tomorrows of this year have turned to yesterday, we've turned the page. We've got no use in those days gone by. Because you see, man cannot live in the past, he has to live today (and speaking of living, anyone interested in a little back-catalog? Whoop! Time-space continuum dysfunction! Back the presentÂ…) and look towards tomorrow. Which we do every day. We're sorry to get all philosophy-sciency on ya, but we've got nothing to do but think big picture while waiting for the elves to come. Should be any minute now - unless that joint was a "wet-wet," in which case we'll be sherming until New Year's...
WHEN YOU'VE GOT IT…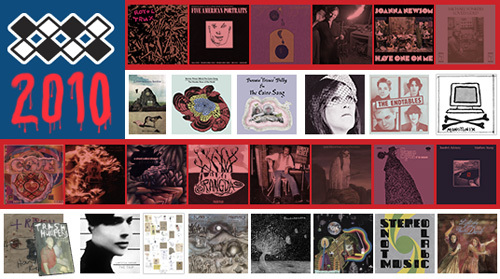 ...you can't help but let it go - and for us, 2010 was all about spraying the delight of every new and new-used release we had (from Royal Trux, The Red Krayola with Art & Langauge, Major Stars, Scout Niblett, Joanna Newsom, Michael Yonkers, Bill Callahan, Bonnie 'Prince' Billy & The Cairo Gang, Baby Dee, The Endtables, Monotonix, CAVE, Elisa Randazzo, Jeff Eubank, Rangda, Hamper McBee, Alasdair Roberts, Spur, Matthew Young, Harmony Korine, Laetitia Sadier, Dwarr, Baim & Lazar, Faun Fables, Stereolab, Bachelorette and the Blue Chopsticks and Streamline labels) all over you, gentle reader, in the process of shooting for the far edges of the world. If even one listener in some faraway outpost of (what we call) civilization finds themselves listening to a Spur record, let's say, or hanging the Baim & Lazar poster on the wall of their grass shack, then we're all about "Job well done." But until those particular emails arrive, we're still psyched with the way this year went down.
TIME IN
Everyone's closed for "the holidays," but the Ivory Bunkerâ"¢ here is rockin' (and not just with domestic problems!). While the world takes a week or two off to forget the grind, we're just taking a breath and grinding on. How else are we gonna have handsful of new records come January, February, March and every month until the end of time (in 2012)? The records race is one of endurance and we're running on, really already dealing with the previously unthinkable, like May and June of next year. And, cocking an eye at the schedule, we think you're gonna like what you hear come the Spring. But Spring? Who's got time for Spring when we're dealing out the musical treasures in store for you in January and February?
TURN IT UP TO '11
Yes, let's forge on beyond Zed, people! While you're still trying to shake the syrup-thick overtones of the 2010 XXXmas season from your drawers, let's see if we can help by describing the fraish breezes available to you from Drag City 2011. By then you'll have your new year sea legs and you'll be all ready for a couple of head-benders, right? You've come to the right place then!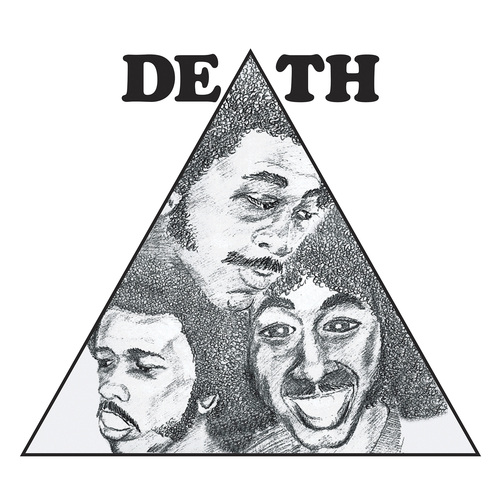 We've been talking about Death for awhile now - the new collection of just-one-more-toke from the now-legendary Detroit power trio as well as the actual life-stopping event. But since we're past the philosophical part of this newsletter, let's just lay the truths about the new Death collection on you now. There's time enuf for that other shit later (or IS there?). Whatever, this new Death comp is called Spiritual-Mental-Physical and it's a short, sharp shot of Death in the practice space, honing their chops into the powerful tools on display on the Â…For the Whole World to See_ release of 2009. On S-M-P we encounter hear Death as they channel riffs and changes from a range of rock and roll influences in order to buoy their own surging sense of craft. Even in formative stages of 1974, their sense of self-editing keeps the material tight, with all the fury and fun that their newly-found audience has to come to enjoy intact. The transistor-radio dreams of the Hackney brothers are realized in the tinny sounds of their demo. A sample of the handful of songs on Spiritual-Mental-Physical_ is on onsite now, why don't you dial it up?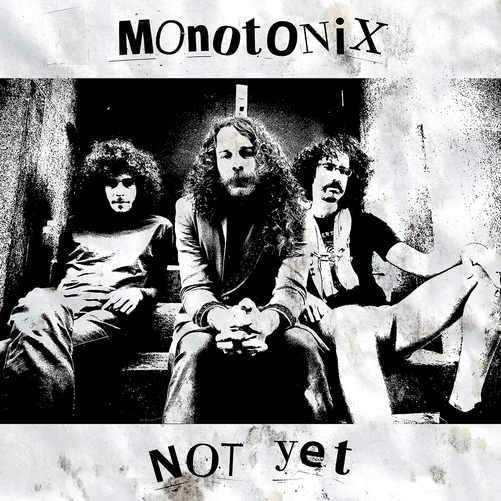 Also on January 25th and also rockin' is the new album from Monotonix, Not Yet. Our Israeli road-warriors began their evolution to third-album rockers early in 2010, when they took a brief residency at Electrical Audio Recorders with the legendary cranky old man of punk rock engineering (not producing), Steve Albini. In short order, they pumped out the "Never Died Before" 7" single. Another date yielded the "Fun Fun Fun" 7" and before long, they were rolling in addition to rocking, creating enough additional tunes to make a whole album. This record shows off the white hotness of Monotonix after having played a quarter-million shows in the past four years. When they began riffing with this still-growing power, they realized that the new songs were meant to be lean and mean, carefully crafting each edge for sharpness, swiftness and an almost subliminal conveyance of meaning. Not Yet has the hottest, most concisely powerful songs Monotonix have done to date. And perhaps that's the meaning of the title - they're farther in the majesty of rock than they've ever been, but it's not the top of the mountain for Monotonix - no, not yet, to quote a forthcoming awesome album title. That'd be a neat little way of wrapping this l'il bit of narrative up, wouldn't it? Think again - Â…it's gonna take a plane crash or something to shut these guys up - and they travel by van, so you forget about that.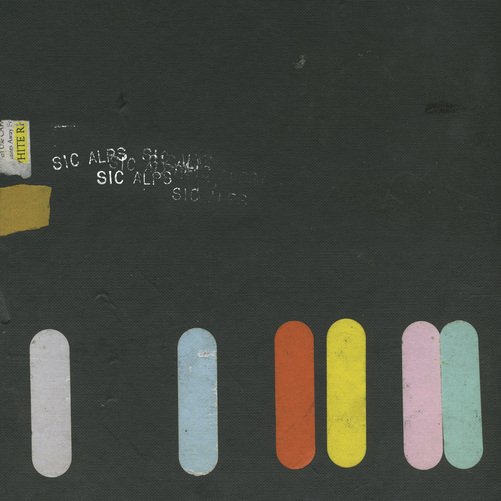 Completing our trifecta of brain-shattering albums in January is Napa Asylum, from those fine gentlemen from the Bay, Sic Alps. Their new record is chock-full of their own kind of music - the insidious kind of ditty that wafts from the darkness and into your very soul. Blurred and fractured with bits flecking from the edges of their sonic miniatures, Sic Alps tend to thrill fans of pop with their elusive lyrics and smartly anti-production values. Why, there's a run of six or seven songs in a row on this baby where we were like, this is the single. Oh wait, this is the single. No, this could the single. WaitÂ… - in another time-stream, on an Earth-2 if you will, this stuff burns up the charts. But we can't ever see that planet because it's always on the exact opposite side of the galaxy, hidden by the sun. Napa Asylum is the first album by Sic Alps since way back in '08 - and who remembers back that far? There's been bits and pieces since then, but for a definitive amount of bits and pieces, here's where to stop and deal with it. Take a detour from the life you thought you were living - and into Napa Asylum.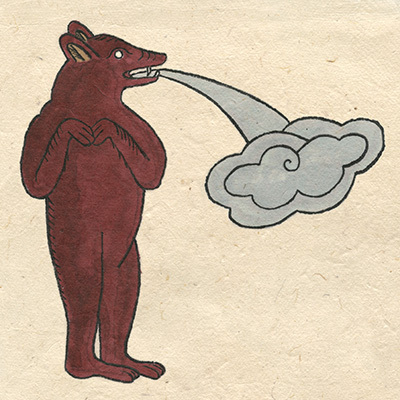 And that's January! February keeps the tempo going with an all-new, all-really good Six Organs of Admittance record (we're trying to keep the hyperbole down to a humble roar, here) that is really gonna please fans of purity, intimacy, ascousticy and the spiritual aspects of head-expansion. And once your head is fully expanded, we've got a couple of great CDs from Streamline to sell you, involving a few legendary names: William Basinski and O'Rourke/Heemann. More about all this in January; in the meantime, don't miss the tour trains for Alasdair Roberts and Joanna Newsom, heading out across Europe in mid-January, as well as the never-ending Monotonix tour which resumes in January as well.
Until then, as we say around Drag City -
Happy Next Year!
Rian Murphy
Drag City Inc.
December 2010