AHEAD ON OUR SHOULDERS
Drag City - Dateline, March 2013! Another delightfully incongruous release date is upon us - Dawn McCarthy & Bonnie 'Prince' Billy sing What The Brothers Sang paired with the new The Howling Hex album The Best Of The Howling Hex. Plus a rare Blue Chopsticks LP release - Night, Sleep, Death, the new album from The Wingdale Community Singers. Plus Bonnie 'Prince' Billy floaty pens for all participating US stores with vision and a like-eyed constituency! Plus great titles like Ghost's Tune In, Turn On, Free Tibet, back in double-LP brilliance for the first time in five years! And more CAVE LPs - you gotta have more CAVE LPs. Especially if you don't have CAVE cassettes. (We DO have CAVE cassettes! -- nickel-and-dime ed.)
Is this what we call business as usual down here at your favorite alternative music record label's Ivory Bunker? You bet it is! The future can only be achieved by careful manipulation of a compelling track record with a compelling bunch of new records - and as you can see above, that's check and mate, mate! Please. But that's just the tip of the iceberg, friends - just the tip, just for a minute, just to see how it feels! The compelling new records are piled so high around us here in our subterranean station, they're breaking the surface above like the saplings-into-mighty-oaks they are destined to be. As we might have mentioned last time, this wealth of greatness has compelled us to do something we haven't done in 20-odd (and uneven) years to date: plan the calendar six months ahead. It's crazy - we can see what we'll be doing in August and September! Seeing the future so clearly is kind of scary - and we'll lay a taste or two of what we see there before this here newsletter's over. But first! The seedbed for all this jollility lies in what's out there now. So dig a recap of how it all went - you might notice something new in it...
JANUARY VICTORY LAP DANCE

Drag City was blessed to have a pair of full-length records to release in January. That's first and foremost. Every month we have release dates, we turn our toes towards Mecca and our eyes to the moon and murmur our sweet Gracias to the Creator (John Q. Creator...he keeps calling...anyone know this guy?). What's more about the releases of January is that their composite effect rang the perfect Drag City note in not just the marketplace but the world! That perfect note is actually more of a chord, an assembly of something utterly new with a blast or two from history, and presented in as many formats as possible. And so it was achieved, with Alasdair Roberts' 2xLP/CD A Wonder Working Stone, the reissue of Chris Darrow's Artist Proof on LP and (for the first time ever) CD as well as Ty Segall's "Would You Be My Love" 7" single. Thus is the blend achieved, with some new, some new-old and some old, plus the formats of LP, 2xLP, CD and 7" too. Still, it doesn't stop there. Glasweigan Alasdair Roberts, probably the most creative force in traditional music today and one of the best-and-most-inexplicably-kept-secrets on Drag City, turned in a record that is continuing to turn heads even here in cold, hard America where we prefer our traditions to start here, not in bonny Scotland! There's really been no resisting the music of A Wonder Working Stone as it shape-shifts through phases, allowing restless Alasdair to work through themes and motifs with a cast of friends who can really pick, son! In the course of human events, at least one classic American theme is revealed to be an import from the auld country - but don't worry, patriots, it sounds so good blaring forth from the Scottish brass that you won't mind a bit, and instead'll be so diverted by the parade of sounds, sentiment and great fookin' songs that you too will see the light, that Alasdair Roberts is all right. Now knowing that, we've got some catalog titles you'll want to take a look-see and listen at...of course, Ty Segall has been kicking the new's ass real hard over the course of the past couple years, but the kid don't do it just with new shoes alone - he's got a headful of ideas that are rooted in driving psychedelic rock and insane punk sounds of various different vintages that go great together, as is demonstrated once anyone lends an eart to records like Goodbye Bread and Twins. The "Would You Be My Love" 7" hails from Twins, which is still busting our warehouse up with it's comings and goings (all of four months later too! Imagine that, emaciated contemporary music moguls!), and now, so is the "Would You Be My Love" 7". It's not just cause it's such a winning freakin' jukeboxes-and-rollerskates type rocker - it's also due to the fans of Ty Segall loving themselves some B-side action, and Ty giving them just that! "For Those Who Weep" is the flip in question - and it mega-brakes on the pedals to the metal that Twins has been throwing, to delightful effect. Sweet and spiritual, just the way we like our Ty on a Sunday morning. So there's your modern, all threaded through with bits of things we recognize from the past. But in that past, there's a record by a man named Chris Darrow, a record called Artist Proof, that requires a listen from you. Just one listen - because after one time through, you probably won't be able to stop listening and you'll keep listening in all kinds of weather until yet another year's gone by again and suddenly you realize, Hey, this is one of the great reissues of 2013! And we'll be glad that you think so and we'll agree with you. Artist Proof is just that good. And damned if it isn't a vintage example of what we've talked about above - modern rock reflecting former incarnations in its newness! In 1972, Chris and others who came from the post-war American scene like him were combining the rock and roll that was still exploding with primal shocks all around them with a taste of that old-timey sound, the folk, bluegrass and country sounds music that was so ubiquitous growing up. Chris had experienced rock and roll in his adolescence and then turned to folk music when it went away, and then back to the beat-based sound after The Beatles changed everything again. He'd ended up playing in Los Angeles' Kaleidoscope, a group who specialized in mashing diverse folk styles together to great psyched-out ends. In fact, the sounds they made on Side Trips and A Beacon From Mars in 1967 and '68 weren't just great psychedelic rock and roll from ground zero - they were also early examples of the world music genre! Like Sandy Bull and Peter Walker and Fred Neil, Chris and Kaleidoscope were bringing in tonalities, chords and melodies from all around the world! T'was heady stuff, but by the time Chris got around to making Artist Proof, he'd quit Kaleidoscope, moved through The Nitty Gritty Dirt Band and a group called The Corvettes and found a niche for himself playing shows and sessions with Hoyt Axton, Linda Ronstadt, James Taylor and a bunch of others. It was finally time to play his own kind of music, and Artist Proof captures the high-lonesome essence of classic country with the rich rock and roll textures of the early 70s. Tunes like "Beware of Time," "Shawnee Moon," "Keep On Trying" and "Move On Down the Line," are classics from those good ol' days - and those are just our own personal favorites! Now you can pick your own top trax, since the record's kicked up so much attention that we'd be fools not to keep it around!
So, yeah - January, what a blast. Just the right kind of blast to keep us rocketing through the rest of the year. But who guessed that we'd only pick up speed in February!
THE HOWLING BEST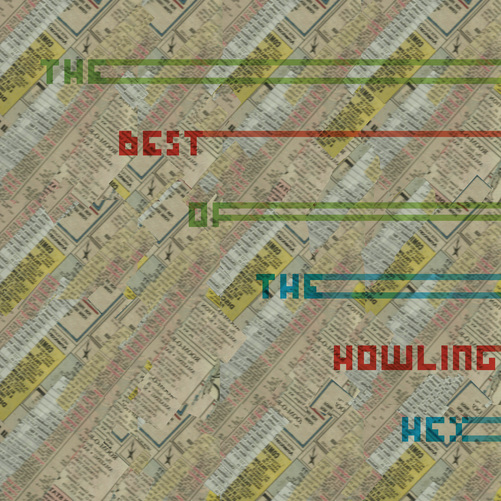 Face it, artists like Neil Hagerty have been making music for as long as they have in order to composite together a right SPIT in the face of rock and roll orthodoxy, or as we like to put it here at Fuck-You-Central, "so-called rock and roll orthodoxy." I mean, orthodox anything is a buncha blinkin' hooey, right? I mean, pardon our fuckin' French, but we wouldn't have gotten into this iconoclastic line of work if we wanted to hear about rules of wrong and right, would we now? In that sense, we believe that all Royal Trux albums were an attempt to enter through the back and leave through the side windows of one perceived aspect of the r'n'r mythos or another - just because they should and because the first impulse of the rock 'n' roller demanded they should! And once on his solo trip, Neil Michael Hagerty's albums played to the cliches of the solo artist while alternately inverting or ignoring meanings at every chance. This proved easier to do with a band, and so The Howling Hex was born. One could also say, "the concept of" The Howling Hex was born, as the band is whatever Neil Michael Hagerty alone decides it is - and in fact, on several occasions, he was the only one in the room when the tape rolled. All that said, The Howling Hex have turned in a freakishly focused body of work over the past decade, one whose rules, while perhaps obscure or unwelcome to some of the rest of us, are nonetheless marching orders within its ranks. Under the present circumstances, we'd have to say that rules rule, because The Best Of The Howling Hex is a corker, a high-flying set of new songs that captures, if not the collected greatest hits of The Howling Hex, then the best that a band called The Howling Hex can be at this point in time. In case you're stupid, we'll reiterate it clear for you: The Best Of The Howling Hex is a new album of new music comprised of new songs and it is not a greatest-hit repackage in any way. Furthermore, having pulled all sorts of other veils from your eyes in the lines above, let us state for the record also that The Best of The Howling Hex is in fact the work of a full-fledged band for the first time since 2007's XI. Now located in Denver, Hagerty has his pick of the big-town litter after spending years in the unpopulated wastes of southern New Mexico. The mates recruited to the band lend a spark to the proceedings, and the "New Border Sound" that The Howling Hex takes as its own is up-tempo'd to the extreme on The Best of The Howling Hex, provoking maddened responses from Hagerty on the guitar throughout, which is always a scenario that sets us to breathing hard. The set of boppingly short songs is climaxed by a massive jam representing the type of hell-bottomed one-chord group-hypnosis often presented in the live forum of The Howling Hex. Must we add, to great enthusiams? If you're the type who thinks a "Best Of" can't be a new record, then yeah, we must. But if you're the type who likes a kind of music that not every knot-head on the block is playing, then check out The Best Of The Howling Hex! There's nobody and nothing like them, thank Dog. 50,000 Howling Hex fans don't even know what "wrong" means!
WHAT!?! THE BROTHERS SANG THIS?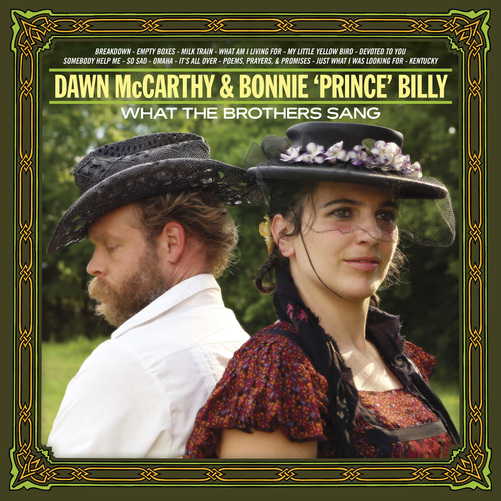 Speaking of iconoclasts and turning cliches over your knee, welcome back to Bonnie 'Prince' Billy's world, where a heartfelt tribute to The Everly Brothers naturally turns to the least-known selections in their songbook, away from almost all the songs that everyone knows, and digs in so soulfully that you'd hardly even notice it was Everly Brothers songs if we weren't dumb enough to tell you! Seriously though, Dawn McCarthy & Bonnie 'Prince' Billy's What The Brothers Sang is the best kind of tribute record, which is to say, a no-karaoke style of singing the songs, an embracing of one's own personal voice that in the end, captures certain essences of that who they am a-tributin'. That's What The Brothers Sang turns out to be - and as the opening cut, "Breakdown," breaks all around your ears, it might surprise you to know that not only didn't Bonny and Dawn write this song, but that Kris Kristofferson did instead! It just feels so right and so now, and this happens again and again throughout the record - like on Phil Everly's "My Little Yellow Bird," and the lone track from the young Brothers' roots-move-now-classic 1958 LP Songs Our Daddy Taught Us, "Kentucky." As carefully as the songs have been chosen, there's nothing academic at all about What The Brothers Sang; this is a passionate bit of business for Dawn and Bonny and all who play with them. As this record was recorded in Nashville, it includes a number of the skilled session-type cats who typically played on Everly Brothers records while Phil and Don sang, and their shared and unshared histories deepen the playing immeasurably all the way through. It should be noted that this is an entirely different case of players than those who sat in on the Greatest Palace Music sessions of 2004. Here, the connections between Dawn and Bonny and their friends who joined in the recording - Emmett Kelly, Nils Frykdahl, Matt Sweeney and Peter Townsend - as well as the firm but gentle engineer hands of David "Ferg" Ferguson - make What The Brothers Sang the recording that it is. For relationships wanted and unwanted, real and imagined and imposed by the necessities of life are at the core of The Everly Brothers music. That, and the book of songs that comprised the music business as The Everly Brothers knew it. Just like rotary-dial phones and the milk-man, these songs are a solid part of the past but an unclear element in the days to come of our ever-changing American broods - something a quick listen to the popular music of the radio today will have you know. What The Brothers Sang intends to make sure that these songs are not lost in the shuffling pages of days behind us - and Dawn and Bonny have done it in the best way possible, by making the songs are part of today. Come sing!
ON THE BLUE CHOPSTICKS BLOCK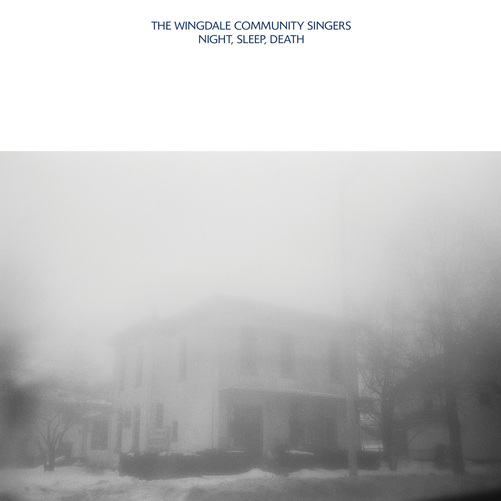 Now that all the freaks have folked off, it's OK for normal folks and authors and academics to get in there and play with the fun toys that make up gospel, country and even classic pop songs. When it comes to The Wingdale Community Singers (debuting on Blue Chopsticks with Night, Sleep, Death after releases on Plain Recordings and Scarlet Shame), we're not just talking about guitars and such (almost all of which are played by the one and only Drag City recording artist David Grubbs), but also and especially voices, which are provided by Hanna Marcus (who has recorded albums for Bar/None and Normal over the past two decades) and Rick Moody (a musician whose work is better known on bookshelves from publishers like Little Brown & Co. and Back Bay Books). And their voices, in addition to being soulful contemporary instruments, are the amplifiers of their personal fixations and recollections in much the same way Jimmie Rodgers once was (but with less yodeling). So the music of The Wingdale Community Singers is in the canon, but it wouldn't be on Blue Chopsticks unless it was firing out of a cannon as well, bound for the unknown future. Night, Sleep, Death - Excelsior!
TWO PEARLS IN A POD
...so as you can see, the three releases of February didn't slow Drag City down none and instead added a bit of greased lightning to our drive. It doesn't take a rocket scientist to determine that we need a bit of a lull in March in order to right our course. OOPS! March is where it gets officially crazy and everybody gets in the building and there isn't an acoustic guitar in sight (well, maybe one). That's when we push two rock records in your face with two completely different/incredible approaches, recorded on two different continents by two completely different bands with two different names that share one great pronunciation that rhymes with 'whirl'! Yeah, in March we release new albums of rock-oriented music from Purling Hiss and Ensemble Pearl! Whew! The set-up wasn't worth it! But the records are! Here's the news!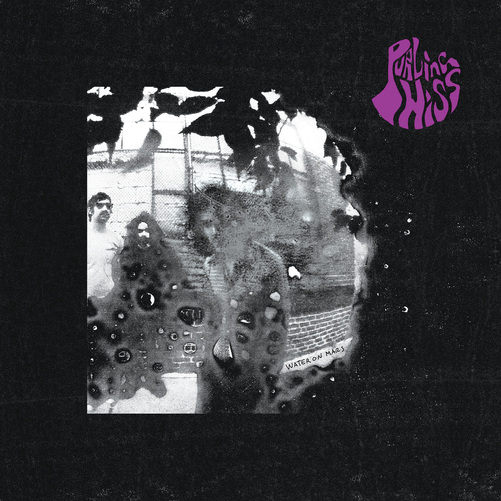 Purling Hiss](http://www.dragcity.com/artists/purling-hiss) have been rocking worlds all around the world for the past few years with records like Hissteria, Public Service Announcement and the "Lounge Lizards" EP. If you heard one or more of 'em, you probably won't forget - it was a moment where you had to wonder if one of your ears was broken. Because you know, Purling Hiss dearly love the rock, so much so that they recorded the rock even when they weren't anywhere near a decent recorder! So many layers of guitars on a home-track recorder put the hiss in Purling Hiss with a vengeance - but buried underneath them guitars and hisses were sweet melodies perched on top of rolling rhythms. And that's what you're gonna hear more and more of on the forthcoming Hissterpiece, Water On Mars, deep in layers but in a neighboring universe of sonics. It's the same but different! And even the least of us has been waiting to hear about Water On Mars. So get ready for the earthshaking news.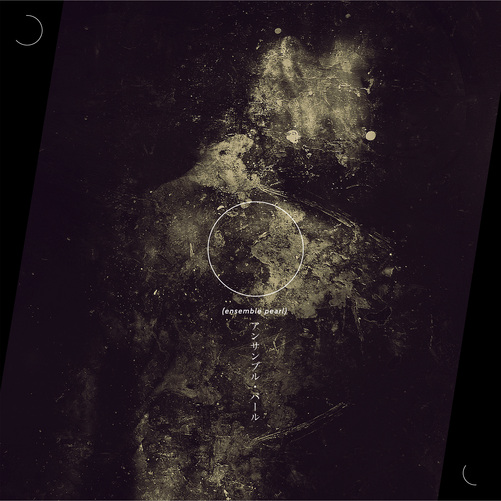 Right alongside Purling Hiss in March is the newly-assembled Ensemble Pearl. These guys are familiar with each other - Sunno)))'s Stephen O'Malley, Boris' Atsuo, Ghost/Boris' Michio Kurihara, Jesse Sykes and The Sweet Hearafter's William Hertzog. They're joined together in Ensemble Pearl with some guest shots from Eyvind Kang and Timba Harris. If you're used to thinking counter-intuitively, then you've got this one - because these guys have it cranked it up to 11 and ready to go...and then they all played real gentle like, peering at each other carefully as they feel their way forward, which occasionally ventures into very loud or otherwise electric territory and is always darkly, intensely meditative, which is just as good. There's mist and then there's mystical afoot in the grooves of Ensemble Pearl, and all of it is very fine, played with great attention to the company of everyone else in the room and a desire that, if these are the outer limits, how can we get farther out? Because then we'll have world peace. Quiet, please!
OM REDUCERE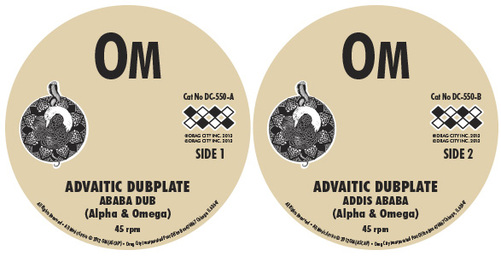 Oh, OM. Silent walkers of the Drag City roster! Strangers with heavy music in both your hands! Since the release of Advaitic Songs last July, OM have relentlessly toured the world, moving through communities hardly aware of their powerful presence. But night after night, the hordes convene in front of the stage to experience the vibrations that really, only OM can lay upon them. It's a truly remarkable phenomenon - and while we're not happy when we can't keep a record in print on either format, that's actually a pretty cool phenomenon too. To help keep things moving along, we did cassette versions of both God Is Good and Advaitic Songs last month - but when it comes to moving things along, nobody's better at it than OM themselves, who hatched a plan for two 12" records that are almost ready to blow your woofers out this spring. Courtesy of Alpha & Omega, and all praise to OM, we're about ready to lay on you the "Addis Dubplate" - two dub versions off one of the great Advaitic Songs tracks. These dubs are HEAVY, yo! Further proof, to paraphrase the good book (well, one of them), that the deeper OM go, the higher you fly. And following the "Addis Dubplate," in March, we'll be bringing another one out in May, just in time to freshen up your ragga dancefloor for the summer. OM brother, we got some hot times ahead!
A LITTLE MORE DOPE, PLEASE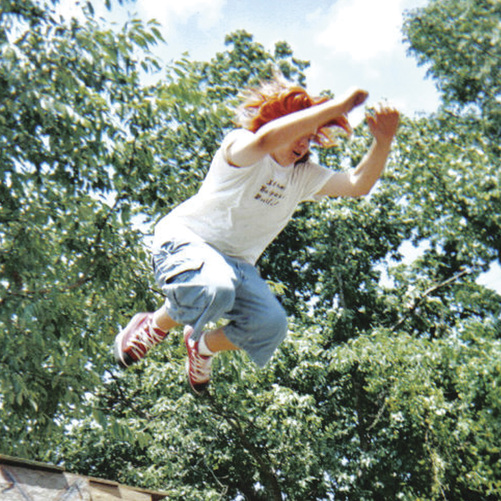 ...Dope Body, that is! Gadzook, what kind of fiend do you take us for, the dope type? No no no no, we don't snnfff! no more, we're tired of waking up on the floor - OK? No matter what you do or don't do, you might fancy a bit of bruising rock music courtesy of young men who don't know any better that to bruise ya - and if you do, chances are you've worn away the grooves on a copy or two of Natural History by now and seen your Dope Pals everytime they come to town. So what better to do than grab two more sides from the gang? They've done what they could to make it worth your while - including titling the record after the most awesome day of the week, "Saturday." This was especially cool of them, since there isn't a song called "Saturday" on either side of the damn thing! Fortunately both sides feature killing examples of Dope Body at their tooth-rattling, hip-shaking beast - and in the instance of this recording session, they decided to cook the production a little less than on Natural History. So in March, go raw, get Dope Body!
A NIGHT IN THE WILD
Man, as one band we didn't think was good enough to sign once said, modern life is rubbish! And yeah, we still feel that way, but you know - they had something there with that rubbish shit. I mean, it's kind of fucked up how dependent on the machine we're all becoming, you know? I'm talking about the machine I'm writing this on and you're reading this on, the one we're selling records and promoting them on...it's feeling kind of like we're losing at the game of Monopoly big time, you know? Which means we won't do much better at the game of Life. Fortunately, we're experts at the game called Masterpiece (not to mention the one called Sorry! - bored of the games ed.)! God, if only it were still pioneer times and we were selling our hand-pressed, leather-backed Roy Rogers records out on the open range, depending on our own hands and feet to win us the dinner of fresh flesh (or beanflowers, for you veginal types out there) and our very survival. Life was wild back then - and what do we have today? Live shows! And yes, Virginia, life still gets wild in the club scene. For those of you looking for that extra edge that not even our most fucked up album choices for you can provide, you can feel the life that you once knew again, witnessing Dope Body in their East Coast stompin' grounds, **CAVE** in their Midwestern environs, The Howling Hex in New Orleans and New York, Rangda on the West Coast, Laetitia Sadier in Chile and Argentina, a rare Sophia Knapp show in NYC, an also-rare Magik Markers show in Brooklyn, Meg Baird's exhaustive West Coast tour (six shows in Cali!), Blues Control's "Tour the Head That Does Not Tour" Tour (seven shows in Cali!) and/or OM rolling the first phase of the "Advaitic World" Tour out west as well (only five Cali shows - fuck!). Too much, or not enough? Fortunately, the wild wild world will never not know the presence of Drag City's bands on her lands.
THE FEATHERED WORD MADE FISH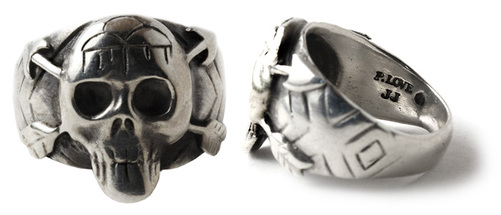 Behold! The maiden flight of the Feathered Fish is upon us! We witness to it's glory, full of grace and truth. Yeah, it's awesome - but what the heck is a Feathered Fish anyway? It obviously ain't beast or fowl - to be honest, if you're going to think of it as alive, as a creature of any kind, it's that rarest of the rare - one with two hearts! See, Feathered Fish is actually a corporation founded by Jennifer Herrema and Pamela Love to create amazing things for people to own and don and love! Their aim is to be a multinational corporation - but until that happens, they'll settle for being multidimensional, bitch! Their first project is a recasting (literally!) of the fab Royal Trux skull ring, which has been out of stock for years and years in it's original pewter cast. After turning away too many requests for another round of rings, Jennifer got sick of saying no, and called jewlerista Pamela Love to suggest a partnering of visions. Pamela couldn't say yes - because she was too busy shouting FUCK YEAH! Their plans include anything and everything from jewelry to clothing to art, and it's all gonna be American made, all done in hi-class limited runs - so watch out for this stuff and think fast when the watching pays off! It all starts with the ring, reimagined in sweet sterling silver and featuring a terrific tribal motif and crossed arrows in place of crossbones. With only 40 rings crafrted, you're gonna want to get your credit off hold immediately - they're available now!
CALLING THE SOURCE ON THE CARPET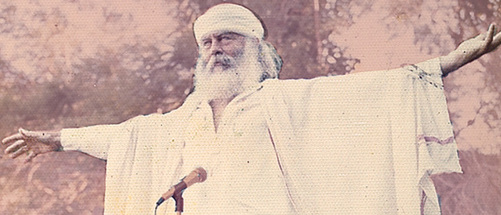 Yeah, folks - the Source may note be with you for the next few months, they've got a magic carpet ride to take! We're talking here of The Source Family of course - and the magic carpet in question is the ever-fresh red carpet rolled out for new movies every day all around the world! Now, we've been working with the children of YaHoWha for a few years now after having been fans of the music they made with Father Yod when they all lived together in an enlightened community during the mid-70s - and so, even though the just-finished documentary called "The Source Family" that tells their history (and herstory) is going to be a new release in many cities across the country (call us to arrange bookings!), we're sure that the family members would agree with us that their movies aren't new; they've been working on them all their lives! Their stories and the story of their charismatic leader, Jim "Father Yod" Baker, are a fabulous trip into the wildly tilting youth counterculture at the end of the 1960s, and everyone testifies with clear-eyed, pure-hearted recollections about those days which seem so faraway to some and so very present to others. Agents of positive change, restaurateurs to the stars, new-age cultists, outsider rock band...The Source Family were all of these things over the years, and now their far-out experiences are making them this season's freakiest documentary subject! Look for theatrical runs in your locality, as well as a soundtrack album and yeah - the DVD. The children of YaHoWha haven't waited 40 years for this to not have the merchandising lined up, right? Source Family Plushies are ready to roll folks - just get your holy asses in the seats and see what in heaven this story's all about first!
ONE PILL MAKES YOU APRIL

In addition to our latest foray over the turnstiles and into the motion picture world, April finds us switching music gears once again as well - from heavy fellows to heady fellows? But what if the heavy guys are heady too - because we talked with them and they are, so? Doesn't matter! April's got a new album from David Grubbs 'as' David Grubbs for the first time since late 2008! Of course, he's put out all kinds of things on Blue Chopsticks since then and been in and out of museums and suchlike - but this is his first pop song record in over four years and it's damn good. We've got an EP from Bonnie 'Prince' Billy & The Marquis de Tren for the first time since 1999's "Get On Jolly." Man! It's a good thing they're allowed to moonlight outside of their royal union, that's a long time to wait for a new record. Also in April is the reach into the past for the music of the mysterious Rich Ristagno, circa early 80s? It's a wild private-presser from the hallowed ranks of the RAREST RECORD OF ALL TIME (it's great!). And just in time to cash in big (please, Creator!) on the Spring Breakers mania is a reissue of Harmony Korine's 1998 meditation on Hollywood and celebrity, A Crack-Up At the Race Riots. April's gonna rule, fool!
Man! There's hot releases coming in May too! We could just keep talking and talking about all the tricks and treats we've got planned from here to Thanksgiving! But tricks are for sleeves, too, kids - and we're like Dr. Octopus with the sleeves! So stick it out and stick around. We'll have bunches more for you next time.
Rian Murphy
Drag City Inc
Febrauray 2013