G'OD MORNING
The sun rises an acidic blood-orange over the blanket of snow and frozen poo(p) surrounding our independently-owned-and-operated ivory bunker/fantasy factory/time-and-love-and-music machine. It's the same sun dawning over the rest of the world, one little combat zone at a time, and sometimes we think it's the only thing we truly share with the deeply distressed rest of the planet. But you know what? FUCK the damn planet – it's too late for tears, and we're outta minutes to argue with naysayers and the rest of those who'd sooner end times than admit that they and their industrial patrons have brought on the close to the era of men (apes, please stand by!). We don't care about the government – a corrupt creature elite who so evidently care NOTHING for us, either. We're the chaff that runs their still, dripping a 'shine for them and the others of their selfish kind to imbibe. They are not our people; not only won't they get (or buy) our records, they certainly won't stay the force in their charge in order to benefit the greater good; this is clear. But OUR people – this society of music-lovers that we chose to live among and contribute to so many years ago – are we just another herd of zombified cattle to be shifted by their invisible hand? For ANYONE in music to argue that the days of the record label as we knew it are over, that the dinosaur mega-rollers have passed, leaving only the true and the good to determine their own fate on our One Free Internet, is drollery at the very least; it seems more like utter foolishness in the face of the very real and looming threat of the count-them-on-one-hand (yes, even yer apes' hands!) corporate collective that abso-fucking-lutely controls the One "Free" Internet to expel independent music makers for not signing potential profits into its iron fists. As well, it must be known at this point – well-known and REVILED, people – that these "services" exist ENTIRELY for a profit that will only be had, in the estimation of the "suits" (at least that's what we called them in the 90s; pressed-jeans-and-white-sneakers-and-pastel-polo-shirts-and-thrift-store-blazers by any other name would smell as cheap), by paying only a pittance to the very people whose content draws the moths (listeners, aka unique email addresses) to the flame (corporate marketing departments!)! !(!) So the controlling corporate scum are gone from our industry, eh? It seems they're retreated only as far as the internet's edge – where they merged, bought each other out, and consolidated power. Because that's what good corporations do, and we are delusional fools to expect anything more - like, to live in a world free of their damnable influence. So, when word comes to our tablets and pads from on low that we move our release date from Tuesday to Friday to save and serve the record industry…whose industry, again? Not yours and mine, actually, but the holding of the very few. Once again, the fat cats are sitting on our face - hoping for a quick suck of their udderly-adaptable/hermaphro bits (which is in no way an expression meant to bring shame upon the noble hermaphrodite, please understand!)! Don't let 'em tell you that we're living in a new free world where we can determine our own fate through the manipulation of technologies IN OUR HANDS – because once again, the power source for our tech is in the hands of the very few, for mostly THEIR gain and HARDLY ours. Yet there is still some power left to the individual! Your own unique email address is worth $2-$4 to marketing companies! We have value(s) after all! And if all else fails, remember that even apes are upfront about that whole "not killing ape" thing.
Wake up! It's still tomorrow.
HAPS-LESSNESS
Ah! March, and all's well (well...) at Drag City. What's new? What's new with you? What if nothing's new? In our grand ol' tradition (two-plus decades and countin'!), hard work's still the answer around the muthaship, along with records that are awesome – at the very least, simply amazing. But just like in the "old days", "nobody" "knows about" these records, despite (or BECAUSE of - yeah!) their awesome amazingness – so we get on the line to let "the people" know, person by person, one grass root at a time, that we've got stuff and that our stuff's the SHIT. Same ol', same ol' there. Social media's just another way of going door-to-door (but with less secret house-sex). Plus, bands and artists alike still tour, just like they used to, and some of them want to tour and some of them don't – nothing fresh in that perspective, either! Hmmmm...on the release schedule for the year ahead, we've got a couple books coming out – but again, we've done that before, so...no new wheel-type brainstorms there. What do you WANT, anyway? Just keep moving! Nothing to see here. Except....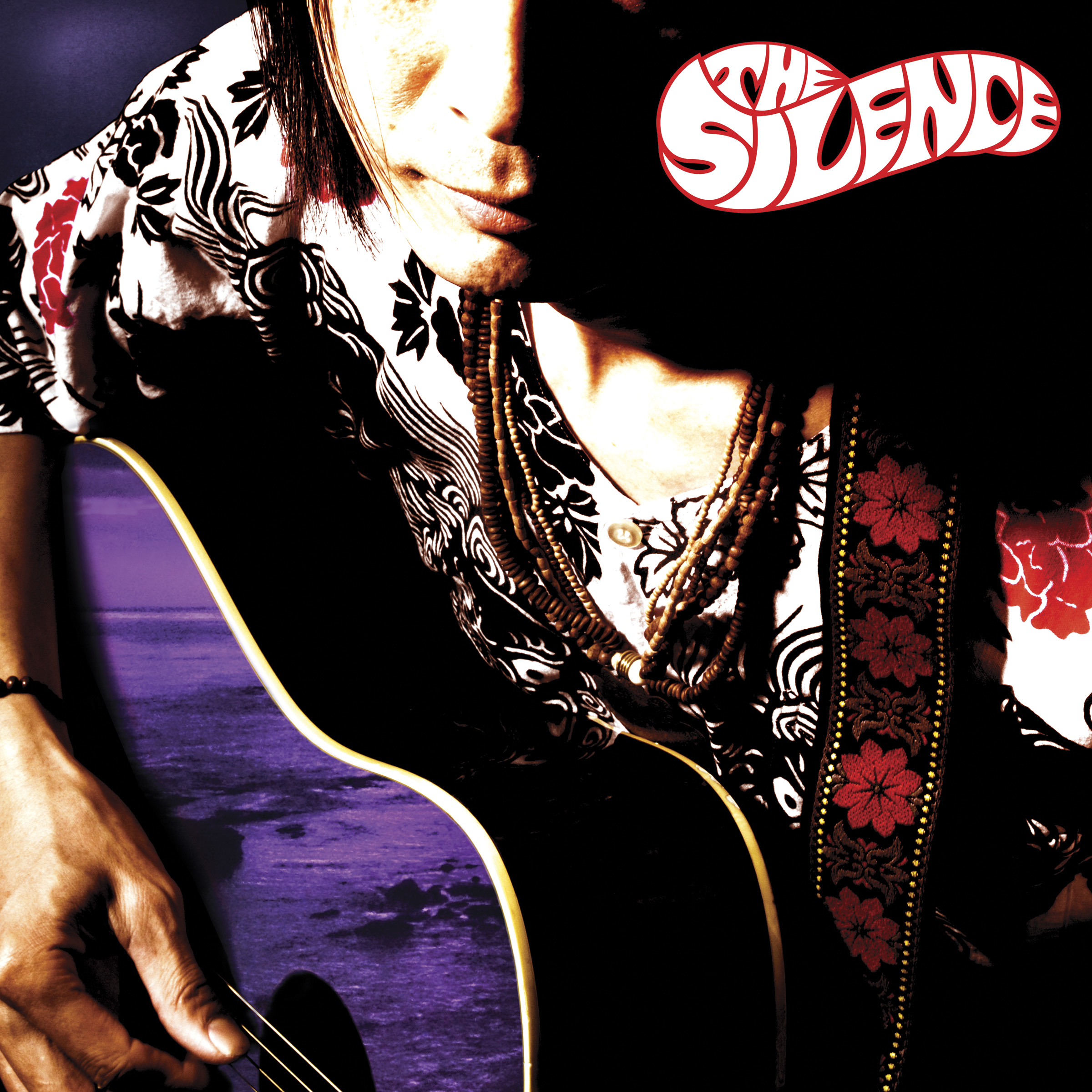 A MOMENT OF THE SILENCE, PLEASE!
We've been talking about it for a couple months now - March only, and it's been an INTENSELY mind-expanding 2015 so far here at Ice Station DC – and not the stems-and-caps variety of expansion,either! Oh sure, the air's rippling awright – the magic is ALIVE in the moment – but it's because of the MUSIC, not the drugs! Witness: Jessica Pratt, Alasdair Roberts, Sir Richard Bishop, Six Organs of Admittance. That's four distinct kinds of tripped-out, right there – all of them pure music-makers who will take you places if and when (and how!) they pick up their collective guitar. (Y)Our guitar-based trips will only intensify here in the merry month of March, especially if you're quiet long enough to listen to The Silence! Their self-titled debut is OUT NOW, and whilst it brings strong winds of psychedelia from ages past, The Silence are their own group, acting out their musical fantasies in the HERE and NOW. That said, since The Silence is led by former Ghost frontman Masaki Batoh, they do tend to realize aspects of that venerable tradition - but with The Silence, it's a more tightly focused version of their ambitious and colorful sound. On top of their guitar-bass-drums rhythm section, The Silence add keyboards as well as sax and flute to explore different textures within the songs, which number among Batoh's best EVER. Coloring and complementing the set are covers of Can's "Tango Whiskeyman" and "Black Is the Color of My True Love's Hair." Truly, this is a tremendous outfit of rock and roll (the band AND their outfits!). The Silence are capable of a wild and unique diversity of songs and sounds in their quintet format, and we understand that they are forging forward with LOTS more new music even as this first album reaches the ears of the world. A series of Japanese dates with Acid Mothers Temple have been scheduled, we hope to be announcing dates everywhere else in what's left of the world soon!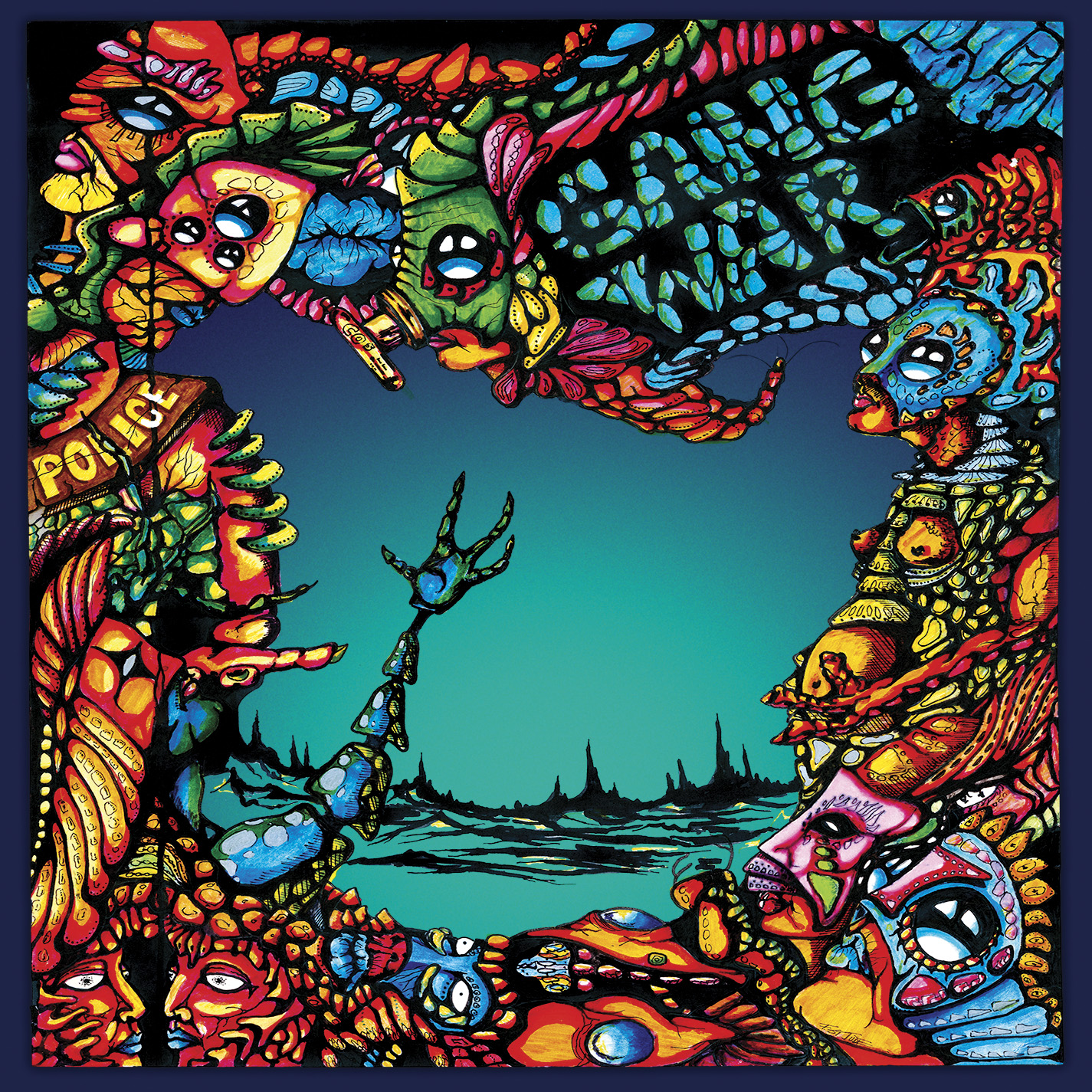 GANG WAR IS GOOD FOR HUMANS AND OTHER LIVING THINGS...
Oh, rock and roll! Why did you die? You said you were here to stay! But now we find, here in our Roman 21st century, the conceit of rock and roll may no longer be anything more than a costume for the young to don in the service of something new, the nature of which hasn't yet become apparent to us or them. Truly, there is great music out there. Yet, is it rock? Not really....but a single listen to Frederick Michael ("Freddy") St. Jude's great unreleased opus, Gang War, will tell you all else that needs be said for that once and former music. The year was 1982; the year that the 70s finally released their steely grip on the culture and let a new era in. Even as the transition to the 80s became whole, the sounds of the late 70s were still dominant - and through some magical osmosis, Florida entertainer Freddy St. Jude just happened to feel the relevant changes out on his guitar neck, all of which evoked drumming, lead-guitar playing, backing vocals and synths that flared and soared with the best majesty of that fleeting time. Freddy was a rocker with his roots in 60s dance-bands; he'd been kicking up and down the east coast since then, rubbing two sticks together and trying to catch fire. His 1977 LP, Here Am I, was a gloriously weird combination of styles led into the great unknown by his Bowie-esque vocal style - but it wasn't until the over-arching concepts of Gang War appeared in the early 80s that his dynamic, eclectic vision was finally made comprehensive. Gang War took that now-ragged 60s-70s poster-child – the so-called "Rock Opera" – and dressed it up in fabulous new clothes; not quite new-wave, yet pulsing with new sensations then bursting forth from Top 40 radios all around the country. The songs were fabulous too – "Boy You're Not From Here," "Top Ten" and the title track are just a few examples – and after he released a four-song 7" previewing the album, there was buzz happening across Freddy's home base of Florida. The hope was to use the record to promote the songs and ideas and get funding to take Gang War national – maybe even worldwide! Somehow, it didn't happen...but it wasn't all just a crazy dream! Today, a new world is being ushered into this future vision from the old world – three moments in time, all folded together into ONE complete – or perhaps we should say, "entire" package! Released exclusively on CD/DL, as every dystopian 80s rock opera deserved to be, and featuring the original artwork commissioned in 1982, Gang War is here at last! The legacy of FM St. Jude is complete – or is it? Freddy's made a career out of being exactly where nobody expected him to be at the time...so what's next?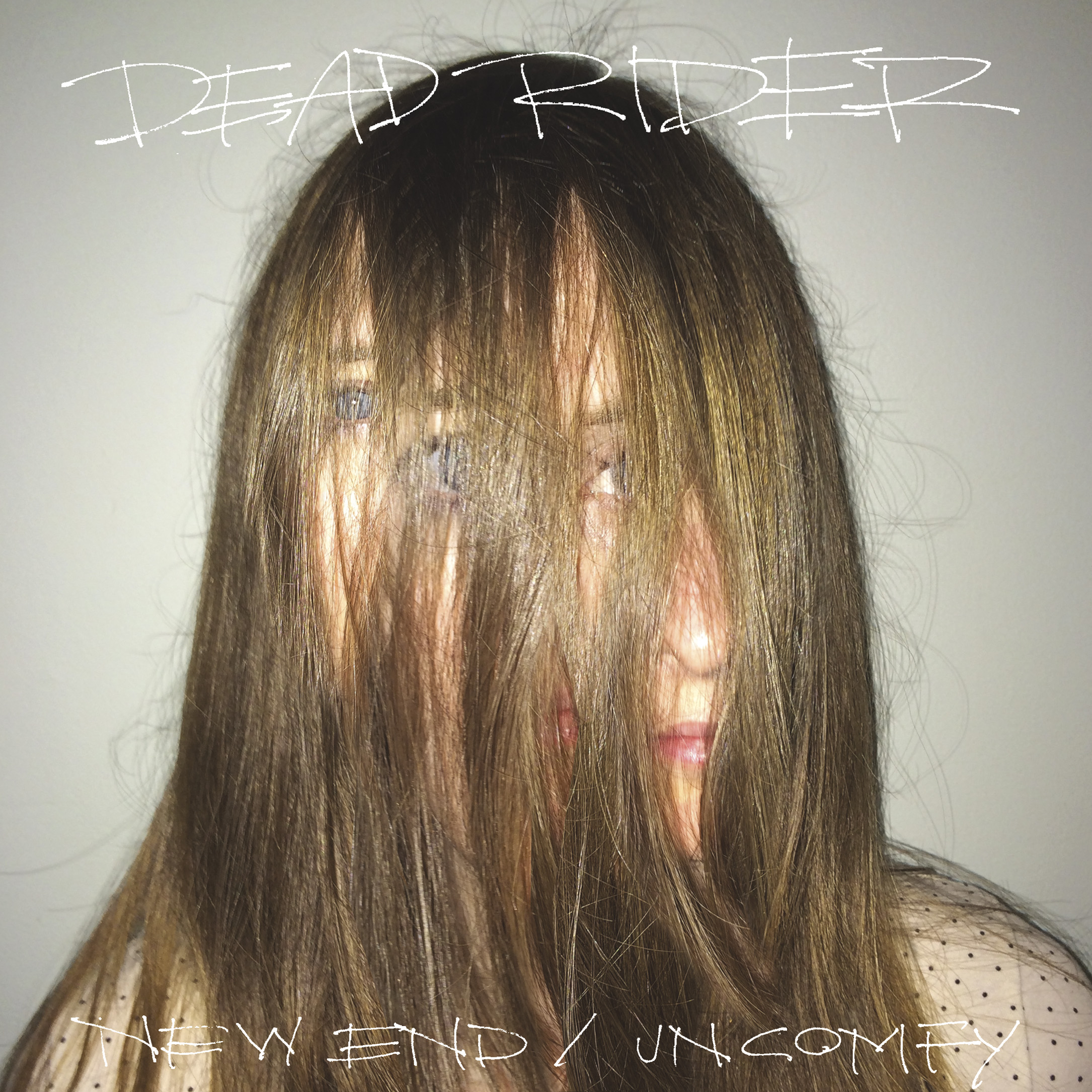 NEW END TIME!
Also OUT NOW (you guessed it: WAY OUT!): a new single from perhaps the least-likely singles artist on our roster today! Last year, Chills On Glass proved that Dead Rider had perfect the AOR approach –  a rock combination of ideas and vision so deeply focused and precisely rendered that it wasn't possible for it to be explicated in less than 40 minutes. The proof was in the prodding that Chills gave the listener: constantly pulling at one ear and puking in the other, pitting guttural rock against unexpectedly silky beats and streamlining the production with purring synths and sweet harmonies flashing on at moments that might have otherwise implied breakdown. Pop music at its finest, we said! And we weren't alone. Chills On Glass was a solid sensation – and while a new album is still a gleam in the eye of Dead Rider, why not push out a single to keep the good going? "New End" b/w "Uncomfy" is that single. Here, Dead Rider have assumed a more primal form in order to allow them to PUNCH through in two bite-size pieces, with rich sick-sweet chunks of unreconstituted rock floating in what seems to be (but you know it isn't) a generic mush of no particular order. Hip-hop, even, is resuscitated on the flip side with results and wack and as scary as everything else, and just as our sensational sensationalists have done with long-play sides, so go the single sides – up in flames, to the delight of the eyes of ears. Sweet, Dead Rider  – encore!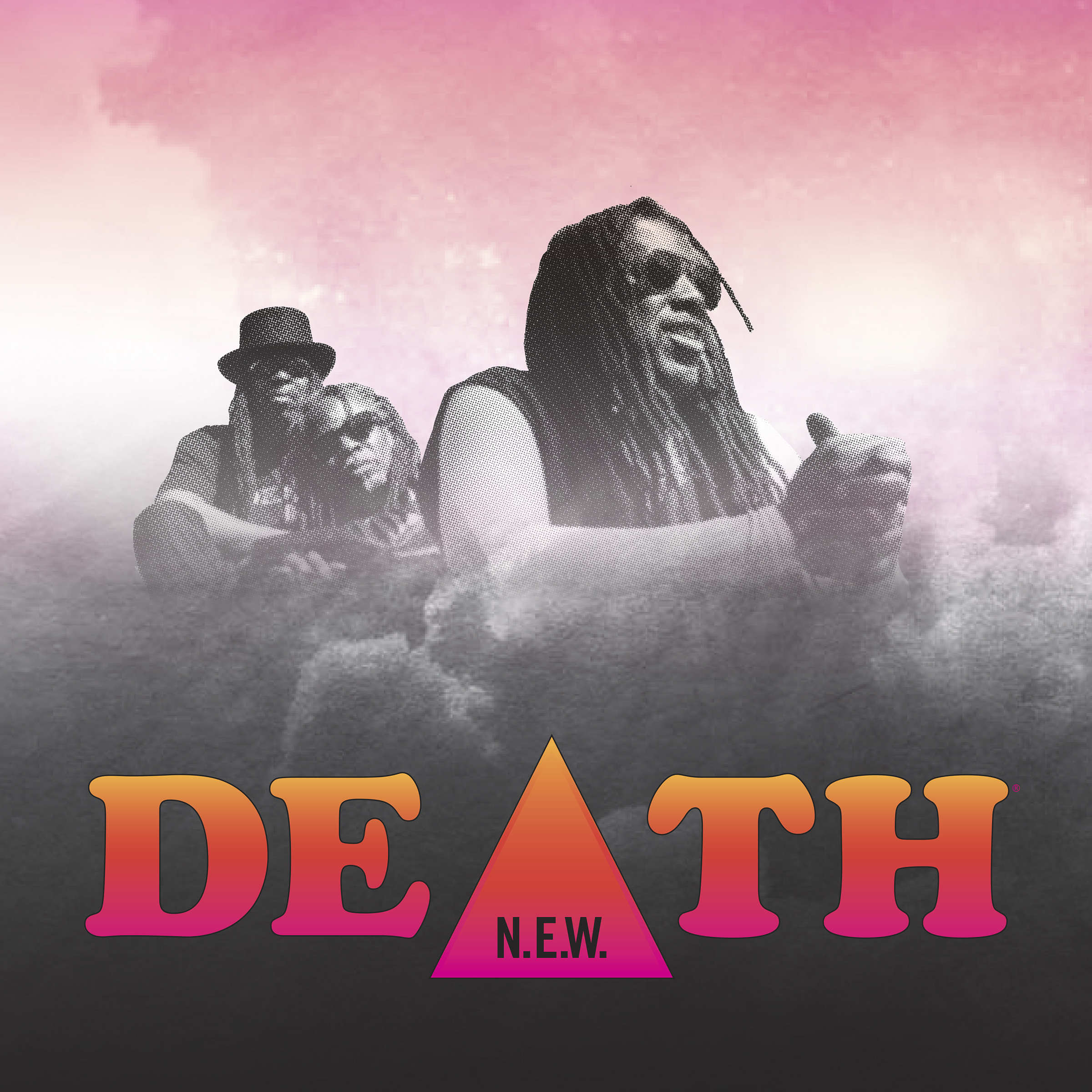 DID YEW KNEW WHAT'S N.E.W.?
Can't we all just agree? 2015, it be! Suprise! Time for another DEATH . Is 40 years too long to wait? The album that never was that nonetheless changed everything when it was finally released in 2009, For the Whole World to See, dates back to 1975, so...yeah, that's 40 freakin' years (though if you can remember them, you probably weren't freakin')! Whole lives have been lived and loved and lost in less time, and the life of DEATH in those 40 years is one of incredible contrasts, as only the lives of those who innovated with punk rock in complete obscurity, only to later abandon it, only to MUCH LATER find that it was TREMENDOUSLY appreciated, can truly be. You know, all those people who had that experience? This is just one way of understanding the highly unique nature of the DEATH experience. As it transpires, five whirlwind years after the official release of For the Whole World to See, a time in which the band had seen their seminal first, and other archival recordings from the 70s and 80s released (Spiritual - Mental - Physical and DEATH III), as well as playing shows as DEATH for the first time ever, new songs were demanding to be expressed – plus unfinished songs from their earlier incarnation! N.E.W. then, is what new Death sounds like – outrage spilling over angular guitar riffs, power chords and breakneck beats with a deep spiritual acceptance informing every moment – all of which places N.E.W.-phase DEATH powerfully in the tradition of DEATH's now-legendary rock and roll infancy. Fans who've attended the shows around the world will recognize a few songs that have been performed over the past year  – but there are new excitements to be found throughout the record, as the times finally catch up to DEATH. It's N.E.W.!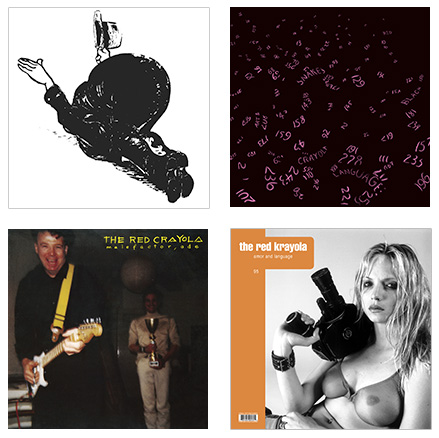 CRAY-KRAY
Get out of town, tradition - and stay out! Whatever it might have once been in our now-distant agricultural past, April has now become a month to celebrate the history of music, 20th century-style! Viewing it through tje storefront window – the brick-and-mortar retail experience is encapsulated in a series of limited-edition reissues destined, rather unfortunately, to be sold for exorbitant prices online, where record stores don't exist except in a pile of vanquished old-school prototypes at the feet of the digital New Men! It's their destiny. Ah well – meantime, everyone's gotta make a buck...for us, we're always inclined to wonder about what might have been (until the pills kick in, anyway) – like, what if the process of "saving retail" was geared not towards the greatest common multiple, but instead the highest functioning mental state of the potential listener? Sure, this isn't how capitalism is supposed to work – but who says that capitalism is actually working? Just Congress, yeah – and those guys are CLEARLY a bunch of geniuses. This said, it brings us great pleasure to bring back to vinyl four classic titles from the catalog of The Red Krayola – including three titles recalled from their time as a band operating out of the UK and Europe, away from the grasping legal machinations of the Crayola Crayon Corporation, and therefore able to be The Red Crayola, as they'd originally non-incorporated themselves back in 1966. These C(K)rayola titles date from three of their six decades – Corrected Slogans (1976), Black Snakes (1983), Malefactor, Ade (1989) and "Amor and Language" (1995), and all of them were made available at one point or another in the late 1990s on compact disc. Throughout these four releases, what may appear at first to be a diversity of approaches to their music should eventually be understood as one consistent directive – to make music for people, and in the process, to attempt to provide music that people will respond to most favorably. The friction between intention and result is what we love so intensely about The Red C(K)rayola, regardless of the era from which their music hails us. For our thick American brethren, the additional selling point of all but one of these records being pressed for the first time on US shores is bound to result in a sale or two, right? US-A! US-A! All these LPs will be presented exactly as they were originally - that is to say, vai painstaking replication of the original packages with no download code included (think 1976-1995-style), just a lot of music on vinyl. Coming to your head/shop in April!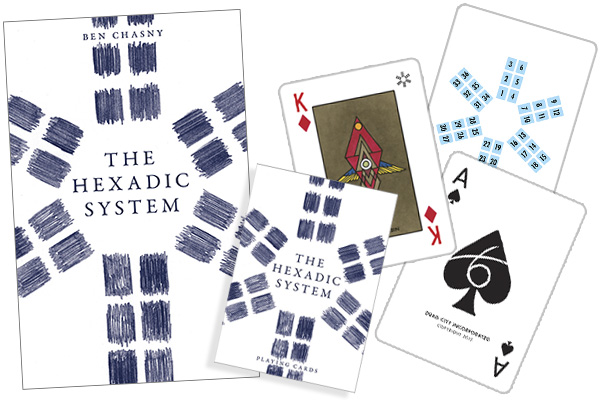 DIS IS A SYSTEM
Last month, Six Organs of Admittance's Hexadic LP/CD/DL release served notice - there's a new tonal methodology in town, and that means you and your ego-driven music had better be gone by sundown! Now, the full explanation of Ben Chasny's new approach to writing and playing is ready for you to study and learn, with The Hexadic System book set for release on April 21st. Making careful study of combinatorial logic systems from different times in history (farther back than the LP era, haters! Think about it), Ben shows us how to align a regular deck of playing cards to the notes and octaves on the neck of the guitar, accessing the ambitious player unconsciously to musical relationships that the active mind'd never dream of! Over 115 pages, The Hexadic System demonstrates a number of options and approaches via different card alignments, using over 70 charts and diagrams, discussions of the thought of Gaston Bachelard, Heinrich Agrippa and others – plus several types of game play to explore, as our author so eloquently puts it, "a new practice of intervallic contemplation." WOW! To complement and complete the immersive experience, a customized Hexadic deck of cards will be offered at the same time as The Hexadic System, designed to bring the user a deeper understanding of the System and its antecedents. Deep, heavy and miraculous - a special new path for the fearless musicians of the new century! Preorder now - Hexadic supplies are limited (as well as limitless!).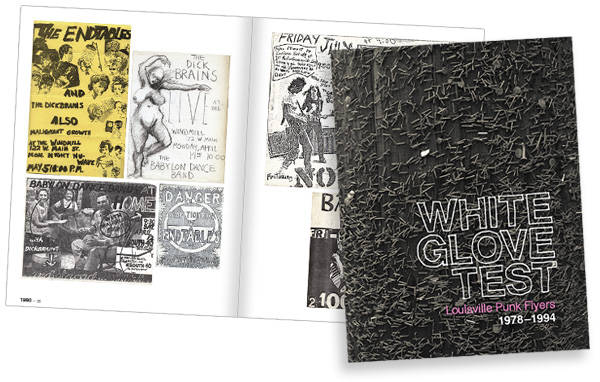 YOUNG GLOVERS
No matter who you are, your time in the Big Show always divides evenly into two distinctions: Before and After. As you rocket away from the Before in your life, it becomes more and more unbelievable somehow, as if it were equally hard to accept that it ever happened or ever STOPPED happening. Yeah, it's a time paradox - and hopefully Stephen Hawking and them never figure out how to un-knot this particular paradox, because the tingly nature of the bitter and the sweet as it sweeps through the body is SUPER RADICAL! Many of you out there will get a sense of this when you start paging through White Glove Test – Louisville Punk Flyers 1978-1994. Whenever collections of this kind are presented, our hearts tend to race a bit, because not only do the collected posters and handbills reference all sorts of historical figures close to our historical breasts, but they also trace cultural paths as they spread out across the cultural maps. Stimulatin'! Now, we've heard about the effect of punk rock on the nations of our world, and it's easy to assume that the majority of the shift occurred first in our major cities, which is why everyone's always referencing NYC, London, LA etc. But check it out: this collections begins with a set of posters from Louisville, 1978! Fully evolved punk-rock happening in a so-called hinterland, a line from the middle of apparent nowhere through to the hot bands who came out of Louisville in the 80s-90s – yer Endtables, Circle X, Malignant Growth, Squirrel Bait, Bastro, Slint, King Kong, Palace Brothers, Rodan, Crain, and all the rest! An insanely potent period is documented here, one show flyer at a time, from the early days of No Fun, Babylon Dance Band, Blinders, Your Food and many others, to the days of the early 90s, when Louisville was a must-stop on whatever way across the country your band was making. Over 700 flyers are included, in the fullest of color, spanning a time of wildness and outbreak through to a period of consolidation in terms of local and national scenes. Over three pounds of physical weight, and a lot more in (fat-free) mental consideration! White Glove Test is now available for preorder, available nationally April 21st.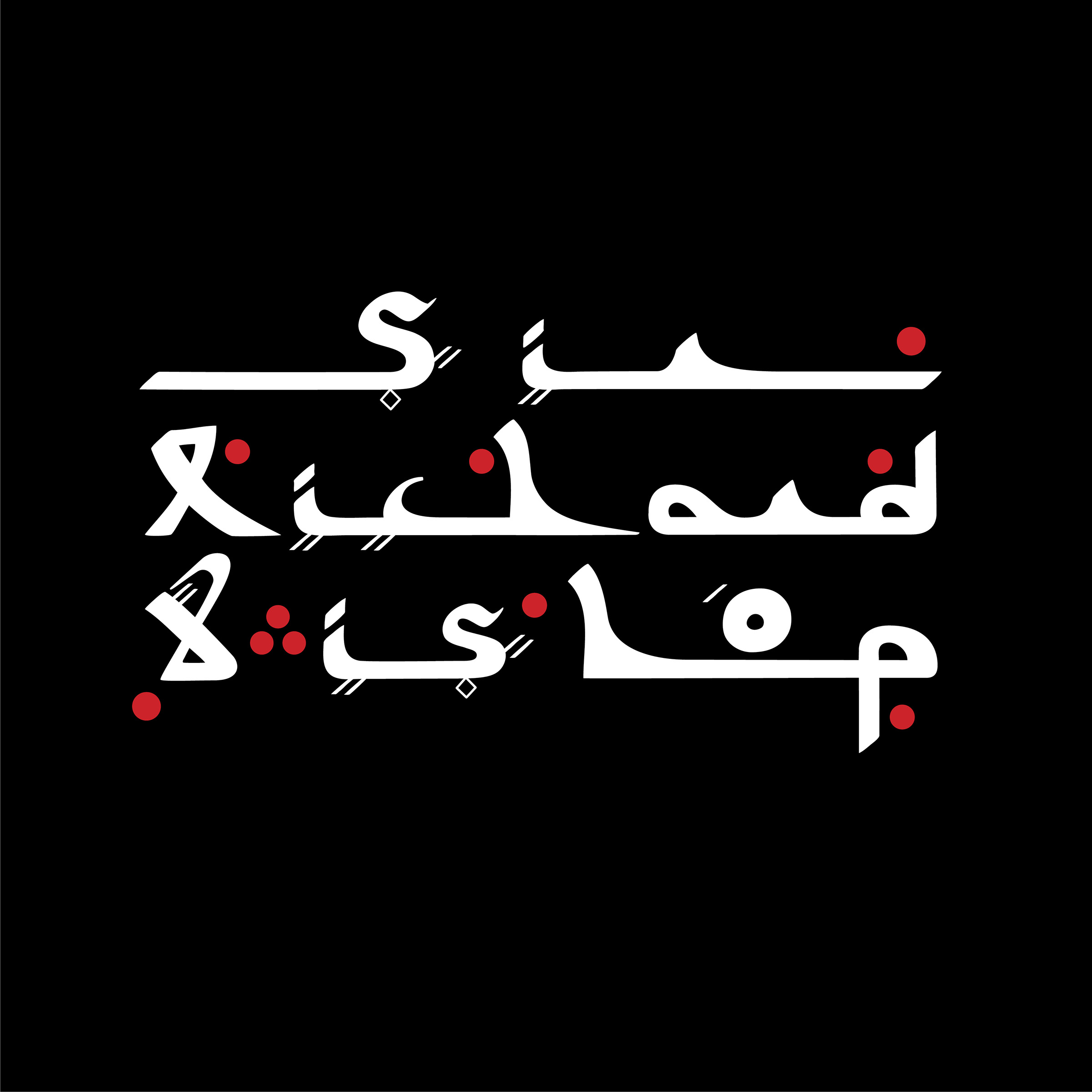 CHEERS AND TANGIERS
The first month in the life of Sir Richard Bishop's Tangier Sessions has been a sunny one! We don't give fuck one about reviews, but we're told that they've been nonetheless felicitous – that's perfect, they don't give a flying eff about our point o' view either! Bishfully unaware, Sir Rick's doing his finger stretches and scraping plenty of kiff in preparation for his travels DEEP into the American hinterland – FIVE ding-dang-daddy weeks in a row of pickin' and glowering (with, okay, the odd grin) from coast to coast (to coast to coast – there's more than just two, kids!). Thirty cities! Well, some of them are towns...but everyone deserves good music, regardless of the designation of their community – especially Europe, where the magic guitar that drove Sir Richard first crazy, and then to make this album, was originally purchased. Now we agree with the stupid critics (what do they know?): Tangier Sessions is a beautiful, sparkling clear journey into the dimensions that exist simultaneously in Sir Rick's hands and heart. You need most definitely to get it (and get the record too) – you'll learn a lot! Since however you live life today, one day at a time, you'll be much better off if you take yourself to the show when he's in town (Fargo, as always, we REALLY hope you're reading this!) and experience the way you feel when you're in the presence of such quicksilver thought and expression. Cheers, Sir Richard Bishop! And Tangiers to anyone who doesn't have the time for such sweet passing genius.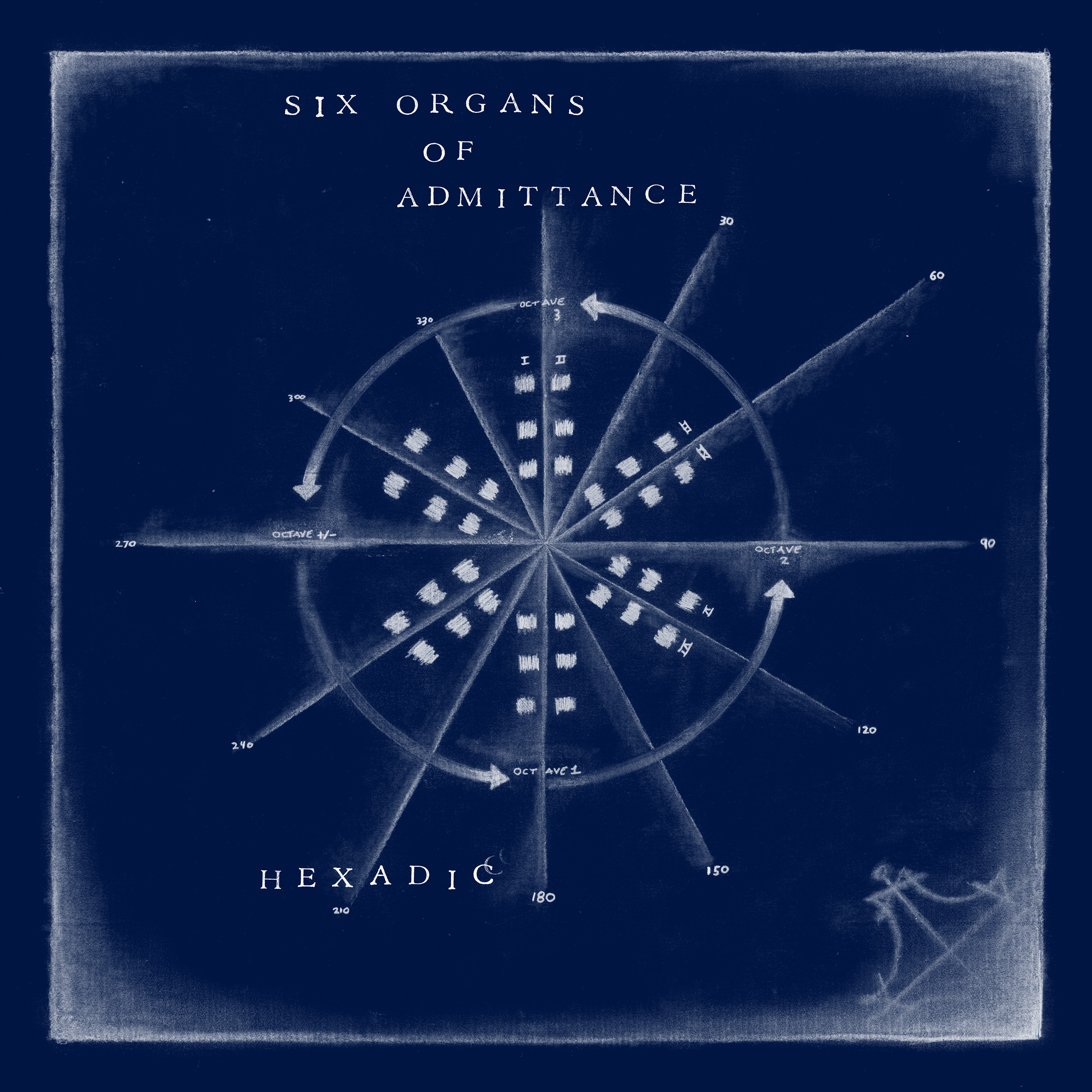 HEXADIC INDUCTION HOUR
Huzzah, it's tomorrow! And tomorrow is finally the new day we were promised all these years! Those who were on the west coast and in the house whenSix Organs of Admittance stormed through last month heard and saw it as plain as new dawn coming - the Hexadic era has begun. Ben Chasny was a man possessed at those shows, full of the Hexadic spirit and bringing his new power to the people at every stop. The "open system" that he has conceived brought equal measures of random and methodical inspiration to the live performances, just as it had to the conception, creation and production of the Hexadic album. And why not feel empowered, Dr. Chasny? Hexadic is an extraordinary new iteration of his career-long musical obsessions - flexible tonality, magical traditions, ancient rituals, dark worship, oblique lyrical utterances and ripping guitar solos! All this comes burning through every time the Hexadic songs are played, whether through your stereo or through Ben's corporeal form, with pure and flaming energy. Still, for anyone who got on board with Ascent's worlds-conquering space rock, it's like comparing apples and organs. Just remember, they both have their own sweetness to them – just sink your teeth in and live in the Hexadic now. We're only getting started! With the book and the cards coming out in April, this is only the beginning...of a new living end to music as we know it. Get on board, or get fucked!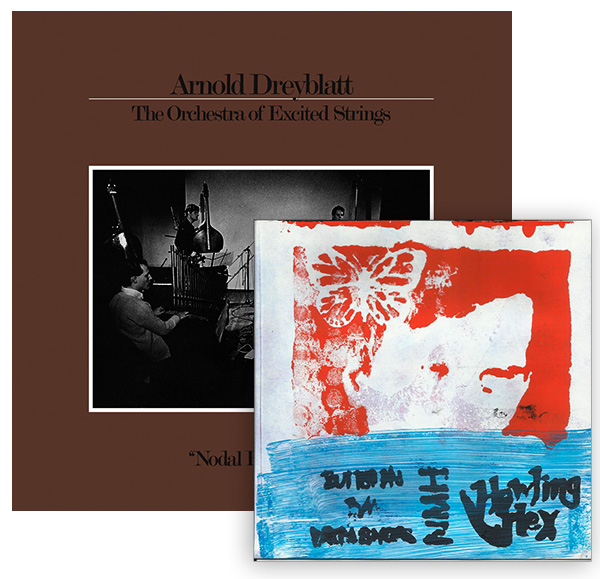 LOST IN THE MAYS
Oh sister/brother! As you've just heard, do we ever gots big plans for the rest of the Spring! It's gonna be greateous, from top to toe – but in May, we're gonna do something we haven't done in years! Like, nearly fifteen of them! Here's a hint: it has to do with music. But until we drop the other shoe on that one, May's got a kind of fun coming that only The Howling Hex have access to. Just like last year, their new record has been prepared for your consumption in single form – but unlike the extended tracks from the "Fool's Watch" 10", the songs on the "Butterfly" single are taut and to the pernt! For The Howling Hex, evolutions on the leading edge of their New Border Sound come as naturally and flowingly as blood through the hourglass, or a camel through the eye of a mule - in other words, W E I R D, D U D E. But plenny rockin' and bouncin' (in place of rollin') with ear-catchy guitar elucidations throughout. We put it on, and wow, now WE'RE gonna sing! Also in May is an album without a single voice on it, but loads of voicings WAY more unusual than yours – because it's the long-awaited return to vinyl of Arnold Dreyblatt's Nodal Excitation. Released on India Navigation in 1982 and not really capitalized upon until the late 90s, Dreyblatt's music followed down the minimal path of Tony Conrad and LaMonte Young. Playing a double-bass strung with piano wire, Arnold arranged the music here for piano, organ, hurdy-gurdy, and two basses. Slow and grinding! The dexter's cigar CD reissue kept the music going in the 90s, and Tzadik, Cantaloupe and Table Of The Elements kept the flag flying with further classics in the early aughts. But now, we're full circle with the original album that's been only becoming more relevant with time – back on vinyl since that original rickety-ass 1982 LP pressing! WHOA, deja boom!
LIVE/DEAD
Future of music, ho! Should there actually BE one, who's to say it won't come out of Europe? Whole traditions HAVE, you know. Before the multi-head-asaurus called America raised its mutated whasis, Europe was lookin' pretty darn good as re: innovations and shit. Now that our ol' US of A is in full-on Roman free fall (sob!), who'll the next fool be? Perhaps we're goin' back full-circle style to the Afro-Asian roots of all culture! Really though, who knows where that particular wind blows from, you know? Even it if doesn't come FROM Europe, rest assured, it'll go there – 'cause they're a great audience for "the new", far more attentive than our own nation of millions is. Oh, Europa, you've got such ears! Now that a Rider is approaching, you can hear the wind begin to howl, can't you? That's right – with their new single in tow, Dead Rider are returning to Europe this summer for the first time in a couple years, at least. And why not?! The sounds of Chills On Glass need to be heard in the clubs of Scott Walker's adopted homeland – as well as the motherland, the fatherland and the whole darn familyland of Europe beyond! But Dead Rider aren't the only re-gifting program we've got going LIVE in the land Down Over - Jessica Pratt's over there right now, doing her magic thing. So are Purling Hiss, doing their Purling thing. Alasdair Roberts is gonna be on the continent soon, having just finished an exhaustive UK tour!White Fence just finished a Euro-tour too, and they'll be going back over to do some festivals later this year! The Six Organs of Admittance Hexadic World tour is gonna touch down over there in June– and before that happens, Sir Richard Bishop'll be there in June. Why even Neil Michael Hagerty himself is going over for the first time in 21st century! YES, HE'S GETTING ON A PLANE. So dig it, and don't forget it. Drag City is New World/Old World/Next World like nobody else – and not necessarily because we go there – but because of what we DO there.
Think about it. Do something about it. Be the fucking ball for once in your life.
Later  –
Rian Murphy
Drag City Inc.
March 2015