THE GOOD OL' DAZE
Hey there, brother-sister…it's been a little minute since we've (been) seen (by) you! Now, you got your own thing and we know it, but when you stay away for too long, it's almost like you've gone and missed EVERYTHING. Imagine! Missing everything in the month of August, any-year, USA. And yet – here it is August, and we've got plates spinning, men in motion, women of the world taking over – and it hasn't taken long! So yeah – we honor and respect your desire to get lost in the details of your own choosing – don't forget, Drag City Records traffics in the kind of musical details that can really mess your mind! That's been the aim from the very start, back in '89, with that mad brother-sister crew you knew as Royal Trux. They set the bar…somewhere up in the ether, and where once we were light headed, now we're kind of fond of the (lack of) air up there. Naturally, folks like Ty Segall, Flying Saucer Attack, Jim O'Rourke, Bitchin Bajas, Meg Baird, Black Bananas, Jessica Pratt, Six Organs of Admittance, Sir Richard Bishop, Wand, Elisa Ambrogio, The Howling Hex, Joanna Newsom, The Red Krayola, Purling Hiss, Baby Dee, Dead Rider, David Grubbs, Bill Callahan, Silver Jews,OM and half-jillion others (including the Bonnie 'Prince' himself!) keep lifting us back up to the top of the world, where we can look down at creation…is it any wonder we want you to feel like we do? We do! So 2015 has been another year of fresh re-vibing in our universe, with the final "quarter" (as they call it in business and hoss racing) promising black holes and musical tesseractions the likes of which the world can only imagine until they are confronted by their realities, and jam them in their head, two ears at a time. Come back to our dream of your reality! New experiences live dead ahead…..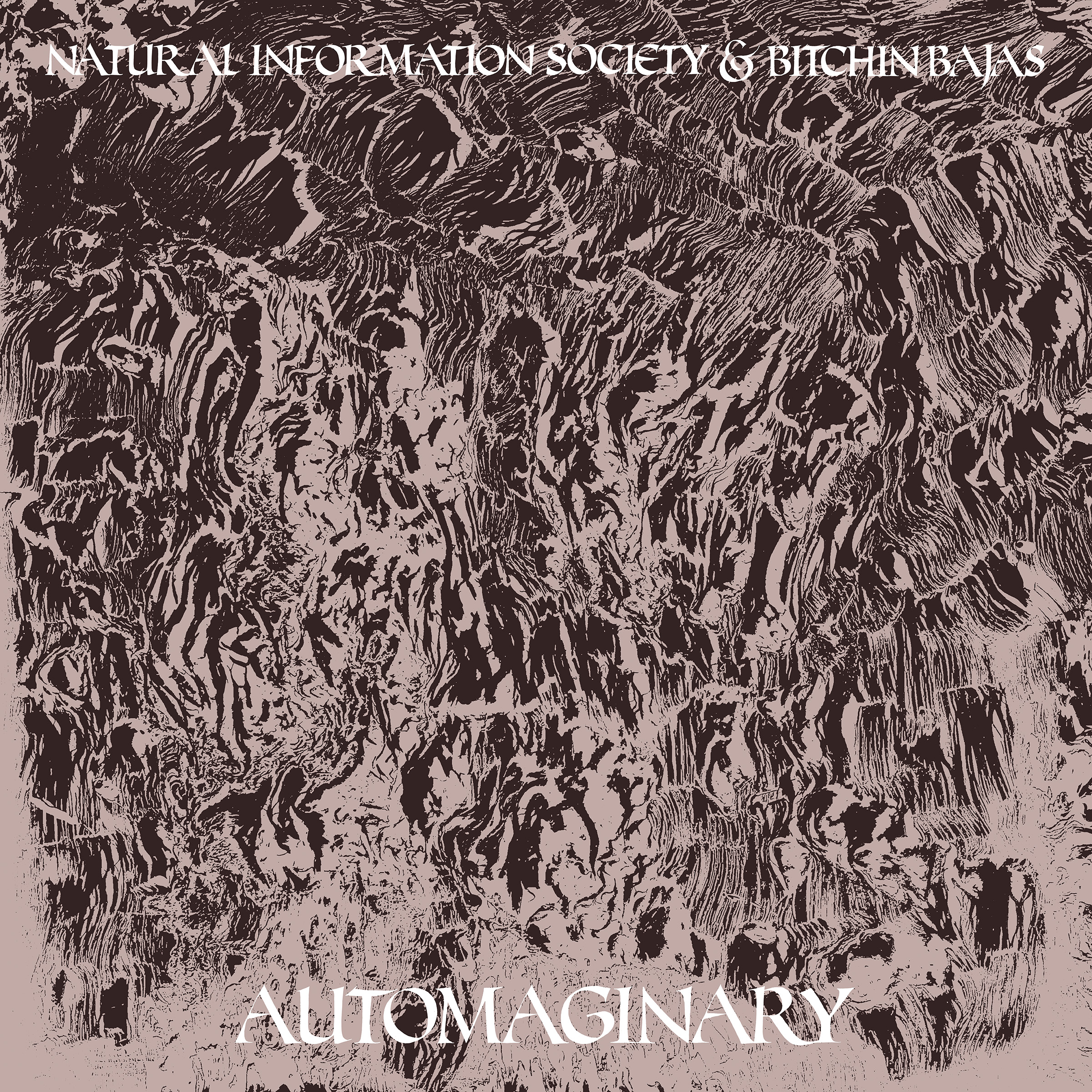 WE ARE THE BITCHIN NATURAL BAJAS INFORMATION SOCIETY
….god bless the mothership, and all the different varieties! This week and until our world's end, you will have the option of knowing Automaginary, the one and only (so far!) meeting on album between two of our fave eternity-chasers: Bitchin Bajas and Natural Information Society. The crossing of their arc'd streams was fortuitous, since both are chasing the same thing in distinctly different manners. It's called tapping the source, see, and it involves using time as a frequency, duration as pathway, instrumentation as ideology and performance as knowledge – but if you ever ask these guys about it, they'd probably deny ever positing such pretentious thoughts! They just play, it's for us to do thoughts, really – and what else are we gonna do as we journey down between the plates of existence, guided by the audios these two groups are emitting? Bitchin Bajas blew us up last year, with their keyboards and flute and sax and synths and SOUNDS of life all through the self-titled 2xLP that to our ears and the brain matter connected to them, SAID IT ALL as far as the aforementioned source is concerned. Forget that psilocybin drip we requested in our living will (don't pull the plug, PLUG IT IN), just play that over and over again – yeah, the Relaxation Version - until hospice is over, because there ain't no kinder, gentler way to go. Or fuck, play Bitchitronics or any of 'em. They're all ULTIMATE. But ho! Something Natural this way comes! Josh Abrams' Natural Information Society was minted almost at the same time as Bitchin Bajas' spaze crahvd, mainly as a vehicle for Abrams to explore new directions in guimbri playing, recontexting the earthy tones of the goat, camel and wood-framed lute outside of its traditional Moroccan musical environs, placing it against jazz and rock and free instrumentation while retaining the mystic, trance-inducing capabilities to go DEEP every time the Society convenes. We don't know what provoked this union – whether it was just vibes or something that made these two collectives decide to ride the wind together, but after a few shows where the keys and reeds of the Bajas were wedded to the pulsing rhythm orchestra of Natural Information Society, it was time to get Automaginary with it – and so of course, they did. This Natural Information Society & Bitchin Bajas record is five cuts from the larger fabric of time, each one a riptide of gravitational pull that will draw you from what you once foolishly called equilibrium, and into the current of ALL THAT IS; the flow that has been waiting for you to go with it! It's an expansive album experience, to say the least, with one massive track on side one that is our vote for finest farthest star of the year so far (which is actually saying something in August!), "On No Fade." It's not like these guys are gonna tour all around the world as the Natural Bitchin Information Bajas Society – there's too damn many of them for that, and anything less…well, even if less is always inevitably MORE, what we're trying to say is, if this sounds like your kind of parting, then get Automaginary and have the sonics in your mind done over! How will you ever regret a thing like that? The record and cassette are out on August 28th – and they're not getting any more IN after that, so don't hesitate. The rest of time is waiting….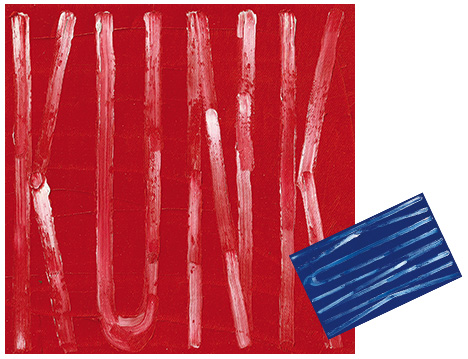 THE DOPE-MEN KUNKETH
October 2014! Dope Body break a silence of two-plus years with a knifehand strike direct to the bridge of yer (once-turned-up-now-turned-ON) nose an' statement of purpose to boot (up your ass): LIFER, as rock a Dope Body album as anybody has ever made. STILL! Because it's not even a YEAR later and the only ones who can possibly get it done (yes, Dope Body) are busting their next move on you – the wackest Body blow yet, unless you're one of those cherry-busted PUSSIES who've got Stockholm Syndrome for the good ol' days (say what?) of Nupping. Yeah, time is PASSING, people – why, it's been since the halcyon moment of 2009 itself that Dope Body have been churning and burning, which seems like a long time but is of course not that long when you're talking about GOING 360º over the course of four albums and a handful of short-play records. A full circuit through the world of outré-aggro-rock-n-noise is what its amounted to, and as they explode this August with the unfettered jams and funk-junk of Kunk, MAN do they sound fresh and new again! There's a live feel to all of this, but plenty of studio trimmings that allow Dope Body to do what they do so very well – fucking rock us while fucking rocking with our fucking head! On LP/CS/DL Kunk gets it done. And don't miss the European tour - lotsa chances to have their chaos and chemistry live in front of you, always Dope!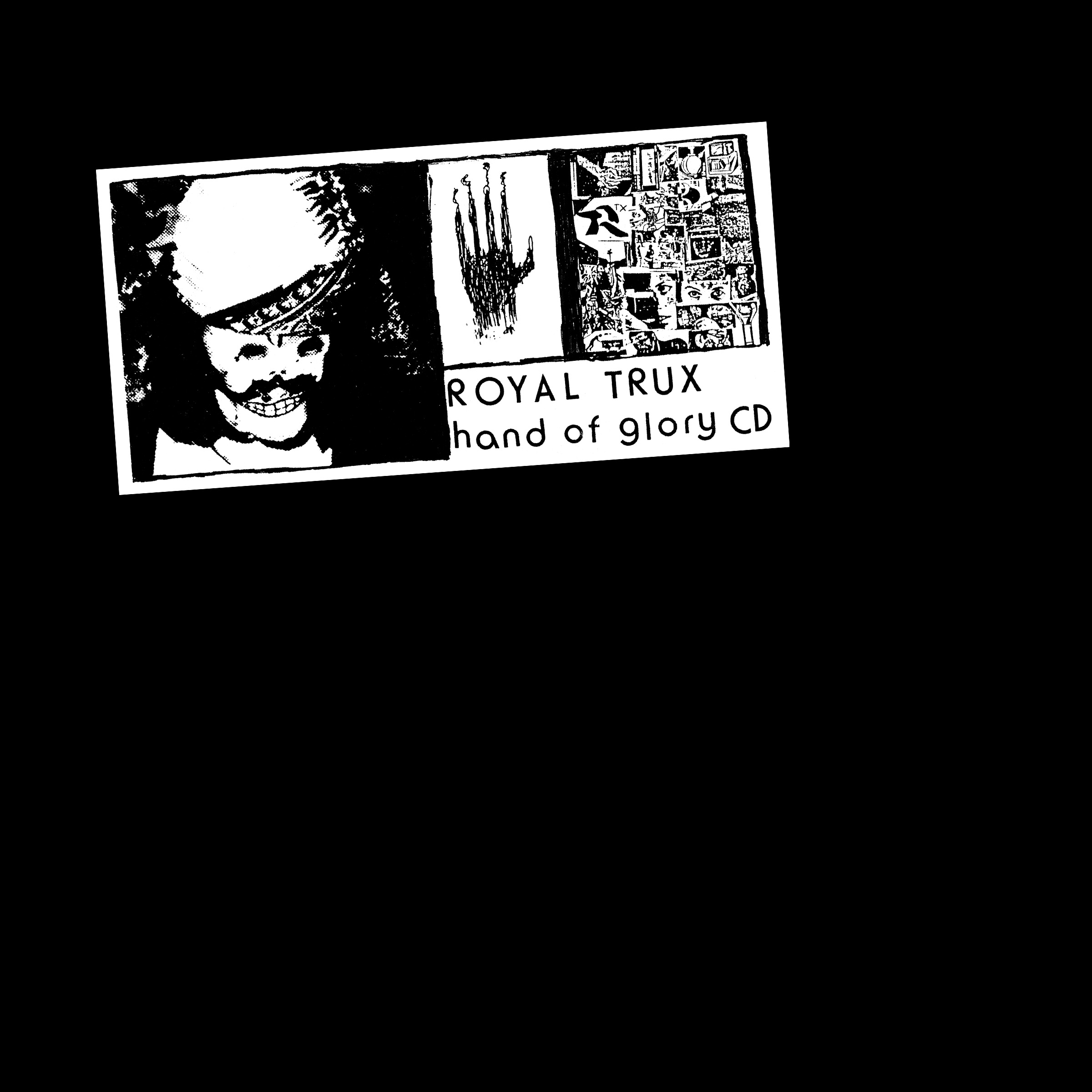 PATHS OF HAND OF GLORY
Well, we're back from Berserktown and even though we didn't believe our eyes and ears, the memory has been implanted – we saw and heard Royal Trux alive in 2015, and whether we never have that experience again, it happened and was amazing and brought back to bear yer basic notion of circular time. It's still out there! But Royal Trux were always counting on such washer-and-dryer cycles in the thing they did – and it was never more clearly broadcast than with their final official release, Hand of Glory. When it came out in 2002, the band hadn't recorded or toured in nearly two years – but the music of Hand of Glory reached much further back into the mists of Trux-dom, drawing together two pieces that were being stitched together in 1989 and '90, in between their first and second album. For a minute, Hand of Glory was maybe gonna be that second album – but like a lot of grand schemes of that era, it got flushed away and other things happened instead. This material's clearly part of the generally baffling metamorphosis from Royal Trux to Twin Infinitives, and for most of the decade-plus between its conception and release, it sat locked in a chest in a basement in Maryland! When the tides of time left a corner exposed, the tapes were immediately seen as an "end-is-the-beginning" kind of end to the whole thing, which seemed right. SO, when Hand of Glory came out, it was looking back in retrospect at history 12ish years removed from "the present" – and now again, it's been about 12ish years since then and here it is again, back from the hallowed ranks of the deleted! On all-black LP and CD, Royal Trux's last album all over again, out now: Hand of Glory.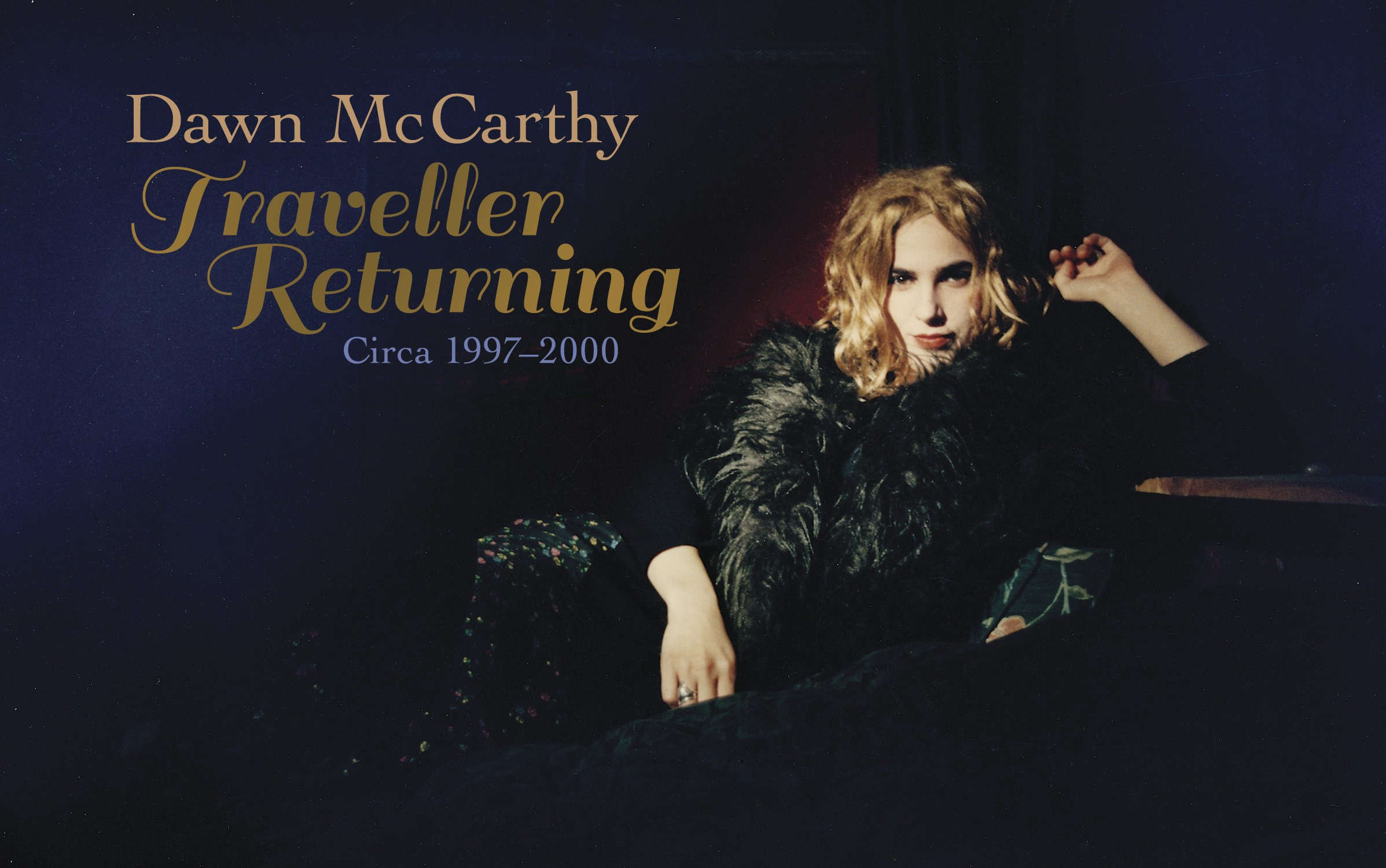 FOR FAUNS ONLY!
We're aware that the last five years have held very few bright spots for fans of the vocal explorations of Dawn "the Faun" McCarthy and her traveling music show known as Faun Fables. With the collaboration of the exquisite Nils Frykdahl, Dawn made five far-ranging albums of "songtelling" as Faun Fables between 2004 and 2010 – but then she and Nils started making more babies than records and now they got three classics in the kid department too. Still, with Dawn's 2013's collab with Bonnie 'Prince' Billy, What the Brothers Sang, being the only McCarthyist pleasure since the last Faun Fables album (Light of a Vaster Dark  - brrrrrrrr!), Faun-heads are deserting their campsites in desperation, combing civilization's outposts for signs of a next coming! Don't despair, our burry brethren! While the next set of Faun Fables' songs are being gathered, we've got a cassette of early Dawn McCarthy recordings to MORE than slake your taste. Traveller Returning is the pre-Faun sound of Dawn, making tracks in the good ol' DIY way back in ye olde 90s. Some of these songs ended up on the first Faun masterpiece, Mother Twilight, but here they have an OTHER kind of freshness. And just as they were recorded back then, they are now available again – on cassette. Yeah! Something to play in your motor-home, while rolling down the back roads, searching for a new weird America. It's in your own backyard! And while you're waiting for the Faun Fables show to come to your own backyard, getcher copy of Traveller Returning right here.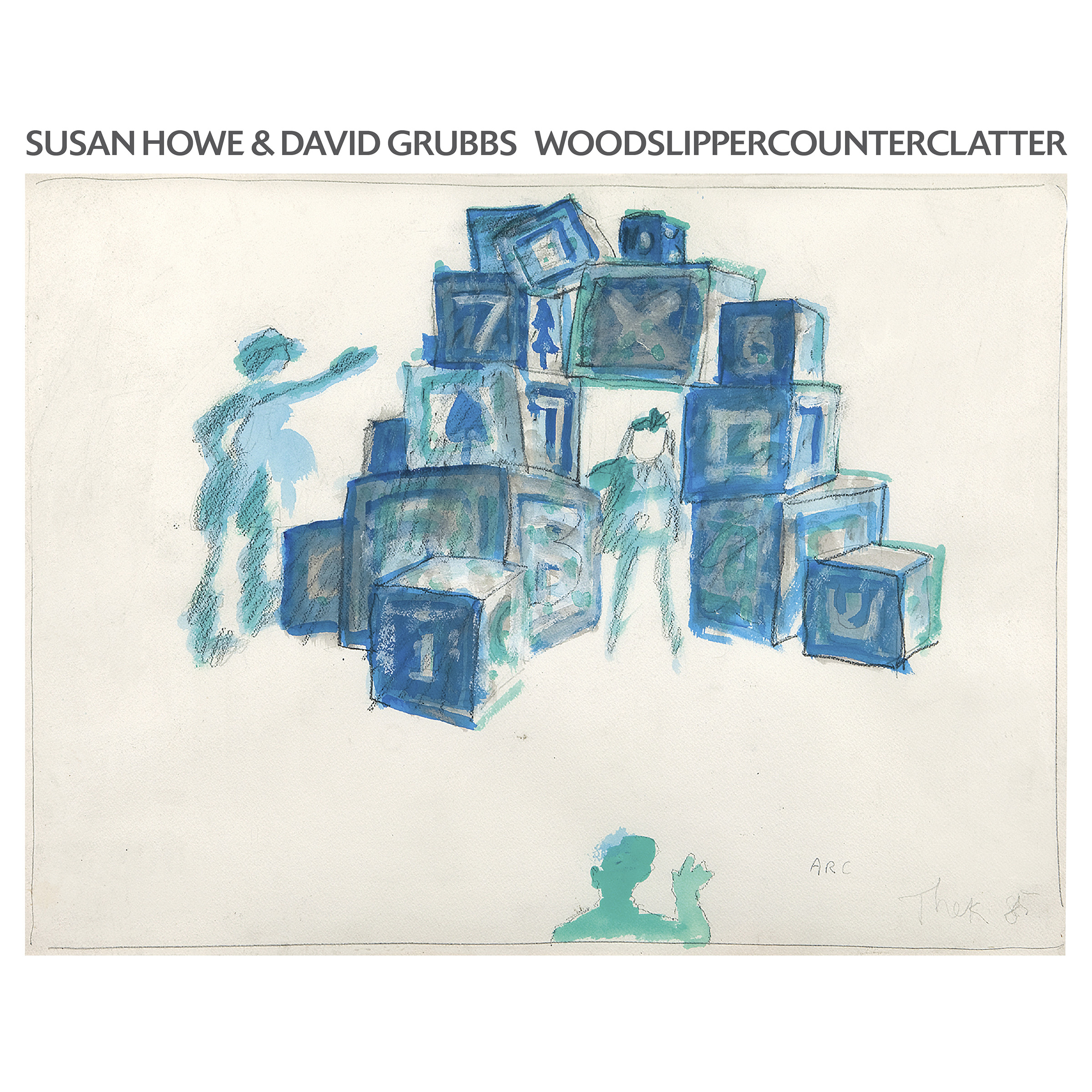 AND HOWE!
…Grubbs & Howe, that is. Or Howe & Grubbs, if you believe in ladies first, like our old Kentucky Colonel friend David Grubbs does. August won't be complete (and therefore September and the rest won't come through) unless you give your consideration and attention to the latest meeting of modern spoken-word poetry and equally-modern music that is the highly distinctive collaboration of Susan Howe & David Grubbs, on their fourth Blue Chopsticks release, WOODSLIPPERCOUNTERCLATTER. This is the first of the Howe & Grubbs albums to come out on LP, which will allow listeners to have the truly free feeling that comes of listening to avant pomes-with-music in the privacy of your own space, whatever that may be – but on vinyl, dig! Fans of the previous releases Theifth, Souls of the Labadie Tract and Frolic Architecture surely will.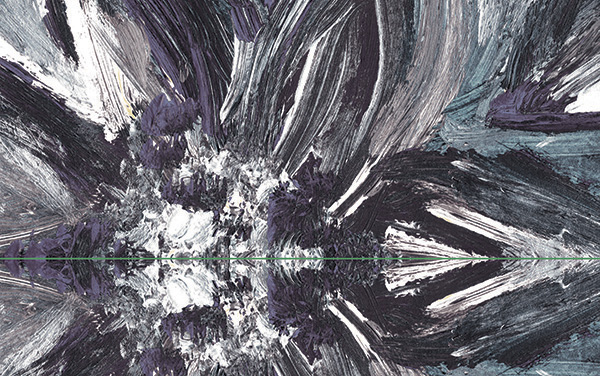 SITTING ON ATTACK! YESTERDAY RECONSIDERED
Also in August! Flying Saucer Attack's Instrumentals 2015 is now on cassette! If you care about changing the future of music, you'll buy the tape and play it until it melts into the player - the word made flesh once again! The original release date for Instrumentals 2015 was back in July, but who remembers ancient history, right? BUSTED – we do! The way things are going, we're practically the ancient history police around here, talking about things that happened LAST month and the month BEFORE. What's next, last YEAR? Don't tempt us, stripling – but for the sake of your sanity, let's just focus on last month for a second – the newclear winds of FSA, like we just said! The debut of gutter-popsters Peacers, as produced by Ty Segall! The reissue of Midnight's Into the Night, (from last century, but still recognizable as youthful rock and roll)! And all thanks to Sun Ark, solo gyil recordings from a master, SK Kakraba, on Yonye! It was a heady time….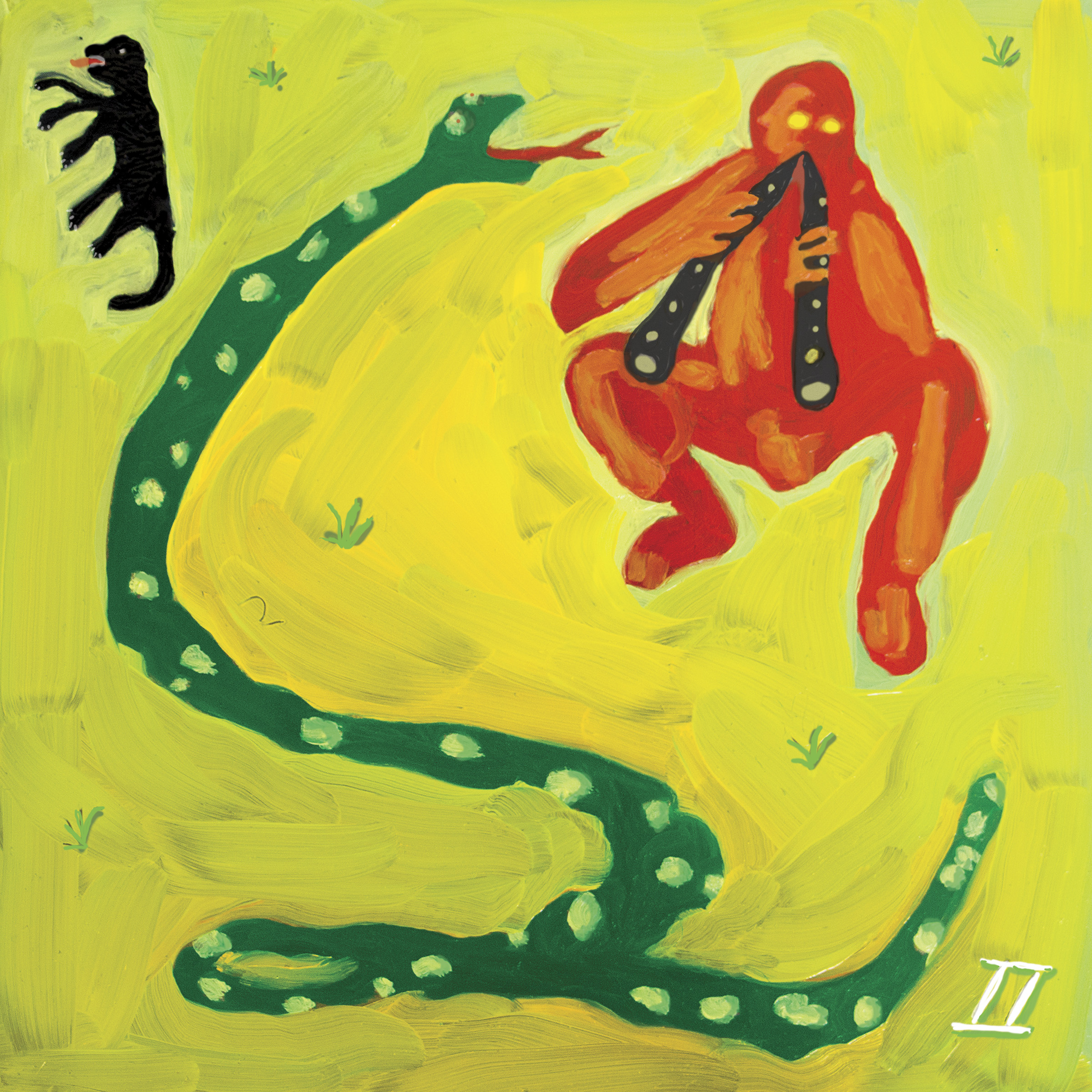 1000 DAYS LATER
…well, 395, anyway? To be precise! It was just about a year ago that GOD? debuted the music of Wand on album (a format with which they are exceedingly compatible) with Ganglion Reef, and this young band was off to the races! September will mark the moment of their NEW new album release, 1000 Days, after their sophomore album earlier this year, Golem. While this isn't fair on account of the rich meal that Wand throw down on the table with every album they make, filled with musical directions of all kinds and sliced together without a slightest thought to the IMPOSSIBILITY of it all, their pure flow is frankly addictive, so we don't mind and actually prefer it instead! We weren't really ready to pull Ganglion Reef off the turntable when Golem hit, and now we got this one too – but whatever, because 1000 Days may be the best Wand they've waved yet! What that says for the next 365 days remains to be seen – but given that they're gonna spend the rest of the year touring, chances are they won't top themselves TOO MANY times in 2016 – or will they? For Wand, the sky is no limit – and 1000 Days races across its celestial vault in search of answers to the loathsome human condition in which live in. At the end of the day, they find a wealth of beauty in the despair, and a thousand colors are flown throughout the epics of 1000 Days. Wand, stop being SO MAGIC!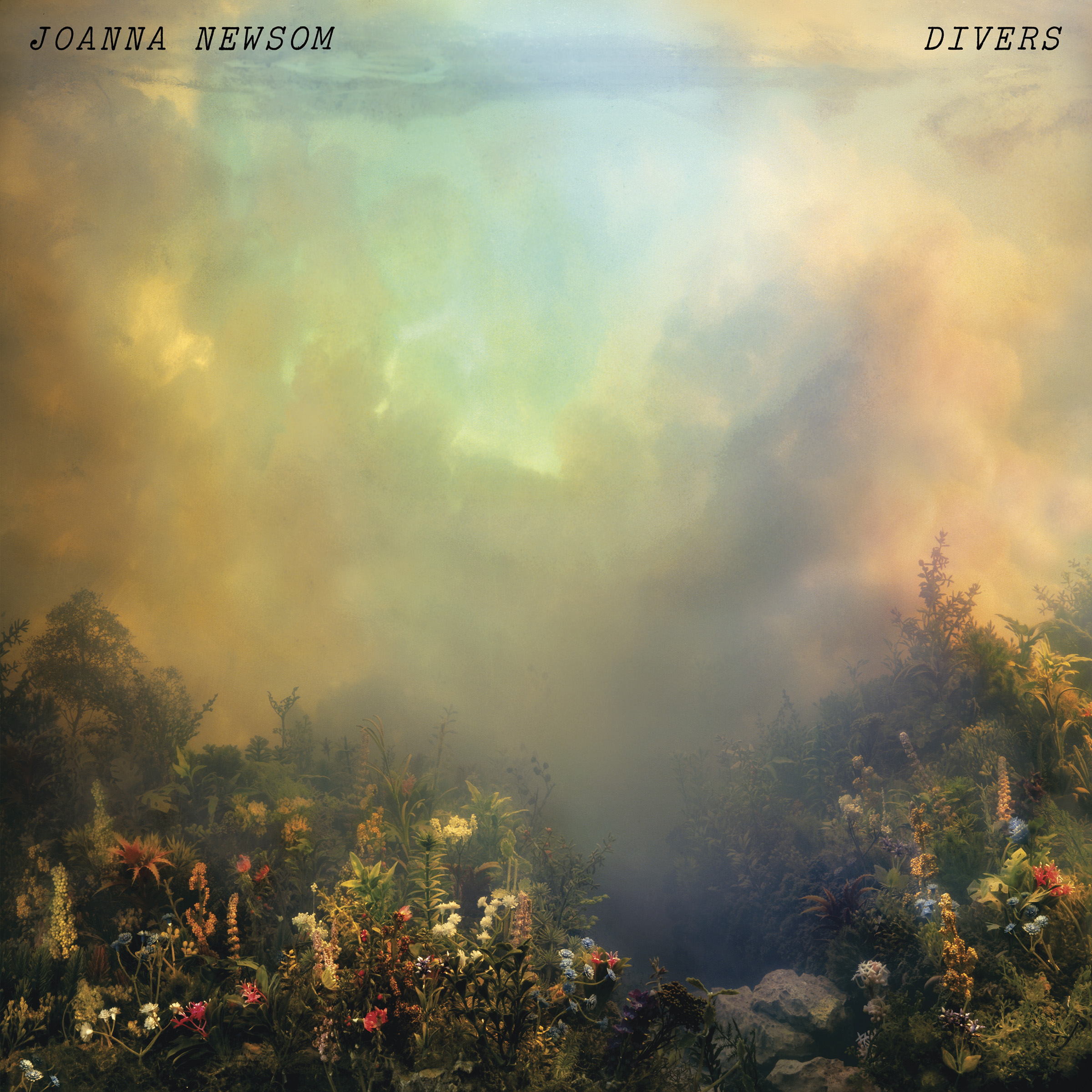 DIVERS-ITY IN OUR WORKPLACE
It was only a couple of weeks ago, but the vertigo-inducing hallucination that is the internet would have us believe in forever instead: have we always had a new Joanna Newsom record coming out in 2015? Yes, internet, yes! We believe. Since the video for "Sapokonikan" mysteriously appeared on our YouTube channel, we've grown accustomed to the idea that Divers, by Joanna Newsom, will be available to any and all on 2LP/CD/CS and DL on October 23rd. I mean, why not get used to it - it's BEYOND a pleasant idea. And since we JUST finished our contemplation of her last album (2010 A.D.'s Have One On Me), the timing is perfect – another album to spend the next few years of life unraveling! Because we live in the modern-day Walden that is the corporeal world and only use the internet for watchin' videos and bidding on things and game play, that sort of thing – not shaking the structure of songs to knock loose every last internal rhyme (we're looking at you, freakin' genius.com – get some fresh air, would you?). We're prepared to let the flag of this music unfurl in real time – but in the time between now and the then of release, we've got plenty of elvish runnin' 'round to do in the name of getting Divers to every good boy and girl out there in time for All Hallow's Eve, okay? Joanna, and everybody else we've just mentioned above – whoo, King Harvest has surely come, huh?
FORWARD….FLY!
Is that enough? No! Not with tours branching off like veins all over this body Earth, bringing Drag City bloods (and crips too) to all comers! Don't you miss it: Laetitia Sadier, back in the USA in September for her first tour in four years; Alasdair Roberts in Europe in October; Wand doing many days in both Europe (NOW) and the US (mostly in November) in support of 1000 Days; Jessica Pratt spreading her own love some more, both as a solo and as an opening act with admirable integrity, in Scandanavia, the UK, the US and Australia for the rest of the year; Dope Body kunking the crowned heads of Europe all over in September and October, CAVE coming back (at last!) and then going south in September, O'Rourke in Tokyo at the end of October, doing Simple Songs and Bad Timing and then taking to the sky and flying to Osaka under his own power (because if he's gonna do those records live, then he can surely fly like superman!), OM vibrating through Europe in November and the Peacers/Elisa Ambrogio tour just announced….SHIT, that's a lot of tickets! But what the hell else are you gonna do? Oh, right – buy all the music we just finished talking about. Don't worry - you can fit it all in.
That's NOT really what SHE said -
Rian Murphy
Drag City Inc
August 2015