All Saints just over our shoulder….Holidays and Black Fridays coming on...can it be? The year they said might never end (well) is coming to an actual end? An end where we all end up living, even? We've been on the edge of our seat all year long....but now, there'so time for freakin' huzzah, gang! In the web that is our own, we're prepared to begin again - even if the outcome is destined to be overpowered and plowed under by the nuclear winds of '18! And yet, rather than spending time streamlining (and streaming in) our fallout shelter, we're happy to get a few more records ready for release instead. If we don't get 'em done, we'll surely miss them when we burn! And hey '17 - we think you might too.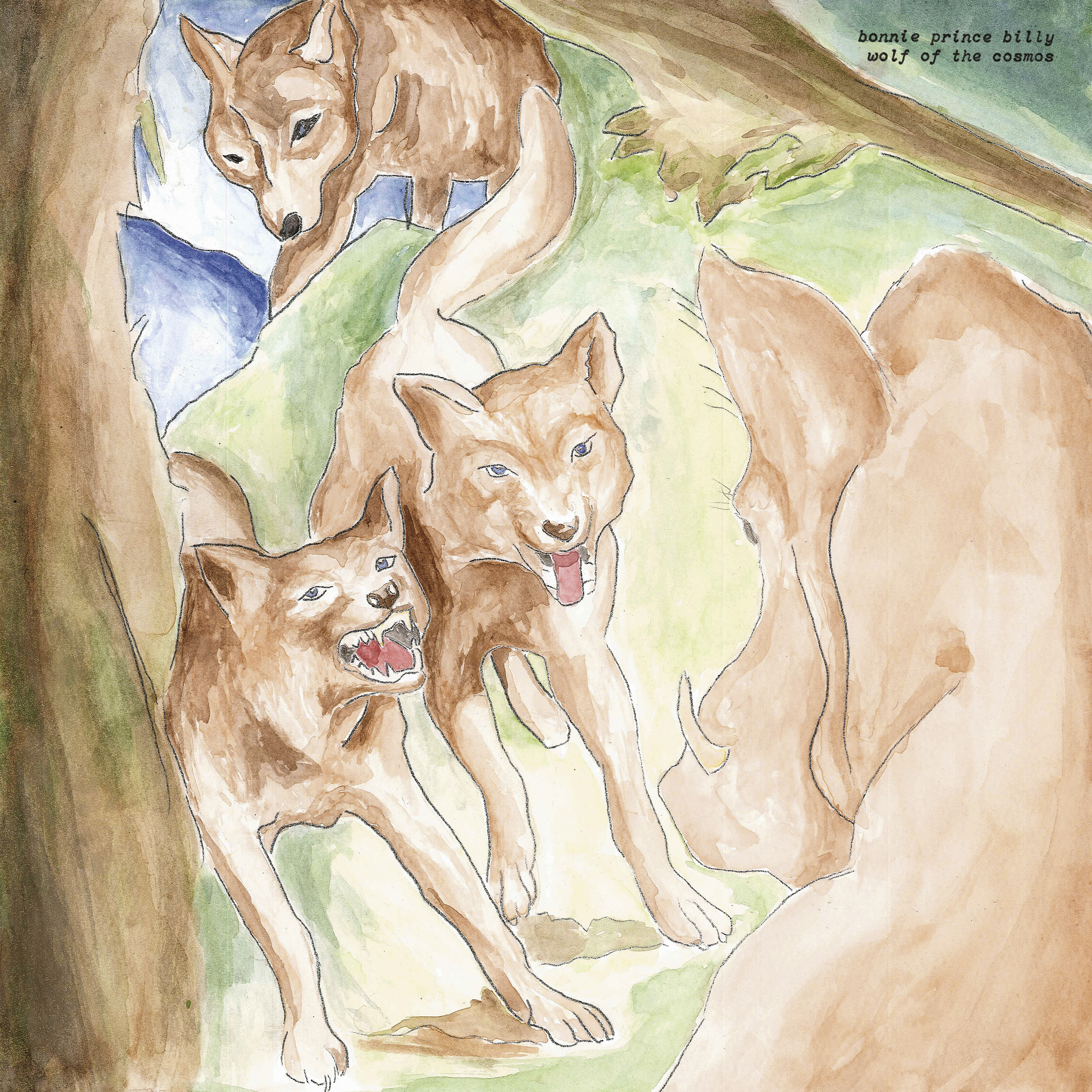 COSMOS FACTORY
Now you don't see it, now you don't not! The musical cryptogram that is Bonnie Prince Billy is suddenly, thrillingly before us again in a new album manifestation, Wolf of the Cosmos. Breaking forth with a startling crack of acoustics in the air – violin, banjo and harmony voices – this new recording takes us back to deeply clarifying places in the Bonny discography –  the types of desolation and comfort we recall feeling in Master and Everyone and There Is No-One What Would Take Care of You - but no matter what we hear, know the impetus for Wolf of the Cosmos is strictly in the here and now, with the music being played to open minds and hearts around the world with the urgency that we all feel in our present besieged state. While it sounds utterly of the now, Wolf of the Cosmos is a song by song examination of Susanna's 2007 Sonata Mix Dwarf Cosmos. Throughout the record, one can hear Bonny and band (Cheyenne Mize, Emmett Kelly, Chris Rodahaffer) rising to the challenge of Susanna's enigmatic compositions, desirous of unlocking the mysteries in the music by participating in it, playing it down live together in a room as a whole thing - which leads to a kind of ownership of the material that could cause you to mistake it for the Prince's own original music! And even if you don't, it is still vitally arresting. Listen to (and look at) the preview album track, "People Living"! Available only directly from Drag City (and our retail volunteers of North America), Wolf of the Cosmos is an invitation to interaction, in the hope that we are able to solve enigmas of different shapes and sizes via person-to-person participation, in a manner similar to the deep engagement of the session itself. In short, to put hands on is to begin to understand (but, hands off, gentlemen! Let there be no confusion - with-the-times ed). Get it from participating Drag City retail partners throughout North America – or buy Wolf of the Cosmos direct from das mothership! Available starting now, November 17, until, y'know, the end of time.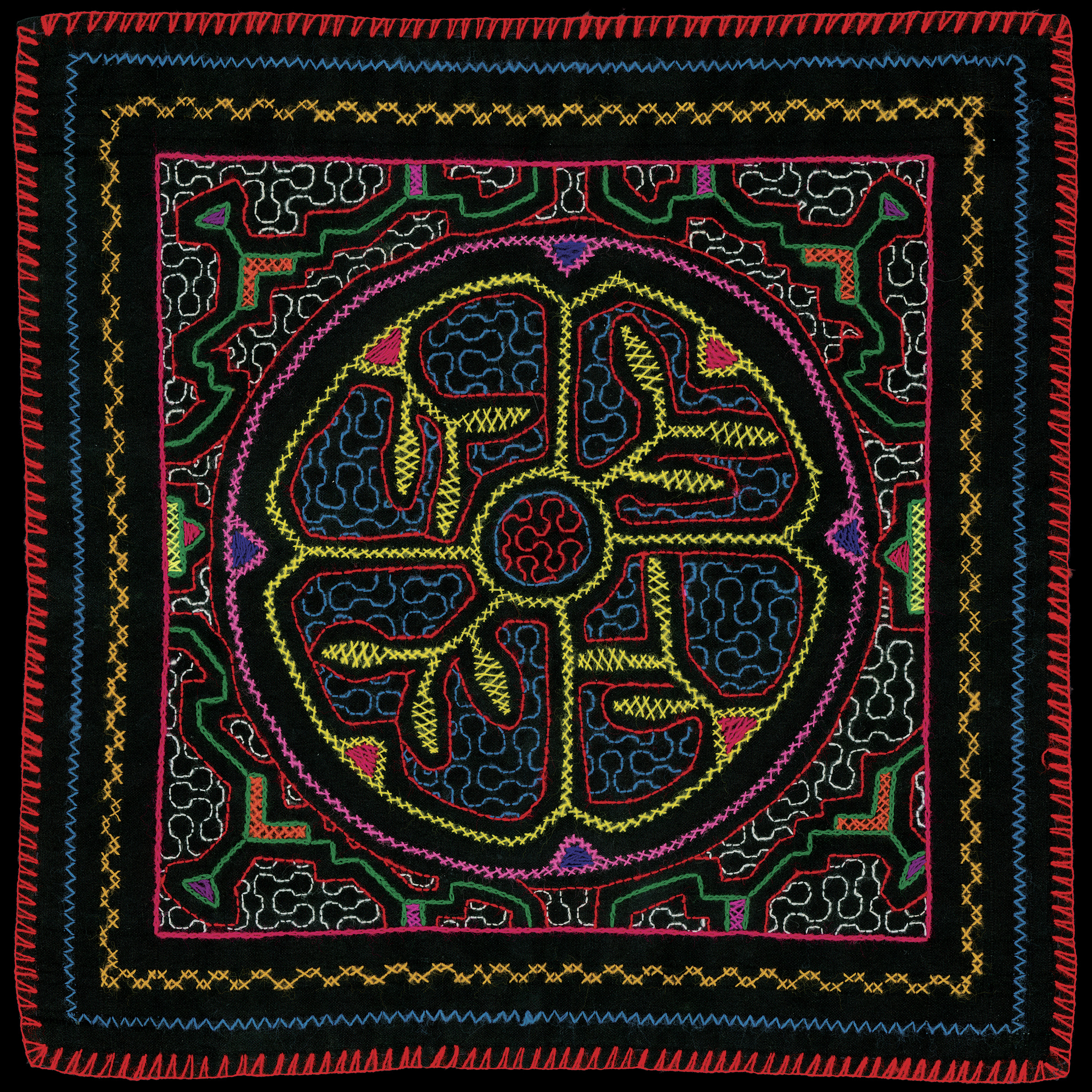 BITCHIN TO BE
In nature, it's a long slow slog to evolve; it's only in the world of men that we fix the clock on the wall and then rely on it to inform and propel our progressing. A day in the life of a tree ain't nothing (it's also not inconsiderable! – to-everything-there-is-a-season ed.) – you gotta stick around awhile to fully suss the growth. The glaciers weren't froze in a day, and it's only through the time-(in)sensitive demands of Our Kind that they've been so swiftly depleted. It's all too obvious where we're going with this, right?: this dichotomy can't help but affect the sensate pulsings of nature whisperers like our very own Bitchin Bajas! They're trying to channel the rhythms of the earth and the path of the cosmic winds – but then, they're only human. Those are two different time zones, to say the least – more likely, measures of time as alike as an orange and an egg. Is it any wonder it's been three years since the last BB album? What's a flow-loving band to do? In the case of the one and only Bajas, the answer became inevitably (but nonetheless glacially) Bajas Fresh. And the audacity of following one double-album with another; who are these guys, Chicago? No, but they are based in Chicago, which tends to mean, their way or the highway (nothing "free" about it – Midwestern-dialectical ed.). For the progressions of Bajas Fresh, this meant sliding a few square pegs into more than a few round holes, just to see what that sounded like. Then doing some editing and EQ-ing. Then listening some more. Then trying some other pegs – maybe triangular ones and square holes. And so forth – because the only way for the Bajas is forward, leaving past flows to the streams of time. And Just between you and me (and nature, boy!), it has once again worked like a charm – as both album and double-album (/double-cassette – format-police ed.), Bajas Fresh stakes out territory entirely distinctive from Bitchin Bajas. It also finds them combining their programmed-synth personality (the kind that we Bajas nuts so adored on the "Krausened" and "Transporteur" EPs) with their ambient minimalist personality, then throwing in some new touches involving rhythm, actual chords and even a cover tune! All this is handled in purely Bajaian (!) fashion (check "Circles On Circles" (and if you don't get it, check your ears/soul/exosystem etc)), and the mixes and sequence progress with a liquidity and an understanding of album-length dynamics that is simultaneously calming and invigorating – and new! Thus the title. With artwork in pure cohesion with the music expression PLUS the release date of November 17th, Bajas Fresh DOES happen to make the perfect Thanksgiving gift – or you can wait and give it to someone special for Kwanzaa. OR, given that it is a true slice of the eternal, slow-burning Universe, get a few copies and hold one back for your significant one come Ramadan. This is music for the whole planet, don't forget it!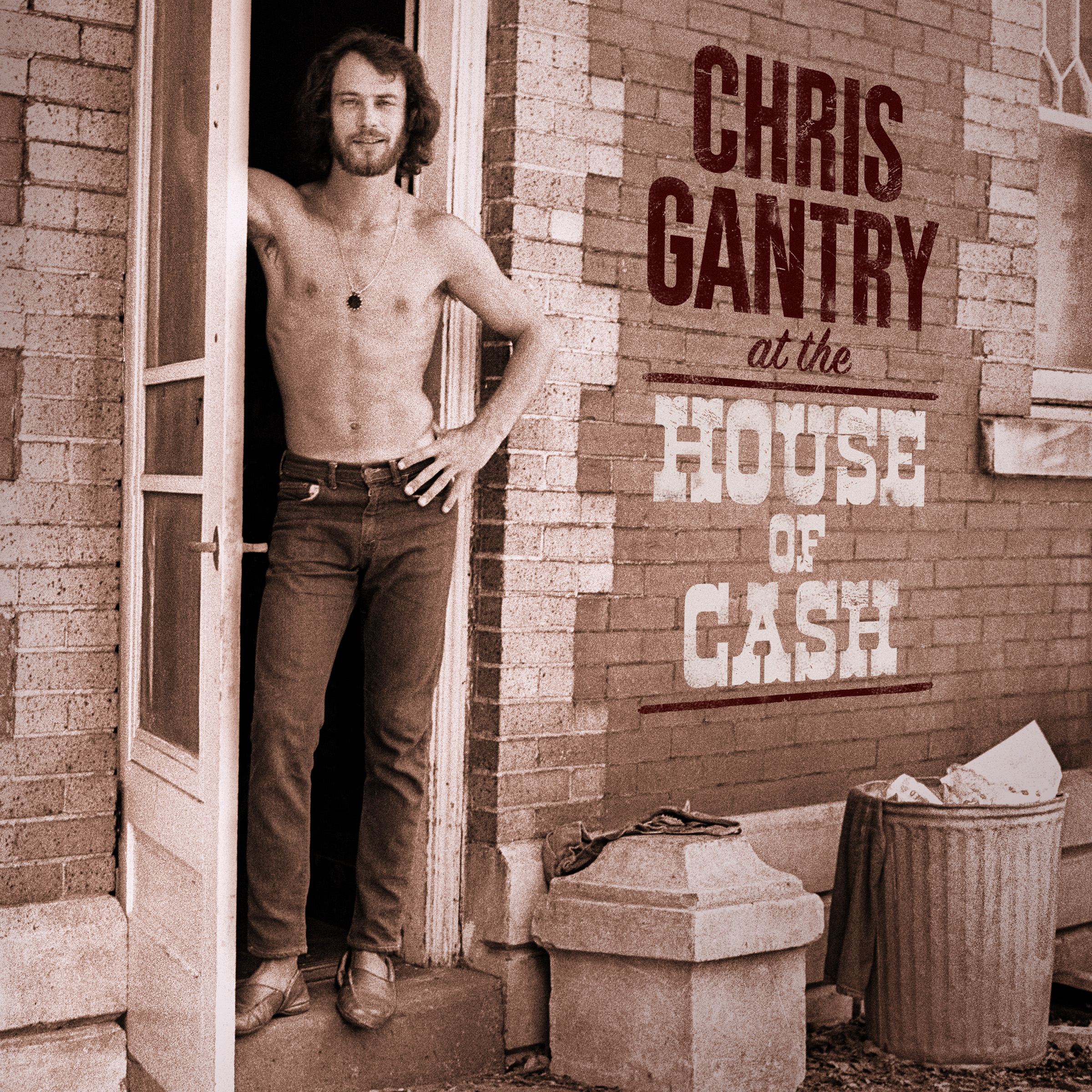 RISE OF THE HOUSE OF GANTRY
We love music, and consider ourselves significantly blessed by this career in rock; standing at the gateway of our hairy, hippie gallery is a position that allows us to hear plenty of things that we'll work with and work without. On a daily basis, music from across history throws itself at us, expanding our view of time and space with every spin. Every time we think we know the exact contents of our macrocosm, we are proven wrong, and proven richer in the process. This is the way we feel when we think about Chris Gantry. If our good buddy Jerry DiCicca hadn't put the bug in our ear about Chris, might we know the wild, wide-grinning, expansive nature of his music, via records like Introspection and Motor Mouth from 40-50 years previous? Shit. No! Furthermore, we might not have had the opportunity to now pass on to you the previously-unheard At the House of Cash. In the 45 years since this album was recorded (yes, at the home studio of Johnny Cash) and not released, there's been nary a whisper about it. That's the way it goes: over the years, other once-neglected records from Nashville and Memphis and all around have come in for recognition due to their many and varied merits. When it comes to unissued records of the 70s, what held them back? It was the golden age of rock and roll, with recorded music sitting firmly in the mainstream and more money in the industry of selling recorded music than almost anytime before or since! This meant that records of massive and misguided indulgence were released during this time. And while the indulgences of Chris Gantry were not nearly so massive and misguided as some others, this music was put on hold, for another time. Perfect! Because it sounds completely fantastic today, with its counter-cultural roots music exactly what modern Americana wants to hear these days – a fusion of folk, country and pop and a wildly crack-pot headiness that never lacks for passion or humor. While it may not be the Pussy Cats of Nashville, there's definitely something Nilsson-esque about Chris Gantry – not simply his raspy croon, his predilection for smooth, melodic ballads or the cynical bravado of his iconoclastic soul. It's something else – and between the hard-charging roots-rockers, the ballads and the freakouts, it's REALLY something else. You can listen to the songs "Different" and "The Lizard" on Bandcamp right now - check 'em out, we know you'll agree! The world's been missing out on what happened At the House of Cash – but starting November 17th, we're loading the canon with the formerly lost sounds of Chris Gantry. May the world never be the same! Or June even.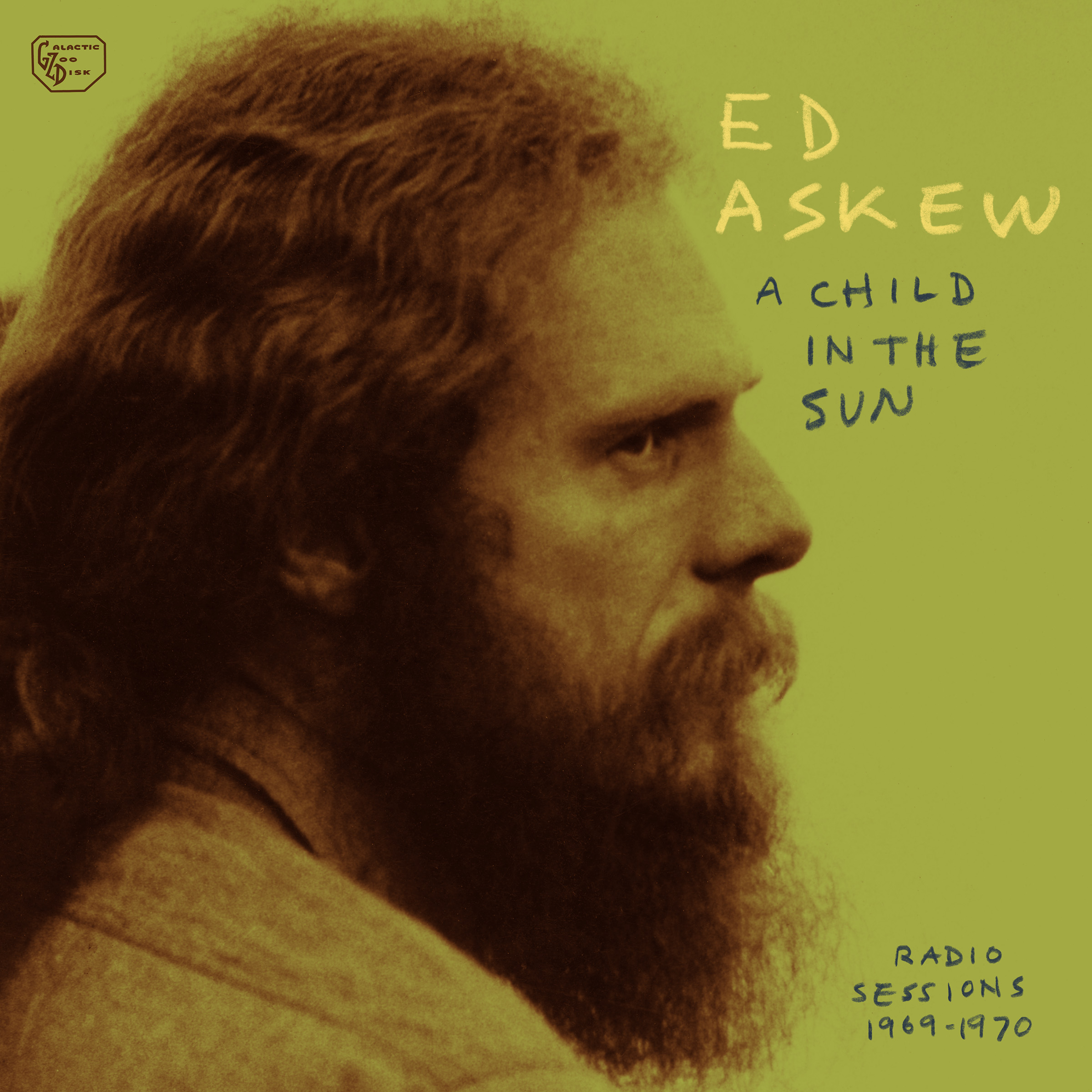 PERFECTLY ASKEW
Another from the list of talents both under-sung in general society while at the same time legendary in select chambers, Ed Askew is back on Galactic Zoo Disk/Drag City with a collection from his legendary early days; the ones that produced Ask the Unicorn in 1968 and Little Eyes, recorded in '70 but not released until 1995. This isn't a collection of previously-released performances – A Child In the Sun: Radio Sessions 1969-1970 is, well, that! With these performances comes a different vibe from the LP recordings, the kind of earthy quality of public performance. Ed's investment in the songs is just as deep as ever, but even higher spirits are in evidence, and the effect is intoxicating. Placed next to Imperfiction, the late 70s/early 80s collection reissued by GZD/DC in 2011, A Child In the Sun helps make up an excellent introduction to Ed Askew, if you don't know him already. And if you don't – get yourself prepared for a shower of stark, unfiltered honesty and heightened lyric beauty the likes of which only the rare few are able to bring and sing to us! A Child In the Sun: Radio Sessions 1969-1970 is out with the Chris Gantry, Bitchin Bajas and Bonnie Prince Billy albs on November 17, 2017. A day of legend, infamy and whatever else you got!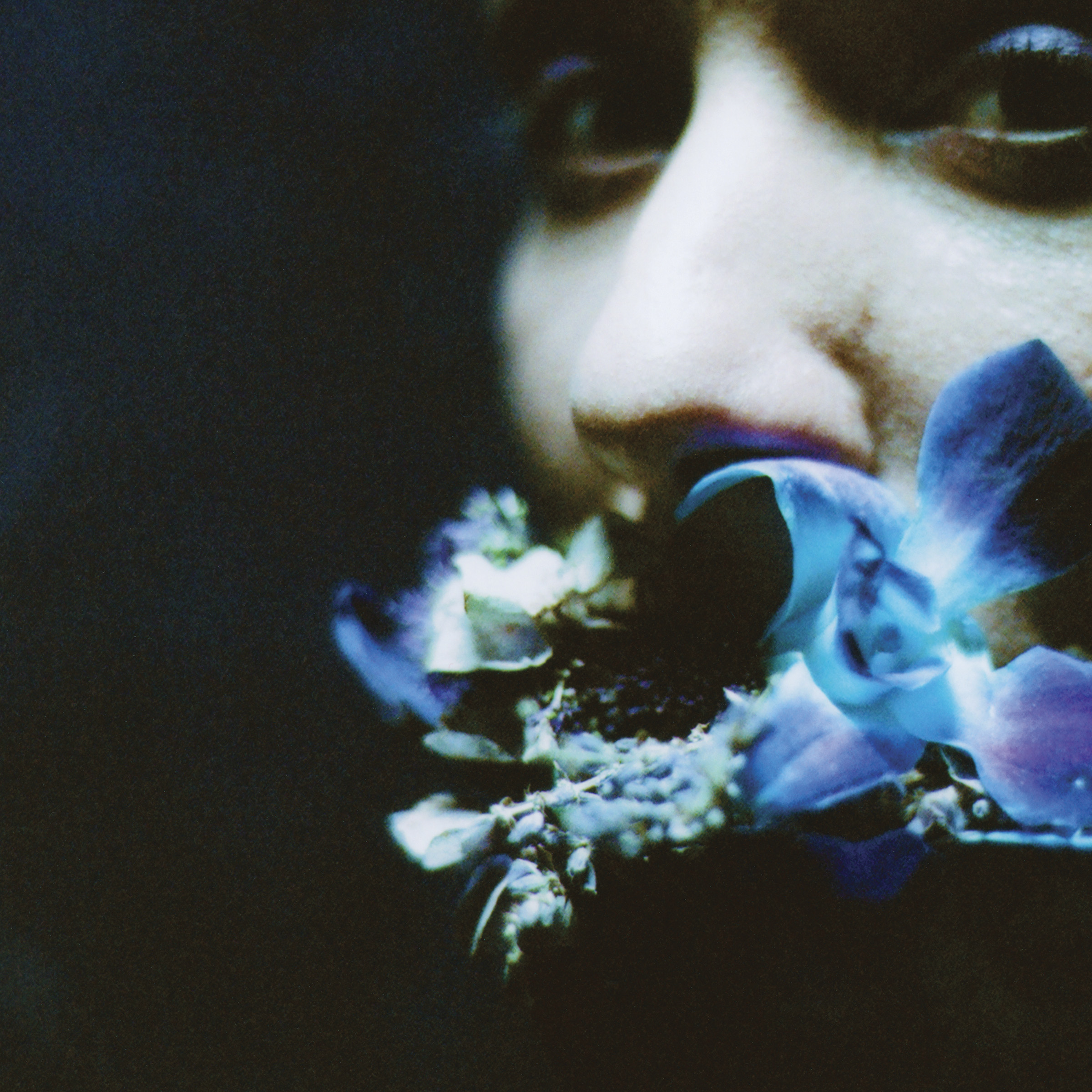 HOW DO YEUX EVER REALLY KNOW?
Brainshift! You stand next to your own casket, looking down into the bottomless depths – yet, the tears do not fall. This was another life. Remember that feeling? No - well then, we will arrange for an implant. Cue Reaching For Indigo – for nothing in this year of peak misery can communicate the vertiginous sense of displacement and rebirth like the new Circuit des Yeux album. Come to think of it, nothing makes the irretrievable loss of self seem like such a triumph as Reaching for Indigo does! This is the gift of Haley Fohr, to see awakening through the opacity of what others might call finality. Even though Circuit des Yeux have been making records since 2008, there is a fresh sense of arrival on Reaching For Indigo, and the secret is in the thematic surge behind the songs – a new perception of self, a navigating through the end of the night of one world into the raw sunlight of the next. You can hear it in "Black Fly", as the small details within an existential conundrum are threaded together with a swelling sense of emancipation. You can hear it in the defiance of "Paper Bag", which brandishes a fist into the night in the name of identity politics. And what about the video for the album(-and-mind)-opening "Brainshift"? – Haley as soundwave, generated by the funereal pulses of her starkly, amazingly freeing song. Circuit des Yeux is about transformation, and sometimes that means the kind of transformation that a body goes through passing from the womb into the cold, hard tile of the operating room! Cradle to grave, Circuit des Yeux's got it all in the arc of a single album – and that's not to mention her singularly stirring live performances. Since you brought it up, she's got concerts everywhere – the just-finished eastern US this month, western US in January and Europe in February. And beyond, which makes sense since beyond is a place with which Circuit des Yeux is very familiar. As she brings back more raw material from there, it sounds more and more like what pop music ought to be in 2019 – but if you want to get ahead of the curve, put your money down two years in advance, and go reach for Reaching For Indigo. Go!

THE BIRDS, THE SPIDERS, THE BEETLES AND THE BEES
Acoustic guitar records – timeless avatars of our ancient and traditional souls or strictly dime-a-dozen cash-ins? Depends on the picker, probably – don't ask us to sort through the several hundred examples of this variety in our own collection! But definitely in the case of Bill MacKay & Ryley Walker's SpiderBeetleBee, it's the former – a distillation of centuries of writing and playing through the hands of a couple of like-minded Chicago guitarists with a number of other moves on their resumes. When Walker & MacKay come together, they pursue folkish airs, classical lines, moments of psychedelia and elements of world music (i.e., eastern and sub-Saharan tonalities) – and if this sounds like a mess, it's not because of the music! In sonic form, theirs is a carefully-edited-to-sound-carefree plunge through themes and progressions with a lot of color and variety and yes, a distinctly motive quality that'll have you up and dancing in the old court way! A lot of this modern acoustic style involves playing up arcana and spirituality, and while MacKay & Walker aren't immune to such impulses, SpiderBeetleBee is composed and played with a clear-eared economy veering toward dust-free American modes – check the titles of "Lonesome Traveler" and "Stretching My Dollar in Plano" (or what the hell, actually look at the videos and listen to them). While there's plenty of technique to go 'round, SpiderBeetleBee is what someone once called 'social music' – and judging by the high spirits of the gigs these boys just played out east, it works like a charm! There's more dates ahead – and more copies of Bill MacKay & Ryley Walker's SpiderBeetleBee, out now.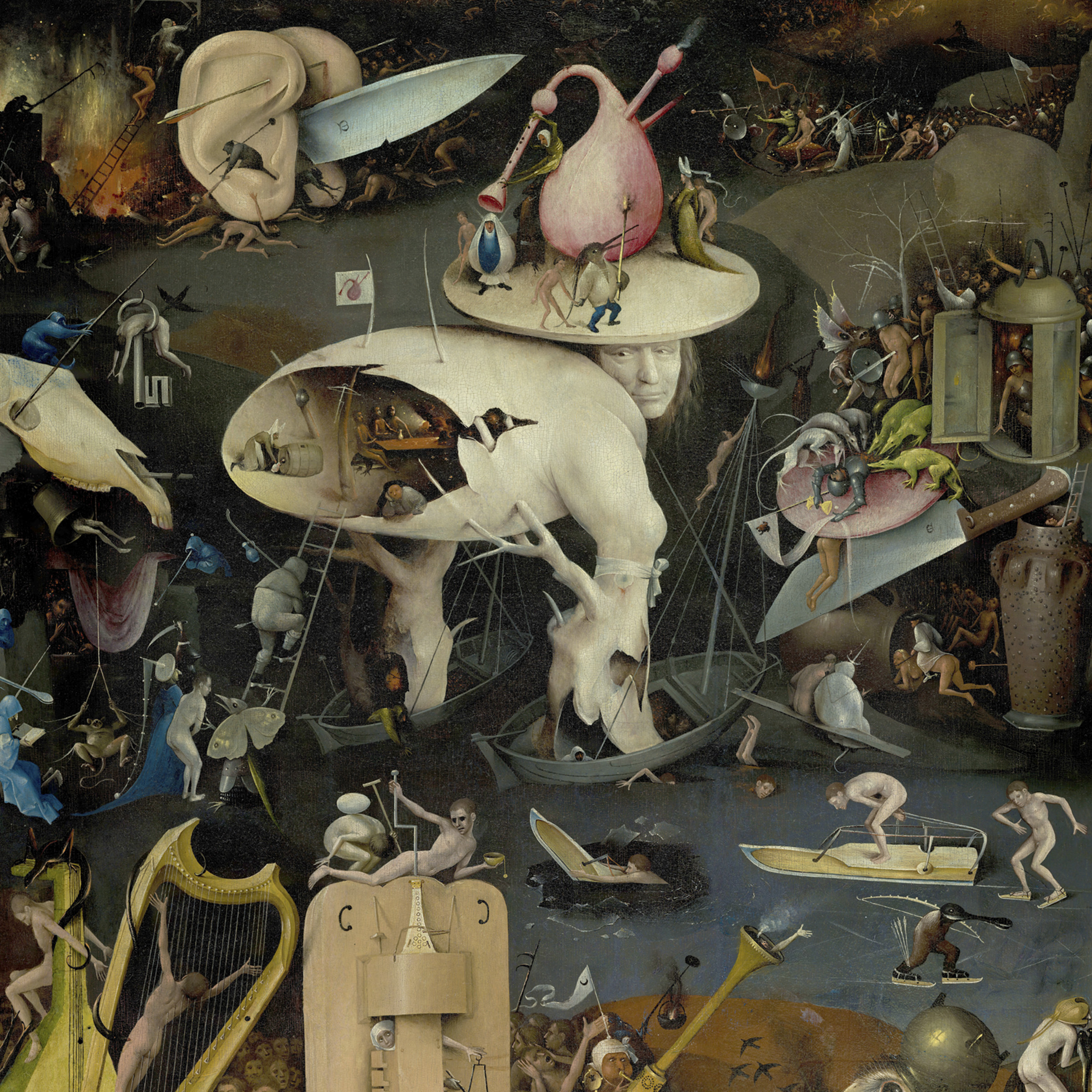 PEARLS OF THE EARTH
As we mentioned above, this thing called music is a gift that simply keeps giving the gift of music. Learning of the new and the old-become-new-again each and every day is mind-blowing enough; coming into the physical orbit of an act that represented something to us in our formative years is another kind of extreme pleasure. We've known it several times in our history – working with the catalog of The Red Krayola and Mickey Newbury are examples of issuing records we'd previously collected – and the fun didn't stop there. Last month, we put out the mono restoration of the legendary Pearls Before Swine debut album, One Nation Underground. Pulling out the purchased copies from our shelves to compare to the remaster was a lightly surreal, immensely pleasing experience – and from what we can tell, it's one that's being shared by some folks who already have the record – and hopefully by a bunch who hadn't heard it yet. While One Nation Underground is undoubtedly a piece of the time in which it was made – 1967, anyone? – it is also a unique vision of that piece of time. Sure, many records in 1967 were made to be unique (often unintentionally), but few had the home-brewed redolence that One Nation Underground does, a still-fresh vision of folk music through the psychedelic/protest/freak-out fish-eye lens. We're thrilled to have this classic album in its original form on our label. Pearls are recommended as a 30th anniversary gift, but since they came to us a couple years before our own, can you blame us for pulling the trigger? Buy One Nation Underground for any anniversary – any day of the week, and you'll feel the same joy.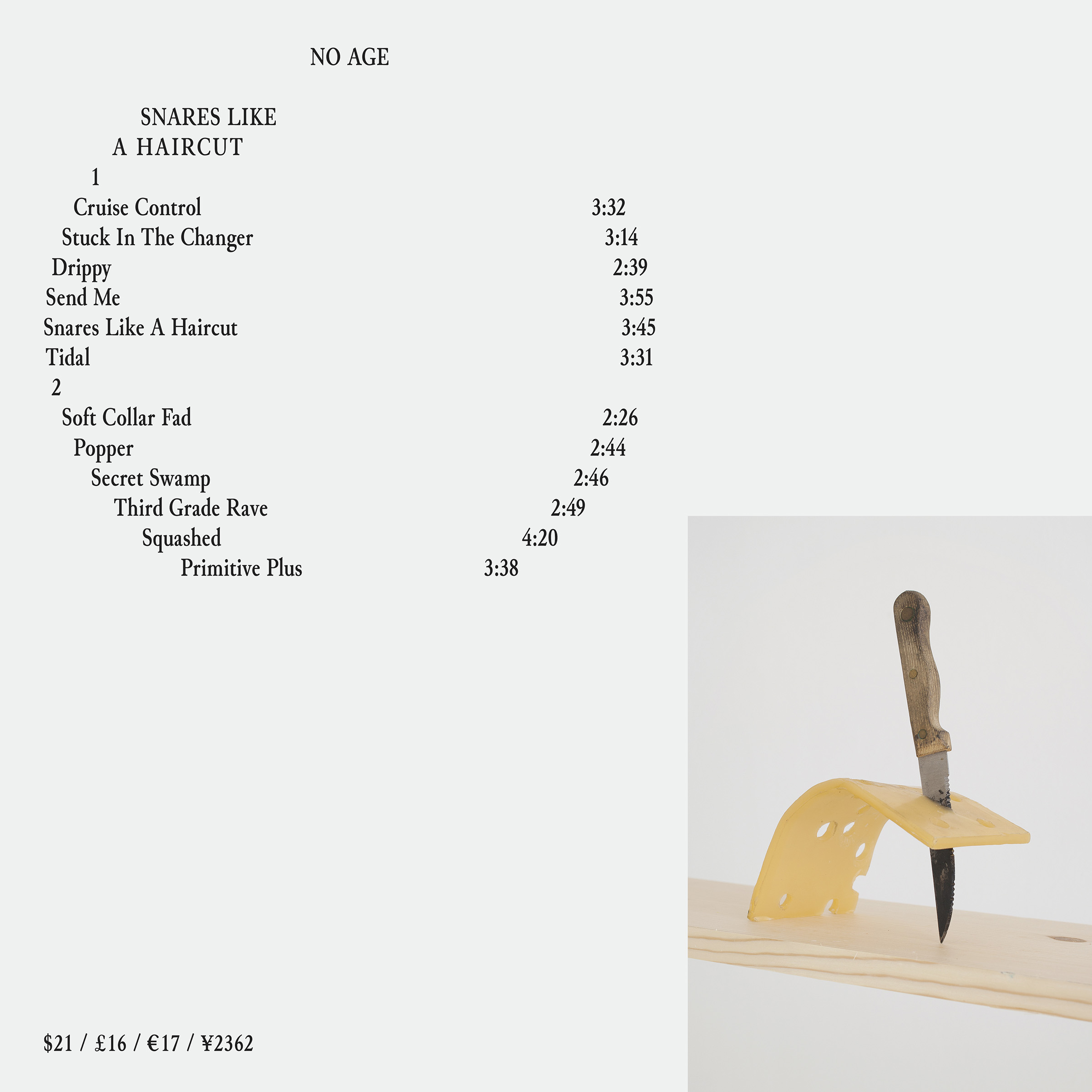 NEW AGE
But enough! Enough of the old year, and all the former ones! Let's live not for today, but for tomorrow! And at long, lean last – 2018! We're gonna start out running in hopes of learning how to crawl again, dashing out the gate with Snares Like a Haircut, the first new No Age album in over four years – which is an age in itself! Fortunately, Dean and Randy are always turning the music over in their hands, reshaping the essential elements of No Age to work for them in their ever-changing present day. As it has been over their previous albums, their new music has been considered from several angles, then carefully produced to break handsomely through the windshield of your existence, a surprisingly fast-moving projectile capable of formidable impact. The first track out, "Soft-Collar Fad" shows their breakneck abilities unabated, yet further streamlined with demiurgic precision. The rest of Snares Like a Haircut follows through on the promise: cathartic, creative and human. Of course, No Age will be taking it to the road throughout 2018 – this is only the beginning!  It's the beginning of a No Age.
Yep – back to the beginning. Haven't we been this way once before?
Rian Murphy
Drag City Inc.
November 2017