ALL YOU NEED IS REMIX  
What? You actually thought that all required of you had something to do with love? Think again, Romeo (/Einstein!) - because that's actually the only thing you're guaranteed in this life, the right to think again! IF you can. Reconsideration seems to be the ONLY consideration nowadays. For instance, take us and the state of our industry (please!). It was 50 years ago today (ish) that Sgt. Pepper's band provided a new play for money-hungry execs to descend yet again, contracts in hand, to better lock down all rock and roll-based expressions of youthful revolt and revelation (despite their incongruous call for no less than a revolution in their righteous sweep), once and for all, ascribing them to serve as long as they were profitable in the service of the corporate fiat. And o yes they did - it was done and done again down the years, no matter what stripe of rock was run up the flagpole. The 2017 lay of the land is, of course, radically altered since those yesterdays, but the basic proposition - that the independent expressions of the many be yoked to the profit power of the few - is still operative. Plus, the socio-economics of this fishbowl in which we presently rock and roil remain consistent: the so-called land of free and home of brave, whose backwater once fomented the great songs of rebellion and affirmations of selfhood, may only continue if ruled over by an unapologetic class of aristocrats, whose life and goals don't resemble or sympathize with ours in the slightest! Further, their seats are guaranteed by choices made by our very own, very beleaguered, body politic, whose latest choice to stand in the leader's office - a brutish dolt with no conception of the world outside his own head - must surely rank up among (but NEVER above) the USA's greatest hits: hundreds of years of genocide, institutionalized racism and the insistence on owning humans (while insisting, straight-faced, that all be considered equal). More recently, the profiteering and unsecret imperialism of our neoliberal elite, who further deny the hypocrisy of speaking to that which we love and cherish, to the goals of an evolved humanity, while once again proving with every other action that THEY DON'T CARE ABOUT US! This, kids, is why you get the remixed Sgt. Pepper today at a bargain price via online vendors, when the good old original that's stood the test of at least 50 years of time so far (some of them kinder to ol' Sarge than others) will certainly get you through. But meantime, there's money out there that needs to change hands - and if the zombified Fabs, the immersified Floyd or Bob Dylan's revisited dreams can't get it out of you again, who then? Heaven forbid that it be something new, the license to which remains to be obtained. You see? It's COLD out there. For people like us, so much in love, the only warmth to be found that songs and singing can bring, the real and present burn to be felt from all music is likely to be felt in to anything that counters the deaf-inducing no's of the world at large. And so, despite the raw deals bursting around our ears, despite the temptation to offer more of the same, Drag City is still walking the narrow way to be a part of bringing you some that you won't have to pay for over and over again. Like the poets said, once is enough! Unless you're into streaming. Well, we tried!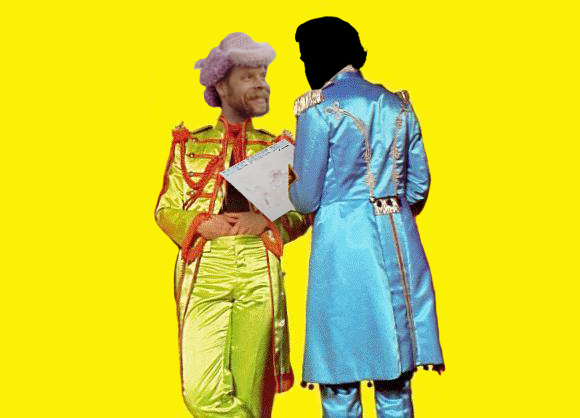 GETTING BONNY ALL THE TIME
Great songs - check! Singing...yep! A steady stream of records to aid and comfort - check plus! Those were the expectations of the contemporary troubadour in the world that Bonnie Prince Billy was borne into. Over the years, he's adhered to these held principles to turn out a catalog of boggling intensity and consistency, not to mention a vexing tendency for non-sequitur and machinations one might charitably call opaque. This we call an artist! In the post-Troub era, his actions may appear to some to be without context. No matter, since the 'Prince' is just as happy to present works that provoke mystery and ambiguity - but in the name of straight-up tribute, Bonny's proved more than willing to meet you half-way. With Best Troubador (sic-plus!), he's reflected in the raised glass to the world that was and shall ever be - a songwriter's paradise amidst a happy bustling industry supplying works of originality and banality alike to an audience of millions. There were auteurs even then, and Merle Haggard was one of them. Bonny's feel for Merle is deep and he's picked things from all around Merle's long career, generally choosing things that he can take something from and give something back to in the performance, in the name of Merle, playing them in His own kind of way. If you never thought of Merle Haggard and the flute in one complete thought before, Best Troubador will change that. It'll change a lot of things in your mind, like all the best records do. Out now - as is the mini-tribute to Hag's own hero, Tommy Collins, in 7" form: "Leonard" b/w "Carolyn" and the digital-only non-LP single, "Mama Tried" b/w "No Time To Cry" that pays tribute to familial love and loss over the years in true Haggard form. The love overfloweth, passing from one best troubadour to another. 
 
A MACKAY IN THE LIFE
Last month was a good month for reflexivity here at the mothership! In addition to having Bonny Billy stepping back in time and covering ol' Merle Haggard in a perfectly personal tribute, we also saw into the world Bill MacKay's instrumental opus, Esker. Bill's a guitar player from here in Chicago whose work with the intuitive play of language produces a sanguine display of wide-ranging psych-folk, all played by Bill. Shades of Sandy Bull, John Fahey, Jim O'Rourke and the subsequent new generations of guitar instrumentalists trying for new combinations. Bill manages to weave in different tonalities and ethnicities without it ever seeming like the point. His glass slide seems the signature MacKay sound, gliding airily through his spacious configurations. Traditional music meets its end and is reborn again! Check the videos - but really, just check into the store and buy the fucking record. Your world-weary soul needs rejuvification - and Bill MacKay would love to turn you on.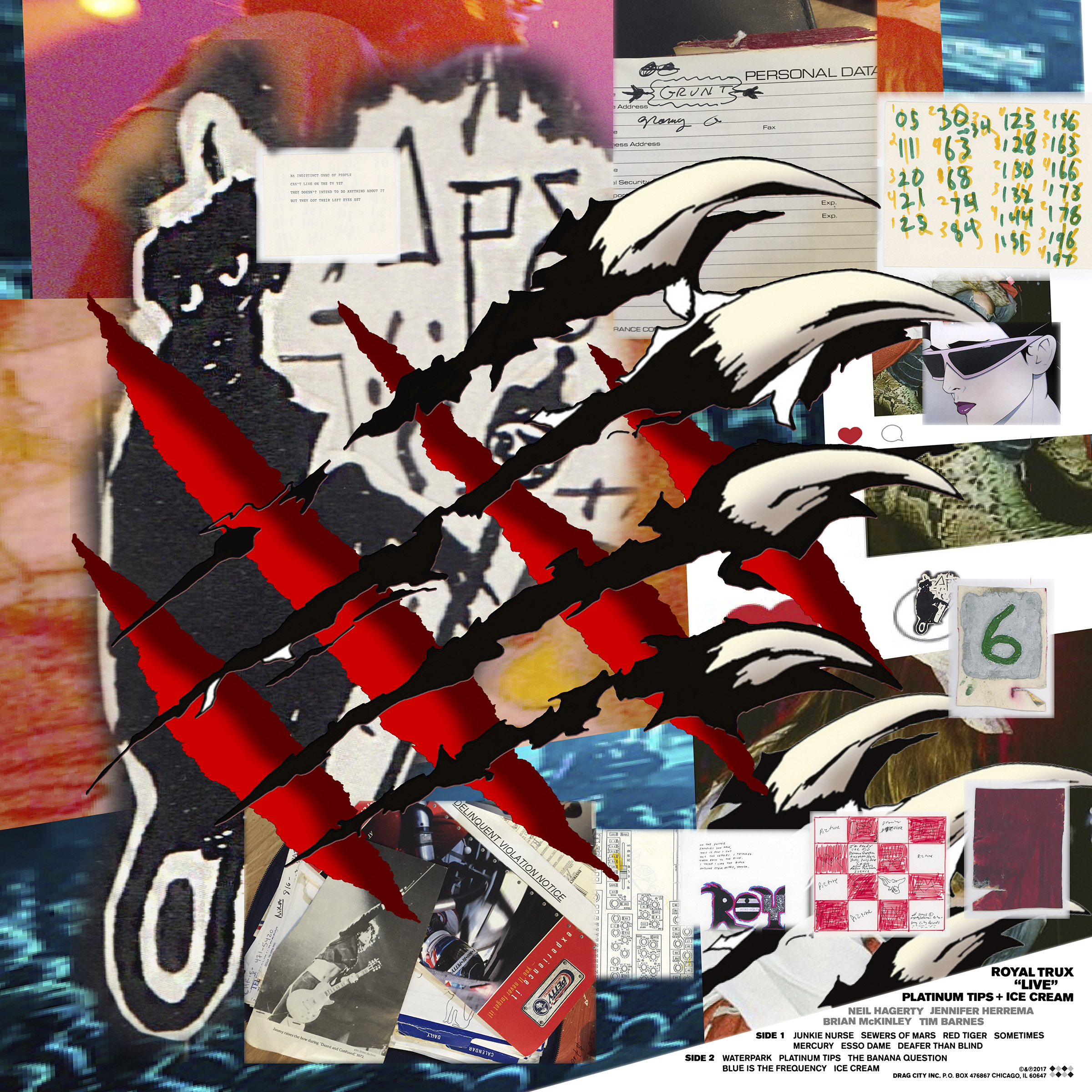 TRUXING A HOLE
But what are we even talking about anything else for? Royal Trux - THE Royal Trux of yore and yon - that's right, Neil and Jennifer, just came off the road, after playing on an almost nightly basis for three weeks! In 2017! Isn't that fucked up? That definitely wasn't supposed to happen. Of course it's Europe that laid the money down. Sure, U.S. investors were responsible for reanimating their corpse last year, but OF COURSE it's the artist-friendly EU (plus the barely-independent-minded UK) that arranged for them to be a nightly occurrence once again. And why the fuzzuck not? After all, they gots a new album to promote for the first time since the year 2000 - and like the title says, "LIVE" Platinum Tips + Ice Cream. Both those songs are on the record, along with another ten "hot and cold Trux skulls", done in new versions before inquiring eyes and ears over the past couple years in LA (Santa Ana, actually) and NYC. And MAN, does it speak to why we missed those kids and their fuckery all these years. It's nothing really that a spin of Singles Live Unreleased hasn't cured, but then again, when you experience the spinnings of this new slab, you find out new things about both Royal Trux and YOU - and that's what it's all about, new sensations and that! Particularly when they're evoked via such stone-hard old numbers as "Esso Dame" and "Mercury" while also delving DEEP into out-cuts like "Red Tiger" and (the titular) "Ice Cream". These new versions are as definitive (and defiant!) as anything that came before but this time in their raw melted-down-ness. We've got digits crossed that there'll be more live displays like (and un-like) the album - but until then, we've got the album! Starting today. "LIVE" Platinum Tips + Ice Cream! On LP, CD, CS - and digital flavors too, of course!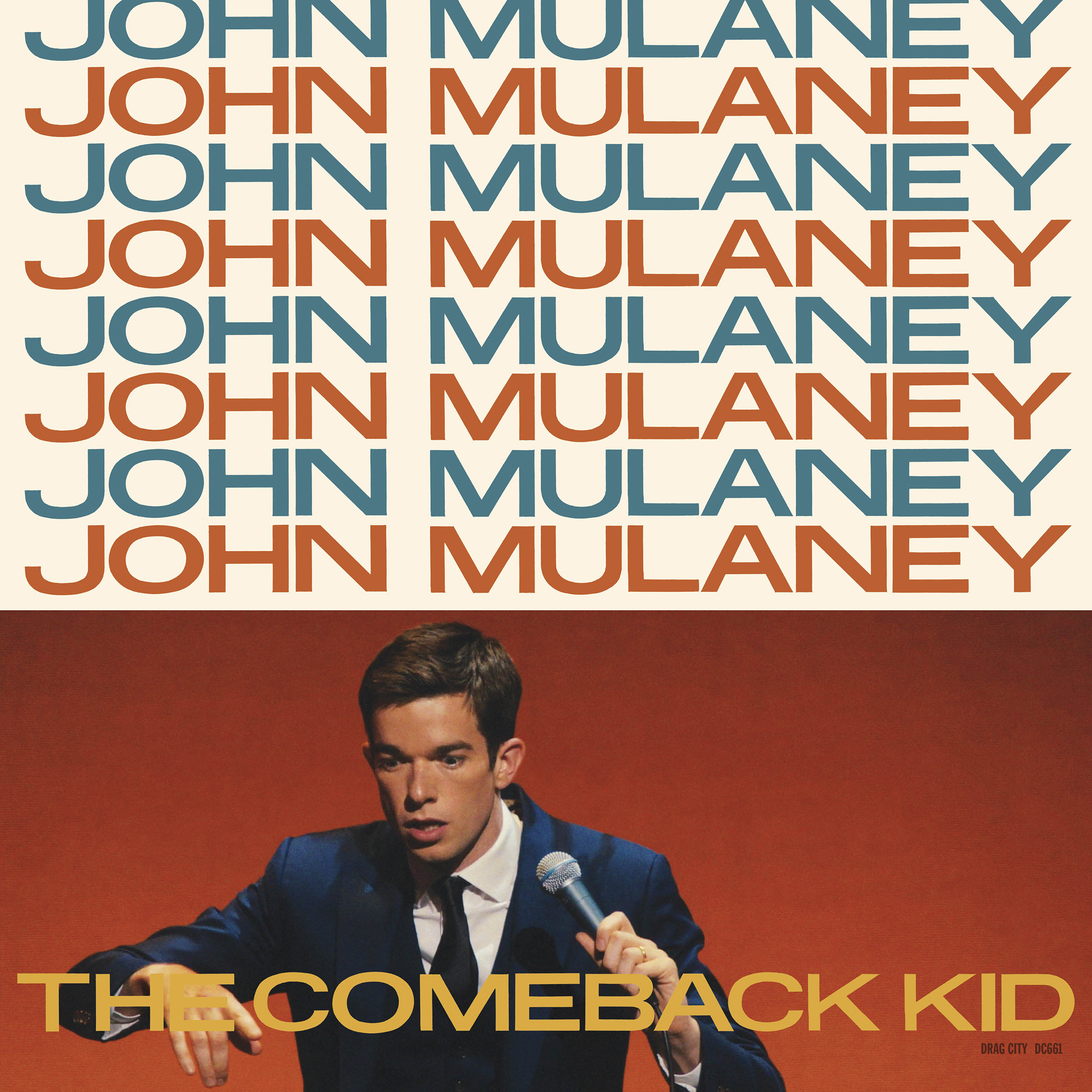 BEING FOR THE BENEFIT OF MR. JOHN MULANEY
You need a laugh? No you don't! Not with the downright SAD belly-larfs being sprayed at us from the nation's highest offices and lowest orifices on an exhaustingly daily basis. Then again, if there were laughs of another kind, we'd take 'em! That must be what John Mulaney had in mind back in 2015, when he took the stage at the Chicago Theatre to tape a show he called "The Comeback Kid" when it was released through Netflix later that year. It's generally the way comedy works, right - tragedy plus time, or some such? Man, 2019 through the end of time is gonna be SWEET! Meanwhile, what we've got going on here is an official album release of the show: The Comeback Kid on LP and CD (and digital download, of all things) for the first time ever! John's been doing his comedy for years and years, and even before he was doing it for that long, his style was in place: sharp, observational stuff with the absurd aspects of it underscored with incisive, deeply hilarious strokes! One might think it's all just written, but it's actually a state of mind; when John starts up with the audience work, he's processing what he's hearing quickly from conversation into fresh dissections of more everyday hyper-realities! Nowadays, the comedy scene is so much about the cable specials that we forget how nicely it tends to fit on an album! Well no longer - The Comeback Kid is now available for you to spin on your home hi-fi console! Stop, don't look and definitely listen to the stylings of John Mulaney. If you need to see him too, go out to the show! It's all new jokes by this time - we saw it earlier in the year and ya know, John's still got it! They don't call him The Comeback Kid for nothing! Get it!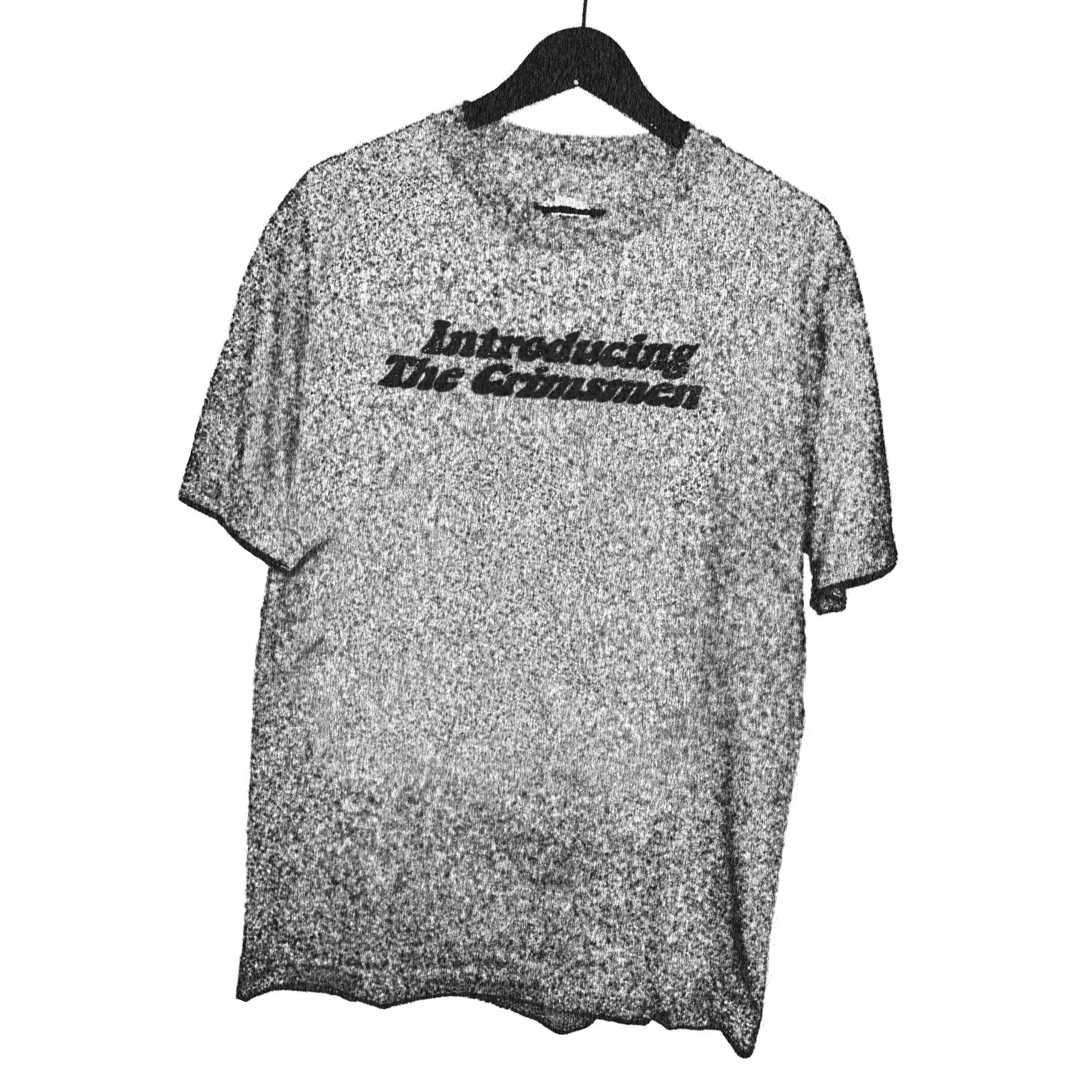 PEACERS LANE
Like a fresh scoop of cold clammy basement mud kissing you right up the puss, The Peacers are back, with a second edition of their pop charms. Introducing the Crimsmen strews one and one-half dozen cuts across one-half hour of shade-cooled rocks. Sound like a thumbnail of the first one? In a word, No! It's a semi-radical shift from the tempo of the debut Peacers, the melodies and the ghostly wisp factor are all in place, and the songs insinuate deeply into all available synapses with uncanny perfection. Plus, identity politics - Introducing the Crimsmen poses, at least in title form, the eternal question, When is a band not a band? This isn't a riddle - it's just a conundrum as old as rock. Might it be also phrased as When is a band actually a band, or What's the name of this band, or Whose band are you in, anyway? Groups are a SUPER-mercurial thing - like old GbV, for instance. Was that a band, or one guy backed by a sliding role-call of interchangeable players or what? Because it seemed like all three of those things from time to time (mostly what?, if you asked us). A similar dynamic played out for stone-age first-wavers like The Crickets and The Miracles, who eventually had to take second chair to their most talented members, before being eventually cast aside altogether! So all through the history of time, there's clearly a lot in a name. Hailing from the more ephemerally-stocked Sic Alps, who never really relied on people knowing who they were specifically, Mike Donovan's already on the secondish Peacers incarnation - the original 2/3rd of the trio are gone, and the new guys are distinct enough in affect to inspire the insertion of the definitive article 'The' before Peacers to distinguish the newness of the outfit. Then furthermore to provoke the album's title; doesn't Introducing the Crimsmen sound like yet another band in the mix? Dizziness and confusion are acceptable responses, since they resemble effects in the The Peacers' music as well. If you've sampled any of the tracks out there already - "Jurgen's Layout," "Haptic Chillweed,"  "Black Fences," and "Staying Home" - you'll know that pretending to be somebody else isn't The Peacers game. It's been done! Besides, it's much too fun just being The Peacers. Ask Mike Shoun, Shayde Smith and Bo Moore - all veterans of other great groups in their lives - they're playing in the band quite contendly! Oh, wait - guess you can't ask just now, unless you're in jolly old England, where The Peacers are on tour. Don't worry America - your new favorite sons of the subterranean pop sound will be back and are working on playing their way across the country before the year goes down. Until then, Introducing the Crimsmen is aht nah! and available to bring pleasures both known and unknown into your hemispheres.
FOSSON FIELDS FOREVER
Let us take you down to the Solo Guitar sound of Mark Fosson, back on Drag City forty years after his debut with us! That little sleight of hand is courtesy of us issuing his Lost Takoma Sessions in 2006 (which is already a bit of time ago, come on!) and now doing a new album from now today! By today, we mean July 28th, and we couldn't be happier to have an album like Mark's for that steamy mid-summer moment. Mark hails from Kentucky, but he spent a lot of adult time in Los Angeles after being enticed by the prospect of a contract with Takoma Records in 1976. As you already know, that record didn't happen until years later, and eventually the demos for that record saw the light of day on Tompkins Square as Digging In the Dust. But remember now? Now living back east, Mark's been making more of his dexterous guitar music of late; the CD/digital-only release kY came out in 2015, and now Solo Guitar continues on that vein, drawing on far-flung moments of time and life and animating them with sweet themes and hard-nosed picking resonant with all the grit of the wood and steel of his chosen instrument. Whether on six- or twelve-string guitar, Mark's got a way of finding powerfully compliant spots on the neck to cut his figures - and the way the sounds are captured leaping through the air is breath-taking! Solo Guitar is coming soon, on LP and CD. Summer is saved!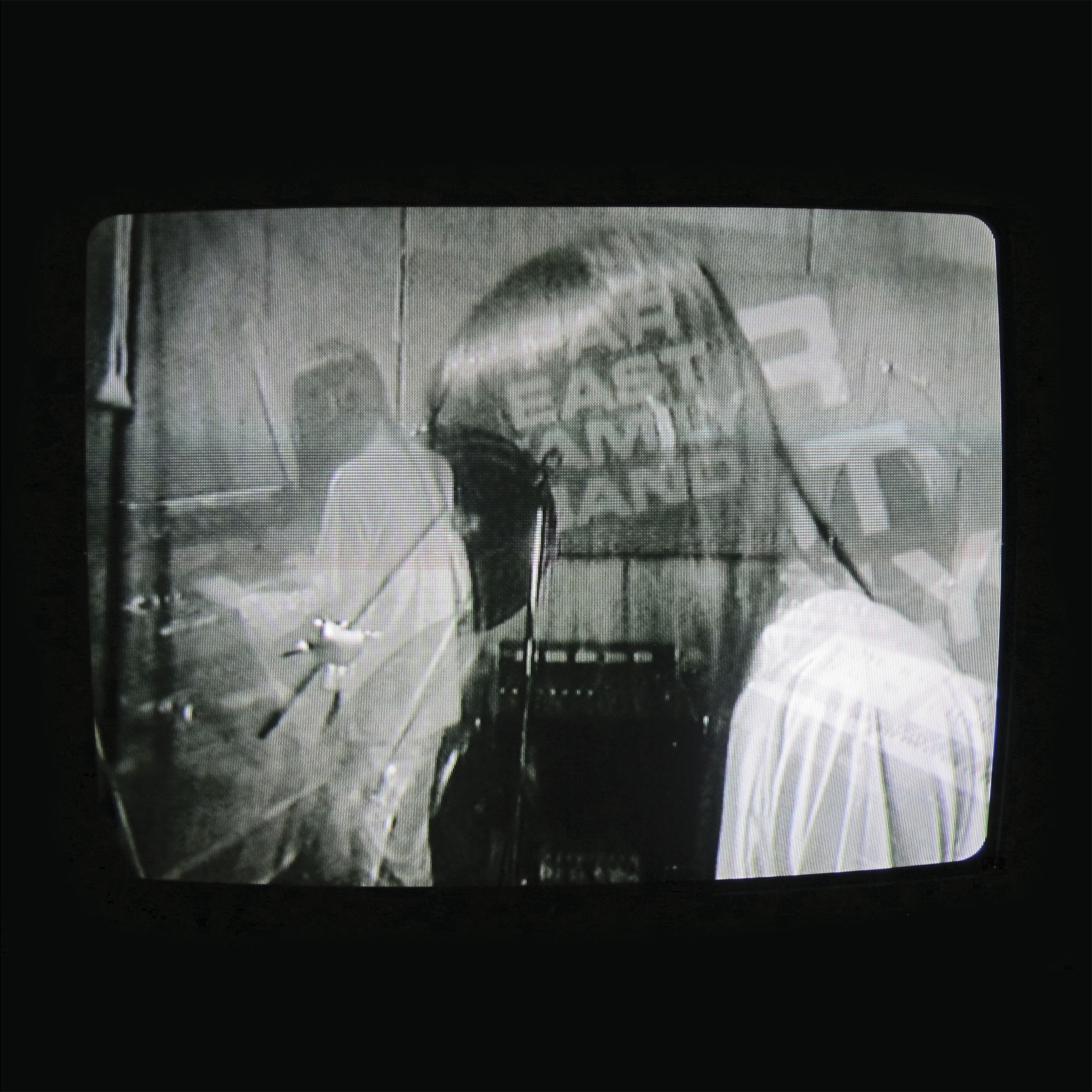 MAGICAL MIYASHITA TOUR
We're always on about the weirdness of time and vagaries of fate, but it's not entirely our fault - time and fate continue to demonstrate new aspects of the improbable way it all works! Take our other July release (yes, please), Fumio Miyashita's Live On the Boffomundo Show. We're not sure what's more unlikely - us putting out edited performances from two thirtysomething-year-old performances by Fumio on LA's obscure cable-access "Boffomundo Show" or the fact that Fumio Miyashita appeared twice on an LA cable access show in 1979 and 80! Because see, first of all, Fumio Miyashita is a well-known name in Japan, but still a cult figure over here even today. After debuting with Far Out in 1973, then morphing to the equally proggy Far East Family Band (with Kitaro!) in 1974, Fumio was on his way to a prolific solo career, with over 50 album releases from the eighties through the aughties. Sure, people know what the Far East Family Band were about, and groups like Tangerine Dream were known to be about in 1979. But still! Somehow fate brought Fumio to the attention of Aaron Weiner and Ron Curtiss and he duly appeared, with his synthesizers, tapes, flute and percussion in full flight. A second trip produced a session featuring guitar and bass in addition to Fumio's arsenal. Our good friend Brian Weitz brought this to us, and we absolutely did not say no! A nice combination of seeming amazing on paper and also playing AWESOME in the ear, the "Boffomundo Tapes" are bound to please kraut collectors, new age enthusiasts and tripheads alike! Root Strata blog has remarkably clear video footage of the shows, but even without the pristine black and white images of Fumio attending his keyboards, this music is a deep recital of experimental and spiritual vibes, prefiguring the new age drifts of the decade to come with a nice early edge still on the music. That the sands of time have shifted to allow us all to hear this just tickles us! Hats off to sticking around - the honor of still being here for this is all ours. But the pleasure is something we're determined to share.
 
WITH A LITTLE HELP FROM ALL OUR FREAKY FRIENDS
You know, it's been a great first half of 2017 (for records and music, generally speaking; society continues to tail into nightmare) - and looking up around the bend, we can see that it's gonna continue to be good fun (and horrid fever-dream)until it isn't even this year anymore. But you know, we can't do it without our fellow labels! Why some of our most favorite things this year have been from labels like GOD?, Sun Ark and Million Dollar Peformances! If you haven't heard Sun Araw's The Saddle of the Increate, The Cairo Gang's Untouchable, Typhonian Highlife's The World of Shells, and/or Frederick Michael St. Jude's "Almost Lost," you have an incomplete notion of how nuanced and strangely rewarding modern life can be. We can't have that! Off you go then - a quick trip to the Drag City Shoppe will fix you up right. Get weird - or get lost!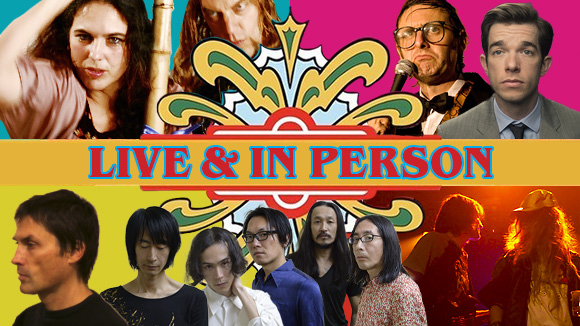 WHY DON'T YOU DO IT IN THE RODE
Summertime means trips, of the fully hallucininternational kind! See America while caravanning with Faun Fables! Or do part of it with Faun, then turn around and see the rest with John Mulaney! How the heck else are you gonna visit such far-flung communities as Red Bank, Duluth, Viroqua, Stateline and Petrolia! Or what the heck, fuck off to Spain in July with Bitchin Bajas and Bonnie 'Prince' Billy! Make the annual Neil Hamburger residence at London's Soho Theater - this time, with Tim Heidecker on the bill! While you're over there, catch Bill MacKay opening up the show for Ryley Walker! Or see some Alasdair Roberts up north in Scotland! Or do Europe, with Ty Segall and the Freedom Band! Royal Trux'll be back in America playing some festivals where the $ is right. Laetitia Sadier'll be over here for a whole month in August and early September. And you know what? You can't miss out on The Silence - they've got a real Japanese tour coming up for a whole week in early July. That's got to put you through some changes. And changes is what you need, bitches.
You know they say let it be - but it just don't always work out that way. Keep fighting your way back to Drag City! See you around this summer - 
Rian Murphy
Drag City Inc.
June 2017