ALL YOU LOVE IS NEED
Rambling through another summer of love here at Drag City – you might think we can't get enough of the stuff! But really, why not kick back with a little bit of the real thing as long as the weather's good? 2017's been a real so-far, so-good year, just based on the evidence of the release schedule alone. Why, Royal Trux, back and "LIVE"! A timeless tribute to Merle Haggard from the rather timeless-himself Bonnie Prince Billy! Six Organs of Admittance, carrying a new one over, and then burning, the threshold! Pangs of real, imagined and enlightened folk-rock from Alasdair Roberts! Ty Segall's eponymous statement of selfhood! Finding Laetitia Sadier finding her finding you! Introducing the Crimsmen, a special new kind of band, via The Peacers! And just plain introducing Bill MacKay via Esker on the Drag City imprinteur! Then coming back to comedy with that crazy kid John Mulaney! Plus, more truly far out contributions from Sun Arksters Typhonian Highlife and Sun Araw, as well as GOD?'s own Cairo Gang, and Million Dollar Performance's (and our) Frederick Michael St. Jude! Why, it's enough to make your head buzz or howl under the influence of it all! You can say what you want about our taste level (we don't deserve anything less than a B-minus!), but DON'T YOU DARE criticize our capitalist fervor! We're stuffing these titles into any and all sales holes left in the real world anymore! And a few virtual holes too! We do it all year long, every year - because that's what is demanded by our most perfect economic system - supply that demands more need! And we're working to fill that need, folks. Don't worry though - to assuage our other alleged needs, all the DC shit is SO American made.... I mean sure, there's some foreigners on the roster, sure (for who are we if not a nation of immigrants? (oh, RIGHT...) - ugly American ed.) - but once the music arrives here, it gets 'mericanized at the pressing plant, at the printing plant and then again here (with holy water from all-'merican springs!) at the secret marijuana plant. All so that you might have more of what you require to move forward: physical manifestations of INTENTION! Asseveration of continuous and sustained PROSPERITY! We have the BEST words for this - and don't mind if we keep shoving all THEM at you too. Let's ease on down the road, shall we?
PLAYING FOSSON, GOING SOLO
The sound of Fosson! Mark, that is: with six- and twelve-string guitars glinting in the air, unmistakable is the signature of our Mark Fosson. Though he's only released an album or two under his own name, when one of them is the vintage The Lost Takoma Sessions and another is the demos album that created the impetus for the Takoma sessions, that amounts to a distinctive approach to solo guitar playing that's destined to stand the test of time! In the forty years since those performances first hit tape, Mark has made only a couple other records - yet in the last several years, he's returned to the solo acoustic sound first heard circa '77 (but only finally officially released by us and Tompkins Square in the last decade-ish) in a not-quite-full-circle way, since one full circle would imply that he's ended up where he started so many years ago. Far from it! Sure, Mark's picking is still pristine; like a fly in amber, delicate and well-preserved - but his connection to the emotional life underlying the material has only increased with the years. As with the self-released kY title from 2015, which reflected on themes and vignettes from his childhood, the all-new Solo Guitar is a lithe, yet penetrating drop down into Mark's soul pool. Playing with the straight-faced rigor of old-timey pickers, he manages to get past technique, sliding into the heart of the matter with tenuity and warmth, then slipping back out again with a sweetly non-invasive flourish. Of course, the mark has been left on the listener, anyway - the mark of Mark Fosson, that is! His Solo Guitar is an exquisite recital from an old and undersung master - yes, they're still around in America today! Check out his original air, "Once Was a Time" - and place your mailorder today! On sale NOW on LP, CD and several uninspiring-but-convenient(-and-therefore-fashionable) formats online.

WHAT'S IN A JUNE?
That's it for July - one freakin' release! And while it is of course ultimately all about quality, not quantity around here, and while we clearly got that in spades....weren't we just talking about how many THINGS we shove into the world? You just got to think big picture here! Per capita basis, please! Then the numbers don't lie; they're just cumulative, that's all! Why, look at June for a minute here, would you? Yes, we know.....we're asking you to look back to a month of 2017 that you somehow survived with your sanity reasonably intact! Looking back's a dangerous proposition in the current spate of noxious news cycles, but we propose that you be selective - just keep your eyes on the Drag City prizes, please! The fateful day was Friday the 16th, and the releases were four in number. ONE: Royal Trux! Just like always with Drag City: number one! First band. Number one release ever. First album. First double-album. First CD (was by Smog - DC13 - but then their retroactive DCs 3, 5 and 10 make it look otherwise! The perfect crime.). So, then - number one all the way since 1989 - and now, the first "LIVE" reunion album in the ever-lovin' (who are we kidding) history of Drag freakin' City! For Royal Trux, breaking up might've been easier to do than getting back together - but you'll never know that from listening to "LIVE" Platinum Tips + Ice Cream is a classically up-fucked Trux procedural, with excerpts revealing tides of jackhammering rock constantly splashing up against a subversively loose hold on the rock hammer. Lest ye worry, the result is nothing less than a collection of best versions of these Royal Trux classics ANYWHERE. Bar none. TWO: The Peacers. Some might call this SF underground pop outfit children of Royal Trux - and they might not be wrong, esp. if it was the Trux congressing with some other unfit mother like The Tronics etcetera! In truth, Peacers came busting out of the dust of Sic Alps once they were all said and done, and now that they're on their second album (first with the 'The' appended), they've settled quite nicely into a similarly noirish melodic groove, with the beat echoing rustily behind all the other parts seemingly peeling apart, but doing so in an absolute most tasty-on-the-ear fashion. Contrasting with the display of willful primitivity, the tunes on Introducing the Crimsmen feint in all sorts of meta R'n'R directions, settling finally after laying down 19 pieces in less time than most albums take to get started! So much sweetness and (dark) light. Pop go The Peacers! THREE: John Mulaney! The Comeback Kid is the comedian's third album, an album-version of his Netflix special of the same name. On previous Mulaney albs, fans mainly downloaded their purchase; here, the brave new world waves physically in their face! And with a right smart old school design, the LP practically begs to be taken off the shelf and home with you - when, having arrived, it'll knock your socks off with its sonics and non-stop comedy JOKES! Our John's not just a Comeback Kid, he's a right funny lad to boot - which, we have to admit, you probably didn't hear here first. If you did, what are you waiting for? (Actual) LP and CD on sale now! FOUR: Bonnie Prince Billy meets Merle Haggard, slight return! After the deeply doffed hat of May's Best Troubador release, the "Leonard" single explores the world-within-Merleworld that belonged to singer and songwriter Tommy Collins. First a mentor, then later a friend, then a writer on the payroll, Tommy's life is so much more than this capsule or the Bonny single itself could offer - and yet the single pays complex respects and may easily provoke Johnny Average Listener into a highly fruitful Tommy-trip. He's out there, representing many aspects of Merle's beloved country-that-used-to-be. So get the single and go (DEEP) from there!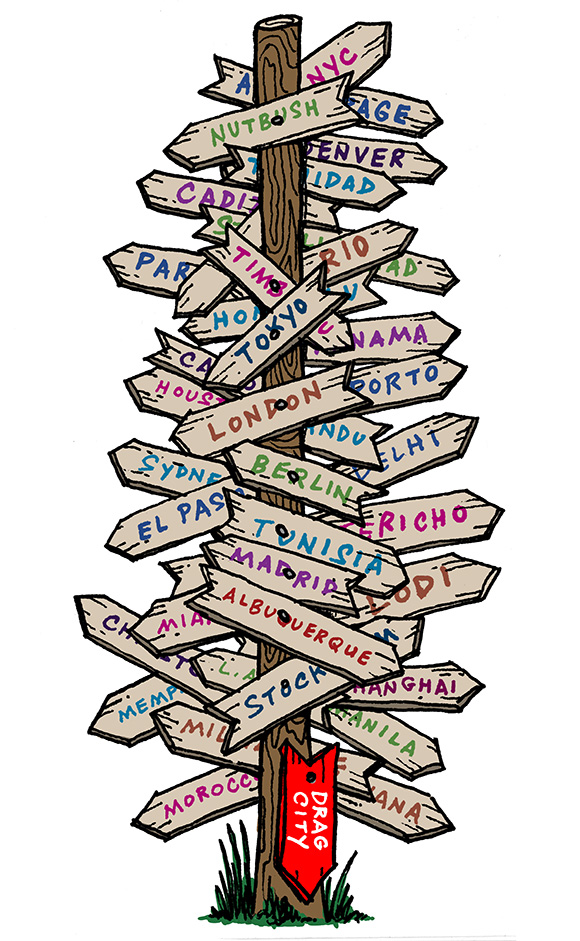 ON THE STREET WHERE YOU LIVE (FOR NOTHING BUT MUSIC)
And so, it is July and summer! Time to run down the festivals, huh? Yeah, sure - do that. Go to alla them. Better you than us! Plus, we got a chock-ful of friends and talent at fests all 'round the globe this summer. But don't forget the little rooms, full of wonderful little people with little insurance plans who definitely mustn't be forgotten and deserve entertainment as much as yer fat-cat Wrigley Field Summer Series ticket-holders - and who can probably get more of said entertainment than James Taylor has to offer just by hanging out in those humble little clubs! International bum-arounders may catch something they can't as easily get rid of - like for instance, an ultra-rare set of UK dates from living legend of ESP (and GZD!), Ed Askew! Bill Callahan will be over there too before Brexiting to the mainland and coming back to the United States Republic for some shows in September and October. Bill MacKay'll be in merry olde as well, opening some shows for his best bud Ryley Walker. And you can't really ever say anything about England, Britain or the UK, much less Scotland, without mentioning Alasdair Roberts, who never stops playing shows or making wonderful music, and who will be touring in the UK and Europe throughout the fall. Meanwhile, England and France's own Laetitia Sadier is heading over to the USA for a whole MONTH of shows in support of the splendid Laetitia Sadier Source Ensemble LP just released in March. As part of the exchange, we'll send Ty Segall to Europe for shows and festivals through August, then he'll come back and play some more shows in the states later in the fall. And David Grubbs'll be playing a week's worth in Japan - hai, David! Plus, Dead Rider, having announced a new album, will be touring their INSANE show throughout the fall. And John Mulaney, comeback kid that he is, just keeps fighting - by which we mean succeeding to entertain in most convivial headlining environments for his own unique brand of comedy everywhere! Yes, everywhere you might choose to live, provided it isn't mainland Asia, the continents of Africa, Australia, Antarctica or South America, probably has one of our artists playing just down the street in the next month or so. Before it gets too hot to travel, one world this shit - with the Drag City artist of our choice.

SHALLOTS WE GO...
Let us be the first to tell you, shall we? AMERICA is IN THE DEEP SHIT, folks. Like the man said, this fish is stinking from the head down - on ice, even! We don't need a hero - we need a whole SUPERGROUP of heroes. And while there are certainly plenty out there, pulling hard for humanity/truth/the planet/economics/and basic language skillz, they could DEFINITELY use a little more help! That's where Ty Segall comes in. Just now flash-announced for an 8/25/17 release and totally HOT, "Fried Shallots" is a new 6-song EP, the proceeds of which will be ENTIRELY DONATED to the ACLU in a potent-but-humble gesture to help fight the power - a power of totally basic evil that now seems to be calling from INSIDE THE HOUSE! Whew. So, good causes, guys. Good causes. But ALSO - the songs on the record are all about, like, voter registration and redistricting. plus the importance of regulations and all those other things that it's so IMPORTANT to think about right now! With track titles like "Big Man", "Dust", "When the Gulls Turn to Ravens", "Is It Real", "Another Hustle", and "Talkin'", what ELSE could it be about? That dude is SO political. We can't wait to actually HEAR this freakin' thing (we'll put it on after we're done writing this)! Oh, and sure - we know what you're thinking: wasn't there already a Ty Segall release this year? Drag City, what gives with a second Ty Segall release in one calendar year, is this just a cash-in, sell-out blow-off? The answer is empirically NO, conspiracy theorists - sure, it's been a couple of years since we did two new Ty releases in one year - but if you recall, both Twins and Hair (the latter co-ed with White Fence) were white-hot! And the songs here, which seem to have been pulled from different places, all work together in a weird way. And that's all we can really hope for in America today. So do your good deed (helping the ACLU is like helping YOU) and/or ROCK DOWN to the wigged-out short-play further inventions of Ty Segall - "Fried Shallots," anyone? Out on Friday, August 25th. 

SEPTEMDUMBRATIONS
And then - summer's gone. Like it always does, leaving us barren, alone and utterly psyched! The fall time is the ALL time, as the song goes (what song? - fake-refs-ed.), and we're inclined to lay it all on the line for three designated months of fall straight with multiple releases of material that, depending on who you are, you might call freaky, poppy or fucked! OR all of the above. Or none! And that's the kind of variety we birthed ourselves to provide. But you probably KNOW THIS already, don't you? You've been collecting the DC news items....hoarding them, even! You're a SICK little critter, ain't ya? Well, you may know what we're going to do before even WE do, but you're gonna have to sit there and read this recap anyway! It'll be good for your ego, HITLER. Very well then - September! Wandheads are already gearing up for the action, as their once-and-favorite pop-psychsters are back with a record called, of all things, Plum. The title track is already out there, and it showcases the power of the band's new quintet lineup in an unprecedented way. The post-punk rhythm undertow of Wand's stalwart rhythm crew now holds down an ephemeral mix of wirey guitar, colorful keys and multiple lines of vocals. This is NU PHASE, kids! Real listen-in-front-of-the-mirror material - your chance to inarguably be your own God (just like your mom promised!)! And that's only the tip of the now-unmoored (and gonna flood us) Wandberg, as the album's rich with further revelations, deep trips and heavy music played with a light touch. Is Plum the best Wand ever? Don't be stupid, we don't ever say things like that. I mean, things like, Plum is the best Wand Ever. September 22 is when it all ends! That is, the waiting ends and life with Plum begins. But guess what? Each of our 9/22 releases promises and threatens to bring an equal amount of depth, complexity and pure compulsion into your already-WAY-overstimulated life! So shit's gonna get dense. But we know you can deal. There's where Chi-town's own Dead Rider comes in - their new Crew Licks brings the working man's blues of the streets into a bejewelled r'n'b realm rife with lightning-bolt licks, dark cackles of existential humor and the flashing lights of ADD ribboned through the sonic construction of each number! Crew Licks asks the musical question, why must hip-hop have all the best production? Even though it's basically a dead sea scroll at this point, rock deserves a bit of wack too - and having given it a spin, Dead Rider are embodying musical thrills and chills in a way almost nobody else is here in 2017! Or ever, homey. So okay - September = rock vs. rock; aka rock two ways. But check it out: for our third way-out September offering, we ask you to turn your attention to the Drag City debut of Ka Baird, with her album, Sapropelic Pycnic. Like Wand and Dead Rider, Ka exists deep within her own vision of the world and herself, and the music of Sapropelic Pycnic draws from deep in that seemingly bottomless well, where unlike Wand and Dead Rider, Ka follows her own singular muse! She's explored the roots of music and their Yggdrasil-like abilities to foster an entire new world for years now with her compatriots in Spires That In the Sunset Rise, but for the past few seasons, she's been working on solo endeavors and collaborations from that solo point of view. Developed in performance around NYC, Sapropelic Pycnic draws on Ka's hypnotic flute techniques, her equally tripped electronic stylings and vocal applications that are nothing less than operatic in scale! Flowing freely over the course of six tracks, the album has a prayerful arc with its feet in the mud of primitivism and its head in our current culture. The message is, we've got to keep our eye on the sacred. Like the icewater challenge, Sapropelic Pycnic is a bracing, revelatory and generous encounter, and we're stunned to feel the walls blow back from us every time we drop needle to disc (or touch tape head to oxide!). So September! Alla this and a Blue Chopsticks title too - this one from David Grubbs, co-starring Eli Kenzler, Nate Wooley and Jan St. Werner in an instrumental endeavor called Creep Mission, where complexities between the players are knotted and unknotted cleanly in a generally meditative atmosphere. Just the kind of mint required to allow the rest to go down, huh?
Hah! And it only quantifies in October, and squares again in November. But we can't tell you how yet! It's gonna be too much - and somehow, not enough - when the truth finally comes down. Stick around, people - please!
Rian Murphy
Drag City Inc.
July 2017