CARRY ON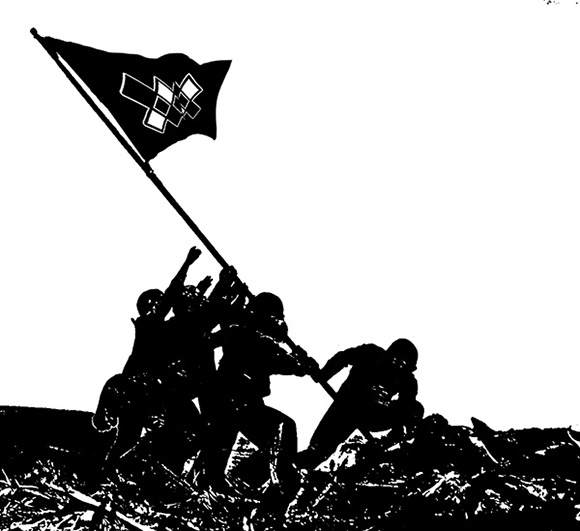 New dawn again, right? Same old new dawn….same old promise of tomorrow! It's all we've ever lived for way down here in ye ol' Ivory Bunker. Now you can say what you will about Drag City (you were anyway before we interrupted), but it really HAS always been about something that's new, from the very beginning and all the way up until now. The goal is to put out a record from someone we admire and trust that will wake our ears up with stimulating, scintillating news of the new! Which brings us to today – and once you've done 500 of those kinds of things (he's talking about "new music records" – can-you-please-be-precise, no-of-course-you-can't ed.), all of a sudden you've got a few (hundo) that are technically not new anymore – and none of them have downloads with 'em, which is also technically not a new innovation anymore - but hey, the spirit of their newness lives on in the music and art expression for everything in the catalog. When that needle drops for the first time all over again, it's gonna be new to someone new, and the right kind of window, or gateway or what have you, to a new life for some young-at-heart listener of all ages. That's what all the carrying on's been about, and 2018 is just (but not "just") another new year full of ye same old newishness. We might just have painted ourselves into a corner with this brag – but at least the music's fine in our little corner! Join our lusty chorus, won't you?
SNARES ROLL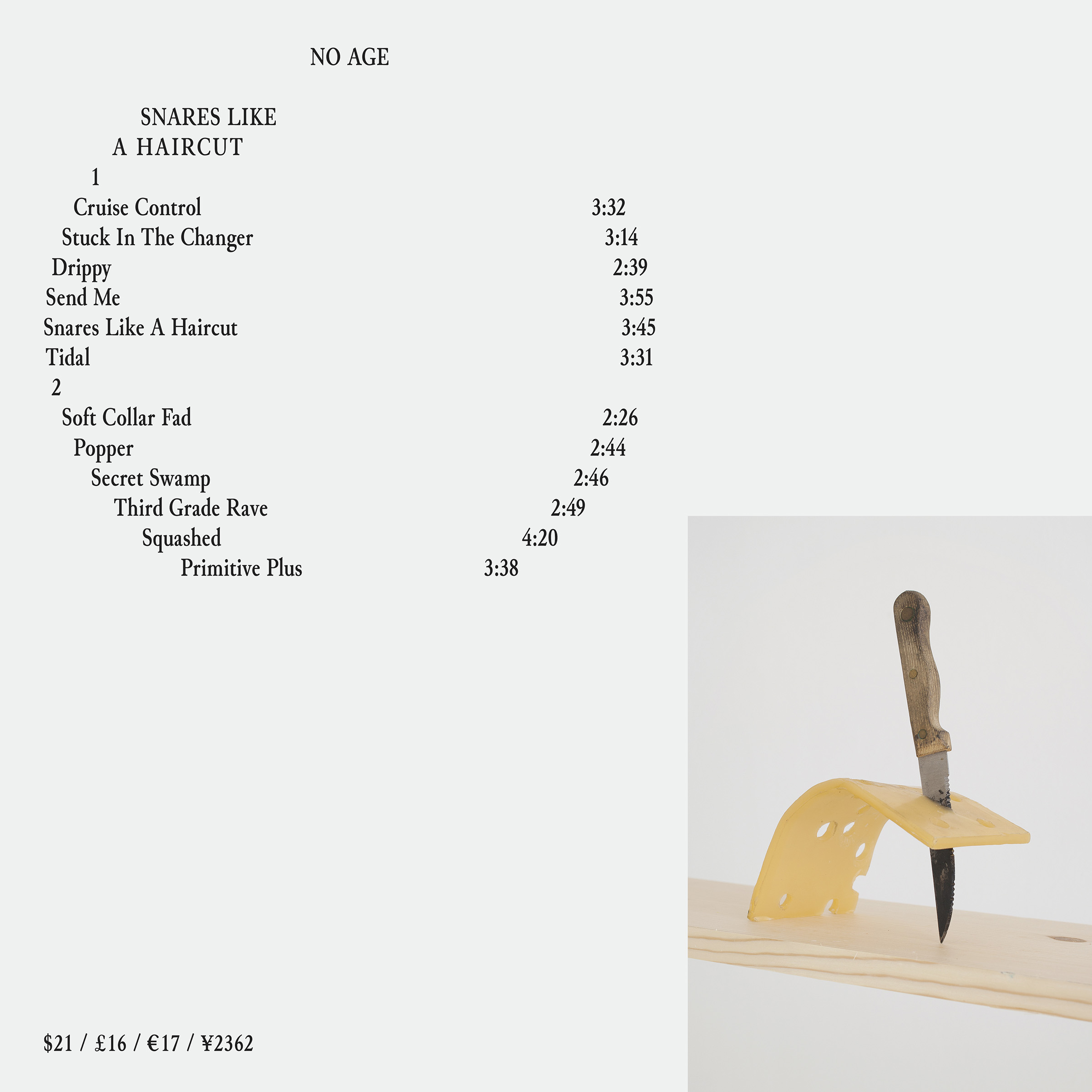 January of 2018 brought new music from your old friends (and ours) No Age, whose music has been rousing all kinds of misfit spirits around the world since back in 2006. Snares Like a Haircut is our first record with Dean and Randy, but we've been a fan of the cut of their jib for quite some time now! Their first four records (one of which was a singles comp) came out between 2007 and 2013, and it's been around five years since the last album, so part of the response to this one has been "they're back" – and sure, but they've been touring (and released a single last year), so it's also like, not really brah – but if people are into No Age being back, then who are we to piss on the parade (but for a few lines of your precious newsletter! – ruffled-feathers ed.)? It's actually been awesome being a party to the warmth greeting No Age with this record – because regardless of what five years actually is, it's enough of a gap for a group with a decade-plus under their belt to inspire reflection among the punters, which is, are you kidding? A TOTAL BONUS. Meanwhile, Snares Like A Haircut leaps out of the gate like "vintage' No Age (this means "early" or "preferred" - mamas-don't-let-your-babies-grow-up-to-be-rock-critics ed.) with a series of pummelers that retain their rawness while radiating with waves of guitar noise and other reverberant tones. By the time the boys have slipped in a couple mid-tempo burners, you're in the No Age pocket, where you've always been! Instead of becoming a different kind of record, tempo still rules the day, allowing Snares to hit hard on all the beats that an album has and keep you wanting to spin it all over again at the conclusion! Which, due to the miracle of 20th-century technology, you can. However, if you haven't purchased or don't have Apple Music, then check out "Drippy" and "Soft Collar Fad" – they're out there! – as well as the video for "Send Me", which plays on all the things we've so carefully woven into the section here. It's 'cause we're down with Dean and Randy and desirous of bringing the Age of No down upon everybody's heads! If we can't, who else might possibly ever! Don't you fucking answer that. And listen, don't forget to check out the lads in full live flight – No Age got dates all over in the months ahead – west coast, east coast, Midwest coast and all the crowned coasts of Europe too! Get caught  – in No Age's Snares Like a Haircut. Out now.
TY'D TO THE TRACKS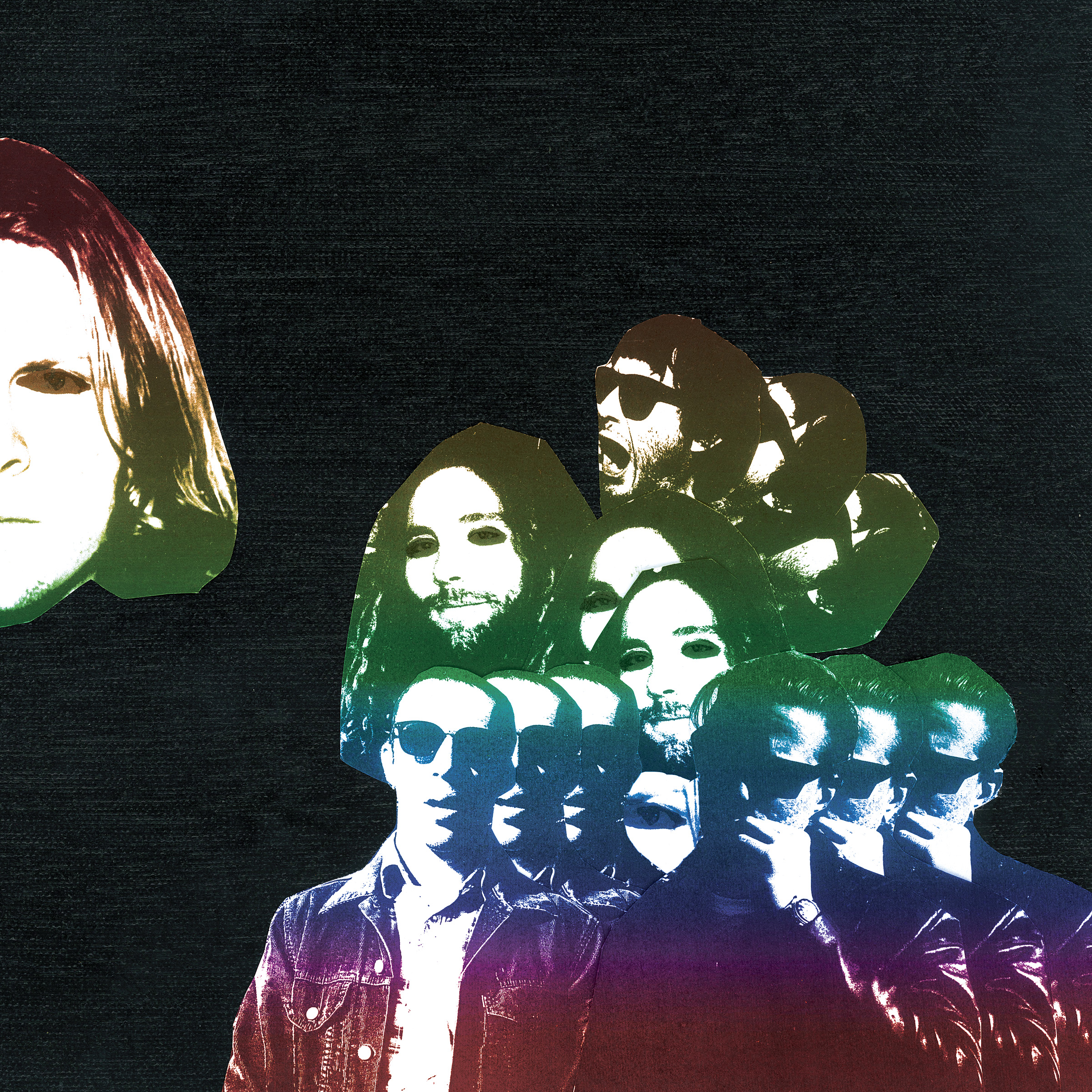 Meantime, January's other release is ALSO full steam ahead! Freedom's Goblin, by Ty Segall and Freedom Band, is meeting with larts of favor from all kinds of heads out there, and certainly two twains that don't always meet: new music freaks and the classic rockers! Ty's unique skill-set allows for the tickling of both groups' pleasure-centers, along with many others too – provided you have it in your heart to ROCK. It pleases us to note that even in this day and age located at a significant remove from the rock-and-roll era, plenty still DO. For them, Freedom's Goblin is superabundant with highlights, whether they be streamlined power-balladry ("Alta"), rubbery no-wave pop ("The Main Pretender"), furious punk-rock ("Meaning"), glittering post-disco ("Despoiler of Cadaver"), or the kicking of various kinds of jams, from the Stoogey to the Craziest of Horsey. There is plenty for all on Freedom's Goblin, along with a hard-eyed wariness for What's Going Down these days – non-escapist entertainment, anyone? – all of which not simply furthers but blows the doors off the craft that Ty's been assembling for years. Not only is it an annual pleasure for his fans to explore his new directions, but it's a continued signal to the world that new things are growing – some of them deceptively clothed in yesterday's garb, but all of which are walking the streets today, and ready for the world that's coming. Freedom's Goblin doesn't shy away from the incoherence and the lack of equivalence, but instead digs into the contradictions, and in the end, it PARTIES with them. Full speed ahead, indeed! Ty Segall is heading forward – and we, for one, have no intention of getting out of the way.
THE ART, MYSTERY OF ART, MYSTERY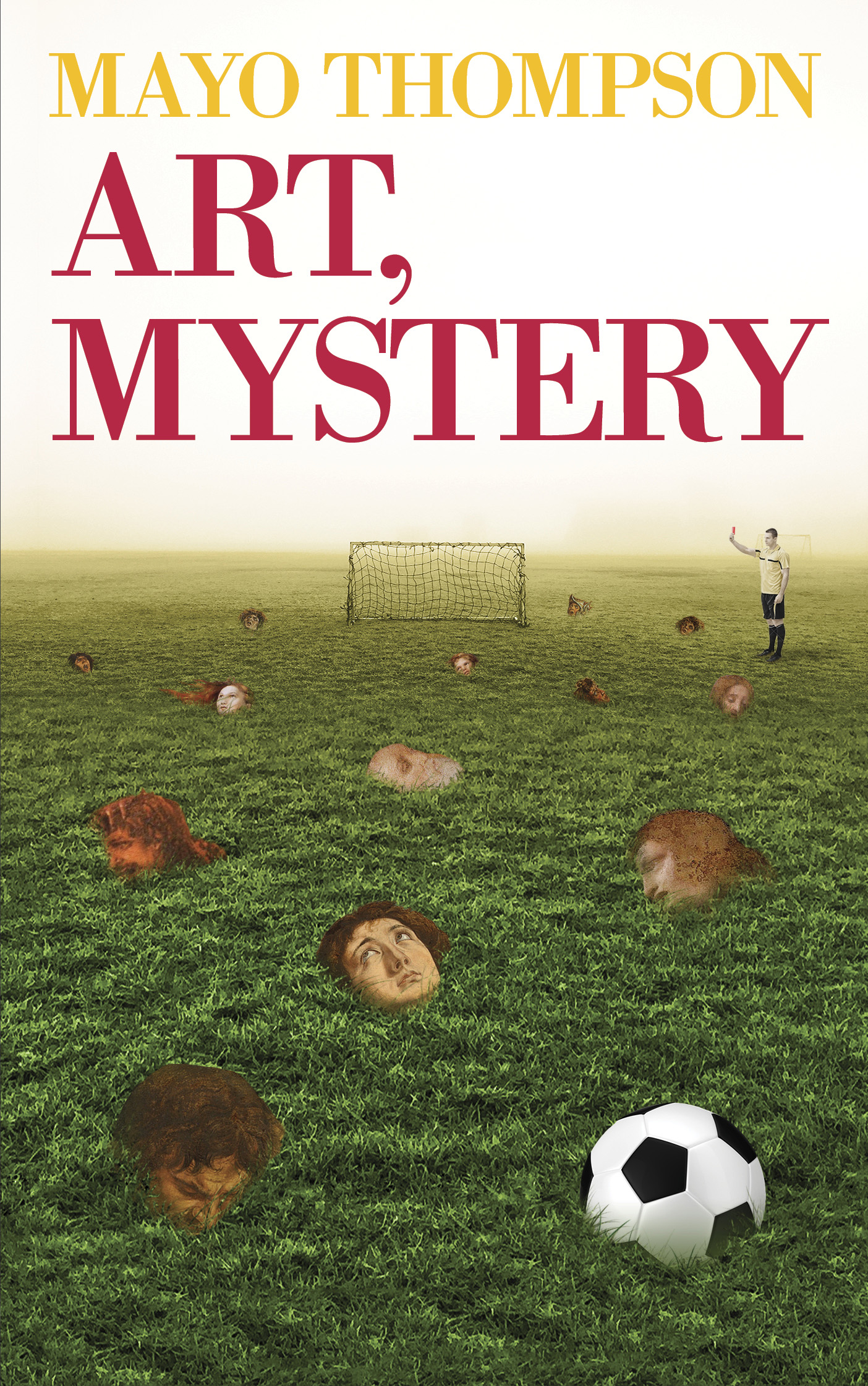 It's kind of a rare thing that Drag City has a book release – maybe once a year or something. We got into the game to make records, but as time goes by and great projects are presented, there's a desire to get behind 'em, no matter what they are. Mayo Thompson's Art, Mystery is one of those things….whatever they are! Ostensibly a mystery novel about a missing statue and the increasingly complicated efforts to locate it, Art, Mystery also spends time expounding on the nature and function of art, and it also seems to act as a wickedly funny satire of any number of things. Who are we to say what Art, Mystery is? You're better off buying a copy for yourself – and one for friends, another for loved ones, etc – since the book itself is a carefully-tailored fine art object in itself, edition not like a fine art print(!). For fans of Mayo Thompson's musical output and lots of other folks too! Art, Mystery is available in the best bookstores now – special order it today!
FREE TO BE YOU AND ME AND HEXADIC III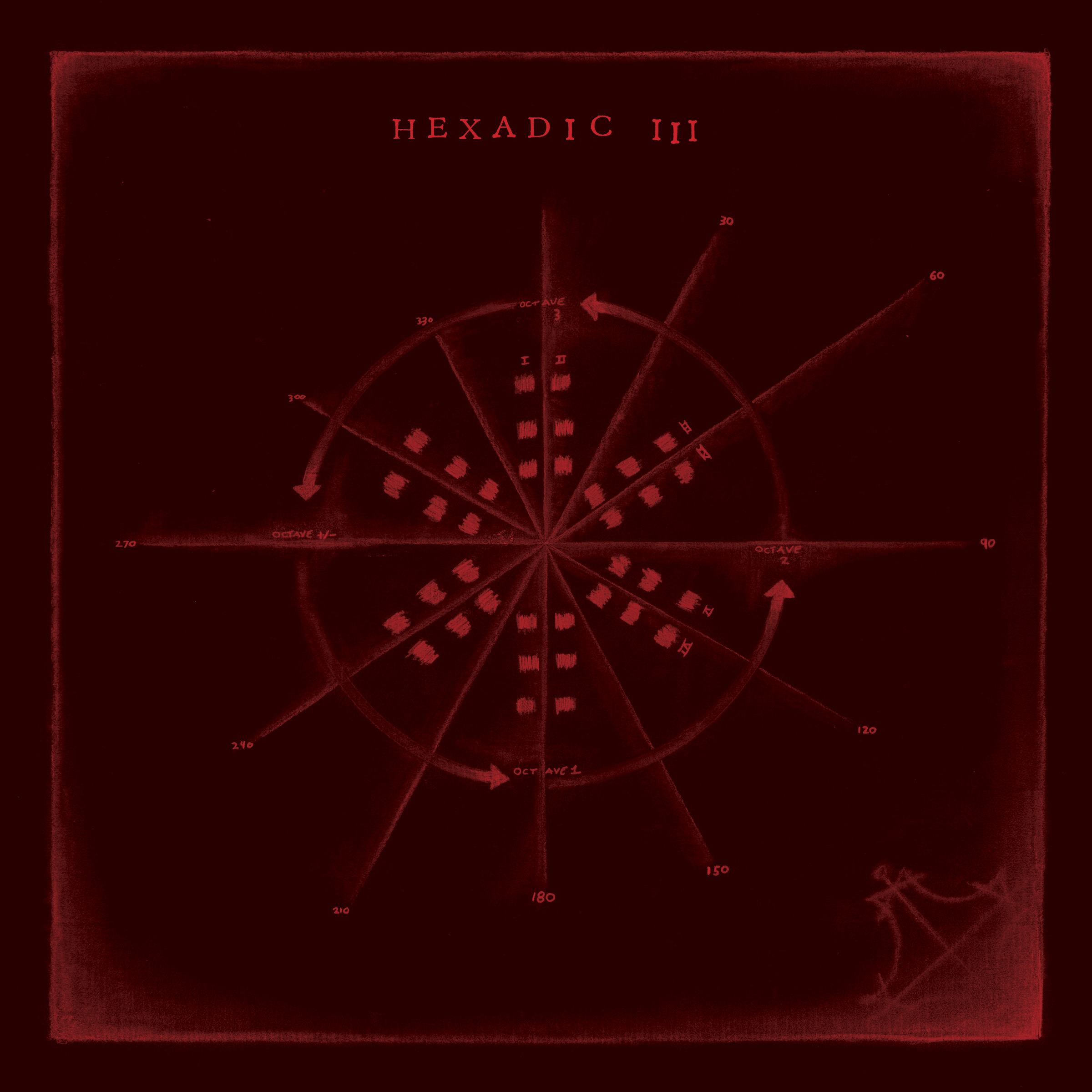 Wave of the future, folks! New day rising! We exist in a subtly-shifting landscape, made up of the familiar and the less-so, and where we place our allegiance will certainly shape things to come, even if we aren't there eventually to experience them. That's the dark promise of this life, but we've never met anyone who liked a good dark promise more than Mr. Benjamin "Six Organs of Admittance" Chasny. In addition to the visionary music he calls his own that has comprised his dozen-or-so albums, Ben's also the author of The Hexadic System, a foray into combinatorial logic and its role in creating new methods of music composition. He wrote the book over several years, and we put it out in 2015, alongside two albums where Six Organs of Admittance demonstrated the potential for this new musical organizational method in both electric and acoustic arrangements. Since then, Ben's hosted a number of talks on the work and the process, demonstrating how with nothing more than a standard deck of playing cards and a guitar (plus pen, paper, will, resolve, etc), you can achieve some remarkable new understandings within keys, chords, time signatures – all the written-in-stone aspects of music that players (and playahs) take for granted. Just as Ben had suspected, this was a proposal that folks around the world were waiting for – and for the third Hexadic album, the seven tracks are from seven people not named Chasny! Hexadic III is a various-artists collection featuring a diverse group: Moon Duo, Heron Oblivion's Meg Baird & Charlie Saufley, Tashi Dorji, Sunno)))'s Stephen O'Malley, Richard Youngs, Mount Moriah's Jenks Miller and Hexadic specialist Phil Legard. All these artists made interpretations of the Hexadic process (which is very intentionally an open system) to allow themselves to move deeper within their musical process. The result is a delightfully diverse, yet remarkably linear collection – everybody in the same place of looking forward to the new music, and digging it as it is drawn from deep within them. Two examples – Meg and Charlie's "Protection Hex" and Jenks' "The Hanging Man" – are out there for you to hear. The rest is coming on the 23rd of this very month – and every day of every month following. Because OF COURSE there's new music coming, and the Next Music and all that. There's never not been! Get used to it – and get Hexadic III. 
GOOD THINGS COME TORAL WHO WAIT
Last month, we told you that next month would be the month of Toral recall! What we thought we meant was: two reissues from early in the career of Rafael Toral, Sound Mind Sound Body (30th Anniversary Edition) and Wave Field, both for the first time on LP! What it turns out we also meant was: both releases delayed due to re-mastering to Toral's exacting specifications, forcing us to assemble a veritable village of record production experts! What it means: we're forced to push back the Toral releases for at least a couple months while we do this. Look for them in April? May? Not sure! But hang in there, we'll keep all you Rafaelites abreast (maybe even both) of current developments - it's absolutely our desire to bring you back these sounds as you've never before heard them ASAP. 
THE ROBERTS, SKUSE & MACGUINNESS REPORT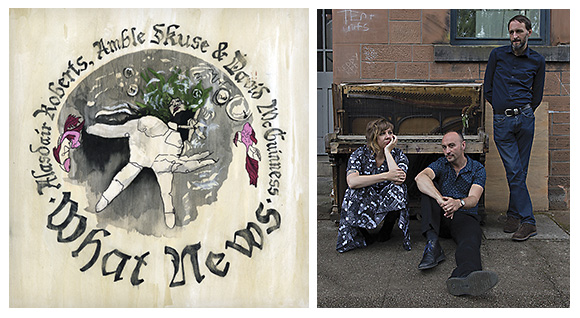 Coming in March! Scottish traditional music as it is seldom heard – on piano! If you haven't guessed (or read in the section header – sheesh ed.), this new arrangement is an Alasdair Roberts Joint, reflecting his twin aims – a powerful respect for the auld songs and traditional ballads and the people who carried them forward, and a desire to bring them forward and communicate something new about them without sacrificing their ancient souls. In addition to several albums of his own music, Alasdair has turned to the traditional songs at several times during the past 15 years, always with inspired collaborators and amazingly progressive results. For the foray called What News (set for release on March 23rd), Alasdair asked pianist and Concerto Caledonia director David McGuinness to play a set of Scottish traditional songs, allowing Alasdair to do two things – hear these songs in a way he never had (for they're always played on guitar, or simply sung), and sing them without playing them. Once this process had begun, David suggested a third partner, Amble Skuse, whose work in this field involves electro-acoustic intervention – taking sounds in and spitting them back out to add to the emerging field. With David playing on pianos that ranged from anywhere from thirty to one-hundred-and-seventy-four years old and Amble on electronics, Alasdair was given the kind of musical dichotomy he adores, and his singing reflects a powerful response to the shuffling surroundings. The already-shared "Johnny O the Brine" delves into the material with ease and mounting delight - and take it from us, the other songs are equally delightful, all of them spinning out into uncharted places while maintaining an utter faithfulness to their essence. Once it gets off the paper and the music takes over, it gets really GREAT – listen to the preview tracks now, look for a video for another song soon and cross your bony old fingers – with any luck, Roberts, Skuse & McGuinness will be playing this music live sometime soon – anywhere old relics and young people alike make ETERNAL music. What News comes on March 23rd, 2018.
YOUR FOOD AND WE BELONG TOGETHER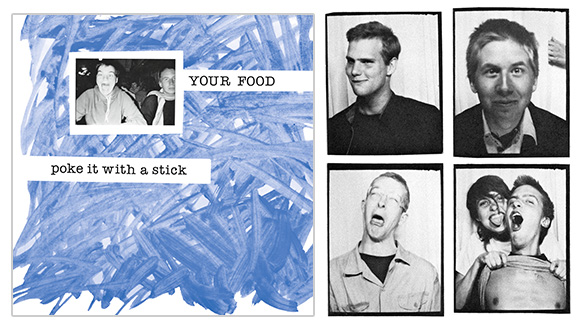 A hidden artifact from the underbelly of rock? Oh no! What does this have to do with new music? Other than that, in our contemporary marketplace, so much of what is sold as new is OLD? Well, like we said above, if the spark of new still burns within it, a repress or even an old catalog item will be fresh in the (y)ears of some unmarked-yet-emerging acolyte. This lets in Your Food! Back in early-80s Louisville, WAY before anyone was concerned with keeping it weird, there was a truly OTHER group of young people making music under the radar that today can be identified as punk rock. The actions of these people have been preserved in reissues such as our own The Endtables CD, or the remarkable flyer-art/coffee table book White Glove Test. Now to these we add the lone album release of Your Food, Poke It With a Stick! These young people were engaged in deviant art, desirous of making something different - and maybe also making people dance! Such was the spirit of the early punkers and the post-punkers – it was about rebellion and fun even when it wasn't all loud fast rules. And so, the songs have a new-wavy hop to them at times, as well as a bottomless dirge at others, with a sense of humor and the world that's hard to put your finger on STILL. Another missing piece in the puzzle, another brick you didn't know was in the wall, all in all. Coming on March 23rd and for the first time EVER on CD (and a decade too late for that! – ruein'-not-seizing-the-day ed.)Your Food Poke It with a Stick.
AS THE WOLF TURNS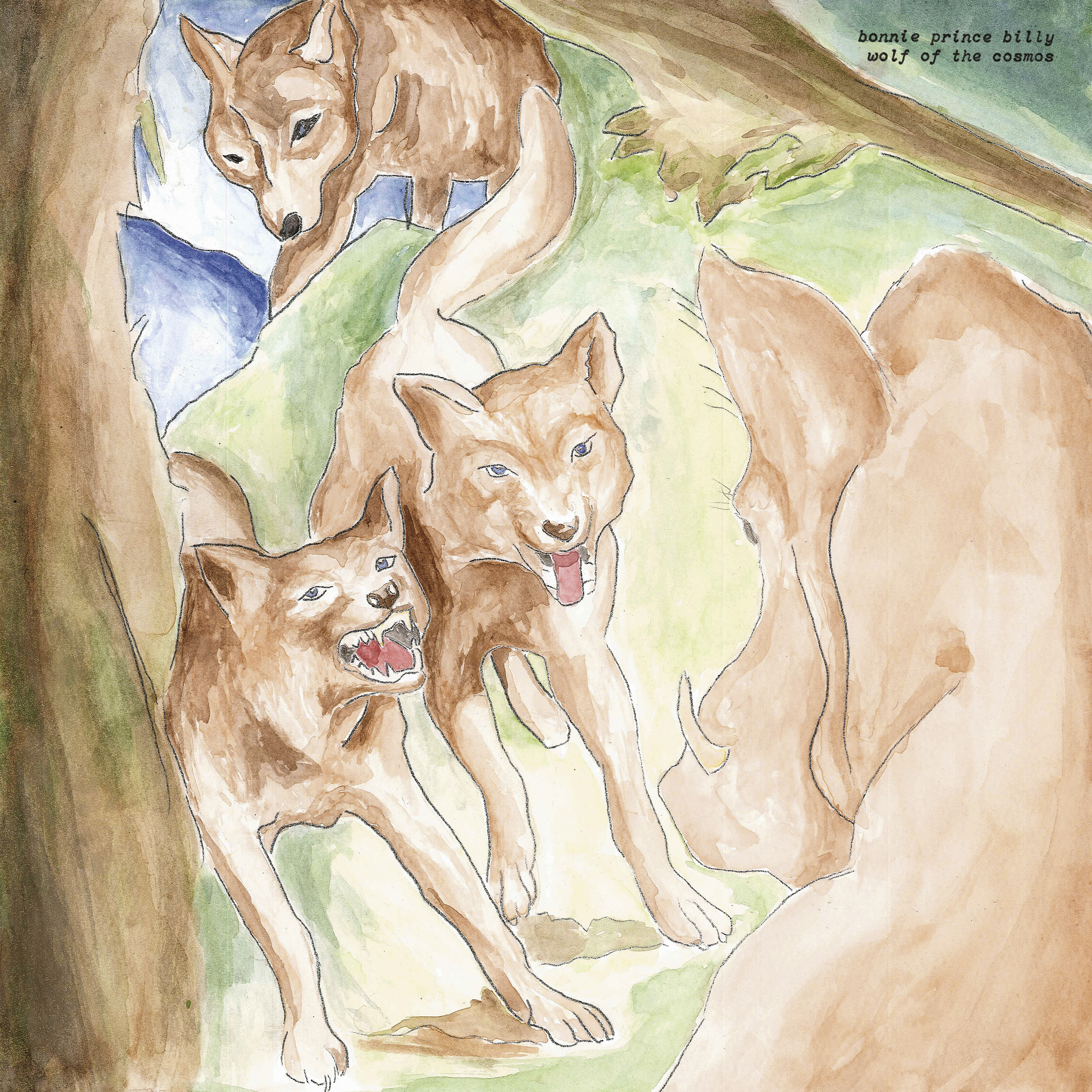 Once again, the games have begun. The two Koreas are united, and stand together. The whole world is watching. As we've already told you, Bonnie is on their side. It's been a few months since Wolf of the Cosmos by Bonnie Prince Billy reached hands across the waters and the winds and the space, in search of peace and cohesion amongst all of us who are here to stay, and who wish not just to stay, but to flourish. To all of us is offered Wolf of the Cosmos, a unique album that considers the music of Susanna (of Susanna and the Magical Orchestra fame) via one album release, her 2008 Sonata Mix Dwarf Cosmos. Bonnie's deep feeling for this music and his arrangement of the material — featuring just bass, banjo, fiddle and harmonies — is transformative, taking something already amazing to yet another level, and then naming that level a meeting place for all who wish to come. These days, Susanna is more known for her covers of other people's material – and Bonnie's got a little run of them going himself in recent years! – but her songs have an infinite appeal and a freshness in the mouth of the Prince. It's out now, but available in wider release come 4/20/18! Spread the words – and the music.
DRAG CITY GOES TO RECORD STORE DAY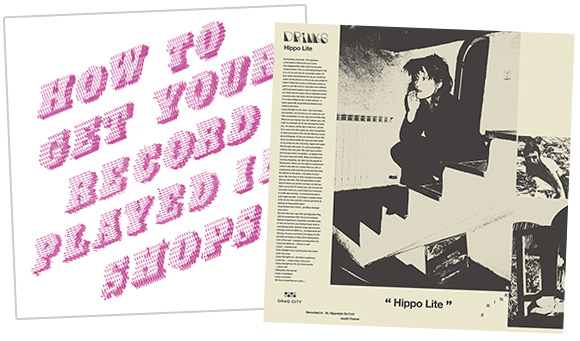 Earth people! Trippers! Stoners! Vinyl enthusiasts! After taking last year off from the often-overwhelming and occasionally-dispiriting annual cabal known as Record Store Day, we're diving back into the ring, to pull the towel we threw in there back out again! This year, we've got releases coming out that fateful week  - but would you believe, the day before? YES – on 4/20, we'll be distributing hits of the new stuff. As just recently announced, Drinks album the second, Hippo Lite, and Mike Donovan solo album the second too, How to Get Your Record Played In Shops. How you do it is, you make records, and you make them great! From an array of folks who've brought us the great sounds of White Fence, Cate Le Bon, Tim Presley, Sic Alps and The Peacers, we've got two new ones that'll make any new music store that much more so on RSD 2018. And yes, it IS purely coincidence that these awesome new records are coming out on Record Store Day! So fuck you!
And all the beautiful vibrations, we love you -
Rian Murphy
Drag City Inc.
February 2018