UNIVERSAL HEARTBURN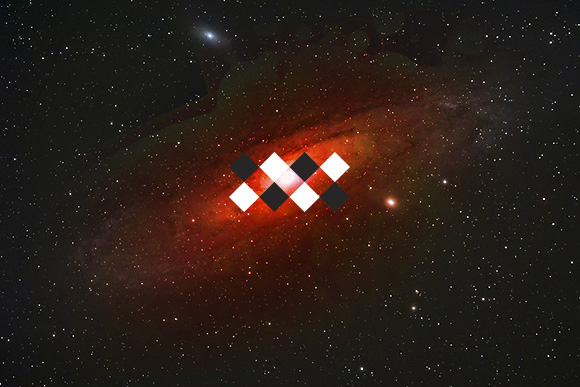 Beauty can be sad; we're all proof of that - and when the damage is done, we tend to look back and find the beauty of the meaning in everything that came before. We're just as inclined as everybody else to push the nostalgia button - after all, all our old used-to-be's number in the thousands (of songs)! Why not wander through the past, pausing thoughtfully to touch an artifact here and there? We advocate this activity. And if you're the type that sold your CDs (back when they were worth anything at all to music journalists) in order to feed your kids, and now you no longer have your good ol' Drag City favorites BUT you're also the type who likes to trickle a little bit of sound into your life via the ubiquitous worldwide streaming platforms, well perhaps you've done just so with them old favorites of ours, while reminiscing about the wild and wooly anti-architecture of those years that were, like '94 or '97. That's your right! But while you're there, why not spin the proverbial dial to something NEW at the same time? You can't get fat from what you haven't et' yet! The past is a bucket of ashes - and sure, they're of a highly attractive silvery-golden silt, to be sure! They might just match what you're wearing on any given day - but the world keeps coming round, with other hues for you 'n me. Why not give something fresh a try for a change, and leave those ashes for tomorrow! Drag City might could show you how to do that too! Read on and see what ye may find....
WORLD B(L)EAT
Yes, we sell the new! We thought you knew. Get it? That's three puns in three sentences, can you find them all? (not me! - it's-not-punny-anymore ed.) Listen, if you're reading this, you probably understand that the corporate entity known as Drag City is connected to many of the events that have already happened, or are about to go down, in your own hometown. Sure, we may be only interested in artists, bands and people who want to make music that communicates their individual thing - an elite group, to be sure, and there's only so far you can throw their stuff into this   world - but check it out, we get around! Not only are the records distributed in far-flung developed territories of Japan, New Zealand, South Korea, and the Czech Republic, but we also have people combing through there, stirring up things and playing events on an almost nightly basis - there and other places all over the planet! People like Ka Baird, Circuit des Yeux, Mike Donovan, No Age, Laetitia Sadier, Bitchin Bajas, Purling Hiss, Ty Segall, Faun Fables, Bonnie Prince Billy, Wand, Masaki Batoh and who knows who next month? This is why you GOT TO PAY ATTENTION! So now that you are, please continue!
PRESENT SCENT-TENSE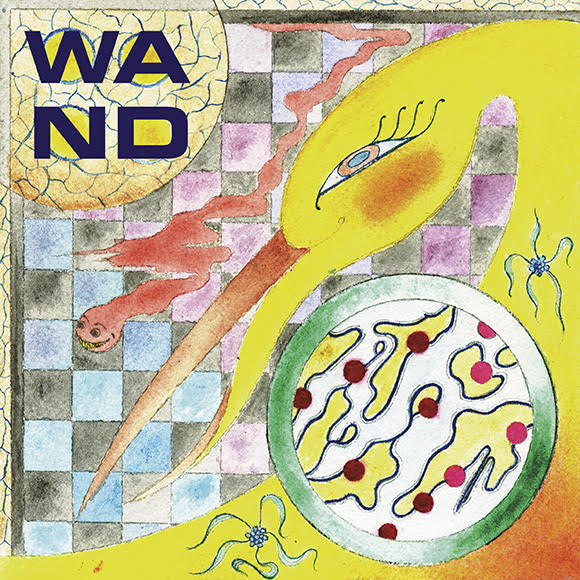 You didn't just come here for facts! Getting precise directions to where you hoped to go isn't why you clicked on whatever you did! No, for all your talk of fake this or phony that, you're INTO it, dude - as it turns out, you want the hyperbole! So how's this for a start - if the world of now is what you're really all about, you can't not never help but invest in a shiny new Wand for your lifestyle. This year's model is called "Perfume" - but don't go trading last year's model in just to get a whiff of the new one! Nah, mortgage something else instead - devalue something other than music for a change! Cause the future's still gonna be stuffed full of this thing called love (though you may know it as 'content'), and no shards from that exploding eventuality shine quite as bright as the b(r)and called Wand! "Perfume" is an almost-album's worth of tunes that walks as an EP instead, and very comfortably so, in the footprints of last year's Plum. Shorter perhaps, but maybe twice as wide? From the high-flying kickoff of the title track clear through to silky-smooth departing shot of "I Will Keep You Up," it hyper-spaces across a galaxy of music in just under 30 minutes. Clearly, the time that Wand's spent on the road and in the studio of late is warming their engines more than effectively. And while the songs from "Perfume" are catching notice for their remarkable fusions of pop and experimental and rock and so on, we're wondering about where the engines are gonna take them next. First stop is obviously America - the record begat the tour, or was it vice versa? The eternal chicken-egg question - or in Wand's case, the duck-egg question - but we'll put all other questions aside for the moment; for now, "Perfume" is wafting your way as of today! If you Wand it, they will come....
TORAL! TORAL! TORAL!
We're done repeating ourselves! We've got two Rafael Toral LPs from the early-mid-90s to offer this month, both of them visionary works that are exquisitely (not to mention finally) available on vinyl. Film buffs out there might find the header - reference unsettling, but we believe that these two records are, even after all these years, gonna take people by surprise - eg, in full fleet-wrecking fashion. Sure, Rafael's first two records - Sound Mind Sound Body and Wave Field - were offered for years on DC-sponsored labels Moikai and dexter's cigar, respectively - and yet, still - the seamless combination of drone, minimalism, noise and guitar music that these two records represent, and in doing so, TRANSCEND - whew! It just doesn't seem like there's ever been a world more primed for understanding this kind of the music than the one today - and especially on the vinyl format! Neither record's ever been released on anything other than digital, and in the case of Sound Mind Sound Body, there's additional material not realized on the first two issues, which means that it's still growing, don't you understand?!? So we're fucking psyched. The music sounds amazing, the packaging is slick, and the notes from Rafael and esteemed music writer Bill Meyer are edifying and yeah, even inspiring. When we think about it like that, it almost sounds like things are getting better and better, and....you know what? Okay! Let's go with it. Out NOW! May 25th and beyond, and right next to Wand's "Perfume" release, are Rafael Toral's Sound Mind Sound Body (30th Anniversary Edition) and Wave Field.  
AMERICA DRINKS AND SAYS WHAT?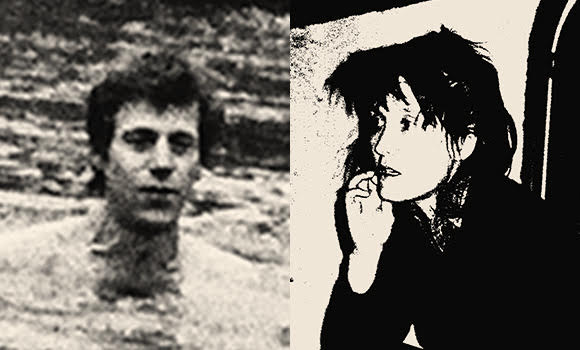 We can't help celebrating! Last month Hippo Lite, the sophomore record from the duo called Drinks, dropped - and pop music moved forward another step or two in it's inexorable evolutionary march! We're totally down with evolution, and also for music not fitting into categories. For instance, despite the title, Hippo Lite, you can't really call the new Drinks lite pop; it's a bit more complicated than that, but capable at the same time of sounding breezy all the same. However, since we're talking music made cohabituously by Cate Le Bon and Tim Presley, it's pretty clear to us that one or so listens won't do it justice! In fact, it might be a mistake to your precious QOL index to let it go at that. Blending their styles into a mélange that sounds like psych, post-punk, new-wave, bubblegum, and postmodern all at once makes for potentially elusive listening with the GCF of available ears, while at the same time clearly grabbing at the dystopian pop effect, circa 2018. This is music made for the world beyond jukeboxes and the radio - a world not dissimilar to the one we're living in today! In that world, all these recognizable influences have imploded upon one another and melted into something else that can still cause you to get up and dance or stand at attention in front of the speakers, singing into your hairbrush. To imagine that you could be entertained by these people or even be like them is such an entertainingly abstract idea....it becomes all-consuming. If you're that kind of person, we're offering you Drinks! Not only out now, but on the road later this year! Get Hippo Lite and get ready - for the tour, for the future of music, for everything, please... 
GRAB THE MIKE!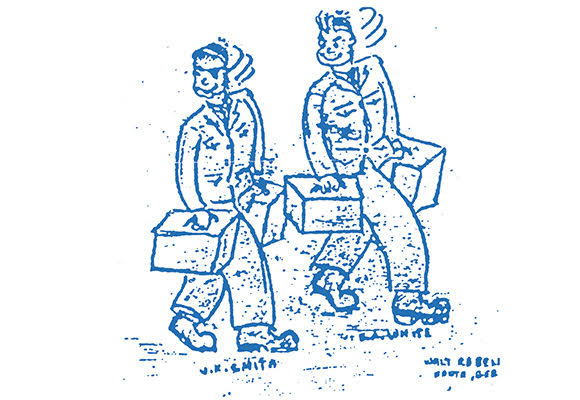 Also out last month and on the road right now is Mike Donovan, opening shows for Ty Segall for the crowned and other classes alike in Europe. Before that, Mike was shaking down the house-show circuit here in Amerikkka, finding his kind of people in the run-down corners where they've always found themselves, and bringing them news of his latest in person. Interestingly, this person-to-person transaction is for a record called How to Get Your Record Played In Shops - and while it is not exactly a how-to object, it is nonetheless a suite of sorts engaged in the music and mystery of ye olde bin culture. It's about a place of ultimate democratic engagement, where each album offers itself, and the discerning shopper decides for her and his-self! Mike's style may be generally rooted in Sic Alps days - a bleary basement psych glittering with pop gems - but his approach here on his second solo album (after Wot) takes some hard-and-soft-left turns from the middle of his particular path less taken - and that means, a fair bit of keyboard and a reliance on self that his recent output with The Peacers didn't always require! Mike's got a knack with the record-making - a true original - and we look forward to getting How to Get Your Record Played In Shops into shops of both the concrete and virtual variety. Meanwhile, you may catch him on the road somewhere - he's going so many places!
4TH PLACE, SECOND TIME AROUND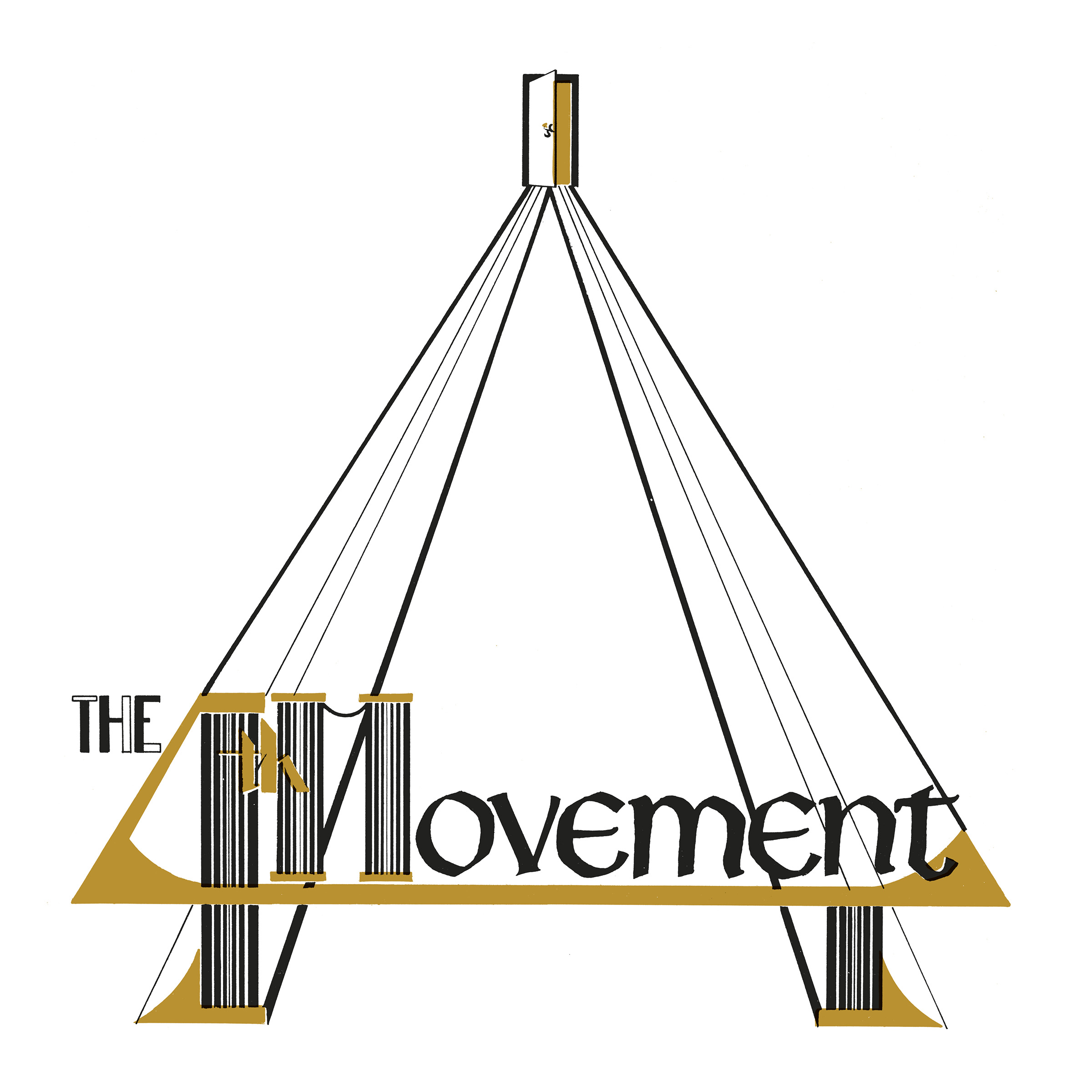 In June, we're coming at you with a pair of vintage releases - and the one that's actually being reissued is the much more improbable one. The 4th Movement is a 1980 private-press album from the Hackney brothers, who've become known to the world as a band called Death, with their shockingly proto-punk classic "Politicians In My Eyes", self-released in the mid-70s, but not seeing a wide response until about ten years ago, along with the rest of the For the Whole World to See album. After that material failed to go anywhere, the Hackneys changed their focus, if not their approach, applying their rock-trio dynamics to a set of songs that espoused their new-found Christian faith. The amount of shared territory with Death's pessimistic plaints is actually kind of remarkable, once you sit down and listen to what the The 4th Movement are singing - like, check out "The Buildup" , with its dissident cataloging of societal injustices amid a ever-shifting, hard-rocking musical landscape - this isn't just for Christian rockers, but also for those who collect the freekthinking, wild and weird musical expressions and for fans of devotional rock and roll (like The Who's "Lifehouse" and Tommy) too. That makes The 4th Movement a triple-threat - and with the remastered original tapes, deluxe packaging of the vinyl (complete with obi and two inserts) and it's first-ever appearance on CD and cassette and Industrial-stream-itary Complex, June 2018 seems like a pretty great time for the second coming! Of the band, not....you know.
THE NON-GOSPEL ACCORDING TO JOHN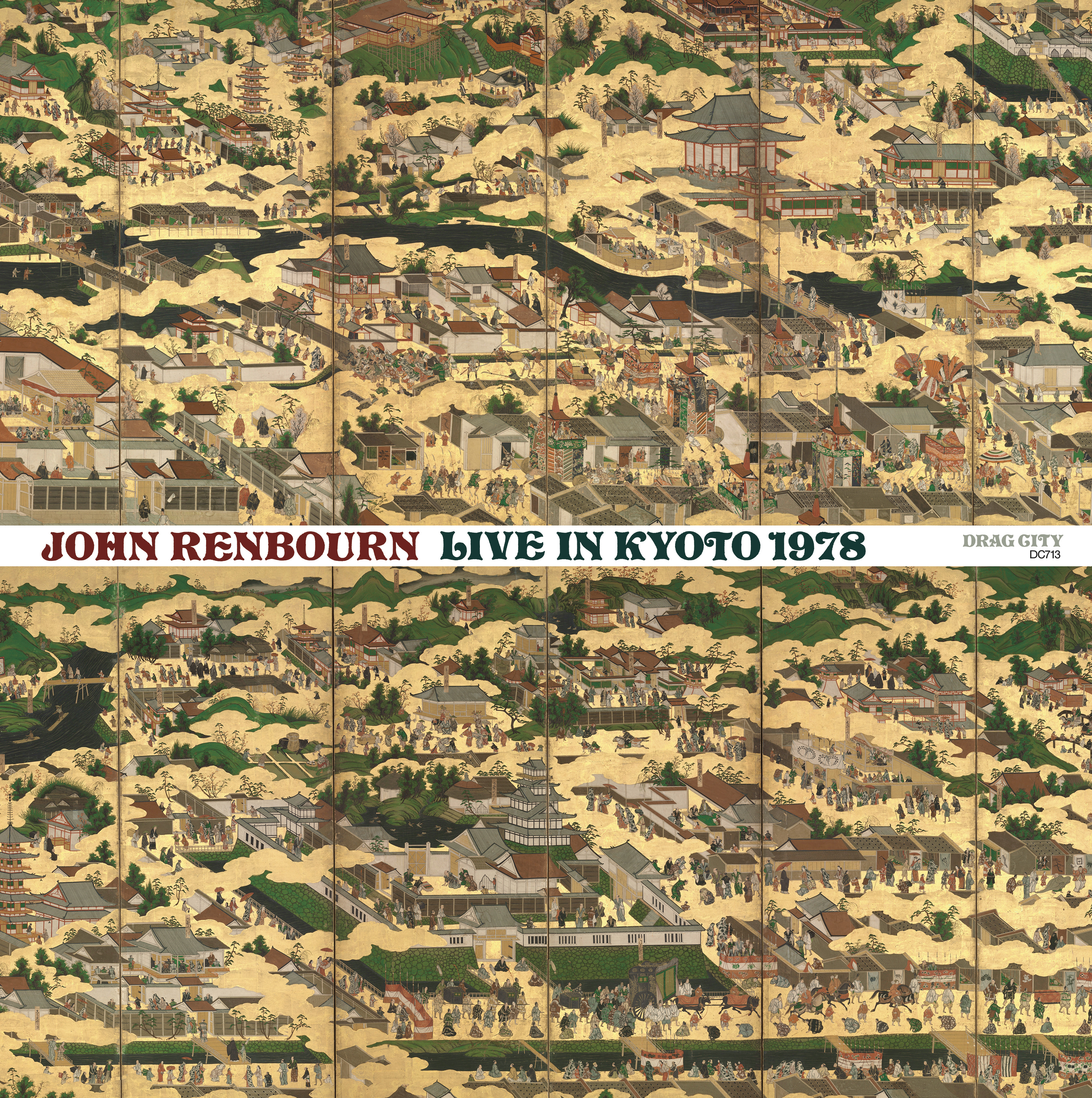 Also in June, we have a previously unreleased album of music from a similar time period, but several worlds removed from the efforts of The 4th Movement! The music of John Renbourn might very rarely be identified as rock-based, and while his music was played with great devotion and drew from ancient sources (such as the Child and Roud indexes), it was decidedly secular. Furthermore, the previously-unheard recording of the 1978 concert performance we're releasing was recorded in Japan! Hence the title Live In Kyoto 1978 - there's just nothing about that that isn't true. Also true - John's playing! In 1978, he was about 20 years into his career, with Pentangle and Bert Jansch duo encounters behind him and in the middle of his great John Renbourn Group years. Of course, he still recorded and toured solo, and that's what brought him to the Jittoku Coffee House one evening that year. He was booked to play by the late Satoro Fujii, who also recorded him that evening, then took the tape home and filed it for private listening, among many other recordings which are now seeing the light of day. Masaki Batoh of The Silence brought it to us, and it's a lovely tape, capturing John on a good night with a good crowd, playing many from his standard live set and really connecting with the crowd on some traditional medleys - their response is truly electric. With John's playing stellar throughout, Live In Kyoto 1978 is an essential document for fans of traditional songs, fingerstyle guitar and/or the man himself. John Renbourn, we hardly knew ya! But this album reminds us of what a remarkable talent you were. Check out the two tracks we've previewed here and we'll see you in June. 
JOY IS....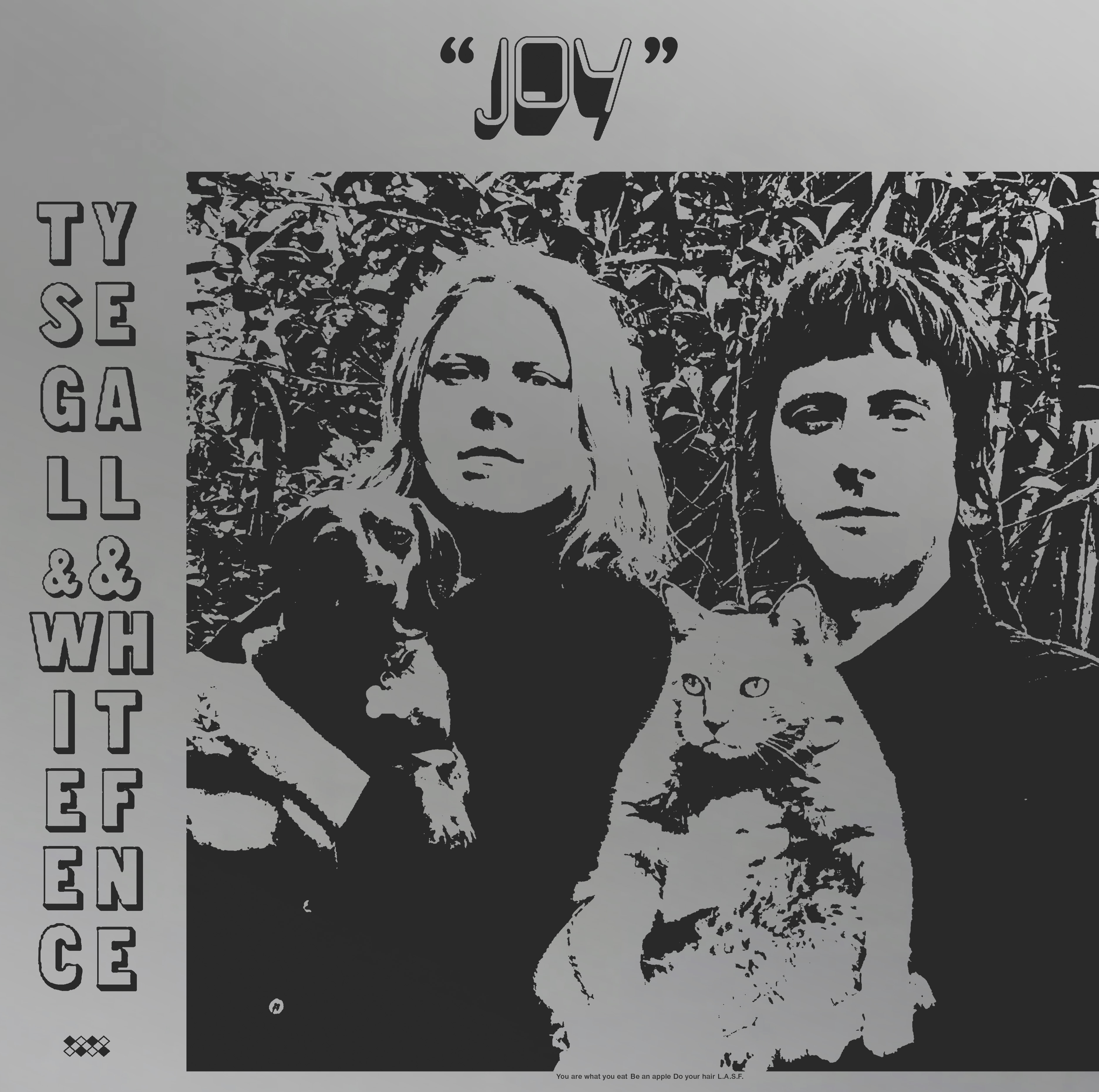 Interdependence Day comes late this year - it won't be until July 20th that it comes down, and we're celebrating with a new Ty Segall & White Fence album! Ever since 2012, we've been asked when there might be another one from this duo - that was how compelling their Hair album was (and is). If you loved Hair, you'll definitely be jumping for Joy in late July. Given that Tim Presley's - aka Mr. White Fence's - collaboration with Cate Le Bon, Drinks' Hippo Lite, is still cooling on the sill, this is pure bonus Prez, and we dig it for that, just as we feel great for scoring bonus Ty too - but when we do this, we're really missing the point. Having made one record together already, Ty and Tim know what it's like to bring themselves into a project like this. In fact, they're transcended it. This time, they came to collaboration expecting to find themselves there. And darn if they didn't - in shared space, as one entity. It's interesting to see them mingled amoebically, and as a result, Joy has a whole new thing about it that takes it far beyond any "Hair 2". Come July, you'll know what we mean by this. For now, just get "Good Boy" on repeat - before you know it, Joy will have arrived!
THE RINGING OF THE CHOPSTICKS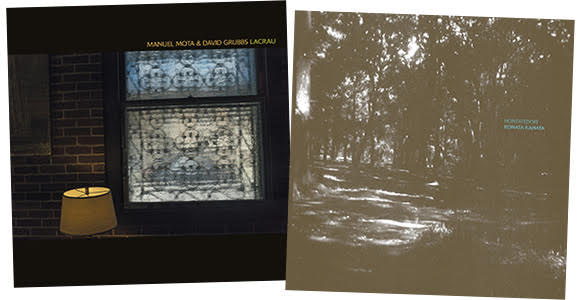 Hear that sound? Listen carefully....that's the sound of new Blue Chopsticks on the horizon! Two of 'em! They're coming in June and July - first from Manuel Mota and David Grubbs, an improvisational recital for two guitars called Lacrau. For those unfamiliar with Mota's music, but passionate about the work of Derek Bailey, La Monte Young, Loren Mazzacane-Connors and Phill Niblock (get in line!), this is a sound that's gonna work for you - two electric guitars in relaxed dialogue, with the tube-driven wash of amplifiers deepening their extended blues. Pressed into vinyl, Lacrau is languorous, deep listening pleasure. An other and different dose of which will be found in July, with Hontatedori's 12"EP "Kanata Konata" - a work of great delicacy involving collaboration between guitarists Taku Unami and Tetzuki Akiyama and vocalist Moé Kamura. This is the first US release for this collective, after their 2013 debut, and Blue Chopsticks are excited to see how their unique melding of art rock, folk music and post-psych vibes resonates with our local chapter of world music aesthetes over here.
IN THE GOOD OLD SOME OTHER TIME
What time is now? In our personal world of global weirding, we're still waiting for the warmth to accumulate in the air around our Ivory Bunker - but hot or not, the next time you hear from us, it'll be what the good old Roman calendar calls "summer". So look out for that shit - and for much more that's new from Drag City.
Rian Murphy
Drag City Inc.
May 2018