Welcome back to the Drag City Newsletter, circa June 2014! We say circa because it's unclear; at any given moment, we might also be working in, on or around June, July, August, October, et cetera. Plus that might also involve, as it does at present moment, the revisiting of years like 1997, 1990, 1982 and 1990 just to rediscover the McMojo of that time and present it to you all over again in single-release form of one kind or another. So as you can see, even from our IMMACULATE vantage point here on top of the world, looking down on creation, it's only June part of the time, and the rest of the time, it's just some other thing in our minds. Thank cripes for being our own boss!

THE MAY'S OF BIZNEZZ
Ghod - we're sliding into summer here, one sweat-coated (sure. Let's go with "sweat." - Edvard Munch's The Scream ed.) buttcheek at a time - and despite the skidmarks, we're okay with that. Summertime that means people sit back and get high and listen to records and celebrate their mental and physical freedom (from systems they'll never truly be free from! - Chomsky ed). This is good for business - and as it is with cycles of commerce, it implies a waxing period that will in fact lead to a sales peak - those elusive greatest of sales dates. Thus, May; a waxer if there ever was one. This summer, with rock records from Black Bananas, Pusswhip Banggang, Neil Michael Hagerty and The Howling Hex, ZATH, White Fence, Running, Ty Segall, Bitchin Bajas and Wand (plus some less-rocking, but no less awesome releases from Neil Hamburger, Matthew Young and Noel Akchote), Drag City's basically gonna be dealing out non-stop heavy-hitting riff-works from June through August - and that's not even getting into the further rock and/or roll that's penciled in (and inked, and colored) for September-October-and-November-too-for-Christ's-sake-!. So then, the May new releases from Ambarchi, O'Malley and Dunn (Shade Themes From Kairos) and Belfi, Grubbs and Pilia (Onrushing Cloud, on Blue Chopsticks) were a perfect table-setter (as well as perfect legal firm doppelgangers) for our mersh surge; dynamic experimental rock with a sudden, razor turns into expertly a-kilter grooves that satisfy deeply as they defy the intuition of the masses! Releases such as these were predicted by Royal Trux way back in the 1990s, so why NOT reissue their "The Radio-Video EP," on the same May date in 2014? That so-called "Radio-Video EP" seemed so wrong it was right at the time – and now fourteen years later? Still wrong, still full-tilt fucked. Future days will have to wait! But damn, inside the Silver Bunker (Ivory was so eleven years ago!) we're happier with this record than when it was first released – and if we recall how fucking HIGH we were when it first came out, that's pretty goddamn happy! So okay, we're pleasingly ahead of the curve and we don't care who knows it – but what about being right on time? Bingo – Ty Segall brought just that kind of noise for the May date with his all-new single, "Feel" b/w "The Fakir." One month and two pressings later, we can almost feel the pulsebeat of America and yea, even the world, beneath our fingertips. People like that psychedelic sky-wizard shit, and they like guitar solos. Further proof that Jimi is smiling somewhere, saying "waitaminit….aw, yeah." – and further proof that we've got a nice table set for the summer-to-fall season. Did you think that we were in the "making dreams come true" business? Hell no! We're in the "let's make a million" game – and if we have to make a few dreams come true along the way, that's just collateral advantage, baybee!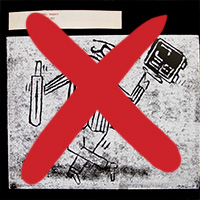 HEX'D OFF THE LIST
OK, so it's June(-ish) now and we're in ascendant sales mode. So what all do we have for sale? Well, funny story….hopefully none of you out there snoozed, because you might just have loozed too. News flash! We've just shipped the last copies of the brand-new, all-new (weirdly new) Neil Michael Hagerty and The Howling Hex 10" single OUT! But listen, that's just us – all the people that we shipped it to, they'll have them to sell ya. So this is just another one of those weird, non-Record Store Day reasons to go to the local shop. Crazy! Yeah, we're not about a panic - there's still good copies out there, don't worry. You better hope you can find them too, because "Fool's Watch" b/w "Lord Gloves" is Neil Michael Hagerty and The Howling Hex at their most exciting! Wow. Long tracks, New Border Sound rhythms, crowded, corroded guitar runs and that je ne parle pas francais that makes The Howling Hex our favorite band on Drag City (except for all the other ones! – ultimately-democratic ed.). So get out into the world, flash shop the record stores, look for this 10"! It's slightly smaller than an LP! But bigger than a 7"! OUT NOW! ALL OUT, that is.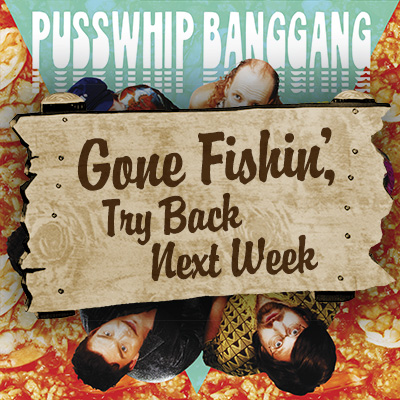 PUSSPONEMENT
Dang it! Banggang it, even! When we promise something, we like to see it through - no matter how strenuous the task. For the longest time, it seemed like we had "Jambalaya" in the bag - not literally of course, as the classic jambalayas of Lawzeeanna legend come in pots, bowls and super-sized hurricane glasses squeezed between two nice round titties. No, we're talking about the "Jambalaya" single being issued as a special, unforgettable souvenir for all the Pusswhip Banggang fans who have been planning for MONTHS to attend Pusswhip's "Kings of the Swamp Rock" tour of the Deep South. Now listen fans! Just stop waving your open-carry firesticks in our faces - the good news is, we're GETTING those records to the shows. The bad news is, they didn't come in time for our June ship week – so for everyone else, and all you non-Deep South country MFs who ordered via Drag City's mailorder (thank you, friends!), they're gonna be delayed several weeks more. Stores won't even get the records until the July date, but we'll have everything in the hands of our mailorder customers by then – so please, quiet your riot. We'll have "Jambalaya" for all who want it – unless it "takes off," in which case, jeez, we're gonna be kinda effed, you know?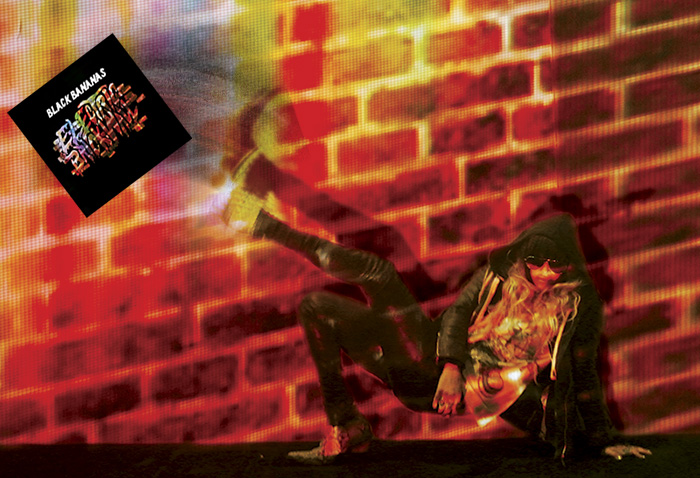 ELECTRIC BANANAS GONNA BE THE NEXT PHASE
Is there anything we DO have in stock? GLAD YOU (we) ASKED.
A storm is coming. Black and silver, pink and purple like a ripe summer jam. An electro- mechanical brew, rolling in off the coast, trucking down from all high. Digital distress, magnetic rumbling....magnets clap together and the force goes boom! And your hips go BOOM. Unlocked, and Black Bananas are in the room. It may seem like magic, but it's electro-acoustical know-how, piggybacked on an abiding love of the music and culture of rock and roll from it's most classic of days – all fed through the digital matrix with an eye towards exploiting the sounds of today like nobody else seems to be inclined to do! The density per square second in this music is SICK, but it's not an A/V scramble for scramble's sake – the music is there, echoing in seeming artificiality from the center of their rockin' raw heart. Fronting the melee is Jennifer Herrema with her trademark icon/iconoclasm, delivering with a greater degree of elasticity than previously known. A healthy dose of old-school hip-hop has worked its way into the mix without essentially changing what Black Bananas do, instead bouncing the rock harder and with greater synthetic essence. And in this fashion, the hits keep on coming, hooks and lines emerging from the smoke and fog to draw you in.  Electric Brick Wall is the name of this ultimately natural disturbance, and it comes in any way you want to get down. LP. CD. Cassette. Download. There's no stopping Black Bananas, once the needle drops/the laser engages/the play head makes contact/the files unzip. Electric Brick Wall is now, out now!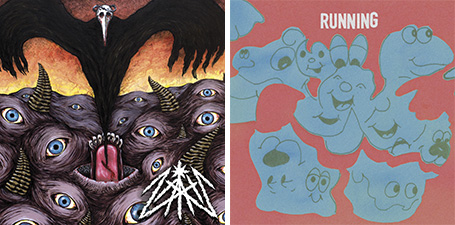 WITH GOD? ON OUR SIDE
GOD?'s been busy in 2014! Full lengths from Jack Name and David Novick, 7" singles from Zath (OUT NOW!!) and Running (next month – can you even wait?), plus the anxiously anticipated Wand LP coming in August (more on the future soon!). If you haven't noticed, most of these names belong to people who precious, cherished few even heard of until they maybe put out their first record on GOD?! With a couple of full-lengths and other things out there, Running would appear to be the graybeards of this bunch. As for the real graybeards, that'd be us. Drag City is growing old, kids – it's time to face it. We're not "making the scene" with the young 'uns the way we used to do. Part of it's the arthritis, and probably the rest is due to our chronic….okay, have you called bullshit yet? Because it is. As was said once or twice back in the day, We are made of blue sky and hard rock and we will live this way forever (sic)! Sure, we're a bit longer in the teeth, but that's alright – we've got GOD? in our corner, bringing the hot young hits our way. This month, it's the steel-eyed fury of ZATH, driving through two sides of a single like they were two sides of a LIFETIME! Riff upon riff upon RIFF! All in the name of impaling demons with the power of even GREATER demons. Plus, making it metal, but keeping it musical. "Black Goat Razor" and "Pain Reaper" will make a believer out of you! But what will you believe in? ZATH? Or something bigger? Both, no doubt. As always, thanks GOD?!

THE GRASS IS NOW OFFICIALLY GREENER
White Fence on Drag City! Who'd have thunk it? Well, way back in the Is Growing Faith days, us! That's who. And anyway, wasn't it in the summer of 2012 that White Fence REALLY debuted with us via the Hair album (with Ty Segall)? Then last year GOD? handed us their first record for an LP-only issue, and gee, we've had fun doing that. But dang – in the meanwhile, The Family Perfume volumes and Cyclops Reap hit shelves without the Drag City checkerboard tattooed on 'em – and shit, it's not a good thing to live your life jealously, but there we were! Ah, we were so much older then, we're younger than that now, right? It sure does feel like it, with For the Recently Found Innocent slated for a July 22nd release. As you've no doubt read on the press that's seeping into the world (along with "Like That," the first drop from the album), Tim "The Fence" Presley worked with Ty Segall to take these songs and their composite album farther than previous White Fence songs and albums by recording with more tracks in a more formal recording session setup, with more formal studio-board mixes at the end of it and – ZAM! A deeper, wider dynamic in which everything that White Fence is and can be is found to be existing in peak form – a continuation of the intoxicated songwriting of Cyclops Reap and the Presley propensity for instrumental Technicolor and acid-flushed guitars. For the Recently Found Innocent is a whole album with all great stuff, winding through a forest of deep shadows and sudden shafts of light – and you know how people tend to dig getting lost along the path of records like that. We can't wait for everyone to get lost, on July 22nd – or for the attentive and ambitious, before that, even!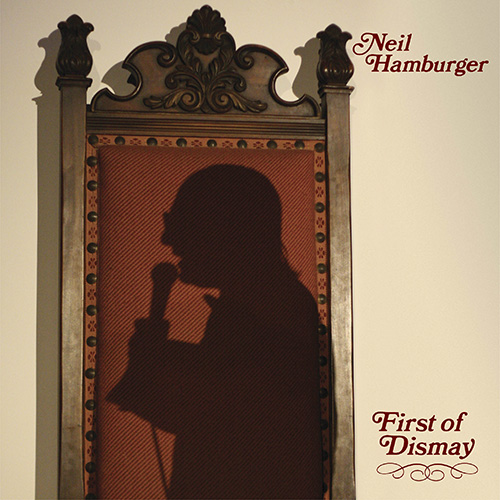 HE'S A NUT
No he isn't, says the HI-larious punter – he's a Hamburger! Neil Hamburger, that is. America's Funnyman. Yep – all in a day's work….but lately, Neil's been showing signs of that mid-life crisis so many bros go through. No, he isn't showing up to gigs on a massive hog or anything like that – but he IS singing a lot more these days. This potentially disturbing trend started with Sings Country Winners back in 2009. It sold about the same as always, which is to say, NOT GOOD – but Neil immediately taped the Western Music and Variety show for DVD release. Now, we've got his latest release, First of Dismay, ready to release on July 22nd – and you know what? The record alternates some of Neil's latest "bits" with more lousy country songs! And not something funny either, like a classic Leroy Pullins knee-slapper – no, Neil's gonna do that old warhorse "Mama Tried," as if the Grateful Dead hadn't already beaten that old nag to death, and then died themselves 20 years ago! It's 2014, Hamburger – does the term "shit sandwich" mean anything to you? Whatever. His "fanbase" will "eat it up." And with videos to promote some of these Dr. Demento-style "tunes" of his, we might end up with a comedy "hit" on our hands. Ye gods - we can only hope…. So look for First of Dismay, comedy fans – and music fans too, come July 22nd. Neil Hamburger has another classic album for you! Yeeeucchh.

THE FOUNTAIN OF YOUNG
Also on the schedule for July, courtesy of those forward-looking crate diggers at Yoga Records, is Matthew Young's Recurring Dreams. In 2010, Yoga and Drag City partnered to reissue Matthew's 1986 album Traveller's Advisory, which combined electronics with folk music in an intriguingly out-of-step fashion (out-of-fashion step?) that seemed to be just what the world needed then (meaning 2010). Recurring Dreams is actually the album before that, which suggests an interesting way to do a reissue series – start with the most recent, then go backwards! It worked with that movie Irreversible, so why not with Matthew Young? Recurring Dreams is much more of a classic ambient/electronic album with no quirky vocals, hammered dulcimers etc – and in that, it's a personal masterwork of electric keyboard and suitcase synth, making music of wide reach, deep relaxation and personal resonance with a minimal amount of instrumentation and a maximum of subtlety. Now, maybe even more than it was then, Recurring Dreams is a triumph.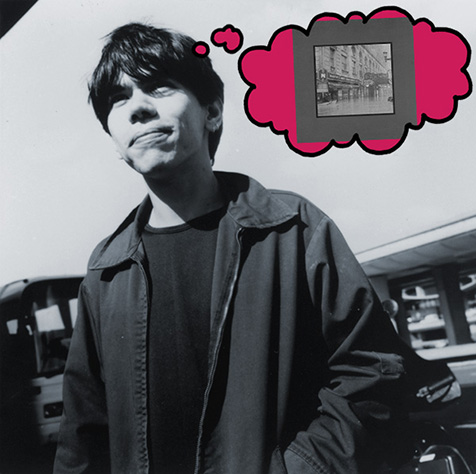 PROPER M
Back in 1997, David Pajo was a little over a half decade removed from the future sensation known as Slint. Their second album had been released in 1991 when the band themselves were already defunct. During the next five years, David worked with Palace Brothers, King Kong, Tortoise, The For Carnation and Stereolab. All during that period, the idea of his own music was slowly simmering, building flavor like a good rage. He and former Slint-ite Britt Walford had discussed a band called M – the significance lying in the letter's position in the middle of the alphabet. A single under that name was released on Palace Records in 1996, and upon hearing it, there was no doubt that this fucker was one of the Slint boys. We were big fans of Tweez; we jumped right on that shit and offered Dave a deal he couldn't refuse – if he made a record, we'd put it out! The rest is…not only history, but somewhat out of print. David changed the name to Aerial M and made an LP and two singles, then changed the name to Papa M and made a couple of double-albums, an EP and a five or six singles. At the time of those singles, he joined another band and then another and another and….poof, no more Papa M. There were two Pajo records in 2005 and 2006 and since then, nothing else along these lines. And so, Aerial M and Papa M things have slowly gone out of print. But now that everyone is really into that post-Tweez Slint record (time is funny), it seems like a perfect time to re-inject Aerial M into the world's music-veins. David put the record together in a fashion that feels very much after Slint, but instead of just playing his part, he played all the other parts too, kind of in the way he might played them if he HAD played them. So, virtual Slint reality, '97-style – before any of these reunion tours provided another kind of second life. Of course, that's super-reductive and unfair – what the Aerial M record ACTUALLY presented was an initial step in a hot ten-year evolution of sounds and song-making – but in 2014, whotta sales hook! BOOM. Aerial M walks among us – again.

TY FOR LAST
Wow. Crazy. Since the last newsletter, we let slip that there's a new Ty Segall record set for August release and, what's more, it's a double-album! You know what that means – side three! The craziest of all possible sides in rock – and now Ty's got one coming up on Manipulator. August 24th is the date – and you know we must have a LOT going on if we haven't gotten around to mentioning it until now. Especially since that date is gonna bend heads from EVERY LAST ANGLE – also coming out on that date is the new Bitchin Bajas record, also a double album, in which they travel to the heart of Bitchin Bajas on a series of gently oscillating waves, both acoustic and analog, though some may be synth-etic too. It's the greatest Bajas record of all time and will cause a revolution, though what form the revolution will take is unclear. Fans of cassettes get the bonus track for this release, and good news – it's as long as the album, WHAT? If that weren't enough (and really, IT IS), two of our affiliated labels previously mentioned in this newsletter are dropping mind-altering music too – Noël Akchoté on Blue Chopsticks, with his Gesualdo: Madrigals for Five Guitars CD and Wand on GOD?, with their Ganglion Reef LP. Gonna be a total melter in August!
And that, is all. Or is it? Actually, it's not. That's why I just wrote that. Haven't you learned at this point, gentile (caps or not? grammar-profiling ed.) reader, that the roundabout path is what we're all about? Sure, we like going A-to-Z as much as the next gal, but it's really the "BCDEFGHIJKLMNOPQRSTUVWXY"-of-it-all that really floats our goat. Ahem. So what else? Why, RECORD STORE DAY 2014 of course! You don't think we forgot that, do you?!?! We've got all kinds of surprises in-store (and in stores!) for Record Store Day on July 18th. And as mentioned above, we don't want to see you get the blooze because you snoozed (and possibly boozed) and loozed! Join Drag City in supporting your local retailer on Record Store Day, July 18th! Until then? Just hang on. Keep chewing and keep amazement to a minimum. Breathe! More is coming, just stay in the moment until then.
Sometimes life can really be amazing.
Rian Murphy
Drag City Inc.
June 2014