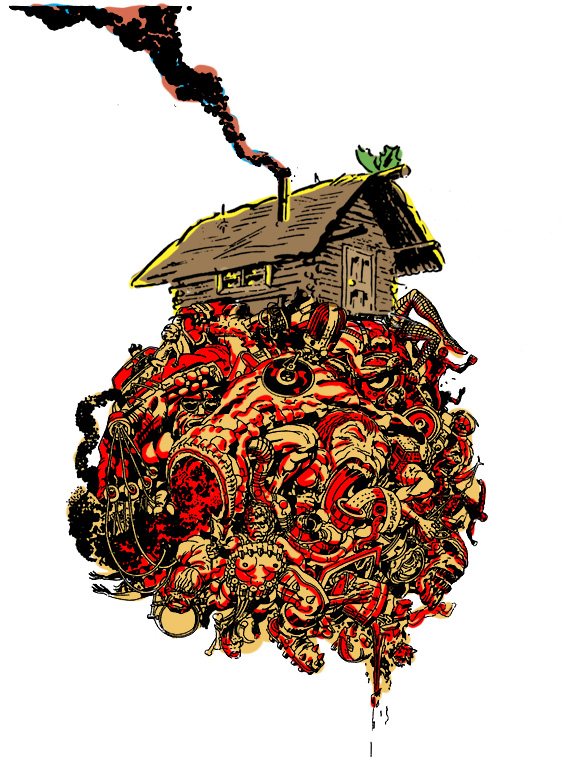 IS THERE SOME PLACE LIKE HOME?
The summer of long (neé love) is dragging on. We're still here, however improbable it is to call something so unfamiliar 'here'. But that's life - the world we came into is ever-receding, and we're left to erect new landmarks (but heaven forbid, statues! - up-to-the-minutemen ed.) along the horizon as we increasingly lose ourselves in it. Some folks make their mark and then move on. Not good ol' Drag City. The marks made by tens of dozens of artists have been collected here to provide a neat-o three-dimensional roadmap stretching through countries, decades, ages....and they extend forward and backward. But where does it lead? Is the road to Drag City taking us somewhere? Or are we an end in ourselves? And verily, might the the journey be the destination?  
IMAGINE ALL THE PEOPLE LIVING FOR TODAY
Critical mass! Everybody wants to be free, and the definition of sitch is inherently open to interpretation. There's no one set of rules - and while normally we relish such reality-based thinking, the consideration that some of us might like to be free to return to old-world ways here in the high heat and fast times of the new century is...unsettling, to say the least. And the most. History's in the books - read all you want, but you can't go back there again, you probably shouldn't want to, and face it, we're never going back there. Sure, there are possible futures colored more intensively by bits of past that must remain past, and then there's other possibilites. As we vibrate in our perfect circle, the direction of Drag City points ever forward, in search of a future even better than the best of today - and since this newsletter's version of the future only projects some 90 days hence, that is an eminently manageable vision. Care to share a glimpse?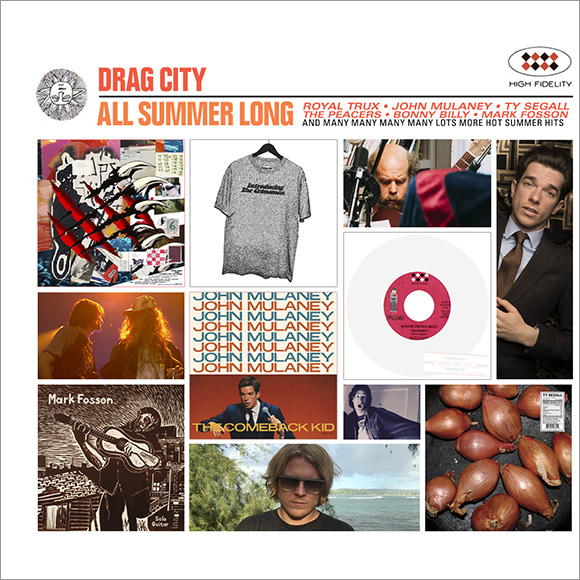 ALL SUMMER LONG
Forward then - to today, and beyond the infinite (about 90 days beyond - what-part-of-infinite-don't-you-understand ed.)! The sun and moon are both still there, post-collision - still doing their thing. Equinox 2017 is on the horizon and the summer we once wished for SO HARD is, once again, almost gone. But what a summer what was! Ah, fuckit, we don't care. Like we always say: sha-la-la-la-la, let's live for today, which in this case means that what happened all summer long STAYS all summer long. So lift off from your mooring and wave - farewell, all summer long! We may not remember what we said here, but we will long remember what we heard here. As Ty Segall's special dish of "Fried Shallots" is spiking our taste buds with six songs of ACLU-benefiting warp and wroll (and hopefully the ACLU are benefitting somebody worthy - although, non-discriminatory representation, what a concept....), let's take a minuteish for the Drag City 2017 Summer That Was! According to our almanac, it was just a few days prior to Solstice that we rolled out a summertime stew for the ages - i.e. the rock of yesteryear, the rock of next-teryear and an album of timeless comedy jokes mixed in for good measure (and larfs!). Way back in June, that perfect recipe was: Royal Trux, The Peacers, John Mulaney and Bonnie 'Prince' Billy! The Trux as you know of course have brought their 90s roadshow back for latter-day heads in the past two years, and while that's comprised shows around America and Europe thus far, LIVE! Platinum Tips and Ice Cream captures the utter weirdness and the fuzz of the first couple of shows in California and NYC. At the first show, they didn't even play the Pound for Pound favorite "Platinum Tips" - it wasn't ready yet - which is one way of hinting that L!PTAIC is both a work in progress and a ready-for-consideration-as-their-tombstone ultimate statement. But only cuz it actually IS! The Trux's hold on (loosely) to songs like "Sewers of Mars" and "The Banana Question" without ever losing sight of an indemonstrable understanding and performance of the same, and the awesome thrill that this tension provides, is the ETERNAL essence of Royal Trux. A great "live" record, a better "living" record! Meanwhile, the shows just keep getting better and better - or as Royal Trux like to say, they're all the same because how can anything be objectively good, bad, better or anything, man? Whatever, if you haven't heard LIVE! Platinum Tips and Ice Cream, your life as an observer/participant/appreciator of rock 'n roll is subjectively worse off. Maybe objectively too. So do it. Now, one might think that that supplies our summertime-balaya with its essential ingredient of rock of yesteryear, but not so fast! Trux classix played today in an all-new, all-confusing fashion means they also blow to tomorrow-day, or next-teryear, as we alluded to it above. Also definitely pitching their tunes toward the bottomless hearts of tomorrow are The Peacers, whose sense of pop music fell into the sewer on the way over here - or was it pushed? And why does it now claim to belong to the sewer? Ostensibly human, the music of The Peacers is streaked with soot and cratered with what appear to be drastic accidents in stereo. Never fear (or ALWAYS fear? - counter-improactive ed.) - beneath the dirt and beyond the sweat are the fluttering beats of broken hearts, furtive nostalgists and mistily stoned rock and rollers! We've dropped a series of free listens so that you may get a sense of how to feel your way around their sprawl. Actually listen to "Black Fences", "Haptic Chillweed", "Windy Car" and "Staying Home" - and even then you're only a quarter of the way through Introducing the Crimsmen, whose translucent bubblegum is best ch-ch-chewed after midnight. As a part of the June date that (barely) contained Royal Trux and The Peacers, we dropped a 7" record featuring a song off Bonnie Prince Billy's Best Troubador Merle Haggard tribute album. A tribute within a tribute, "Leonard" b/w "Carolyn" pairs an album side with a non-LP track; a track about Tommy Collins with a track BY Tommy Collins. That Bonny sang them some 15 years apart seems only right. Finally, the timeless comedy of June was brought by master of wit John Mulaney, whose The Comeback Kid LP/CD is a long-awaited album version of his 2015 Netflix special. Since then, John, who wears many hats, has been sporting his "Oh, Hello on Broadway" fedora - but in ostensible support of the album release, he's taken to the road in a truly unimpeachable fashion (and how we wish we were able to say that more often!). The "Kid Gorgeous" tour seems to be making its way toward another special, but as long as they keep shlepping Comeback Kid LPs and CDs at the merch table every night, we can't won't complain!
Then came July - which, in our book, always means t-shirts, cutoffs and a pair of thongs....plus this year, the Solo Guitar album from Mark Fosson! Mark came to our attention in the early aughts, when his niece Tiffany Anders discovered a set of reels that John Fahey had produced on Mark's impeccable six-and-twelve-string compositions back in the late 70s. The Lost Takoma Sessions, we called it - forgetting to acknowledge that what's found can't be lost again. Not if you put it out on CD, right? Anyway, it's ten years since that archival release added to the canon of the modern primitiv e - and now Mark's back with new guitar compositions for the first time in - well, he self-released a great record in 2015 called KY (it stands for Kentucky)- but it's been ten years since TLTS and it's only his third solo guitar record ever - and his first called Solo Guitar! All that and it's also a deep journey into his now-fifty-years of six-and-twelve-string fingerstyle, which means personal and soulful tunes abound! Check out "Once Was a Time" for a taste - and then go in on the whole Fosson bottle!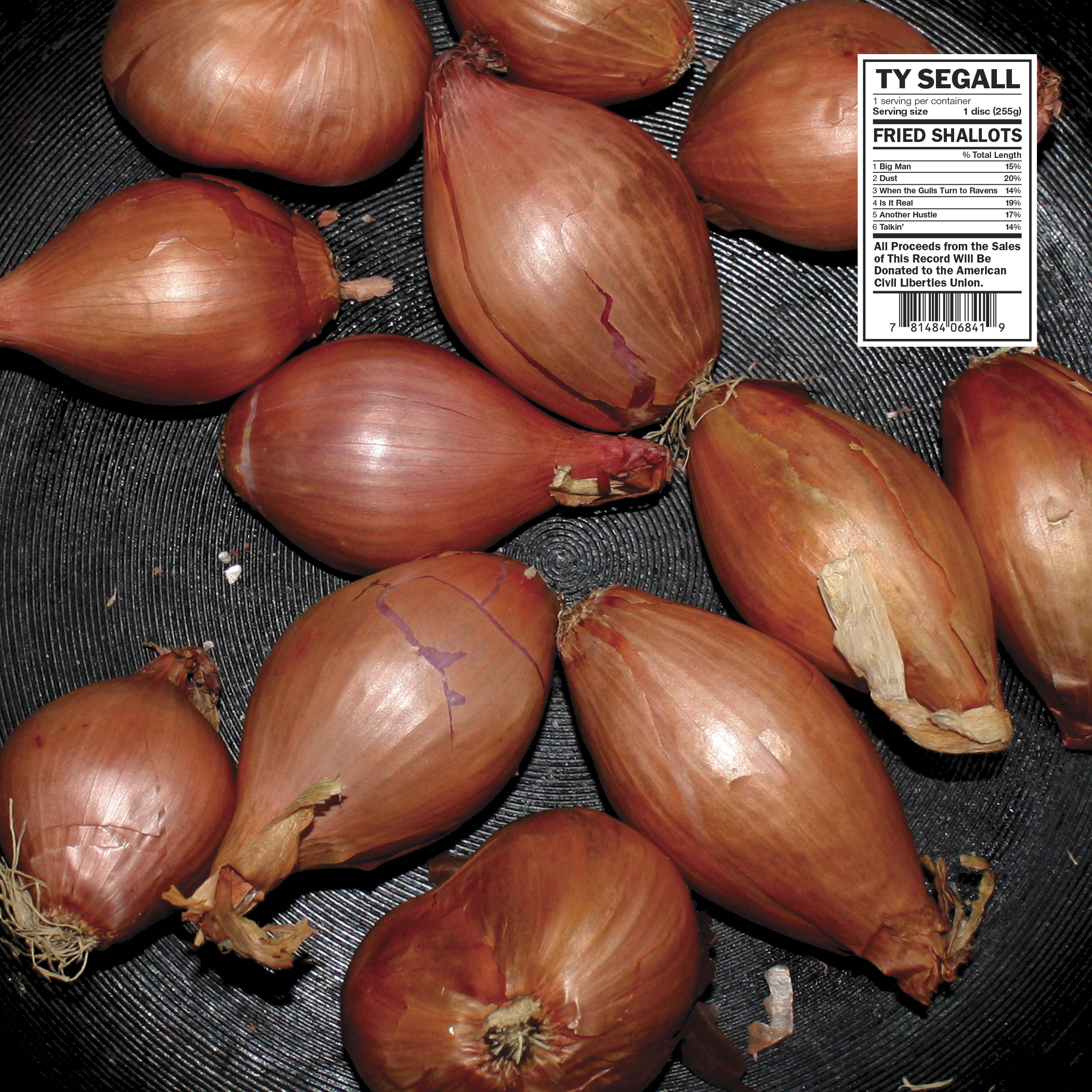 And then the Ty Segall EP. "Fried Shallots" is out now - and even if you aren't buying it for the six-songs of mix-and-match psyched-out weirdness, you need also buy it to support the ACLU, who benefit from every record (or download! – Back-To-The-Future ed.) sold. Both things are equally valid, and dare we say it, true. 
And now we're about to step through the arch of Labor Day. Summer's almost gone! Every now and then we hear our songs. We've been having fun all summer long.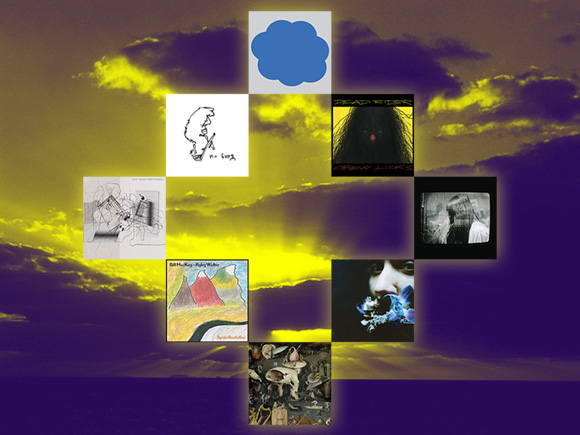 A CHANGE IN THE WEATHER
How's that old wheeze go? "...but what's the use of changing horses in mid-stream?" Damn right! As summer turns to fall, we're making more for the team of young freaks and ageless seekers who came knocking for sounds from the likes of our summertime friends. Futurist rock? Faux damage? Progressive traditional? Trippy? Or our favorite, all of the above! One way or another, the class of September-October: Wand, Dead Rider, Ka Baird, David Grubbs, Circuit des Yeux, Walker-MacKay and Pearls Before Swine (!!!!) have something to say to you.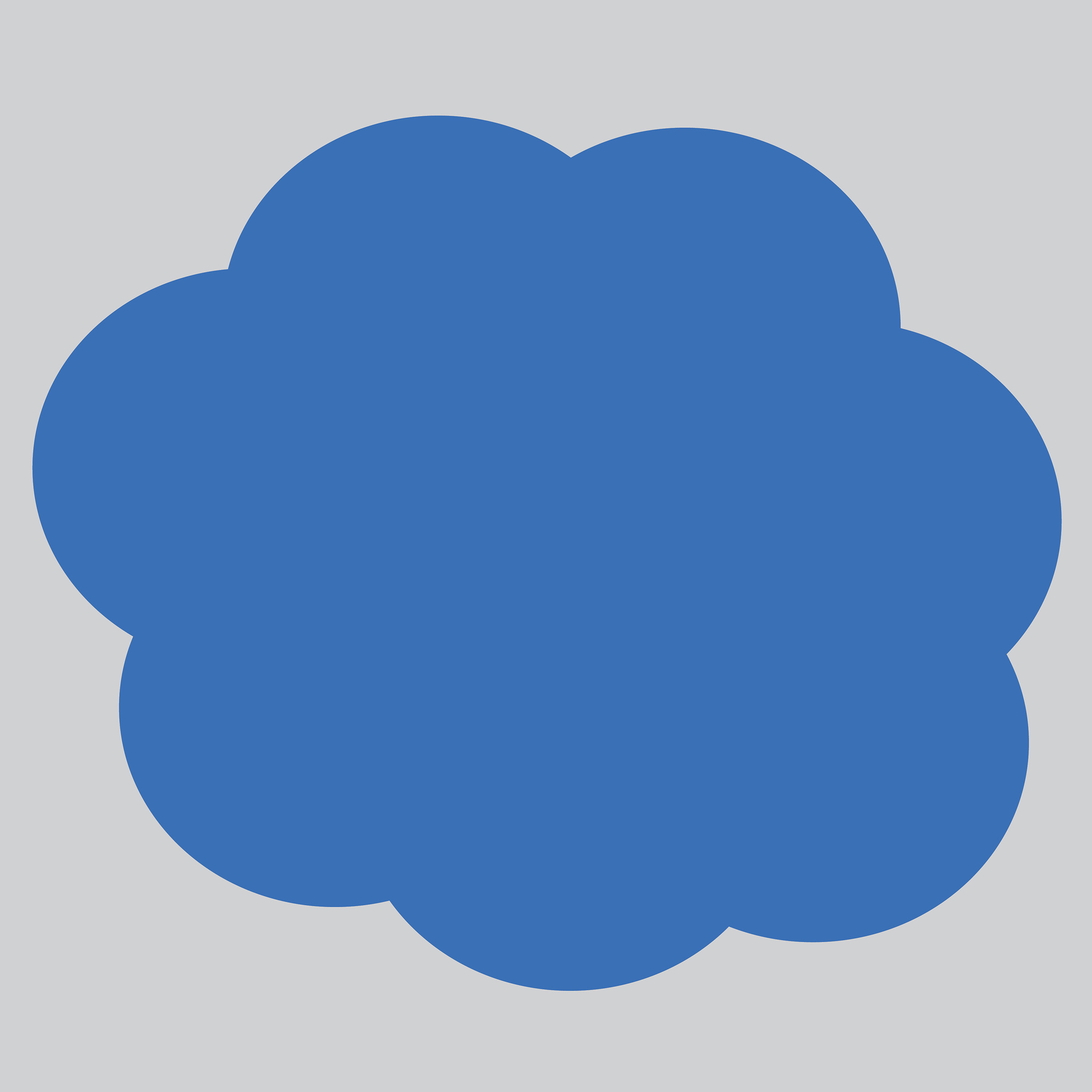 PLUM THE LEAKS! CALL WAND
Kicking it off (like they won the toss) is Wand, whose Next Album has been eagerly anticipated probably since right after their last one came out. Remember, when 1000 Days hit way back in the summer of 2015, it was the third Wand record to appear in a calendar year! Back then, if you didn't like what Wand was doing, just wait a month and they'd announce another one....well, no longer! A length of two "whole" years later (with, sure, time carved out for Cory Hanson's stellar solo set, The Unborn Capitalist From Limbo), Wand are back - and with songs like "Plum" and "Bee Karma", this new-phase sounds right promising! Since we of course have heard even more than those two (yes, awesome) songs, we can confirm that IT'S TRUE! The new quintet version of Wand seems to have even more up their sleeves than the former crew - but really, it's just different stuff up those sleeves and probably different sleeves too. With the addition of a designated keyboard player and a second guitarist, the core Wand members now find themselves in an ever-expanding palette - just the way Wand likes to fly! Plum is rich and sumptuous, spun with dense webs of sound and stasis, mélange and melody, as Wand push farther into the strangeness of uncharted territory while also locking it down as a class-act modern pop outfit! To frost the cake most excellently, the September 22 release date also acts as the opening flag for a mammoth run of tour dates: a month in the US, followed by the holidays and then more in the UK and the EU and the rest of this world, provided it's all still there! Plum around, with Wand this fall.

DEAD RIDER WAS APPROACHING / THE WIND BEGAN TO HOWL...
Dateline: the frozen tundra of the northern plains! City edition. Even though it's the heart of the Midwestern summer, does the ground, once frozen, ever really thaw back to its former state? Not that we want to get all science-y with yuh - naw, we're just here to talk about the apocalypse! And the latest word in that department is coming to us on the back of Dead Rider. Like the bluesmen of old at the crossroads of yore, Dead Rider know that hell is right here on Earth, and they're determined to bring us news of it, and to share a laugh as the flames grow higher. Lead Rider Todd Rittmann approaches the nu-music task like a builder, making places he's comfortable living in - and then kicking up his heels and having a bit of fun before the gen pop moves in! Crew Licks brings the scarred and the profane to the party, as Dead Rider shove the spade in on a new lot with a distinctively urban feel. Have you heard their shimmering take on "Ramble On Rose." Rubbery phantasm! Ghosts in the machine! Cuz why must r'n'b and hip-hop have all the best production around anymore? Stinging blues leads plus spuzzing sub-bass PLUS shattered breaks galore (and that SNARE!) mark the Dead Rider of Crew Licks as a modern rock monster like none that ever walked the streets (and certainly don't anymore anyway, since rock is dead (remember?))! Frankly, if there's any future left in DC Frankenstein's hoary old sock-hop hybrid, it's probably somewhere along the lines that Dead Rider are suggesting. So strap on the headset, suck up the electric rush and get ready to party like it's St. Vitus day! The music'll tell you what to do, once you turn up the Crew Licks.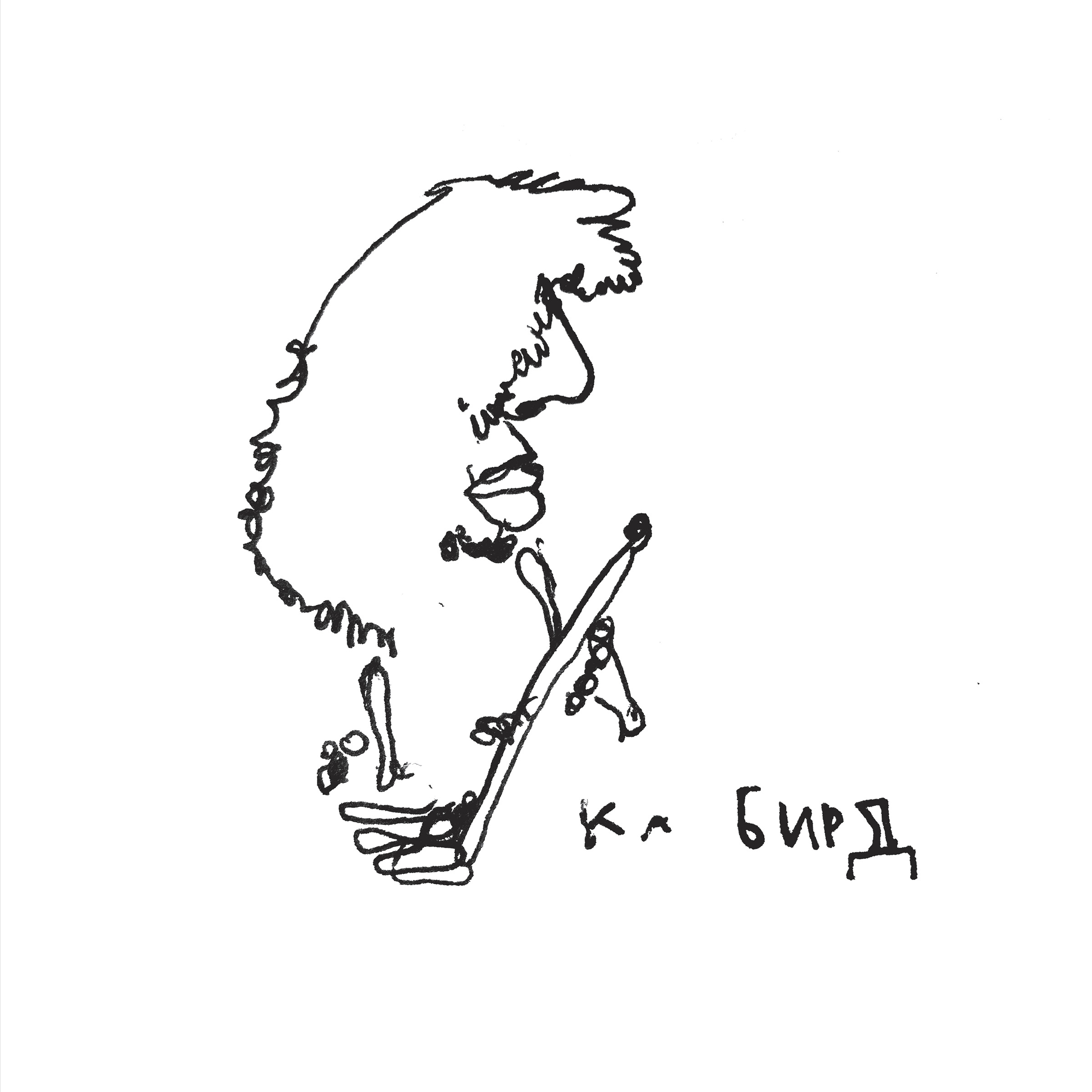 THE WRATH OF KA
So....based on the Wand and Dead Rider descripto, September this year will be hot and sunny, with cool breezes in the high desert, interrupted by flash floods and swamp lightning with eclipses and sudden glimpses of the stark side of the moon! It either doesn't get any easier to parse, or it all becomes clear in a liquid flash of light when we drop Ka Baird's Sapropelic Pycnic into the mix. Ka's been making music for years as a partner in the Spires That In the Sunset Rise enterprise and for the past couple of years as a solo, honing along the way vital vocal, flute and electronics technique under her given name or using the approbation Sapropelic Pycnic (sound familiar?) as an entree to our full attention. And by George, she's got it! With one Sapropelic Pycnic release of solo piano requia that reminds us at times of the legendary Tsegue Maryam Guebrou and another record that pays tribute to Coltrane's A Love Supreme, Ka's got her deep spirit propers already proven - and with her Drag City debut, she raises the roof of the ancient and the sacred up to the skies with a 21st century digi-ritual. Evoking rhythms and chants of the tribes, Ka reaches down into the mud of time immemorial to present something that never goes out of style - a catharsis of soul and an expression of devotion that comes from within and touches the eternal.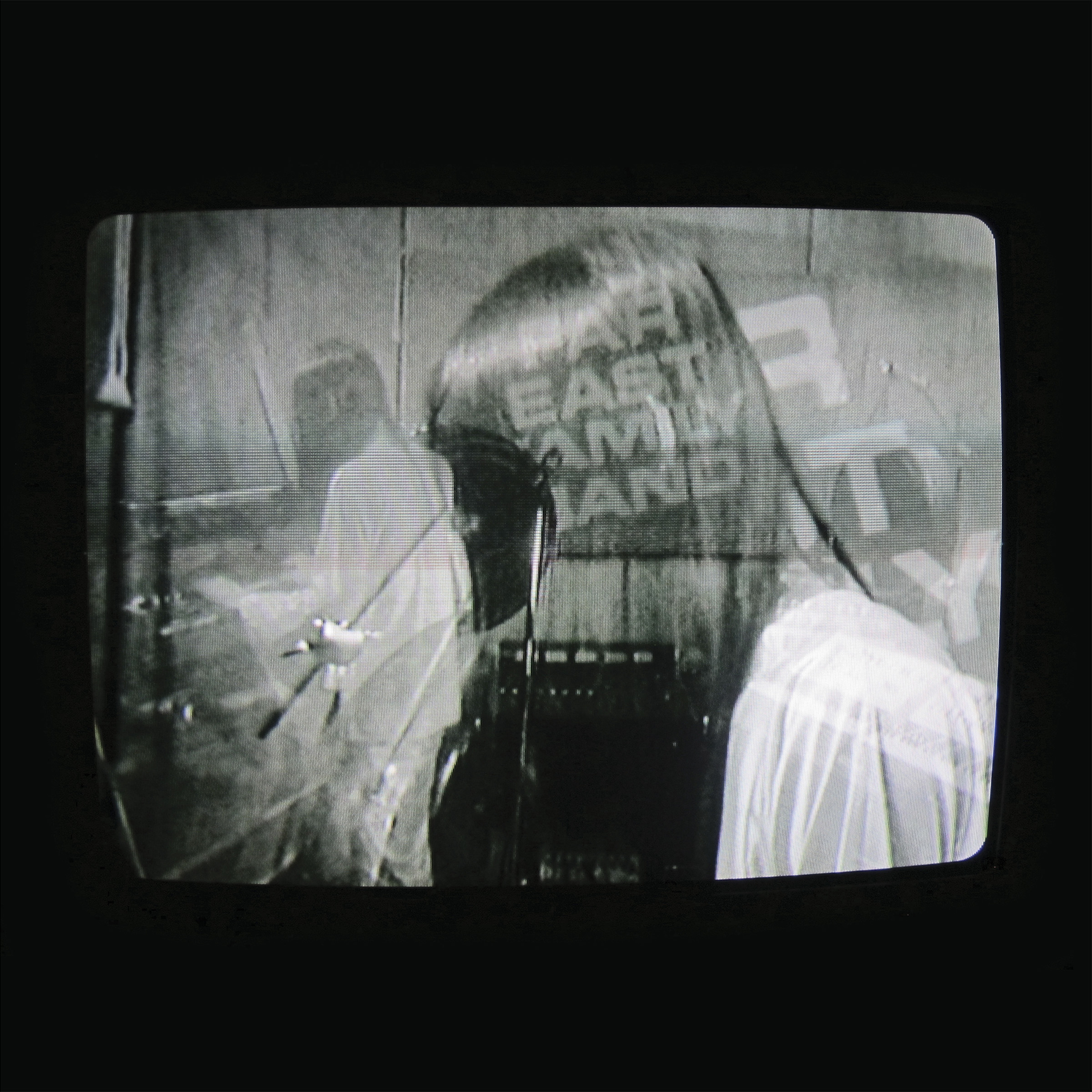 MIYASHITA, YOUR DELIGHT
Also in September, and deep down the just-referenced rabbit hole of synth-laden traditional spirit music (see Ka, above) comes Live on the Boffomundo Show. Fumio Miyashita was a member of Japan's Far East Family Band, alongside the soon-to-be-New-Age-avatar Kitaro. Fumio had insights into this direction as well, and straight out of Santa Monica, circa '79-'80 comes several amazing early performances of his own music! For these cable-access TV performances, Fumio poured keyboards, percussion, vocals and more through a single microphone, manifesting his expansive visions in a deceptively minimal setting. You can see the extant and uncut tape of the show there, but the album features sweet edits that seem as if they must have been intended for LP release! Brought to our attention by Brian "Da AC Geologist Yo" Weitz, this just goes to show that some things were just meant to be - even if they don't become what they're meant to be for nearly 30 years and almost 15 years following the unfortunate passing of their creator. the expansive acoustic-sythentic uulations of Live on the Boffomundo Show are, thankfully, among those things.

YOUR MISSION, SHOULD YOU CHOOSE TO ACCEPT IT
....is Creep Mission, the last of our September 22nd releases. David Grubbs' latest guitar excursion on Blue Chopsticks continues the collaboration between himself and drummer Eli Kenzler. Prismrose fans will know of what we speak here! David's guitar is in full effect, its earthy tones and abstract propositions more than matched by Kenzler's battery and met also with contributions from trumpeter Nate Wooley and Mouse On Mars' Jan St. Werner's electronic treatments. A variety of moods are achieved by the end of Creep Mission - as if you didn't already know!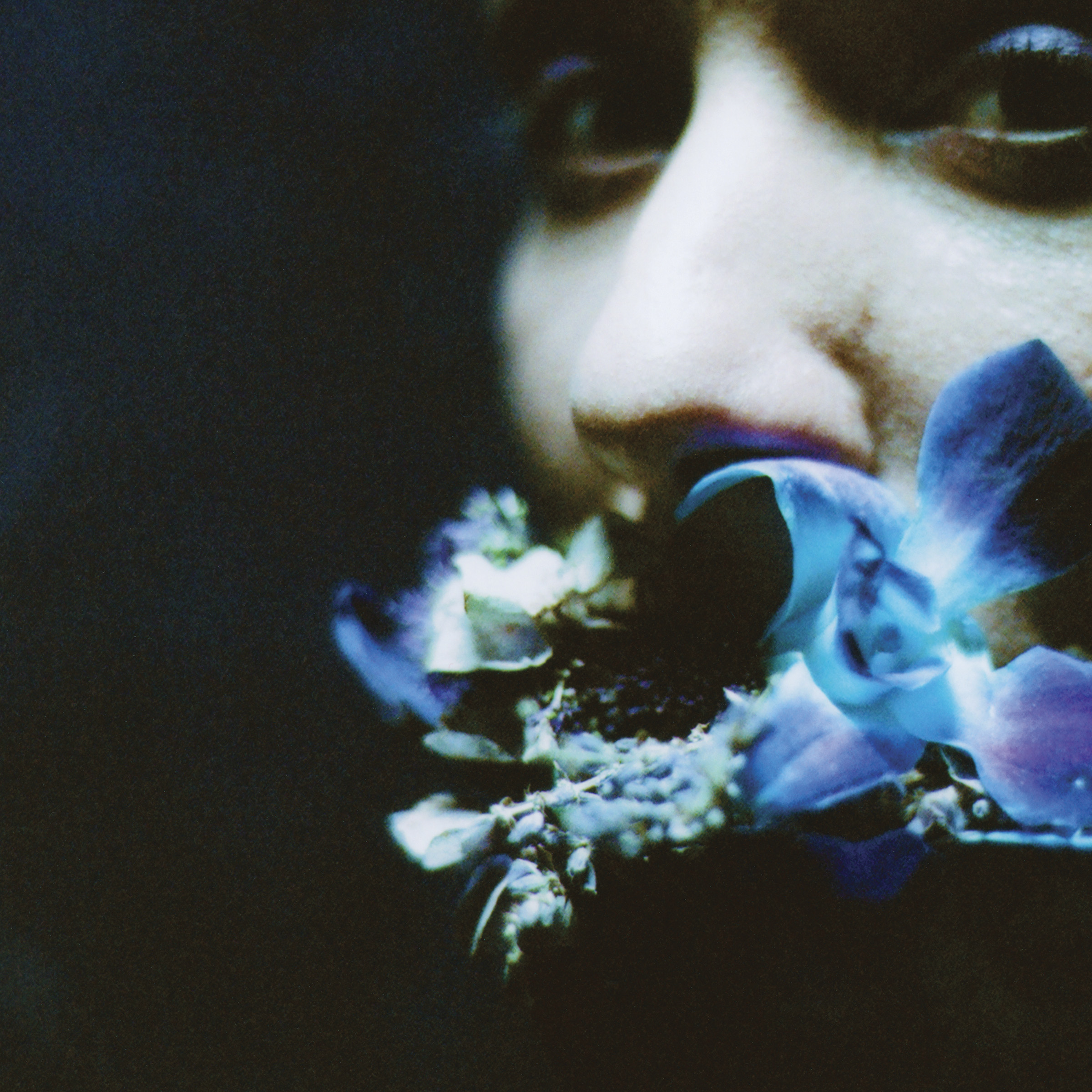 OUT THROUGH THE INDIGO DOOR   
As if the skies couldn't get any wilder after the competing storms of September, then comes October, and Circuit des Yeux! Her first record for Drag City is called Reaching For Indigo - but if you ask us, Haley Fohr is reaching for more than just that deepest and unclassifiable of blues with her new music - and with all her music, really. Anyone who's been following her arc since 2008 has heard a constant reaching over the course of four albums and two mini-albums. With hand-held recklessness, Circuit des Yeux has walked a tight-rope of inspiration, daring forward through dark words into clearings - and back into the shadows again. Coming from a foundation of self-reliance, she's had increasingly fruitful collaborations in the past several years, but now Reaching For Indigo reaches into the folds of being to produce a penetrating vision spread over eight songs, all of which frees her to realize new proportions in her singular and utterly arresting songwriting and vocal style. If you've heard "Paper Bag," you've got a sense of what twists this record is capable of, but that's just the tip of the iceberg - and unlike its poor earthbound sisters, this mass is expanding and extending to the horizon. We can't wait for you to venture out across the whole of Reaching For Indigo on your own. It's a trip, taking you places, but only you can tell us where to. Like litmus, or ink-blot, your reaction to the Circuit des Yeux compound tells us as much about you as it does her - but Reaching For Indigo is on its own a complete image from the heart of Circuit des Yeux.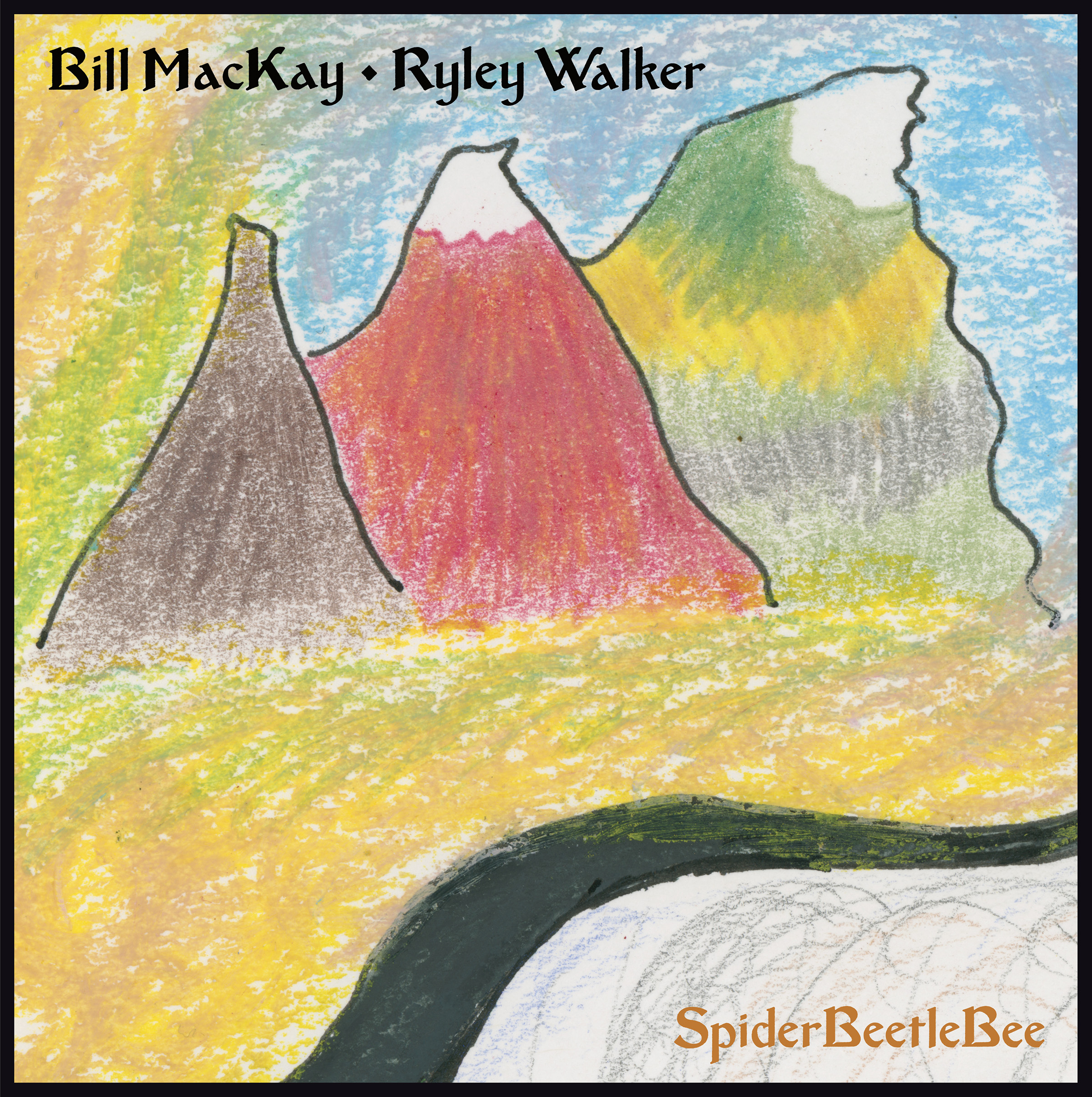 THE RETURN OF WALKER MACKAY
In May, we brought you Esker, the Drag City debut of Bill MacKay, whose polyglot instrumentals reference a placid world of musical influences. Bill managed to play with himself very effectively, layering instruments and featuring his incandescent glass slide technique - but there's another side to Bill, and it was played alongside Ryley Walker in the clubs of Chicago throughout. Their first album collaboration was heard on 2015's Land of Plenty by those fortunate enough to get the limited pressing (without being subpoenaed). Meanwhile, Bill and Ryley kept playing - and SpiderBeetleBee is the proof that comes out on October 20th. Pitting their acoustics against each other, Walker and MacKay have an instinctive compositional style, whether they are dabbling in traditional melodies, classical lilt, middle-eastern tonalities, or pure melt. Listening to them cut figures around each other, conversing but never talking too much (guitars help with that) is a delight, the sound of Bill MacKay & Ryley Walker ringing in the ears long after the needle has left the groove.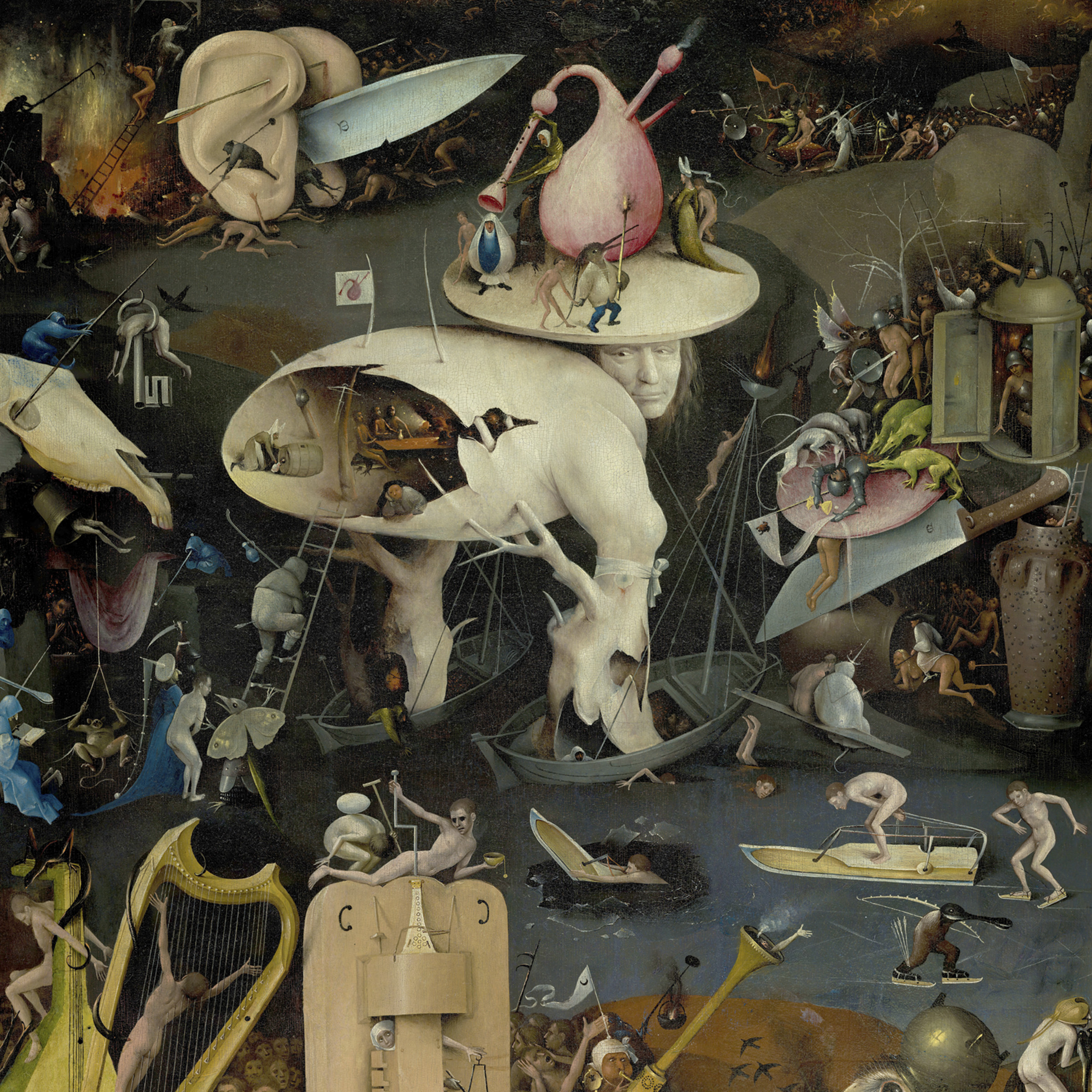 PEARLS BEFORE SWINE ALL OVER AGAIN: ONE NATION UNDERGROUND AT 50
1967: it's simply a dream for most of us, whether we lived it or not. Layered over with history and myth in equal measure, the year is somehow an epicenter of the rock and roll era, a crystallizing moment and one of a quaint, yet great, innocence. In this 50th trip around the sun and away from that set of moments, the press (and Paul McCartney) have made their case for The Beatles being the quintessential artist of that year. We all know it wasn't the Stones (or was it? - Satanic Majesties ed.). The Doors' mouthpiece has been strangely silent. Love and the Velvets didn't drop their masterpieces until early '68. Intro the breach we cast: Pearls Before Swine. When approached by Tom Rapp and Richard Alderson with the restored mono mix of this album and a request that we release it, we were inclined to pinch (or punch) ourselves. One Nation Underground is an old favorite from our own young and innocent reliving of the psychedelic daze. Revisiting it with the crystalline sound that the remastered tapes provided brought not only a newfound clarity but also a resurgence of the dreamy gauze spread by Tom Rapp's serene ballads - just listen to "Morning Song!" Also too though: the raw punk (yet not garage) ravings of "Uncle John" and the dry satire of "Miss Morse". All these will sound as new to those who purchased the reissues of the music over the last couple decades, mostly thanks to ESP-Disk's incomplete transfer of the tapes, in which an entire track was lost and reverbs were crowded in to create the illusion of stereo. Here now, with original art elements and new notes from Alderson and Rapp, is the classic sound that entranced a generation - equal parts love and hate, as the real truth of that era must ultimately be seen. But beautiful - grand and fragile. For the nations underground of the 21st century. May they continue to be great and humble. Pearls Before Swine's One Nation Underground - the 50th anniversary restored mono mix! Coming (again!) October 20th, 2017. 
LIVE IN PEACE
The following artists will be appearing at shows with no violence scheduled in the near and immediate future: Laetitia Sadier, Ka Baird, Ty Segall, Bill Callahan, Wand, Dead Rider, Neil Hamburger, John Mulaney, Alasdair Roberts, The Peacers, Circuit des Yeux, Magik Markers, Bill MacKay (sometimes with Ryley Walker), OM and Royal Trux. 
Let's all try to go in peace too please -
Rian Murphy
Drag City Inc.
August 2017