Good - another new year! We follow the old Roman calendar, just like you, just like the good children of imperialists that we are. It matters to us that when you turn the page into 2015, you find a whole world that's good. Lest you doubt our intentions – don't worry, they are FAR from altruistic –  we hope you find a whole world that's good BECAUSE of (and filled with) Drag City records of all kinds! If we're not in the mix, fuck it, let it burn. We're adult enough to recognize that the world won't do it on its own – no, people are too fucking stupid to buy our records on simple merit. We need to do something to help! That special something we have determined to be "planning in advance," and as alien and unwelcome a suggestion as it's been around the Great Ivory Bunker, we've managed to carve out a schedule of releases through the year that give the dedicated listener everything it (it's 2015 people, we've moved beyond gender - trans(inc)endental) ed.) wants and needs – ups, downs, technique, drama, variety, humors, action and of course guitars, basses, drums, flutes, saxes and synths, beats, and yeah, even a harp! We've called out the coast guard to bring as much of our vaunted talent back from wherever they were (the original "square groupers"), back in the woodshed or on their walkabout of discovery...don't care, we have a need to FEED the world the only way we know how! With LPs, CDs, cassettes, DVDs, DLs, books, posters... and now YOU KNOW how we feel about a t-shirt (we love it - trans(parent) ed.)! The whole bit! Plus live shows! In 2015, we're working to bring it ALL to you. Except a download code with vinyl purchase. That shit's sooo pre-2012 anyway. There are limits, folks! We're not Superman. But we are Drag City and - oh, fuck it. Just read the rest of the newsletter, assface.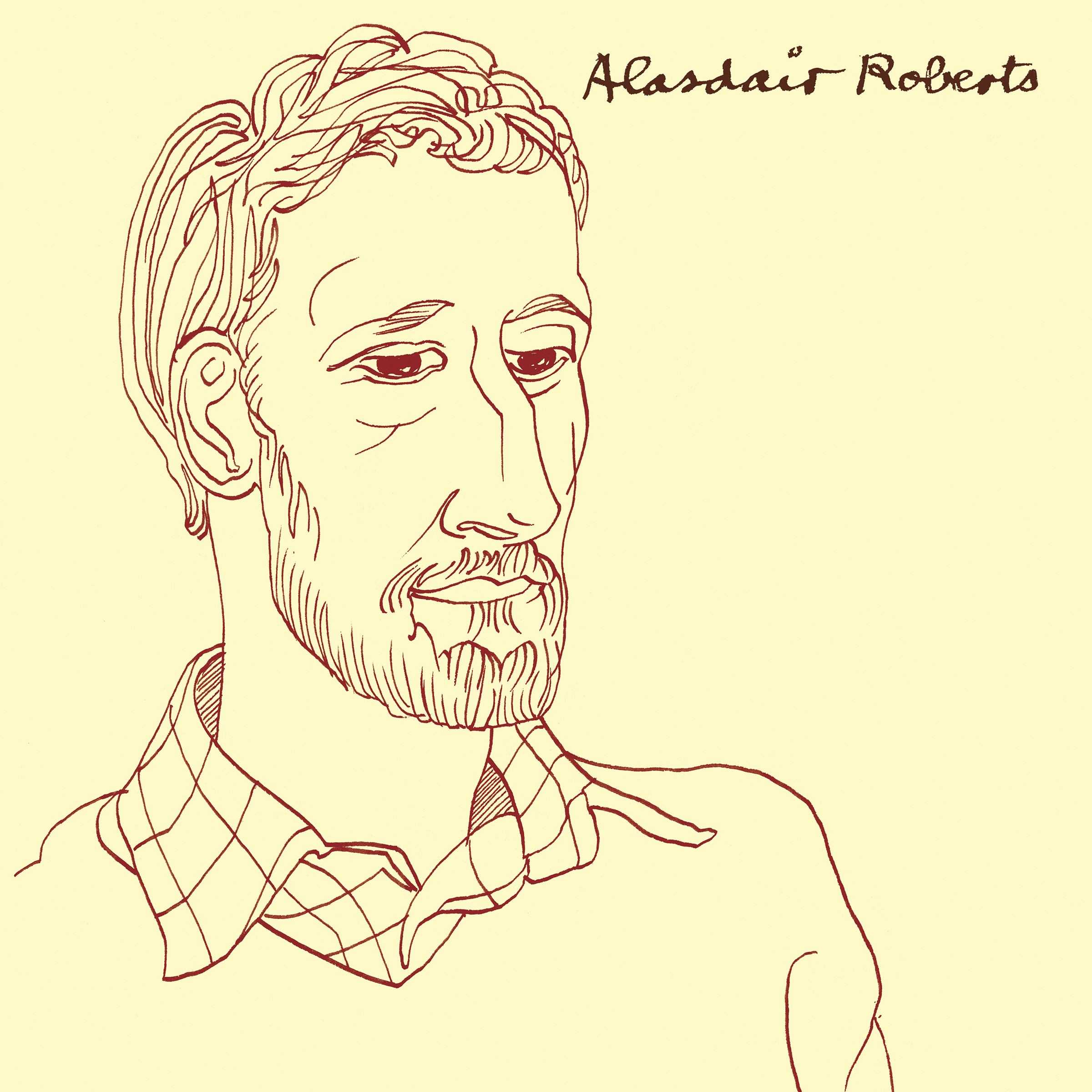 ALL DIS PRAISE ASIDE
Kicking off the year for us in grand auld style is a self-titled record from one of our favorite artists, Alasdair Roberts. With his three Appendix Out records and eight subsequent solo records over the past decadeish, Alasdair has topped his own damn self continuously, growing as a writer, singer and artist with each album. On 2013's A Wonder Working Stone, the enormous song-world of Alasdair Roberts and Friends projected sheer pleasure, as Alasdair built his syncretic songwriting approach (debuted on 2009's Spoils) into a vehicle for traditional music in our contemporary populist idiom. Which means in short, FUN! More than the mere words on this screen though, that record, for the less fortunate of you who haven't listened, is a modern folk-rock masterpiece, linking hands across the ocean from Scotland to America in ways that those Dumford Sons o' bees won't EVER get round to considering (they've got other fish to fry – minnows! – angling ed.). And yet — our Alasdair's new self-titled record shows a tremendous maturity in his craft (would that the newsletter author take a similar tact! - high road ed.), executed this time with austere arrangements that give his songs and vocals ample room to shine alongside his ever-exquisite guitar picking. It's the first Alasdair Roberts record of short, almost pop songs since 2007's The Amber Gatherers, but this new album and that former one are worlds apart, speaking strictly approach-wise. Alasdair's continued artistic growth has absorbed traditional folk influences so much more completely than previously, and they now operate as impulses within his own 21st-century songwriting style in ways that weren't evident in them thar earlier days. Meanwhile, Ali's never really given us a set of songs that radiate such a personal air; beyond the codes of his syntax and the soul with which he infuses all his work shows a bit of something else – forgive us if we call it "heart." Alasdair Roberts comes out on January 27th; we hope that many more in North America will check this record out than ever before, mainly because we care about the future of the country; and this country, in the end, after the revolution – fuck the politicians and their corporate overlords! – will still be about people, and people who need to know themselves better. This is a record that can only but help.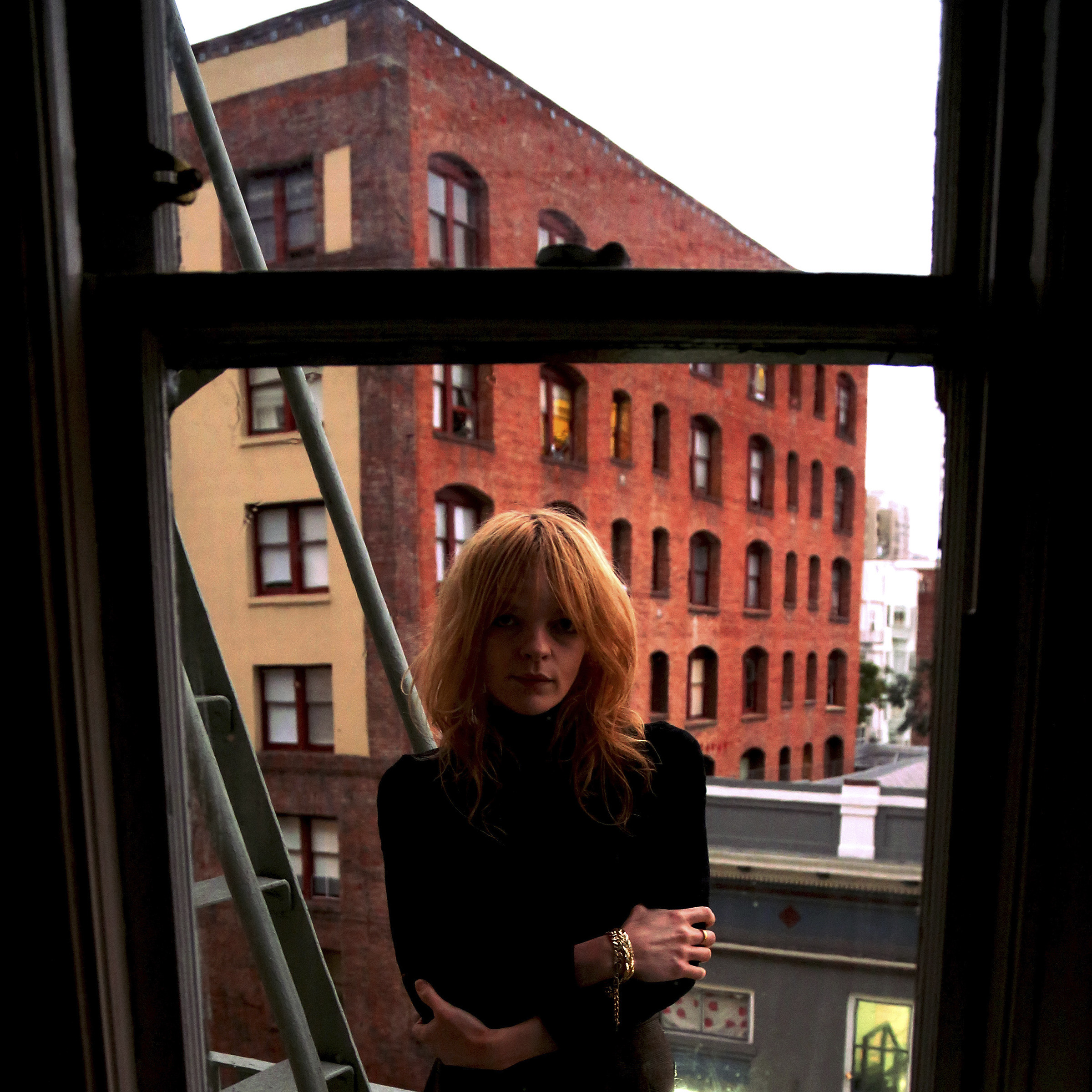 THERE'S A PRATT IN OUR HOUSE!
Sitting alongside Alasdair Roberts in the driver's seat for early 2015 is Jessica Pratt. Her album's called On Your Own Love Again, and people seem to be DEEPLY ready to hear it. That's good – this is a record that'll stand up to the anticipation, with a delicately woven set of pop-folk songs written through a deep love and observation of songs and singers and the whole rock thing. Jessica's taken it in but what comes back out again is put forth so innately, from whatever it is that we perceive as Jessica's "personality," that there's a new sense of the tradition, something expressed in a way that hasn't already been covered in the generations of blues players and the country guys and all the rest, working from the same template and coming up with their own personal twists on things. Something that is HERS. Beyond the songwriting, Jessica's also got a tremendous sense of HOW her records are supposed to sound, which is amazing, because not only is this the first one for which she's actually had her hands on the dials, but also, the balance she's going for is such a delicate one, comprised of fine lines and haze in a constantly shifting equilibrium. Plus there's the other thing in the mix that's not always so easy to get in there, a little thing you might heard of called vibrations? Like the time, the vibes in On Your Own Love Again just feel right. The light from the moon is falling in the right place. The fog starts lifting at the same moment every time we flip the record. Yeah, it's exciting – tunes and a mood and a bunch of people who seem interested in hearing 'em. Doesn't always happen that way. We might just have a Pratt infestation on our hands – but don't fret, the reverse exterminators are on their way. On Your Own Love Again comes out January 27th.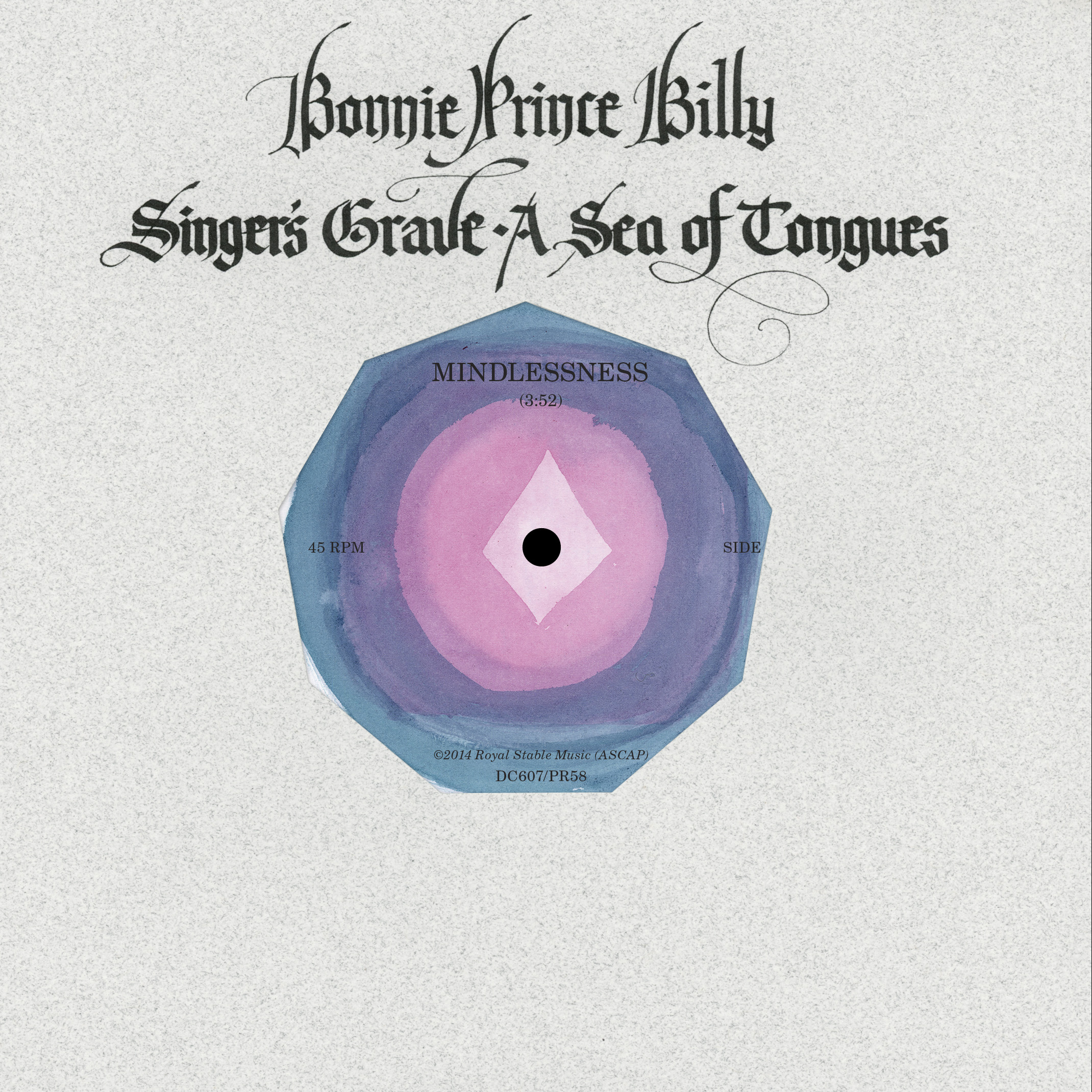 SPEAKING IN EVEN MORE TONGUES
Also out on January 27th is the third single from last fall's classic, career highlight album from Bonnie 'Prince' Billy, Singer's Grave a Sea of Tongues. We didn't talk too much about it at the time because that might have prevented you from having your own pure reaction to it (this is incredibly generous – genuinely-impressed ed.), but basically, the same source material that had been gathered to build 2011's Wolfroy Goes To Town was used, in a different time and under different circumstances, allowing the songs to impact in new ways upon the singers and the players – making a different record in the process. It's a wild and kind of unprecedented thing to do, and the way that the material turned out so great the second time, just...wow. Since the SGASOT record hit, there's been a couple of singles taken from the album, each with their own custom-built B-side that seems to relate to the song on the other side of their little record in a deeply uncanny manner. Nowhere is this more apparent than on the new, third-in-a-series single, "Mindlessness" b/w "Blindnessness," which smacks you right off the bat and right in the title too! The songs themselves share a lyrical theme of general disorientation in life, as well as in the very weird present day – but where "Mindlessness" is a full-tilt group strut, "Blindnessness" is disquietly alone, just Bonny and his dog. Spicing the heady brewness of this whole enterprise, the production of "Blindlessness" reflects back to sounds from a couple of different B'P'B eras in an almost effortless way, like, by osmosis, or just because of a shared vessel; that of body and mind. The word was said above – and down here at the end of the paragraph again, is still 'uncanny.' Hear it to believe it – and then your long road through lives together has begun…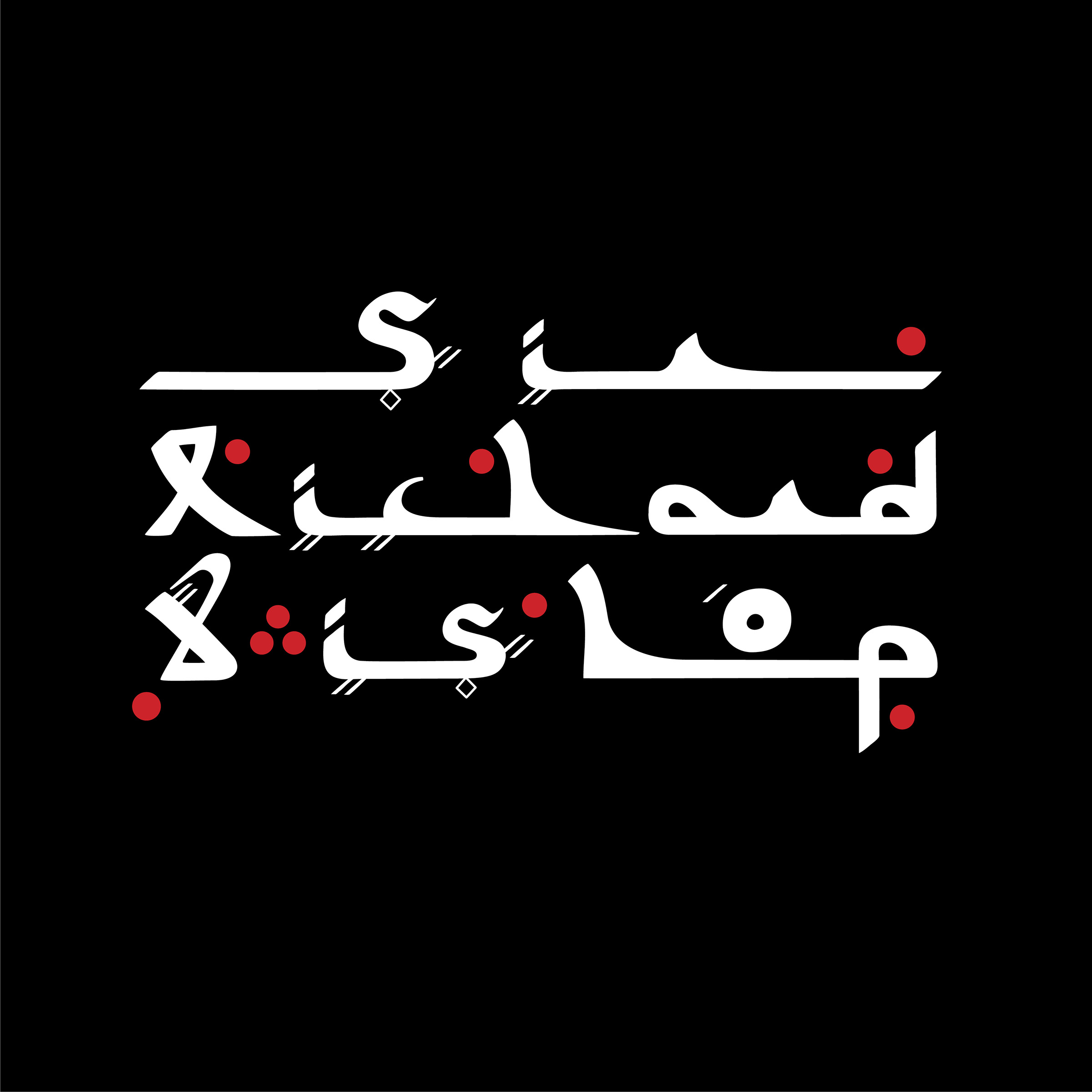 TANGIER-INE DREAM
You like records? Yeah, us too. You know what's good? Rock records. That's where the love was when we started out, back when we were children. Whoop – we meant, mere children. But then you grow up. Suddenly you're twenty, and there's like, so many more records in the store. So weird, right? Somewhere down the line of choices, you find that a type of record that's fun to listen to ALSO is a record of a guy playing solo guitar – blues, classical, jazz, country, it's all good. There are a lot of these records around, probably even a lot more than there were only a few years ago, because the funny thing about technology is how tends to create a lot of opposition to the technology, maybe even more than your typical decrying of the latter-day, anti-computer, anti-digital types who prefer to get back to basics and, instead of being smothered in delicious-and-convenient-but-ultimately-thin digi-layers, bathe in the encompassing warmth and singular sound of an acoustic guitar. It's a nice thing, whether you're living in reactionary-ville (what the fuck is that supposed to mean?! - population-one ed.) or you've always gotten off on the sound regardless of the culture wars – and really, in this day and age, there's nobody we'd rather hear a guitar recital from than Sir Richard Bishop. This has made the last seven years a really maddening time for us – for after making four solo guitar albums between 1998 and 2007, Rick's been a little quiet on that particular front. In fact, Tangier Sessions is his first solo record since the record he cut for us back in 2007, Polytheistic Fragments. Of course, since then, there was The Freak of Araby as well, but that was an electric-guitar-with-band album, completely different! What broke the solo silence for Sir Rick? A new guitar – that's all. Shit, if we knew it was that easy, we might've sent him a bouquet of guitars every month! Geez. Of course, it was an awfully special little ol' guitar, one in particular that he wasn't even looking for – but after encountering it in Geneva, Switzerland, he spent many restless nights trying to get it off his mind. It didn't work, and we're glad. Instead, the guitar was purchased at great personal sacrifice (he didn't eat for a month, okay! Not a drop of hash was vaped for an entire month - poor olde Sir Rick!), then traveled with him to Tangier, where he'd been brought to play a show in the old city. While there, he used taping equipment he'd brought to capture a series of improvisations while sitting up late in his apartment. Now, if you can unhear what you've just been told (just pretend we've just been talking about Roth IRAs! — no-head-for-numbers ed.), go listen to the record, and you won't think about a record being recorded while on the road. The sound is sweet and pristine, and everything works out incredibly well – and that's all down to Bish and guitar coming to a very sweet understanding. Not only that, on Tangier Sessions, they work it out together, song by song, so that by the album's end, there's this story of Sir Richard Bishop and this guitar having met and gone on the road and started playing together finding out everything that can be done, playing-wise, with that. The beauty of it is, the music becomes simpler as it goes along. Tone is the be-all, end-all, and after the expected fiery string-play early on, Sir Rick settles into a deep spiritual groove with the guitar, tripping on the sound, at one with his instrument. It's a special trip, and one that keeps stimulating fresh listens. Tangier Sessions comes out on February 17th.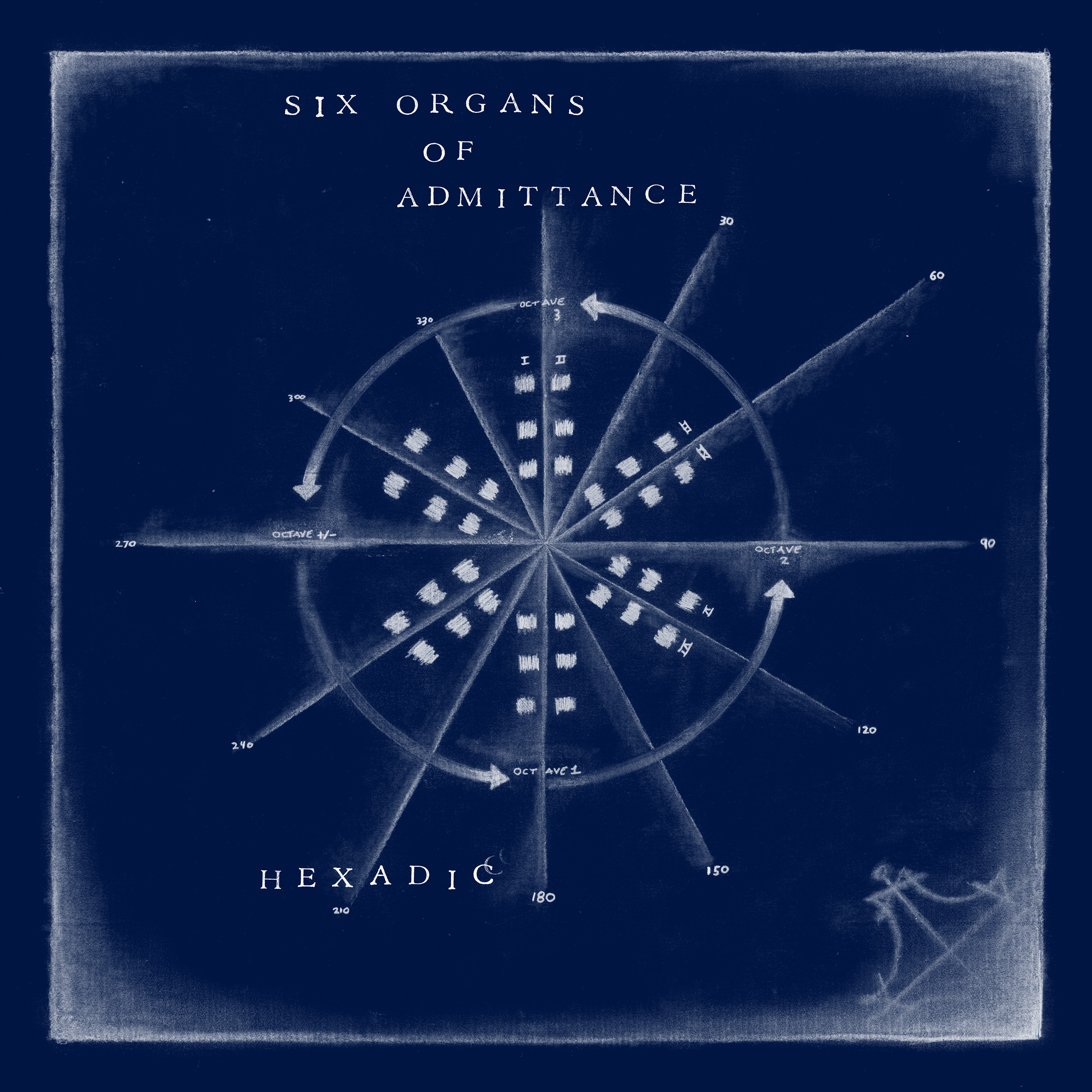 HEXADICS OF OUR LIFE
2015 – as we said above, this is the year we REALLY get our shit together! If it weren't for bad habits, we might not have any habits at all (except for still running this record label, which honestly, may serve as a testament to the triumph of the will(fully ignorant)). We've been our own worst enema for too long now! But how to, as Alice Cooper once did, "flush the fashion?" We look in the mirror and know that it didn't work for him – so how will it work for us? Fortunately, we've got talent on the label to do the thinking for us! Specifically, Six Organs of Admittance's Ben Chasny. No, kids, he's not just another guitar-playing pretty face. In fact, a pretty face isn't EVER what we look to Ben for – but with his new album, he's come up not only with a new volume of challenging guitar-as-song-driver music, but also an answer to our perpetual creative stagnation (tell please! – me-run-out-of-wordzes ed.)! The system that helped revitalize Ben's approach to the guitar, and to decision-making in general, is called Hexadic. The system is simple enough: it involves a deck of playing cards and a set of instructions. By arranging a set of tones affixed to card identities, one allows the cards as played to imply a direction for one to follow. If that sounds oversimplified, don't worry, you are. Good news is, there's a book coming out that'll explain the whole process through the lens of the guitar, in terms of playing and composing. It's a new approach to creativity and decision-making, but one that's part of a long, maybe even ancient tradition that Ben's been studying for a quite a while. That's a big part of the reason we've been waiting so long for this record – after the bro-rock ass(c)ault of Ascent back in 2012, we thought perhaps Ben might keep on with the guitar-god poses at an increased rate. Instead, it's almost three years later – and while the volume of Hexadic is plainly consistent with heavy-rock royalty, the Hexadic compositions featured throughout the record are songs of a god not often heard in the rock-guitar field. By following his own system to the letter, Ben's created challenging music, which, when showcased with volume and a rhythm section, in the "heavy rock" idiom, proves to be powerful and powerfully insane at the same time! This is because the System generates relationships outside of our (pitiful! — First-World-shaming ed.) western understanding of harmony and tonal relationships. And really, any time a musician starts proposing new relationships in these areas – Schoenberg, Cage, Stockhausen, Coleman, Ayler, Ginn – it may take a minute, but the time spent washing our ears and brains in these sounds is well spent, and the world becomes bigger, wider, more colorful and filled with opportunity. Hexadic comes out on February 17, with the book and a specially-designed Hexadic card deck coming a little later. And loads of tour dates, to demonstrate the fruits and pure musical expression of this method to people all over – and maybe some lecture and workshop type things down the line. Stay with us on this! The Hexadic System may be the best thing you hear about all year – or it may be Six Organs of Admittance's Hexadic album. Hopefully both – for your ears and your own sake.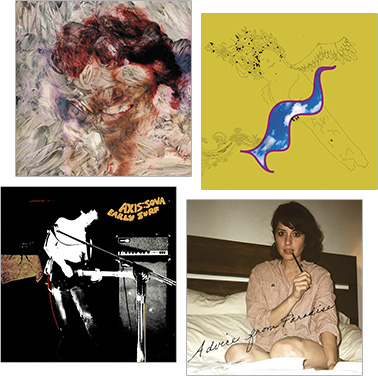 FROM FRIENDS TO OTHERS
Why do people like parties? It's something we've never been able to figure out. It has something to do with liking people, we're surmising – because when we don't like people, parties are pretty fuckin' DIRE, you know? Either that, or really freakin' AWESOME – which is another story we probably never need repeat again. But when we're in the mood, people are great. Society's worth fighting for, and we look toward a future filled with faces that we hope to be able to put the names to in short order when the time comes. It's good to have friends! Especially from a business perspective. Like, looking over the titles we put out last year, some of our favorite releases were titles that we P&D'd for other labels – like Sun Araw's Belomancie on Sun Ark, Belfi, Grubbs and Pilia's Dust and Mirrors on Blue Chopsticks, and Wand's Ganglion Reef on GOD?. Great music that we and others might not have heard if we hadn't been hyped to it by the CEOs of those respective concerns. These relationships are a fruitful way of us knowing what the FUNK is going on out there (it's usually a long shot otherwise), ever since the good old days of Dexter's Cigar, which was a great way to learn about the kind of music made by Merzbow, Circle X, Rafael Toral, Arnold Dreyblatt and other amazing and weird sounds and music that helped our ears hear more than we ever expected to when we got out of/were asked to leave school. So it's just more sweet, not-from-concentrate, cold-pressed juice for us to tell you that our first quarter releases (oooh, fancy Drag City man in the charcoal gray suit! Run the first quarter numbers for me, would you, mister fat cat? While you do it, try not to blow the smoke in my face from the cigar that you lit with the cash we so unfairly trade to you for basic records, okay? You owe us!) got some TOP-NOTCH "shit" from our affiliated labels Streamline (albums from Plastic Palace People, Christoph Heemann and Jim O'Rourke's lab of sound-treatment, samples, and aural good humor, stretched to an ex-dream state of stasis electricity; and OORUTAICHI, the Japanese sonic tsunami/outré-pop veteran's Drifting My Folklore, appearing for the first time on vinyl); GOD? (Axis: Sova's Early Surf, a guitar-and-tweaks masterwerk of under-headphones-fi heavy jurm) and Ethereal Sequence (Nedelle Torrisi's Advice From Paradise, silk-sweet synth pop from Cryptacize lead singer and producer Kenny Gilmore (Haunted Graffiti)). WILL we actually get rich from this stuff? If we didn't constantly wish for such a ridiculous (you mean REAL — PMA ed.) outcome, there might only be a few other (equally compelling) reasons to come to work every day, but another way to answer the question is to say that despite our generously appointed fantasy world, we are ultimately realists. But it's nice to have friends! And other kinds of people too.
WHITE/RIOT
Europe! We feel your burning pain. We have seen the headlines throughout January – and they're not unlike the headers we've seen here. With the paper folded (yes, we like to page through the local edition at breakfast, no matter where we're at in the world – sure, we'll peruse a pad if we have to, but sampling the local custom is best done with one's fingertips! So yeah, I guess an iPad works too, feh. The newspaper, she is dead!), riot seems to be the lead in a Nation/World section full of unfortunate Christian-Muslim misunderstandings and meta-understandings as the flames of debate are fanned into local unrest, with only the constabulary able to quell passions (but for how long?). Well, damn that! Instead, we simply fold the page (or, yes, scroll down)and read about White Fence walking across the the water to play their intensely enjoyable, oddballin' pop music yer old-world villa this week. Score! In fact, GOOOAAAAALLLLL! Through early February, the long-awaited For the Recently Found Innocent European tour is in effect, rolling all the way out to Greece, where we know those psych-loving thugs are gonna dig it. But White Fence aren't the only groop getting into the EU act; Dope Body'll be over there for almost all of February, touring behind their LIFER album of later last year, and Purling Hiss'll be there for all of March, promoting Weirdon after months of Euro-ticipation. Jessica Pratt will be debuting her On Your Own Love Again material over there in March and April. Why, even the locals are getting into it – Alasdair Roberts will be coming down from Scotland into the still-solvent UK for a nice, three-week tour in support of his excellent self-titled album in March as well. It's weird; it's not as though the weather over there is exceptionally better than in America. But whatever. We've got Elisa Ambrogio playing a bunch of dates over here in the North American critical mass for her The Immoralist album of last fall. Six Organs of Admittance dates for Hexadic coming up. And some Jessica Pratt dates coming down fast on the West coast. Keeping it live, with riots of sound. Shit, if you wanna revolution, do it – but just don't miss the show!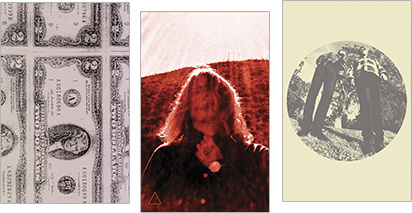 THAT $INGLING FEELING
Gadzooks, all of last year's talk of Ty Segall growing up, taking his time and making a REAL record for a change – and then he goes and drops the $ingle$ 2 compilation just a couple months after Manipulator, on super-short notice, a hot-and-dirty set of tracks that make everything sound like it was 2012 all over again! You can take the kid out of the country, I suppose…but look, we're not going to pretend we're unhappy. We don't sell talk, we sell records! And since both $ingle$ 2 and Manipulator are full-bore rock records with great songs and sounds of a completely different variety, and since we don't discriminate (in public!), we got no problem and we're looking forward to seeing Ty at Burgerama in March. That's the only thing he's really got on the schedule for awhile – but if we know the lad, it's actually not. 'Cause he's out surfing! Well, he's doing that, yeah – it helps to get his head together – but he's mostly making music, that's really what turns Ty Segall on. So more music – don't know where, don't know when. And you know that can't be bad. In the meantime, cassettes for $ingle$ 2, Hair and Manipulator are back in stock! Manipulator is the first Drag City cassette to go gold in our long run, so if you want a little piece of history (or a kick-ass tape), now's the time!

MORE-CH!
And just like that, time marches on! March doesn't share its name with a stately martial parade step for nothing – month-wise, it's kinda like that track 3 of an album moment, the month where the year we think we're in (because what is time etc. — ugggghh ed.) really KICKS IN. So March settles it – that's where we tell you where we're really at. If you didn't figure it out already with the trad-folk musical displays of Alasdair Roberts and the folk-pop offerings of Jessica Pratt, and the heavy guitar wizardry of Six Organs of Admittance and the acoustic guitar wizardry of Sir Richard Bishop, then March might just be for you, dummy! Wait – we take it back. You GENIUS! You figured us out! March brings it all together – acoustic, electric, and a-WHAT?-tric, all rolled up in three releases! Masaki Batoh of the late and lamented Ghost (they were Ghost before they were late, that's just the way it goes't) returns to rock band polity with The Silence, which features his most aggressively forward style of everything ever! Frederick Michael St. Jude reaches into his archives for the second time to pull out another classic – Gang War, a dystopian concept album from 1982 – an album so prophetic and so intense that it's never been released until now! And Dead Rider, who are so effin' freaky that all they have to do is put out a two-song single like the forthcoming "New End" b/w "Uncomfy" 7" record, and then they'll be able to take the next year putting together their follow-up to Chills On Glass because that's how, like, totally stunned we'll be. And we'll just go back, listening again and getting deeper into everything. Or sometimes farther away. Then closer again. Then farther. Closer. Farther. Colder! Faster!
Musical record releases. It's the only way to fly.
Rian Murphy
Drag City Inc.
January 2015