THE VAULT IN OUR STARS
Woohoopdidoo, and welcome back to the rolly-polly-coaster that is Drag City Records (and once again, Tapes!). We don't necessarily take it as it comes, but we're not NOT subject to vicissitudes of fate and shit, either. If you stick around long enough, you're likely to see stuff n' thangs you never believed you'd see, much less see again! This is what makes our death wish so danged silly – it's clear just from past experience that the track ahead promises to be weird and stimulating and maybe even satisfying at times. So we hold onto the steel rail and prepare for the next stomach-dropping curve ahead. No matter how funky these hills and valleys may seem to the naked mind's eye, all of them are exhilarating. The records that determine this schizo forward roll come from an inconceivable depth – the bottomless bottom of all-too-human souls and the inner/outer space of mega-alien minds! The Drag City galaxy of stars is DEEP, baby – where else are you gonna the dizzyingly diverse-yet-unbeatable variety available from Jessica Pratt, Alasdair Roberts, Bonnie 'Prince' Billy, Six Organs of Admittance, Sir Richard Bishop, The Silence, FM St. Jude, Dead Rider, The Red Krayola, Ben Chasny, The Howling Hex, Arnold Dreyblatt and Jim O'Rourke! And that's just THIS YEAR! SO FAR! And that doesn't even count the distributed-label insanity from Streamline (Plastic Palace People, OORUTAICHI), GOD? (Axis:Sova), Ethereal Sequence (Nedelle Torrisi) and TryAngle (Death)! And THAT doesn't even count the retrospective-punk coffee-table book that can, White Glove Test: Louisville Punk Flyers 1978-1994. People are EATING that up! So don't rule out the good ship Drag City. There's no shortage of brain-eating awesome coming up from any of our chosen, open sores. Take a look-see at what's hitting right now, and soon!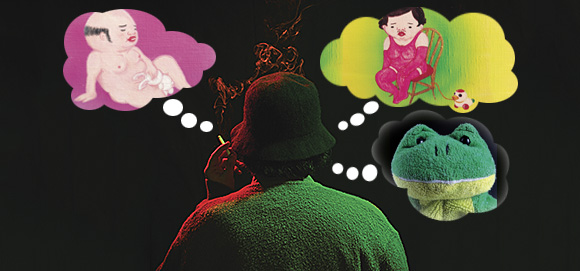 O'ROURKE SEZ SIMPLY, FLAC YOU!
The big news here in May rhymes with 'him' – oh God no, we're not talking about Him! That's the kind of stuff that'd give ol' Jim O'Rourke a great big belly laugh – which is relevant since this May we're just super-glad to be bringing you Simple Songs, the first Jim O'Rourke "sings rock n' roll" record since the fiery rippage of Insignificance back in ol' 2001! As today's kids will tell you, "2001? Was Jim one of the Teletubbies? I was really into that show back then." NO WAY! We were totally into them too! Laa-Laa and a phat bag o' skunk definitely kept us going for a few years in those days – literally! But no, Jim's infamy rests in an entirely different dimension outside of the Tubbytronic Superdome, unfortunately – here on awful old planet Earth. In the years since Insignificance, Jim had slowly withdrawn from the world at large, retreating to Sonic Youth before finally ending up in Tokyo, where he continued to work endlessly in collaboration with other musicians on soundtracks, free improv, pop music – whatever interested him. The Loose Fur records came early on in this period, but the second one of those came out in 2006, and that's still donkey's ears in the modern world, innit? Meanwhile, we lived in a world without Jim (again!). It wasn't always fun, but we did what we could – and Jim helped, mixing Joanna Newsom's Ys and some of Have One On Me somewhere during all that time. Plus, we put out The Visitor, in which Jim reconfigured(ish) some of the elements of his classic Bad Timing. But even that was 2009! Of course, we were aware he was working on a new album – a "Revenge Of" scenario, we were sure….but who may have foretold it being the monstrous rock of role-and-cos-playing that is Simple Songs. The title – of course, you're not a moron, so you know that's the first joke. O'Rourke loves to laugh. He just put that on there so that writers can say, "The songs on Simple Songs aren't simple at all!" Ho ho ho. There's lots more laughs in the songs too, where Jim takes pleasure in telling the listener (whomever he/she is or may think they be) EXACTLY where to get off – in a smoky vocal register, amid the squalling of electric guitars, drums a-rumblin' and just about anything that comes onto his musical radar. Everything including the kitchen sink is fair game – and Jim's kitchen seems to be much more hilariously (and carefully) arranged than ours. The sudden appearance of beats, rhythms and melodies turns into another cause for LAUGHTER. Is O'Rourke the Don Rickles of neo-classical rock and roll? Sure, okay – yeah! But he's also the Rich Little of guitar styles, and the Godzilla of introspection and the Bugs Bunny of love songs (or is he Roger Rabbit?). And Simple Songs is a joyful process to hear unfolding from your turntable or whatever. And because "whatever" is now so much of the process of listening these days, we were able to get Jim to agree to make Simple Songs available for download, along with Bad Timing, Eureka and Insignificance for the first time EVER (with also-previously-suppressed Gastr del Sol and Loose Fur downloads also in the mix now too!). He's just hated mp3s since before you even knew what they were (he was the first one to hate Twitter also – ah, 2006!), so FLACing is your only option – which isn't really a problem, since you don't want to lose a single bit of the musical space these records occupy – it's part of why they exist. And so, while Jim considers his his next inspiration from somewhere dark and quiet, we're left with one more record – and for the first time in 14 years, we're not wondering when the next one's coming! Good ol' Jim O'Rourke…how we hate/love him.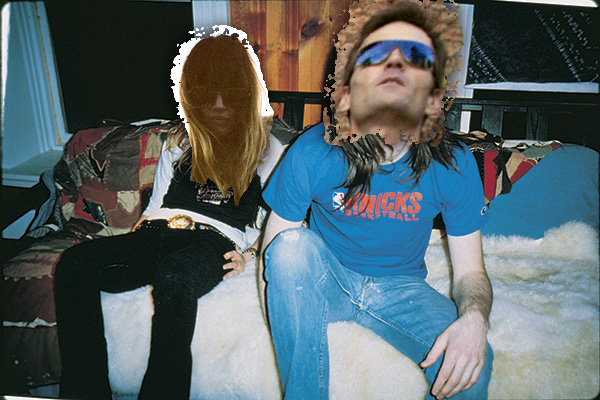 SPIN THE WACK CIRCLES
Say, did you hear who's getting back together? Royal Trux! Whew...is it just us, or is it getting kind of 90s in here? As always, nostalgia is a glue that everyone wants to sniff – and we're not complaining that people seem REALLY into it….but really, why such a big deal? It's just for a show (but WHAT a show! – Truxhead ed.)! Plus, Neil and Jennifer have continued on in the mind-blowing business ever since way back in the (increasingly gay with the passage of time) '90s leading their respective Howling Hex and Black Bananas bands into our favorite kinds of parts (parts unknown, duh!). For us, this be a plus – like when Grubbs and O'Rourke split up their Gastr del belongings and went their separate ways; this meant TWO records instead of one! Like the short-sighted, bucks-grubbin' SHIT-BASTARDS we are, we've got eyes on the cash grab that follows a break-up, and boy is it sweet! Why, if we could make Bill Callahan split himself in two, we would! We inquired anyway, but the technology wasn't there yet. The numbers don't lie (they don't, idiot; abandoning an established name leads to reduced income – truth-telling, dry-eyed ed.)!!! Besides, if you had your precious Royal Trux making records year-in and year-out, you'd probably be taking them for granted anyway – and then the insaniest record of the decade (until NEXT TIME), Black Bananas' Electric Brick Wall, might never have happened! And what then of The Howling Hex? Hagerty's vehicle for rewriting rock and rhythm has been exploring their New Borders in Sound for nigh on a decade – and if anyone comes up with a more slammingly poly-omnific vision than All Night Fox, we hope we're the first ones to hear about it! FUCK. Last year, Neil and The Howling Hex spat an extended 10" single into our ears that kept inquiring minds dancing for an extended period of time. But that was last year – what have they don't for us lately? How's about....another single! "Butterfly" b/w "Party Shoes," lacks the jam-out nature of "Fool's Watch" b/w "Lord Gloves" if only because it lacks three extra inches (she never said that)! Using that limitation as a guide (OK, she might have said THAT), however, The Howling Hex sock it to us and how with two-to-three minutes of TOTAL energy, packing the power of ten into the shape of seven. In the mid-century tradition of providing graphic art to consider while spinning your listen disc, NMH&THH have screen-printed all 300 of these singles to appear as artganic as they sound! Grab it, get it or just play it – you can't have everything, but you can have more than we ever knew was possible when you listen to the new Howling Hex 7"!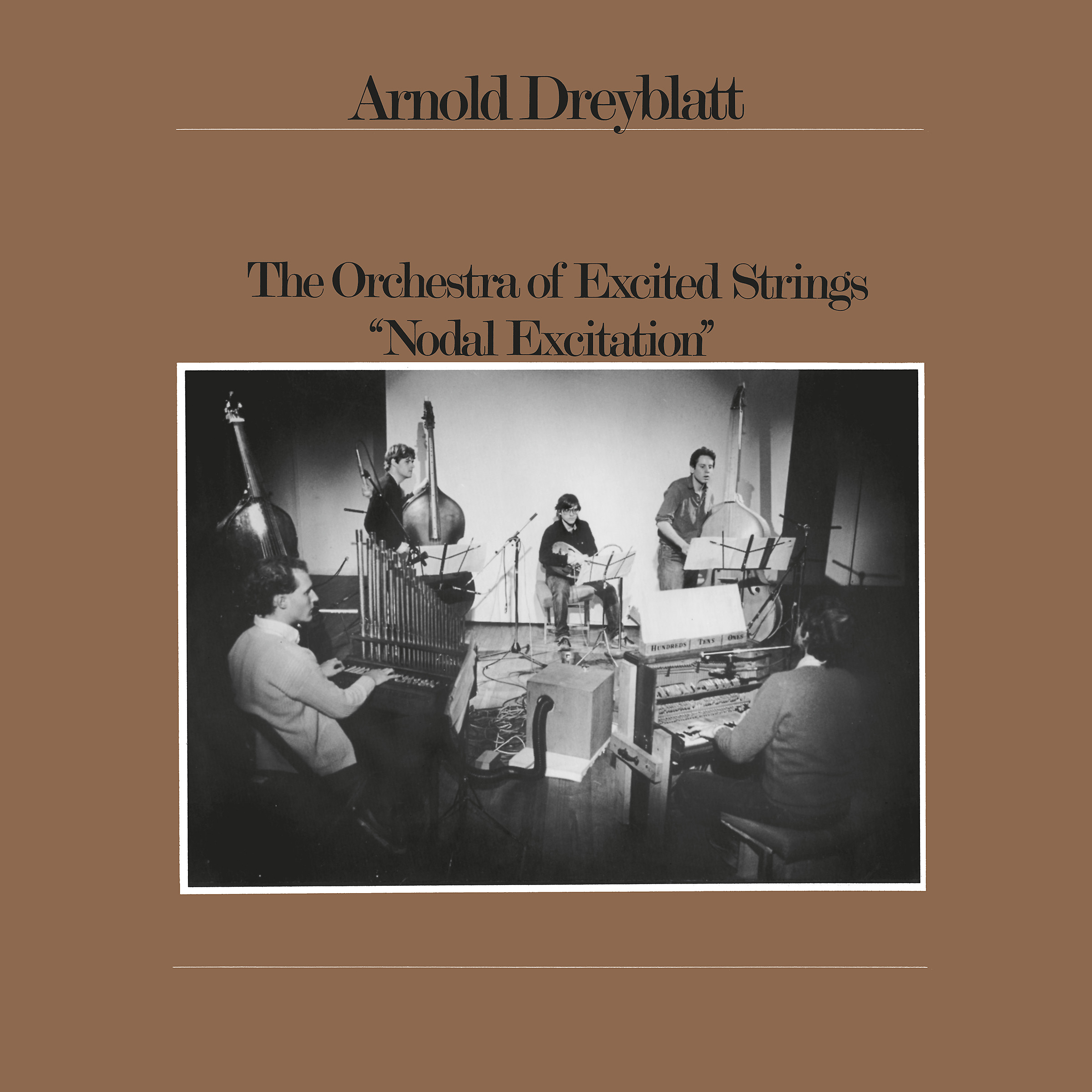 THE OLD DREYBLATT JUST AIN'T WHAT HE USED TO BE (HE'S JUST BETTER!)
Also in May, alongside The Howling Hex's new single and Simple Songs, Jim O'Rourke's first record in 20 years (! – Father Time ed.) comes a reissue of Arnold Dreyblatt's 1982 minimalist classic, Nodal Excitation...and actually, it's PERFECT that they're happening at the same time, since '82 was about the same time Jim last made a new record, right (!!! – Grandfather Time ed.)? Oh sweet past, vast and boring! But the other part that's perfect is that we first heard about Nodal Excitation (and Arnold Dreyblatt in general) when Jim brought the record to dexter's cigar (and us – yay!) to issue on CD for the first time every back in 1998. He'd remastered the record from original tapes to find a sound that even the original pressing hadn't properly represented (much to Dreyblatt's 80s-era consternation and 90s-era incredible satisfaction!). Nodal Excitation came from the primal lofts of NYC's early post-punk/no-wave days. Arnold's chosen vehicle, The Orchestra of Excited Strings, was the sound of piano-wire-strung basses plucking out jaggedbut rhythmically even microtonal riffs, throbbing over and over into pure dream space, where they'd occasionally be joined by harmonium and pianoforte, maximizing the drone exponentially. This was all done in the name of that math called music! At the time, you could count Arnold's available records on one hand (now it takes two!), but through the CD reissue, the hard-crusted beef that is the listening world was softened by The Orchestra of Excited Strings, leading to a time…exactly like this one! And a much more perfect world it is for a second-ever LP pressing of Nodal Excitation to appear, as it has now, and it's on the street where it belongs – complete with the extra notes (liner notes folks – remastering can only do so much!) and photos from the CD package. And it sounds like early metal licks, unplugged – in other words, insane and great!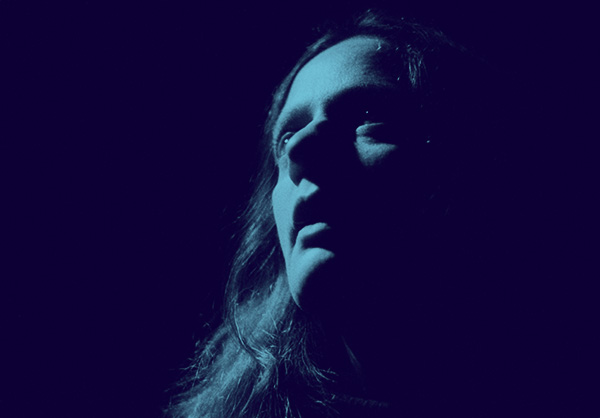 THE UNBEARABLE LIGHTNESS OF BEING MEG BAIRD
It's not true! The reason you love and listen to Meg Baird has nothing to do with lightness – it's actually very HEAVY, what she's singing about, soul deep and laden with bags carried over hill and vale and ultimately through HISTORY. This is what part of the singing tradition is about, and Meg has taken to the task with a serious mind over the course of her three records. But you misunderstand us, friend! We're talking about lightness in our ever-lovin' header because the new third album of hers is called Don't Weigh Down the Light, see? So it's referential word-play kind of stuff. We've never tried it before and thought we might take a shot at it, but now that you're bumming….I don't know. Anyway! Meg's first record was a solo record and her second record augmented her solo performances with some additional guitar work and her third record adds a few more and a few keyboards too. But to return to the lightness thing, our girl's emotionally heavy for sure, but she's got an ethereal way about her whether she's singing some songs that are hundreds of years old or some of her freshly-minted dark leaving songs like on this new record. It's a deep massage of a listen!

FRIENDS AND HIGH PLACES
We love making records so much we make 'em for other people that we dig too – and not 'cause they asked us (so don't get any ideas) but because WE asked THEM! 'Cos we dig them. This is circular formula shit, don't try to figure it out. You know the drills – we've done stuff with talented other curators since the days of Nodal Excitation on CD – dexter's cigar, Palace Records, Blue Chopsticks, Moikai, Streamline, Galactic Zoo Disk, Yoga, GOD? and all the rest of 'em! With their visions, they expand our group-mind, which is great even if you don't end up hearing them. But you should, you always should! You really should.
The latest imprint we've taken up with is TryAngle, the label formed by Death to put out the first Death 7" way back in the days before you and Drag City were born - AND as of last month, a new Death record! Or better yet, the N.E.W. Death record, since that's what it's called. We had to join with the band to release it since we've been down a long road with them these last five years or so and couldn't bear for them to go it alone. We wanted to be a part of the rush of an all-new Death album! Plus, N.E.W. comes from the same trajectory of rock-n-roll fury that spawned For the Whole World to See in the mid-70s when the Hackney brothers were Dee-troit teenagers, hoping to change the world. It took longer than they expected, and N.E.W. speaks from the position they've attained after all these years – elder statesmen who still know how to get it done. And by 'it' we mean, ROCK. Duh!
Also returning this summer to Home Planet Drag City is the mighty Sun Ark, back from wherever it is it/they/her draw their strength and energy and inspiration. To these psy-peaceniks, the world is a ghetto; therefore a great place to hang and maybe pick up some good thrift-finds? Dunno! Thus from instruments of the broken and forgotten archives of the past does the S. Araw "Trio" pick and choose to play upon – the dry wind of airless synth, early computer programs and guitar effects long ago discarded as futureless trinkets. Plus a few sweet treaments from the near future/past to help melt it all together into one toxic ball that will honestly fuck you up if you ingest it all at once! Gazebo Effect is two LPs of inner light from the inner circle that dispatched the double-hits On Patrol,Ancient Romans and Belomancie, slash-cut with the delighted-yet-focused abstraction of the Celebrate Music Synthesizer Group. There's ritual and passage implied by anything that goes by the name Gazebo Effect and then backs it up with pictures of gazebos in the artwork, so when it comes out in June, take it in and see what of yourself you find reflected there. Spoiler alert!: You'll find you.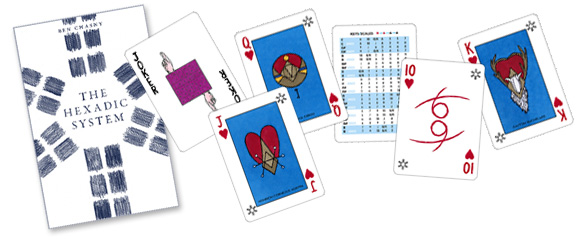 WHAT FORMAT IS LOVE?
In February, we put out the new Six Organs of Admittance record, Hexadic on LP and CD. And even digital download! It was a typically bold new-phase effort from Ben "6OOA" Chasny, who'd taken a little extra time to approach working on a different approach to composing, involving the drawing of cards to set random parameters to his choice of keys and chords and tempos and shit. This was done to freshen his musician's mind, but flipping scripts on these choices are options we should all be considering – for who among us is perfect? (Ugh, don't answer, Numero Group. We already mailed your answer to you back in 1998, via surface mail, so you should receive it right…about…now!) Anyway, the music, as you might imagine, is out-there and different-sounding…to a point. It IS 2015, after all – people have been making music out of samples of static for at least a decade already! This is to say simply that the moody space-metal that is Hexadic is by no means an overtly challenging piece of music – rather, it's an extremely satisfyingly challenging piece of music. And not only that, but one that's ALSO based upon some very interesting precepts. That's why last month, we released The Hexadic System, Ben's full-length explication of his custom-created system, in a paperback edition of 115 potent pages. Ben goes over all the basics – how to align the cards to the guitar, the details of alternate tonal notation and various methods of composition, a bit of historical background (because directions in such combinatorial thinking have been pursed by different parties for hundreds of years) and even a few games that may be played with guitars once the system has been absorbed. To make this an even-more complete view of Hexadic thinking, Ben also designed a custom set of playing cards in collaboration with artist Steve Quenell, and damn if those aren't ALSO on sale! All this is a lot to go over in just one pass, so Ben's gonna be explicating further by doing talks and workshops on the Hexadic system over the summer and into the fall – and playing the odd show (but c'mon, not THAT odd!) here and there. And us? We got a record, a book and a new deck of cards out of it! Plus a summer reading list to die for (or to ritual sacrifice for – there's some sweet occult undertones to this whole thing). Records are great, sure – but the world comes in more forms than just yer flat black and circular (like maybe sometimes just a T-shirt shape?), so expand your mind and check into the Hexadic system in ALL its permutations.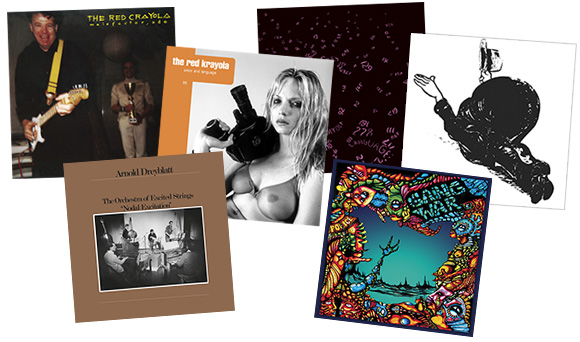 ISSUES WITHIN REISSUES
We've already mentioned Arnold Dreyblatt's Nodal Excitation that's just hitting streets as we speak, and you probably already know that it's become a part of our m.o. to every once in awhile have a little reissue to blow your mind out. New records are cool – but they don't make 'em like they use to – so give an old record a listen once in awhile kids – and that's one to grow on. Other fine choices you might make in this category are the three Red Crayola records (and one Red Krayola record) we reissued just in time for Record Scam Day last month – Corrected Slogans, Black Snakes, Malefactor, Ade and "Amor and Language." We've sold most of the pressings to the shops already – so if you didn't have your fill last month (and you didn't!), then perambulate down there and pick all four up! They are really WEIRD. Or, if you're one of those nuts who hasn't sold out the format that changed everything and is now a pariah for having done so, the compact disc, you should check out Gang War by Frederick Michael St. Jude! This masterpiece of rock-opera-dom came out as a single in the early 80s, with album to forthcome. But it never did! Now we've got it out on CD – are you brave enough to deal with it? TRY.
...GONNA URL!
Okay, that's enough, right? You stopped reading a few thousand words ago, so we're gonna post this and then get back the OTHER posting and shit on out to ta-da list, like....another record! It means so much to us that it means a lot to you too. Oh, sweet sumthin'!
See you around the record machine,
Rian Murphy
Drag City Inc
May 2015