ANOTHER DAY IN THE LIFE
We Drag City…Records! We MAKE records, long time now. MANY seasons! It…has… grow…evolve? Each record, grow thought, change your mind, give you NEW idea, inspire….educate you, brain and your and soul together! Make perspective. Music will make you CHANGE – your thoughts and words and ultimately all YOUR LIFE will change. Ah! Records carry their listeners toward the light of new thoughts on winds of real musical entertainment. We can never know when they'll provide the spark for new youth movements, or conversely, send the forward-reaching leading edge into full retrenchment with suggestions that, while fashionable, have no shelf-life and instead represent two steps back in time and culture! Music CAN do these things – we've seen it happen over and over, and if we didn't think it might again, why be here? Drag City is set to change your mind – AGAIN, for the ten-thousandth month in a row or whatever. What month is it anyway, July? Then we've got something new for you, for another day in the life where music changes everything all over again. If it sounds a bit…. deflating somehow, this rock and roll eternal return – for where's the anarchy and destruction in that? – chin up! As they say, the Satan is in the details, and once you've heard exactly what's tick-tocking down our conveyer belt, you too will feel the touch of evil, the urge perhaps even to rock, feeling for all the world as if it were for the first time again. Rock and roll, is it here to stay? No – and neither is Drag City. Or you! But we're here for another day in the life, oh boy; and you as well. And once more, nothing will ever be the same again. So let's talk about it! To death.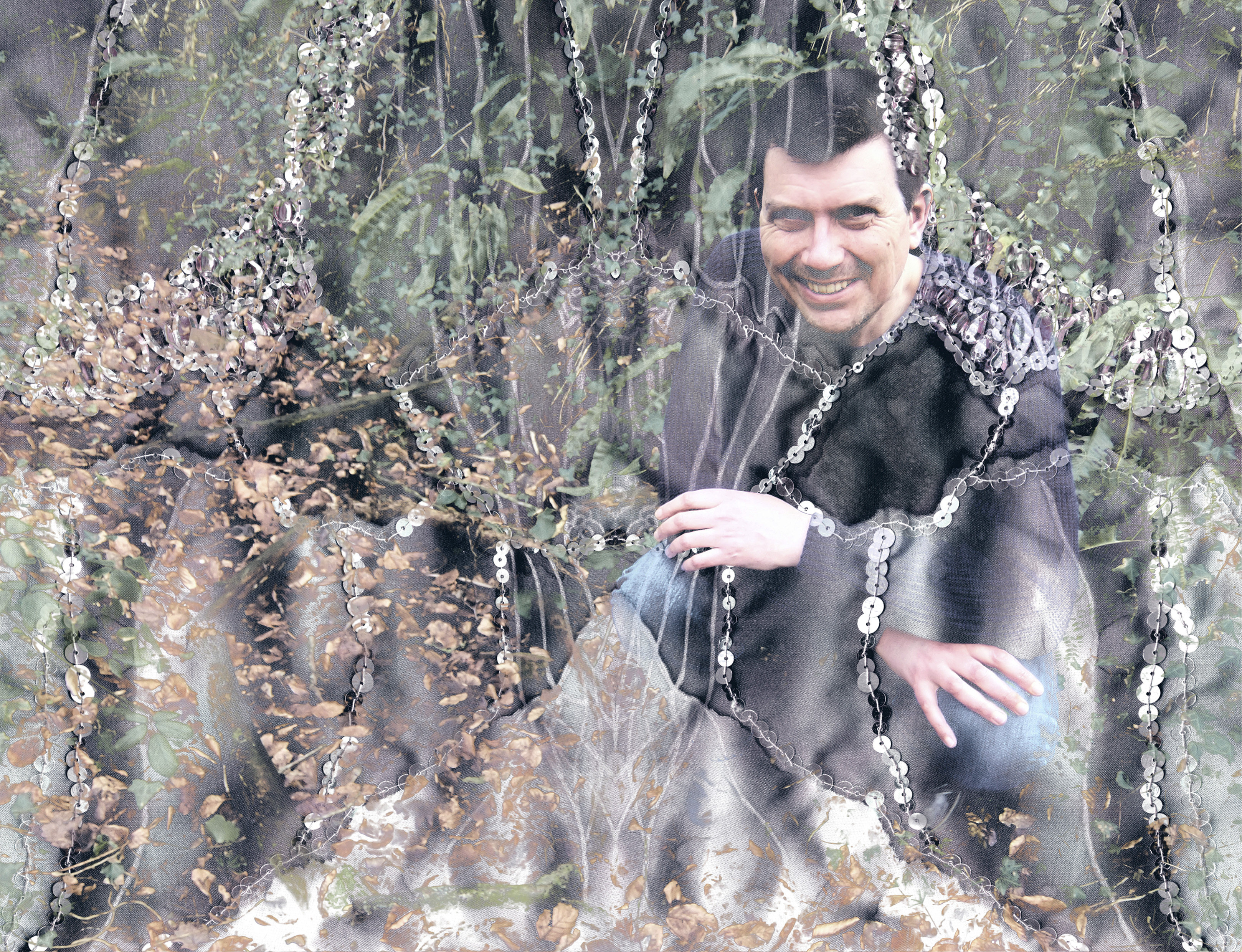 THE DAY THE EARTH STOOD STILL (AGAIN)
Yeassssss….so much great music over the years – and so many of those "years" now as well! When yer putting out records 23-9, eight days a week, 56 weeks a year, it's easy sometimes to forget even the most eternal of our rockords of moons past – frankly, we just keep dealing them out and try not to lose sight of them as we speed onward. We're ashamed to admit it, but that's TOTALLY the case with the recs of Flying Saucer Attack – because with nothing new to remind us (yep, it's nobody's fault but everyone's but ours), the ever-more-distant favorites from '96 (like Chorus and Further), '97 (New Lands) and that deathless year that was 2000 itself (Mirror), have slid from the playlist in recent years. But not anymore  – now, the Attack is back, and just like all the great FSA albums that preceded this awe-inspiring new one, they come to us in a strangely altered way from previously known. The first clue for those of you who didn't get a chance to stream it this last week on NPR is the title: Instrumentals 2015. Those numbers…so familiar….where have we seen them before, what is the significance? What do they add up to? Aw, relax! It's just a hoax – we're putting you on, kid - you're better served looking at that Instrumentals bit of the title equation! Flying Saucer Attack were never the kind to put their vocals up front and center, but voices were nonetheless an essential part of the material, humming low within the buzzing maelstrom of guitars and their feedback, reverberation and decay. Yet, shorn of those vocals, and, generally speaking, the maelstrom, Instrumentals 2015 is unmistakably from the same meditative slipstream that has defined FSA's output from its earliest days. New offerings in traditional FSA approaches, like space pieces, drone, eastern tonal, ambient and distortion effects (or some combination of the above) are all found evolving in the confines of the Petri dish that houses Flying Saucer Attack today, bearing such commonality with all previous phases of FSA that it impacts our ears, particularly following fifteen years of silence, in a profoundly haunting manner. Like the O'Rourke record from May (Simple Songs, remember?), Instrumentals 2015 throws a loop across many years and then pulls the circle tight, bringing an alinear logic to the ears of listeners that defies time and is REAL!  Furthermore, the album packaging, always a minimalist tool to reach FSA's listeners through their oculears back in the day, is equally inspired, with artwork from family members that absolutely NAILS both the vibe of the record and the FSA vibe in history. Plus, after three sides of instrumental tracks, side four's an etching from once and founding member Rachel Coe. And it's also instrumental! In the days between the last FSA and today, we've imagined many times what another Flying Saucer Attack manifestation would sound like. Guess we're dumb – we never thought it might sound like this. But what a way to go! FSA = Freakin' Sounds Amazin'!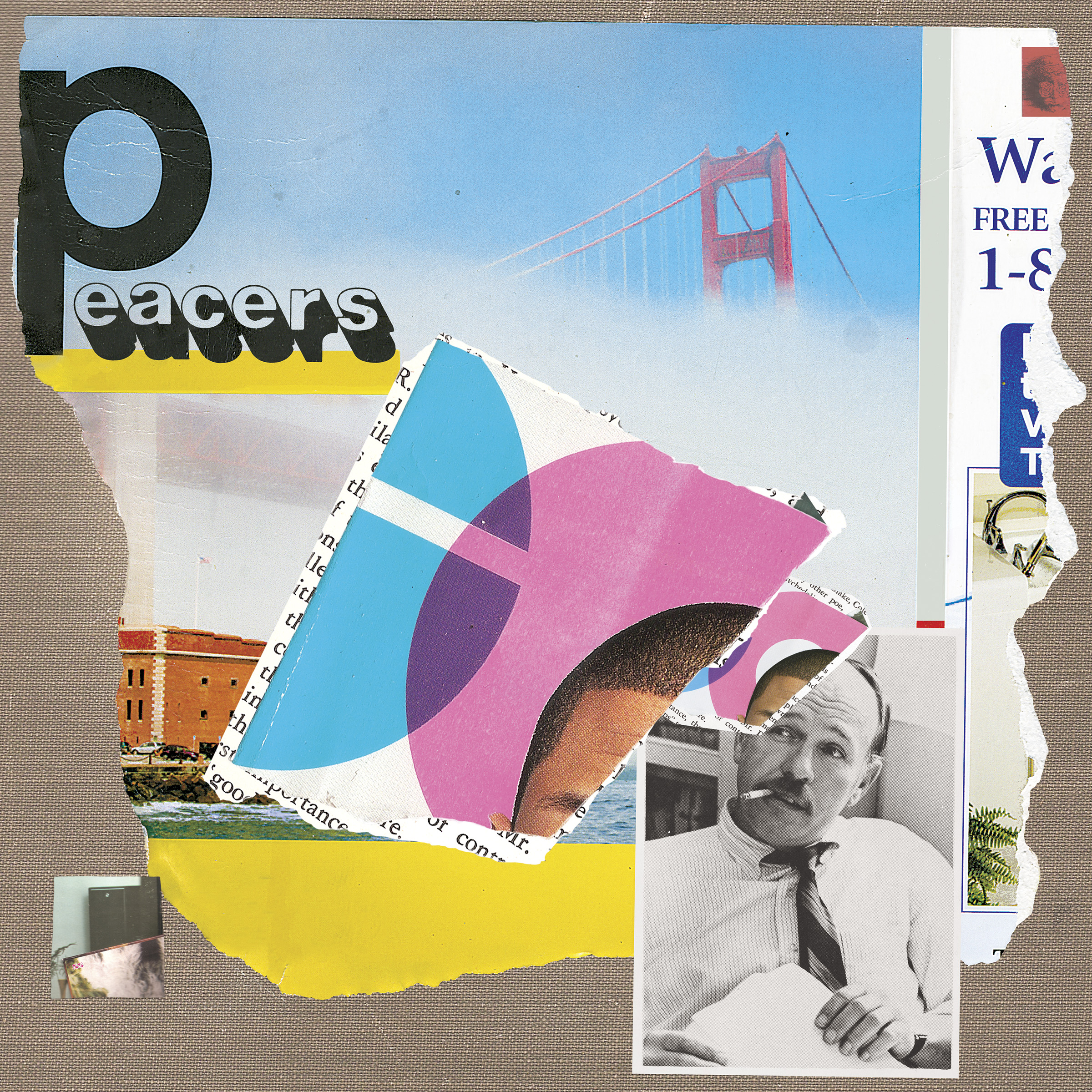 PEACERS-NICS
Meanwhile, up in San Fran….it's a genuine fact the tekkies and the one-percenters RULE. It's been a gradual process, but lately it seems like there's no room left for the no-goodniks ANYWHERE! Unless you call El Cerrito somewhere, and nobody HAS for maybe ever, probably. This means that the (oh so) precious spirit-inheritance of the Beats, the Diggers, the Hippies and the Punks is up in the air! But before the rich kids can squeeze the power of those bygone tribes into a neat little commemorative frame of their own choosing, there's at least one silver-tongued conman in the shadows of the brokedown old Gold Rush Saloon – and we'll be damned if he doesn't bring PEACERS to this town. The devil we know is one Mike Donovan, whose bastard pop sense was on display for several years in the decrepit shop window of Sic Alps. In case you only listen to NEW music (we understand), then late us explain to you that Sic Alps were one of the three kings of SF back in the (still relatively gay) aughts. Maybe you heard of Thee Oh Sees? They're still out there, working the oldies circuit – a fate not shared by the late, lamented Hospitals, whose Hairdryer Peace was their final bow back in 2008. Sic Alps carried the flag of old weird San Francisco for another few years before Logan's Run syndrome kicked in…too old to live! Mike made a solo record for a little minute – one of Pitchfork' or somebody's most underrated records of the twenty-teens, you heard it? S'called Wot, if you haven't. If you have, then you know that Mike D can't make a bad record – when song-writing, his hands are always finding a sweet spot on the neck to make a little next chord figuration and the change always does us good! Plus, the lyrics are so druggy and dreamy and funny too while still being singable in cur-LASSic Stones-Pretty Things-type whine n' hiss rock n' raw - we just sing along! Anyway, solo records suck, right? Thus so, Peacers were born! A fine pow(d)er trio if there ever was one, Peacers are gonna spread over the nation this fall. But first! Peacers, the album (see disambiguation). Cause the first thing you want to do when you make a new group is make a road-tested set WITHOUT them so that they can hear how they should sound, y'know? And so, the Peacers debut features fifteen little ones from the pen of Donovan, who usually peaces out before you're ready for the song to end! Like with l'il hits such as the already-dropped "R.J.D. (Salam)" and (just-debuted video) "Laze It." And a buncha other ominous titles, like "Kick On the Plane," "Institution Shave," and "Drama Ensues" to name but three more (uh, you got places to be?). And all of 'em little skull smashes, just like the 'Maps and GBV used to churn out – full of filth and fun, courtesy of rhythm section and production twitches from former Alp himself, young Ty Segall! Zo GUTE to have a nize c'lection like dis in our lives once again – Peacers IN!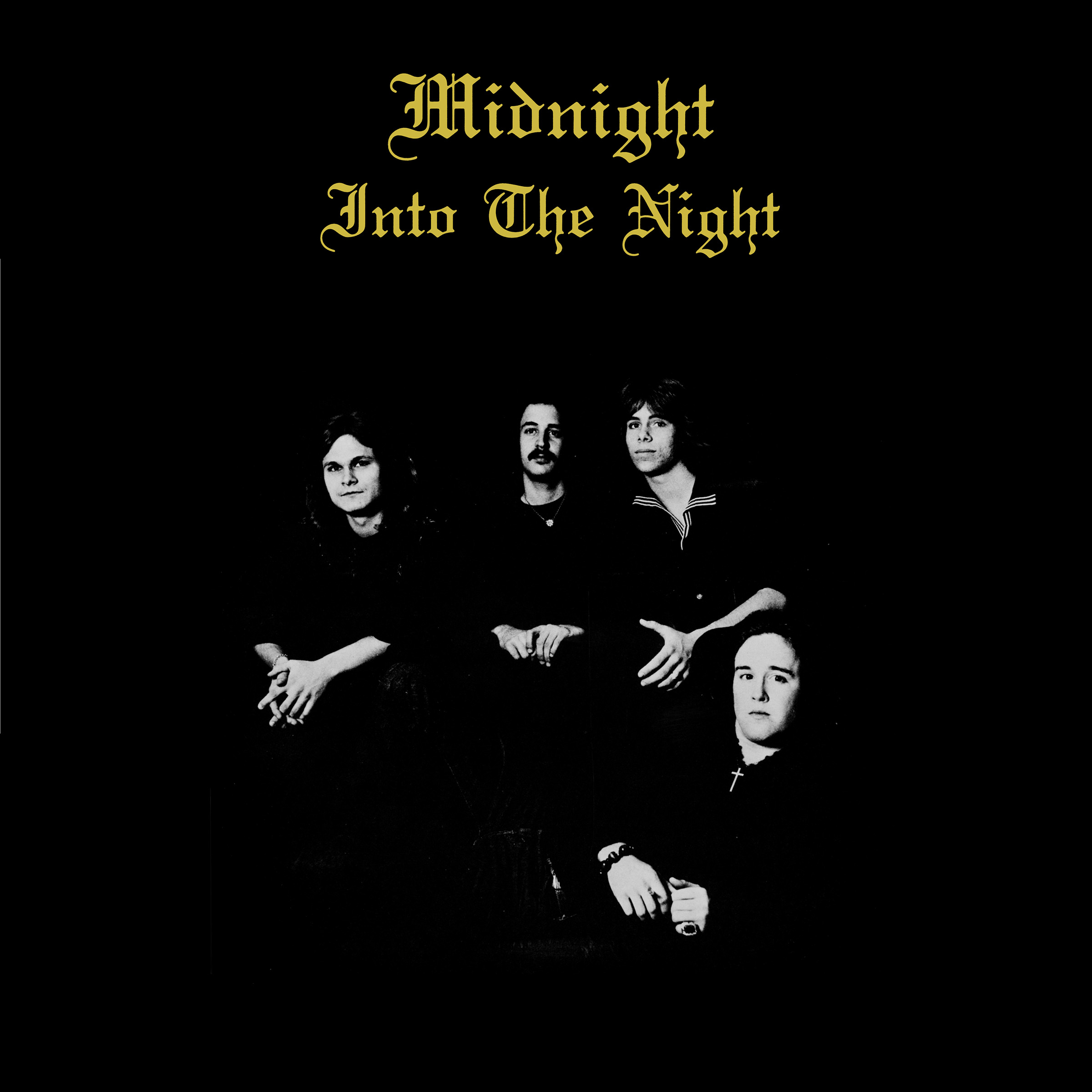 CLOCK STRIKES….
Homewood! Homewood, IL that is – sorry Cali! Sucks to be you, Alabama (still)! Our story takes place in good ol' Il-lan-ois, land of our foremothers (and brothers). Yeah, south of the sleepless south suburbs of Chicago, where sanity returns to the land – nothing bad ever happened in Homewood, right? No, cause NOTHING ever happened there, PERIOD! It's not even a burg, seriously – more like a hamlet. But back in the hot-roddin', hi-fi'in days of the mid-70s (yes, EXACTLY like Dazed and Confused!), it was the site of a fortuitous meeting between precocious teenage talents! Specifically, musical talents – what newsletter you think you were reading, Big Daddy Roth's? So anyway, it happened at the Melody Mart, where the strip was wide. There four rock-obsessed young men stumbled across each other while on their way to and from teenage music lessons. Dave, Scott, Frank and John were all of the mind that the rock of the James Gang, Uriah Heep and Black Sabbath, no matter how tepidly reviewed in the pages of Rolling Stone (and they were), was the best, and so they started getting together to play versions of some of them songs. Time passed, they were moving up in high school, and before they knew it, they were Midnight, getting gigs and writing songs – doing the things bands did back then (they still do now, wake up! – non-Rip Van Winkle ed.). Soon, they were playing in the NORTHERN suburbs of Chicago too – and by the time they'd recorded and self-released the item under discussion here (Into the Night, by Midnight!), they were even capable of getting opening slots at the Aragon Ballroom in Chicago – hot stuff! But youth is as youth does – and the high energies of Dave, Scott, Frank and John were destined to clash eventually. Damn you, early 20s! What they left for us to reissue 38 years later is a set of unwashed proto-metal songs interspersed with post-60s organ-rock darkness – an odd yet compelling combination, especially under the inexperienced fingers of Midnight. OUT NOW. Midnight strikes again!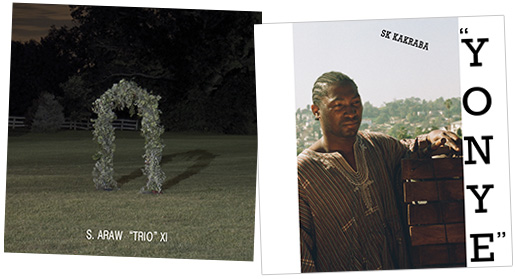 TWO MORE FOR THE ARK
Summer means Sun Ark – if only! There's no guarantee that the weirdies at Sun Ark will have something new when the sun shines this time EVERY year, but here in the 2015, they've got TWO offerings for the altar. The first came out last month, S. Araw "Trio" XI's far-freakin' out Gazebo Effect2xLP. Man. It's definitely an offshoot from an actual Sun Araw record, way more diffuse and synthy, and with only one 'yeah' (and no 'alright's!) in the mix the whole time. But it's 80 minutes of really abstract stuff that manages to cohere regularly, keeping it's wig on semi-tight. Something different is always all right! And trip the fuck out on this fucking trippy-ass video! Now for July, Sun Ark are back with Yonye, the debut album of SK Kakraba. A native of Ghana, SK lives in California now, all the better for Sun Ark to get hold of his Gyil style for a whole album's worth. The Gyil is a wooden xylophone and SK's a master at it, which back home means being able to MAKE the damn thing and have it sound amazing. And it does, in that Konono No. 1 kind of way, buzzy and fuzzy like anything that's handmade may be – but the other part of being a master musician is demonstrated all throughout Yonye, as well which is the fine art of reflecting the mirror of the music. Wherever you go (wherever you play), there you are. SK has played the Lobi traditional music in different places around the world, and these recordings in California reflect the current reality in which he finds himself expressed through these pieces and on this instrument that has accompanied him on his travels. The deep and abstract spirituality of this union makes SK a perfect Sun Ark-tist – get Yonye on July 17th!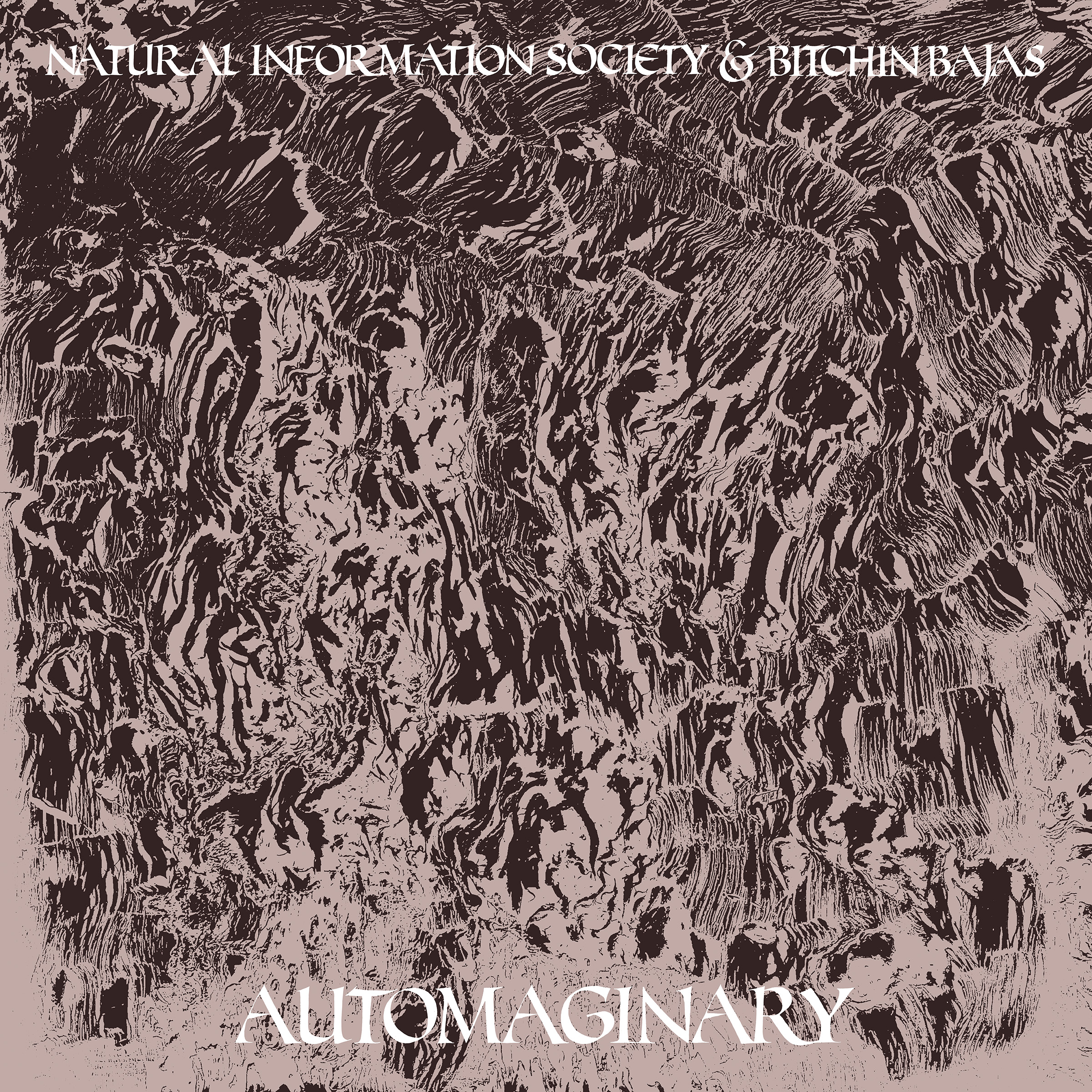 AUTOMAGINATION(TALISM)
Over the years, we've liked to trance out, it's true. And no, it's not simply just to have something to listen to while doing drugs - we like to share the trance with you too, and who knows what weird shit you're into! Maybe you're one of those stone-cold, life-on-high, straight-living FREAKS! Who knows?!? This year alone, we've managed to get out a bunch of stuff that stretches time and space in glorious and diverse fashions – see the Arnold Dreyblatt LP reissue, the Plastic Palace People LP release on Streamline and the S. Araw "Trio" XI  release from last month. Of course, our July new ones feature the dream visions of Flying Saucer Attack as well as Sun Ark's production of SK Kakraba's older-than-dirt space-xylophone spells - spaced OUT! Now, as we melt into August, Bitchin Bajas and Natural Information Society take it to the stage and to the verge of getting it on, with their debut collaboratory effect, the album Automaginary. What's great about this release (other than EVERYTHING?) is that both these teams have their own ways about them that actually seem like they don't have anything to do with each other BUT TOTALLY FIT TOGETHER PERFECTLY and in fact, EXPAND THE ALREADY CONSIDERABLE SPACE IN THEIR NOW-SHARED UNIVERSES! Natural Information Society was convened by Joshua Abrams about five years back or so in order for him to explore the possibilities of the guimbri, the three-stringed Moroccan lute that everyone is always talking about and if you don't know what it is, you're just out of it, that's all. Josh has been killing it on bass going way back into the 90s with an INSANE variety of acts including The Roots, Town and Country, Sam Prekop, Nicole Mitchell, and a BUNCH of others, including the Bonnie 'Prince' himself! There's been a ton of improvised music in there too – call it jazz if you must, you damn dilettante you – and now with the guimbri, the idea was to take it out of strict and formal traditional Moroccan music (which don't get us wrong, is AMAZING) and put it into some of the worlds that Josh digs and wants to explore some more – all of which has resulted in three albums of very successful and super-fun to listen to music under the Natural Information Society moniker. MEANWHILE, on the other side of infinity, CAVE's Cooper Crain started up Bitchin Bajas at about the same time (let's pretend like it somehow matters, and call it 2010), with an eye towards using as many old keyboards as was deemed necessary to find a path into the unending winds of space. With the partnership of Daniel Quinlivan and eventually Rob Frye, Bitchin Bajas have done just that in a maybe a half-dozen recording contexts over the past five years – culminating in last year's absolutely encompassing EPIC self-titled double-LP (and double-cassette with twice as much music, what?!). Who knows how it happened – who cares? They're both in the same town (and that's Chi-town, folks), so it was probably easy to find each other and say, wanna jam, or let's cook, or whatever musicians say nowadays (it is NOT 'let's cook' – with-it hipster ed.). Which brings us to the bit about the trancin' – because the kick-off track of Automaginary, "On No Fade" is just about as far-out as either of those collectives have EVER gotten – and that includes maybe even US as well! And we've put out THREE Ghost double-LPs! The Bitchin Natural Bajas Information Society take about twenty minutes to just break everything apart and let it float there, yet something maintains the thread of it. And we still don't know what it is. Wondrous. Side two's got four shorter pieces that are equally potent, don't get the idea that we're just pushing ½ a record here. It's ALL great, and a fun thing to flip. Featuring SICK silk-screened graphics from visual artist (and Natural Information Society member) Lisa Alvarado, Automaginary is a new construction in the field of many fusions available to us in music today. Lucky us!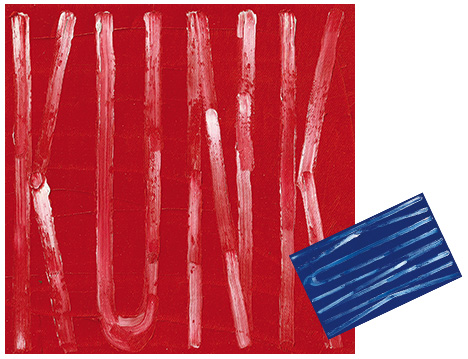 KUNK-A KUNK-A BURNING DOPE
No we're not making up words and phrases. Well, WE'RE not making up words – Dope Body is. They like to, as all you Nupping fans mighta taken note of. They make up words, and sounds and songs, and the glottal impact with which they congeal in the air and land in our face is further evidence of the fusion pre-sets in their collective mind. With further ado: new album time! Kunk it is. Sounds like a mostly-empty bottle bouncing off a head to us – so maybe drawn from life by these crazy Baltimoron kids? Who knows, and we're not asking. No, we're DANCIN'! Kunk rhymes with FUNK, which is almost FUCK, and both words are relevant here, since Kunk shows Dope Body melting away from the almost-rockness of last year's LIFER into unknown spaces again. Now LIFER was good and all, exploring new, really tightly constructed places in their sound, but we're getting the sense that the boys missed the fuckeduppedness of basing everything on just letting it rip. That's what's up with Kunk – between-songs jams from the LIFER sessions that end up sounding like a super-different band! Yeah, it's still springing from the fundament of metal-hued 80s-90s ROCK with screaming 'tosty art-punkish energy, but the pieces are put together more loosely in a way that brings the fun in from the word go (or however they pronounce that word in Dope Body – Gaaaaaaaaaaaaaaaurgl, maybe?). Kunk is a new trip, boomeranging back through the weird mirror of Natural History to the xpermental early daze of Nupping but in a way informed by the hammering rhythms developed latterly. All this to say, great shit man! And of course, their surging energy is always a BLAST live; they'll be touring Europe again before you know it, and we'll let you know about the US (bookin' agents, activate!). Rock may be dead, but Kunk's got it up and jumping like few zombies we know out there!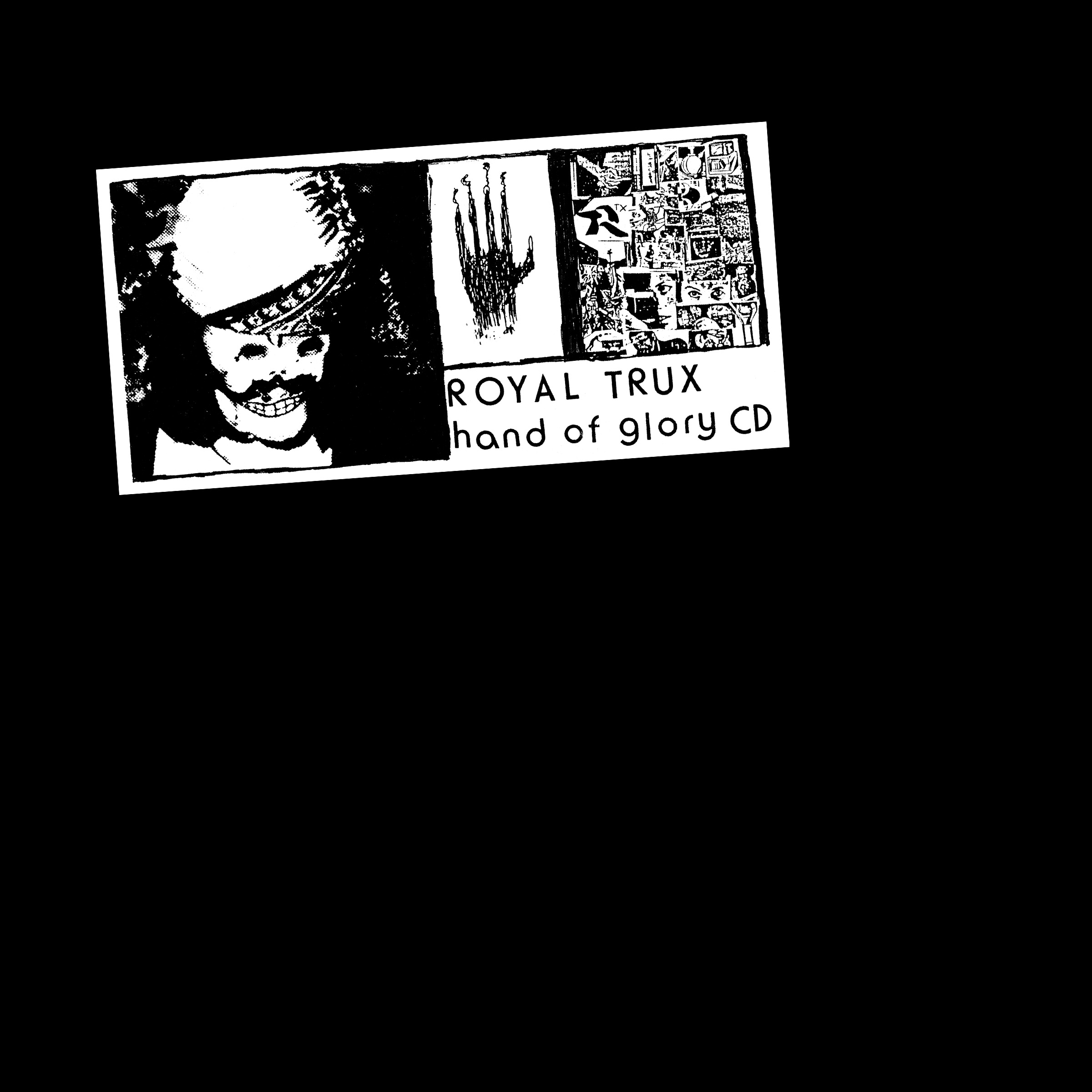 BACK THROUGH THE GLORY 'HOLE
Kee-ris'! 25 years and counting (say, 27? – numerological ed.) and it's just nothing but wormholes anymore. Everywhere leads somewhere else – and of course, we love it, but it's hard just to say that you love something without also making it sound like you don't. Funny thing! Anyway, by the time we have the reissued vinyl for Hand of Glory ready for you, Royal Trux will have played their Second Coming show at Berserktown on August 16th. Then it's back beyond the blue horizon for them (until someone flashes the GREEN) – but for us here at the motherboard, a quick trip back to not only 2002, but ALSO 1989 and 1990 at the same time. That's the way it goes in the town called Drag City anymore. Hand of Glory is tapes that were put together while preparing to eventually make Twin Infinitives – a quick listen to "Domos Des Burros (Two Sticks)" will allow the anointed ears of hardcore Truxheads to grok the shared space with TI's "(Edge of the) Ape Oven", which it apparently preceded by some unknown slice of eternity. The flip side of Hand of Glory is a compilation of mixdowns that they were calling "The Boxing Story" back in the day. Before Twin Infinitives, the idea was to put these two pieces together and call it their second album. But other forces intervened and the tapes got lost for a decade, surfacing only as the Trux were calling it a day. Typical perversity made the idea of some of their earliest recordings being released last seem very appealing. So that's how 2002 got into it. Now its thirteen years later, and now the original recordings are – 27? – years old, and that's just weird. The music's just weird, anyway – but it's somehow more amazing than it was when we first heard it around the turn of the century. Royal Trux music has a way of aging extremely well. Come August, reach for the Hand of Glory to help pull you toward the future! On LP and CD one more time.

JUNETIME BLUES AND GREENS
Okay, we'd just be REMISS and it would be totally EGREGIOUS if we didn't mention the jams that just came out last month. We've already dropped mention of S. Araw "Trio" XI's Gazebo Effect 2xLP and how it redefines both ends of the phrase 'out there'. Always fun to put out that kind of record – but especially when it comes in the company of two other records like Meg Baird's Don't Weigh Down the Light and The Cairo Gang's Goes Missing. First of all, Meg and Cairo are into songs and tradition, but they clearly dig sparking it the way that the Araw gang does, so that made the release date exceedingly consonant in nature. Meg takes her time making solo recordings – this is her third since 2007 – but the time spent in between is always made worth it by the depth of her performances. Previously, Meg has delivered her records as a solo, or near-solo – but the stoney vibes of Don't Weigh Down the Light are aided and abetted by instrumental arrangements built by Meg and partner Charlie Painter – layers of guitars that glint in the dark space between the lines of Meg's straight-backed-yet-sinuous guitar and vocal leads. As is usually the case, a fresh approach means you can go different places – so not only does Meg do what we KNOW she's amazing at, but she also uses her talents to do some things we haven't heard before. Basically, Don't Weigh Down the Light is a pleasure for the ears and mind in every way. Also impacting delightful on the auditory canals and what lies beyond them is The Cairo Gang Goes Missing, released at the same time as S. Araw "Trio" XI and Meg Baird, but on the GOD? Imprint. GOD? has documented some crazy home-grown California talents, like White Fence, Scraper, David Novick and Wand – but The Cairo Gang is something else again. Besides, Emmett "TCG" Kelly has been around this world all kind of times, and parts of Goes Missing were probably recorded back in Chicago, where he was based for awhile. Now he's out in his original homeland of LA, where the album was finished while he was transitioning from one set of places to another – and not only can you tell by listening to the mixes on this record, so much do they jump from sound to sound, but you can also NOT tell, and think while listening to the playful, assured mixdown that this is a professional job. Which it also is! It's fun when records do both things at once. Basically, Goes Missing is a bubblegum pop dee-light, and it's also bummergum too, using home recording techniques but taking the production implications to the next level, for a really unusual polished rock and roll sound with loads of great tunes AND tones. The most brilliant yet from The Cairo Gang!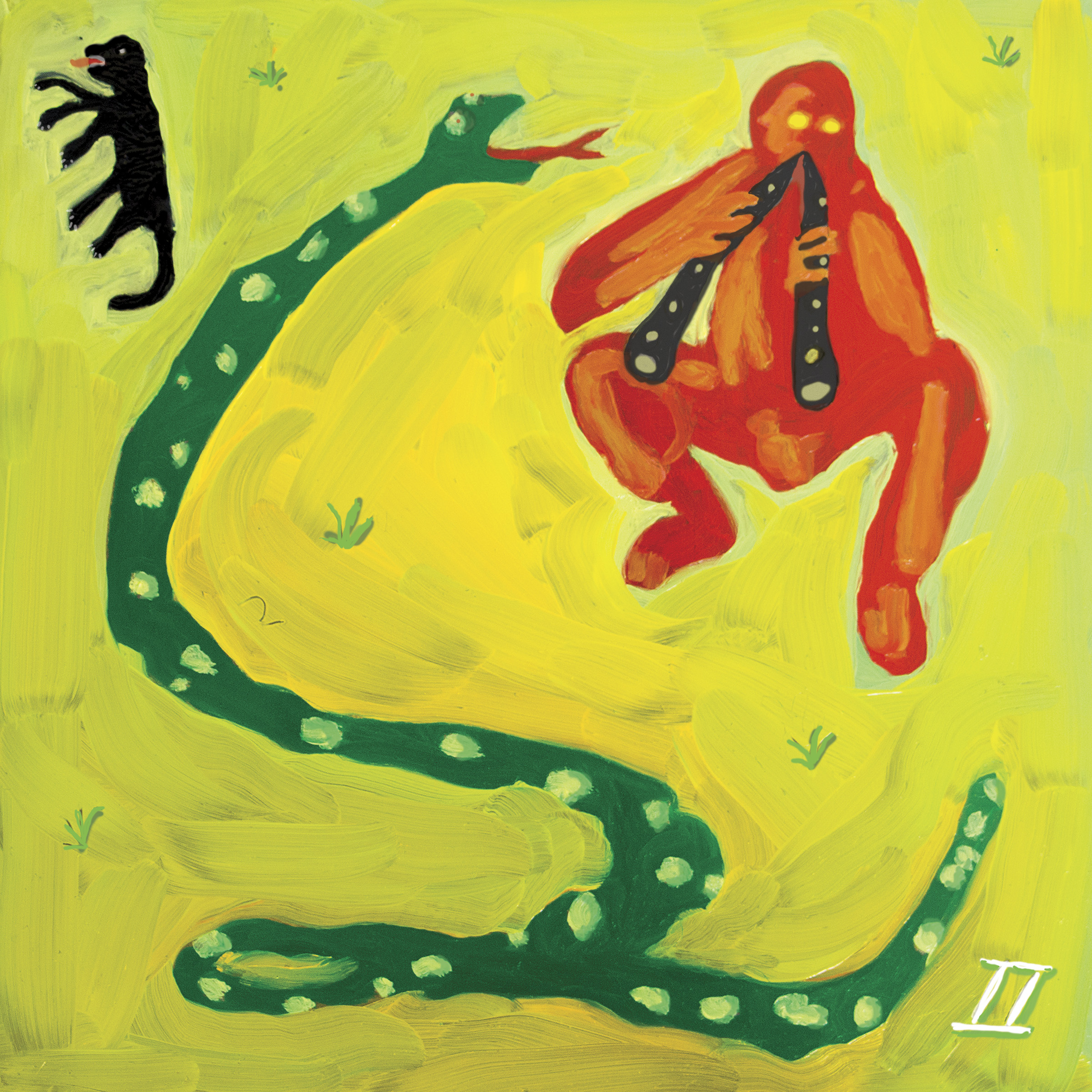 THE SHORT AND WANDING ROAD
These days, it seems like we can't go more n' a few minutes without mentioning Wand – and oops, we did it again right here. Last August, GOD? put Ganglion Reef, the Wand debut, out through Drag City and it just leapt up and did business like people knew what it was. But how would they? Magic like this happens in the record business, kids – have a cigar! It was a potent sound - there was psych in there; pop too, and different eras too – so, who knows, it may have reminded people of other things they like – but that's beside the point. When people know to buy something with no literal precedent for it, this usually means they're responding to the sound of now. A year on, our upcoming Drag City-central release of Wand's third album shows them having grown via not only leaps and bounds, but also hop, skips and jumps – all ways of evolving we have no problems accepting. Wand have always been a synthariffic bunch from the start, but their debut kept them down in the texture with the guitars and drums. Wand are a group that do a lot of different things at once, that's just how they write and play. However, after hard-rockin' March release of Golem on In the Red, their third record returns to kaleidoscopic fields only to find them inherently different. Like the Moody Blues jamming with Gary Numan, or Can backing T. Rex for a few Eno-produced songs, Wand bring their different elements together with no concern for how they fuse up. There's no need to worry – the songs sound great! Don't take our word for it! We're stupid - listen to "Stolen Footsteps," for yourself! 1000 Days is set for September release, it's available for preorder now; Wand are going to Europe soon and then they'll be back to play a ton more shows in North America. There's a world Wand going down, man  – time to enlist! The Right needs you, man! The Right Side, that is.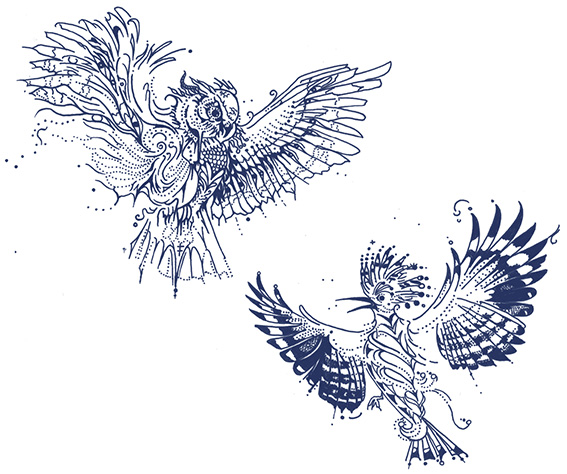 HEXADIC-PENINGS
Just off the plane from Europe, Ben Chasny was full of plans for what to do next with his Hexadic System. The feedback had been so GOOD; the workshops over there were fruitful, and the students of the System were not only getting it, but they were giving back to Ben whole new directions to think about. SO. There are some west coast shows coming up in August, and a bunch of Hexadic talks/workshops will happen at that time as well. There's an acoustic Hexadic album in the works too – melting the scorch of the electric Hexadic into sunbaked introspection. There'll be videos and another printing of the book – and with luck and proper planning, some all-star Hexadic events'll pop up too! Don't be afraid of new waves of thought, keep your tuning fork in the drawer – The Hexadic System is here to stay.
LIVE BUT NOT LEAST
Records! Whatever. The only real music is LIVE music. Is something we once heard a stuffy pretentious ASSFACE say. Sure, when the stereo breaks, we like to go down to the club – especially when one of our own is playing there, those are usually GREAT shows. To that end, Alasdair Roberts has a big tour of the UK coming up in August and then an all-too-rare trip to the continent in October. Laetitia Sadier's got a bunch of UK dates too – but then she's turning right instead of left and coming to America! Exciting, it's been too long since we've had a national tour for Laetitia on this side of the ditch. As we mentioned, Wand have a bunch of European dates in August and September – with a whole week in the UK! Limeys, take note. This psychedelic music is right up your alley. Also  over in Europe in August: White Fence! That should be GREAT. Hell, even Bonny's getting into the act! The Bonnie 'Prince,' that is – he's playing a couple shows in the US and then doing a tour of Austria (yeah – four actual gigs. Isn't Austria the size of like, Massachusetts or something? Crazy.).There's also a bunch of Faun Fables' shows just around the corner here in July – and given how rarely they've turned up of late and what insanely great performers they are, this is a must-have. So get the camper warmed up and let's go.
With any luck, we've given you something to think about here. Well, we HAVE – but with any luck, you'll use what you got and think about it. Then do something about it.
We'll be back with more commands plus maybe a joke or two in another month - buy everything new and see you back here! !
Rian Murphy
Drag City Inc
July 2015