TRAILERS FOR SALE OR RENT
Pssst! Hey buddy! Wanna buy a record? Yeah? By God, then step into our office! It's still the clarion call of Drag City Records after all these years, where we'll sell 'em one at a time - or six at a time, but one of each! - and you know what? We must have found our calling.Why let others have all the fun of turning the world upside on the downside with our catalog of maniacs and the things they call "records"? I mean sure, they can try – but so can we (and already, we're really trying, aren't we? – early last-nerve ed.)! And when the shit goes sideways – and it probably had better, this country's goin' to the dogs otherwise – fuck you! We'll still be holding it down here at the venerable ol' IB (= "Ivory Bunker," aka DCHQ – MF ed.), selling off the stock we have left (all the record presses got busted up in the chaos and explosions – except for the underground Scientology ones, and no one can get NEAR those!) and, when gas permits, loading up the trunk with good ol' good ones and getting down to the rally in the park – we might sell a few units after! As long as there's something to move and it has to do with music (which moves US), we're on it! So, good news gang – for the like, 310th month in a row (they add up!) Drag City is still a thing – a thang, even! And dis thang's got dem nu rekidz fer yez!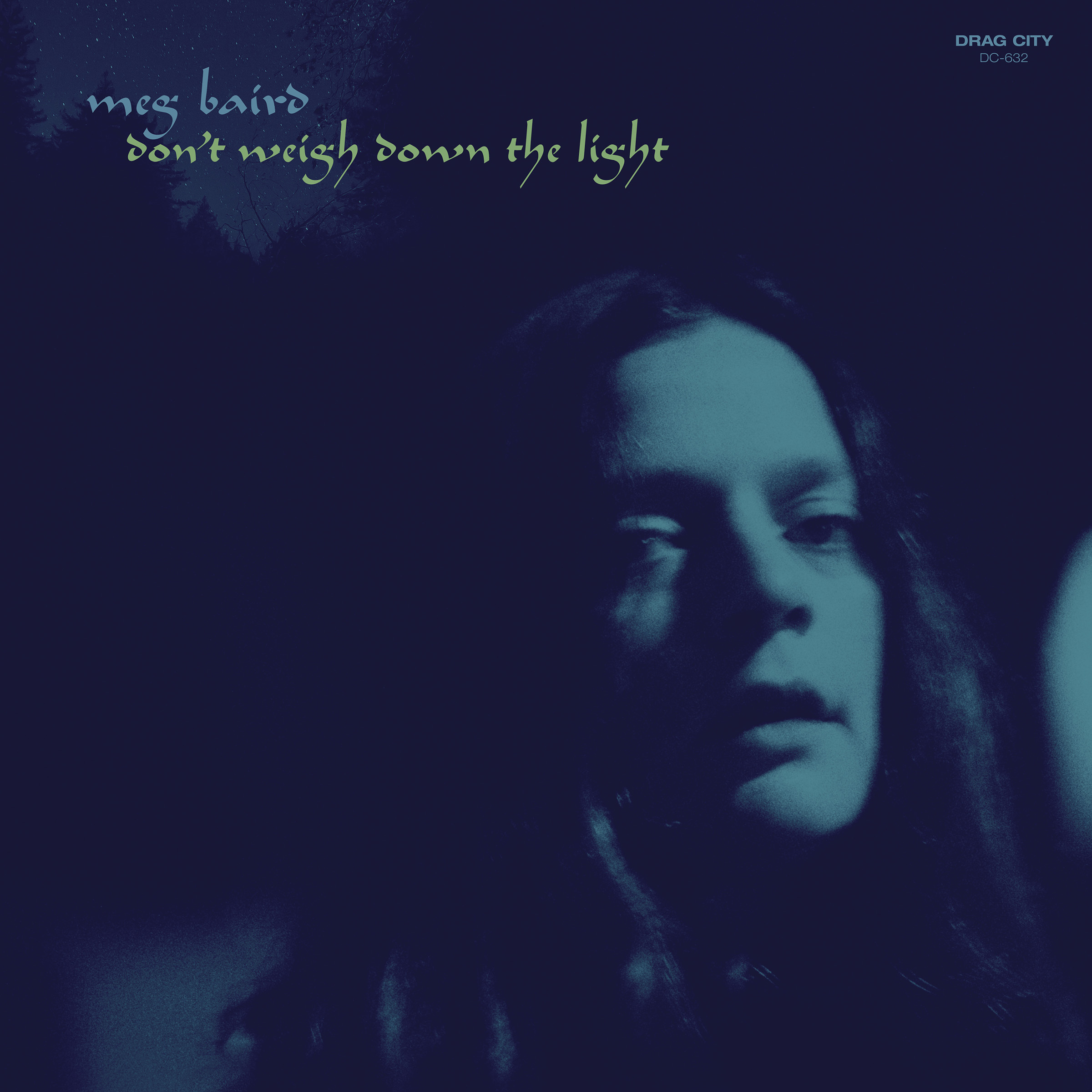 MEG BAIRD GOES TOWARD THE LIGHT
It's a revelation for all the lovers of folksong out there – songstress Meg Baird has a new album, Don't Weigh Down the Light - her first since 2011's Seasons on Earth!Yeah, Meg works slowly, but it's because things have to happen in her life and travel all the way inside her before she can build them into her songs. This isn't to say that Meg is one of those "he broke up with me, so I wrote this song" singers – no, far from it! Her muse is much deeper-rooted than that. They've been singing in the Baird family for generations, and Meg's music is informed by several centuries of tradition. Of course, Meg is also informed by the music of the lifetime she's actually lived, and so her records tend towards the hippified traditional sounds of the singer-songwriter era, with a strong backbone of the older, arcane styles. It's a grand combination - the effect of Meg's singing and playing is plainly tranfixing, whether she sings her darkly introspective originals or cannily selected cover material, whether unaccompanied, as on her debut Dear Companion, or the occasionally accompanied form throughout Seasons on Earth. This time the dream's on Meg and Charlie Saufley, both of whom play together with a celestial elegance, employing multiple instruments to fill the space fuller than ever before while still retaining the delicacy and steely directness within her sound. The record was made at SF's infamous Bauer Mansion – Meg's first west-coast record – hopefully she sees the light and makes another in sooner than four years from now! Don't Weigh Down the Light is out this week, and for the foreseeable rest of space and time.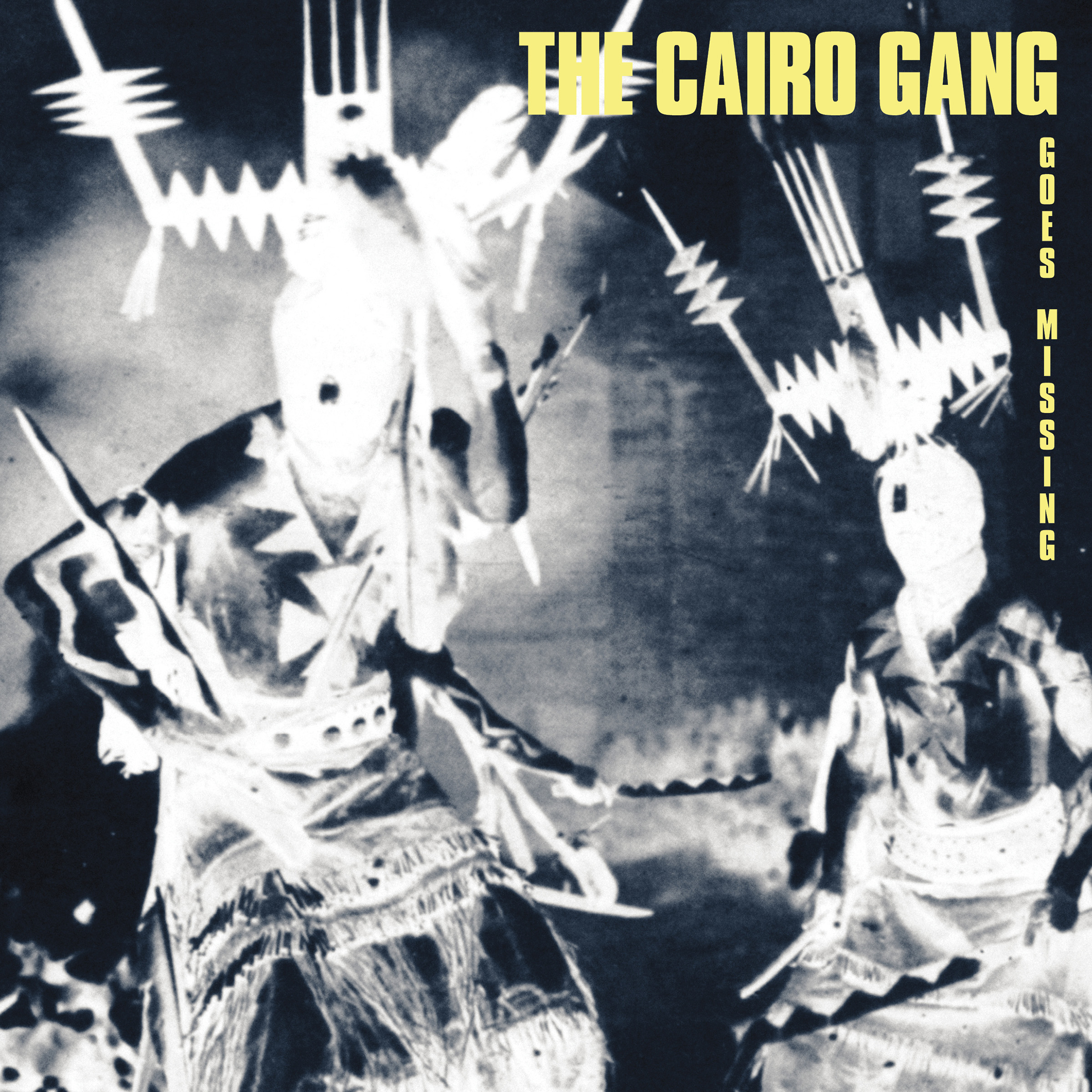 CAIRO GANG GOES WITH GOD?
Summertime is freakin' hizzeah! And it's not 'cause the sun is high and so am I – nope, temperature be damned, it's all about the RADIO jams! Right, yes – there isn't much of a radio anymore, but the whole idea of a summer hit has almost more life in its new Frankensteinian, multiplat-form than even back in the golden days of rock and roll! And some of the youngsters these days have even more rock and rolls in their souls than their estimated predecessors. Take The Cairo Gang, if you please – their new record out on GOD? this week is a flowin' sluice of sunshine soda-pop, but the juice's nicely squeezed in aught-15-style, with machine beats mashing up against the distant chimes of freedom (old-school folk/rock guitar tones) in a sometimes-synthetic, sometimes-airily-acoustic compendium of songs! That's right, you get both on this one – sounds and songs, and they're neck-and-neck for our love and attention right now. The song'll eventually win, 'cause it's got the melody, the words and the feels – but the crush of the sounds is the way in, the love at first ear-sight, and something we'll never forget in all our days. Goes Missing got ALL that, and all in the right order as well, just hitting you over the head with the two-by-two (songs x sounds = 4? – maths-don't-work-like-that ed.). If you like the pop in whatever form – the pure, the power, the punk, the bubblegum, the x–rock, even! - Goes Missing brings it all to you in ways that embolden while they break your little heart in pieces. Ahhhh! The burn of summer is finally here. The Cairo Gang's Goes Missing is OUT NOW.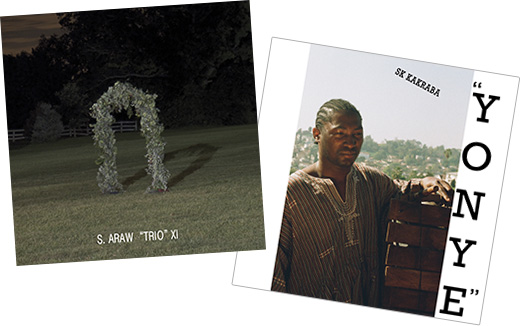 THE SUN ARK-ESTRA STRIKES BACK!
Years – what are they? Someone figured out that's how long it takes the sun to circle our Planet Supreme – so that amount of time adds up to exactly 1 more than there was the last time we were lapped? This is SO INADEQUATE. It accounts for virtually nothing! Look at it via the trajectory of Sun Araw as a case study: five of YOUR YEARS ago, the young-but-swiftly-ascending project/collective/band reached the top of Space/Magic/Witch Mountain with their bottomless double-helix of an epic, On Patrol. It was a shocking and sudden consolidation of values iterated and reiterated over a series of releases during the previous two years (Beach Head, Boat Trip, Heavy Deeds, Off Duty), setting a high water mark for DEEP stoner esoterotica. When Ancient Romans came out the following year, the way people reacted, you might almost think there were songs here! And yeah, there almost were. Amongst the squiggs and the wiggs, here were cycles...modes…riffs…plus production signifiers calling forth the phantom sensations of psychedelia, dub music, rock - like a missing arm that never really stopped itching. 2012 saw the release of Icon Give Thank, the outrageous suggestion of Sun Araw, M. Geddes Gengres and the freakin' CONGOS! Yes! From Jamaica! So insanely great! If you missed it, that's okay. You had every reason to be super-spaced. But you also missed a tuning fork in the road of Sun Araw. The next phase began immediately, with the bone-dry minimalisms of The Inner Treaty – another sharp shock to the senses! Like shaving a Kamandar bald – people were like, what am I looking at here? But Sun Araw's bones and skins were intact, all processes and rituals still functioning, structures still standing, just under different skies now. So...? The rebellion continued on The Celebrate Music Synthesizer Group and Belomancie, both of which took the epic format of On Patrol and Ancient Romans and made fresh, yet printless strides into the blank spaces of the UNKNOWN. Now comes a record from the so-called S. Araw "Trio" XI  (but who are we to question?) called Gazebo Effect, which recalls rituals of yore and once again requires four sides to make its way around the Sun and into your soft tissue, and it does so by ceaseless evolution, sharing essence and essentially NOTHINGness with the Sun Araw of Ago. It's freaking deep tripping! A couple of side-long jams that just chase the wormhole into the spare light of INFINITY. The beyond! All over the place! So delish. God DAMN. The point is, we're taught to call what we've just recapped as happening in the world of Sun Araw a passage of five years of time – when all us Arawheads know that what REALLY just elapsed was at least the length of two EONS – give or take a few millenniums! This pre-Julian shit is just an insult to the capacities of time! Things have been going downhill ever since the rise of the Empire….
But hark! A mere month after S. Araw "Trio" XI's Gazebo Effect hits the streets HARD, Sun Ark is back with a rare non-Araw release, SK Kakraba's Yonye. Hailing from Ghana, SK's a maker and virtuoso of the Ghanaian Xylophone style, part of a famous line of xylophonists who now plies his craft in California. These tapes were made in Cali, but they retain the deep roots of their Ghanaian origins. Very deep! Sun Ark strikes agin'!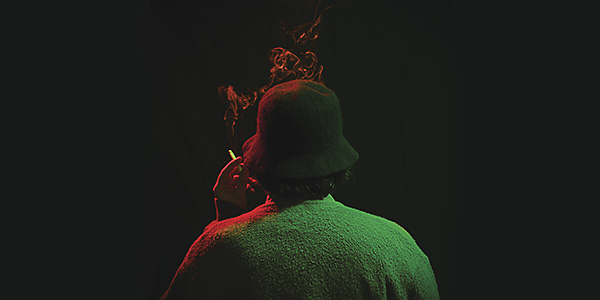 THE SMELL OF THE GREASEPAINT, THE O'ROURKE OF THE CROWD
We had a big return last month – and not just financially, either hyuk! Naw, the big return was of that prodigal son of 90s pop n' roll, one....James....Michael....O'Rourke. His Simple Songs album proved that you CAN take fifteen years between albums and still make a great record, which pretty much only Guns N Roses had ever even attempted before – and nobody other than us (you! Not us! – you-not-us ed.) likes Chinese Democracy anyway! Is it just our way of thinking or is simply having the O'Rourke record out there making like EVERYTHING better? Even the stuff that's just SHIT? Which there's plenty of – but it seems to make the playing field that much more worth playing upon. In case you're confused – and we think they might be at Amoeba in Hollywood – this Jim O'Rourke isn't the same one who's graced a hundred collaborative records with the likes of Oren Ambarchi, Masami Akita, Loren Connors, Christoph Heemann, Keiji Haino and several dozen others over the years. No, that's the Dr. Jekyll Jim O'Rourke – a kindly and inquisitive inventor whose skill combining dangerous elements in his laboratory is known far and wide! The Jim O'Rourke that does the pop records is clearly Mr. Hyde, a lustful, loathsome sociopath who cares not a whit for any other life on the planet – thank GOD. The twisted nature of O'Rourke makes the seamless pop constructions of O'Rourke endlessly entertaining – and no one does epic rock songcraft as seamlessly as our Jim. Simple Songs has been out a few weeks now, and despite the fifteen-year layoff, Jim's caught the ears of the people with his barbed tongue and sonic blankets. FUCK – now we have to figure out how to stay in business (and ALIVE) for ANOTHER fifteen years!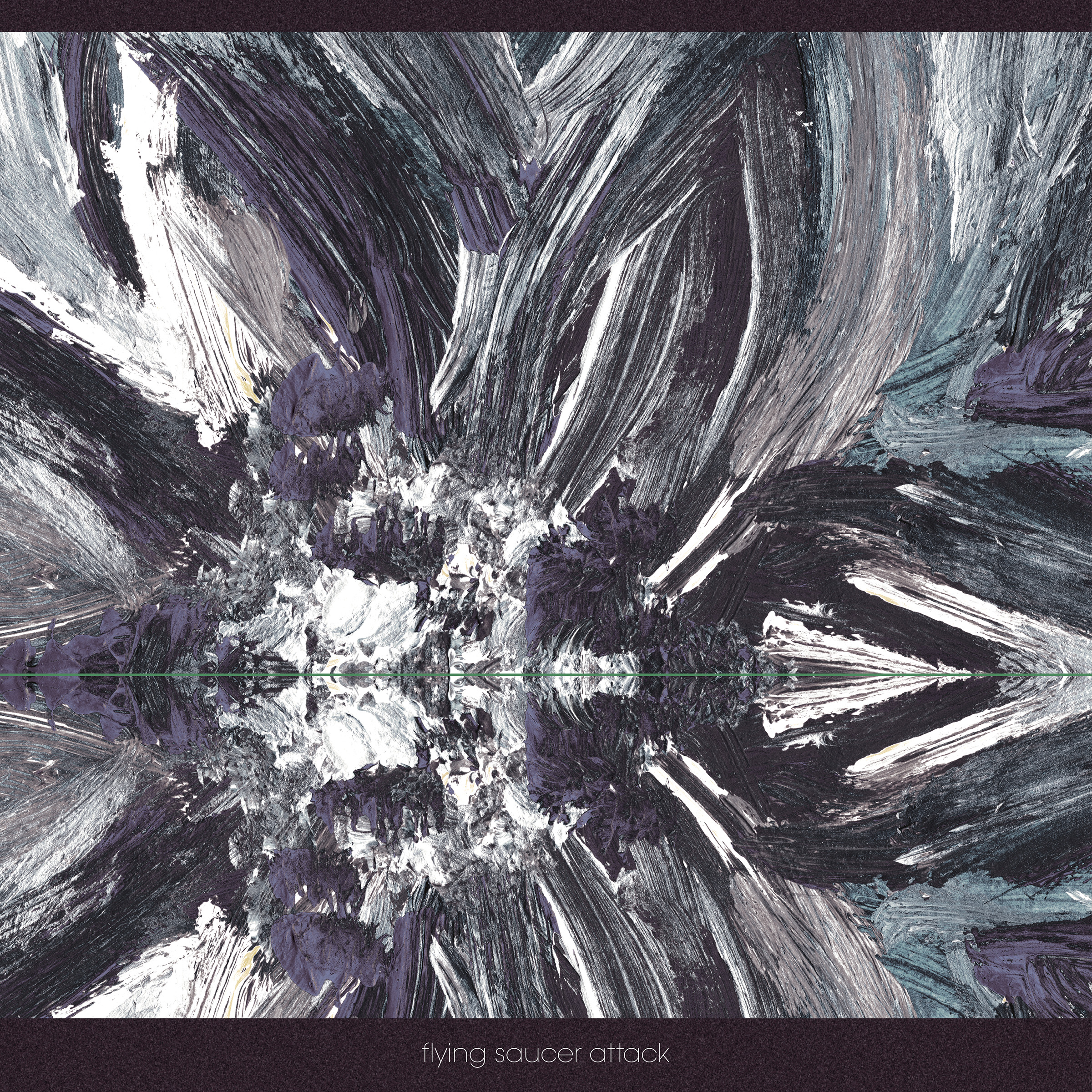 THE RETURN OF THE SUN OF FLYING SAUCER ATTACK
We're glad to hear that the world still wants to hear raw, furious talent from the likes of 90s geezers – cause here comes another for ya! Flying Saucer Attack hasn't been heard from since Mirror came out at the very dawn of the millennium, January 00 – that's twice as long as the run of phase one FSA, which launched in '93 and ran through to the release of Mirror. Self-released singles alternating with releases on VHF got the craft off the ground; we didn't come on board until 1994's "Land Beyond the Sun" 7" record – what a place to arrive! After that, the established lo-fi/post-psych/noise aspects of Flying Saucer Attack coalesced over the course of four albums: Further, Chorus, New Lands, and Mirror – plus a dozen singles and EPs and things interlaced with the album releases. Through all this, FSA's David Pearce remained a man of mystery, putting together his music in the wide-open spaces of Bristol and the surrounding west country ("rural psychedelia," it was called) and seldom venturing from there to play concerts EVER. The sound of Flying Saucer Attack modulated gently from exotic noise-psych to pastoral folk-psych, trip-hoppy noise-psych, droning minimal psych and so forth – always puttering in the gardens of psych, no matter what the other concerns. The problem with psychedelia, if there might possibly be one, is that of burn-out – the endless punishments of temporal experience and seeking the NOW take their toll eventually, always. Regardless of what caused it, the records stopped coming after Mirror, leaving only the still-sparking trails behind the paths blazed by Flying Saucer Attack. Until a couple years ago probably, when the good folks at Domino decided to seek Dave out and set him right – which means, in this case, have him make another FSA record! After the years of silence, it's not surprising that Dave's recordings are instrumental – all guitar pieces, floating in and out of consciousness as they tap those far-ago signals again, with great variety and color over two LPs worth of time and music. Here, a quick listen to number 7 will keep you floating until the record arrives on July 17th, in 2xLP/CD and cassette (because cassette tapes are reinventing music, doncha know)! Guaranteed to interlock perfectly with whatever atmosphere you play it in, Instrumentals 2015 is a phenomenal new visitation from Flying Saucer Attack. The next phase of FSA starts here!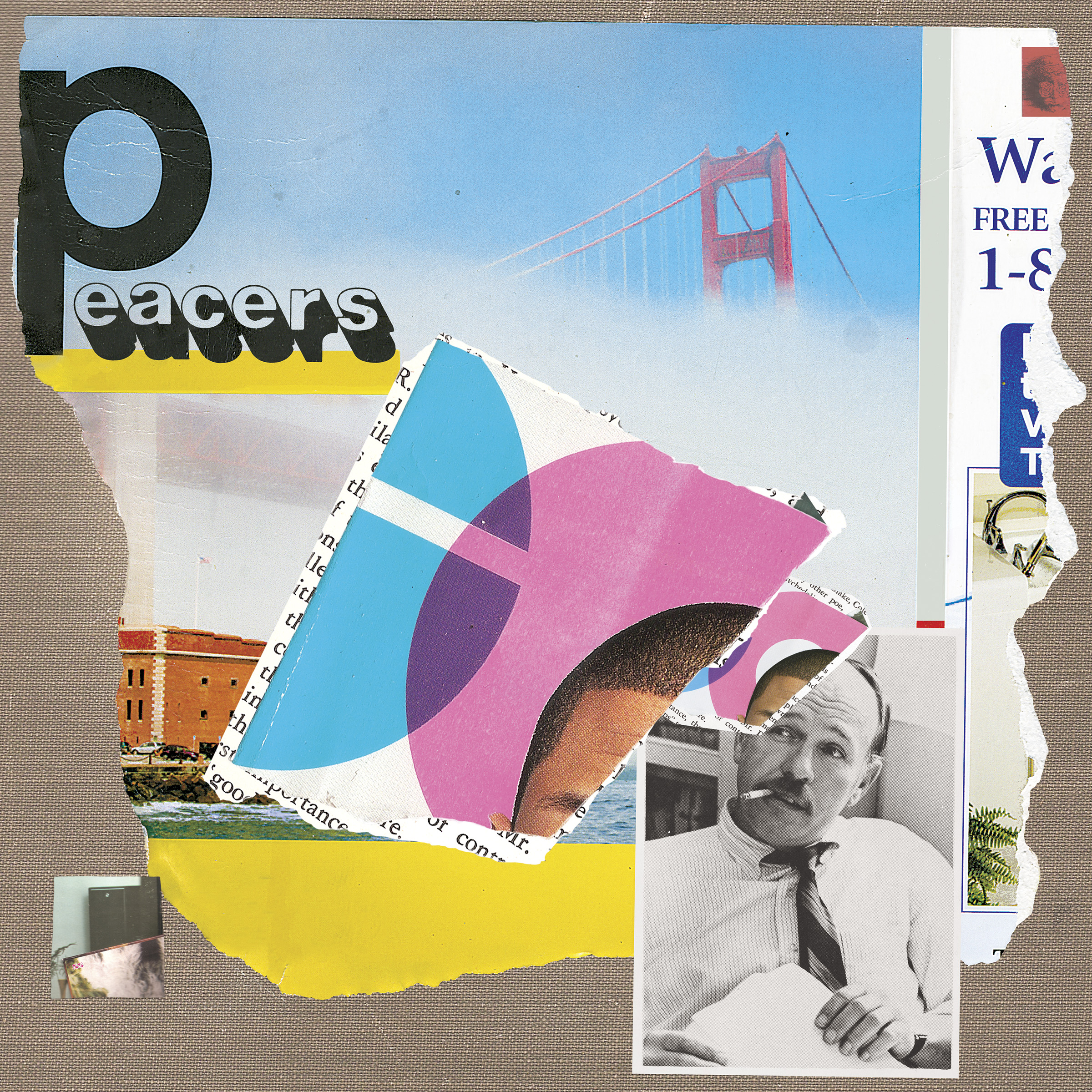 PEACERS BE WITH YOU
Last year's Manipulator LP was memorable and fun for a lot of reasons – but for the moment, we'll confine our interest in it to the cover song included. No, it wasn't Beefheart. Nope, not The Groundhogs. Uh-uh, not the Velvets. It's been done, people! No the song "Who's Producing You" was none other than a Sic Alps song – remember them? Their tune-smithery made so much of the past ten years more than okay, and if the world were ACTUALLY a better place (it isn't), there might be all sorts of cover versions of Sic Alps songs out there, given how classic and poppy they all are in their ramshacked unfinishedness. Of course if that happened, it might be like covers of Ornette tunes where people reharmonize them to be normal – ultimately WRONG. Anyway, we're not actually talking about Sic Alps here, we're talking about that special new band called Peacers – but what both former and latter share is the songwriting of Mike Donovan, whose new outfit carries the mangled flag forward with pride and power. It's been a little while since Sic Alps sank below the horizon, and Mike had a solo album out in between, but now the onslaught is back - that constant dethreading of the constant carpet unrolling beneath your bare feet that is the sound Mike Donovan lives in, mole-like, beneath the city, turning out mini- and minor gems, in his rent- controlled sewer. It's coooolll. The grime-stained Stonsey shuffle-and-whine is fully intact on all fifteen tracks of the Peacers debut album – with extra attention paid to the whispery details perched atop a nice solid thump courtesy of the presence of ol' Ty Segall behind the kit, at the bass and on the mixing desk, bringing super-sympathetic producery to the proceedings, just like he did last year for that awesome White Fence record. Hot stuff! If you haven't heard the song we've slipped out there already, run to "R.J.D. (Salam)" to get your taste! Peacers are gigging down in the Bay area over the summer and playing some other Cali coast action, but they'll be breaking out, bad and nationwide, this fall! Look for the self-titled album on July 17th, on LP/CD and cassette tape.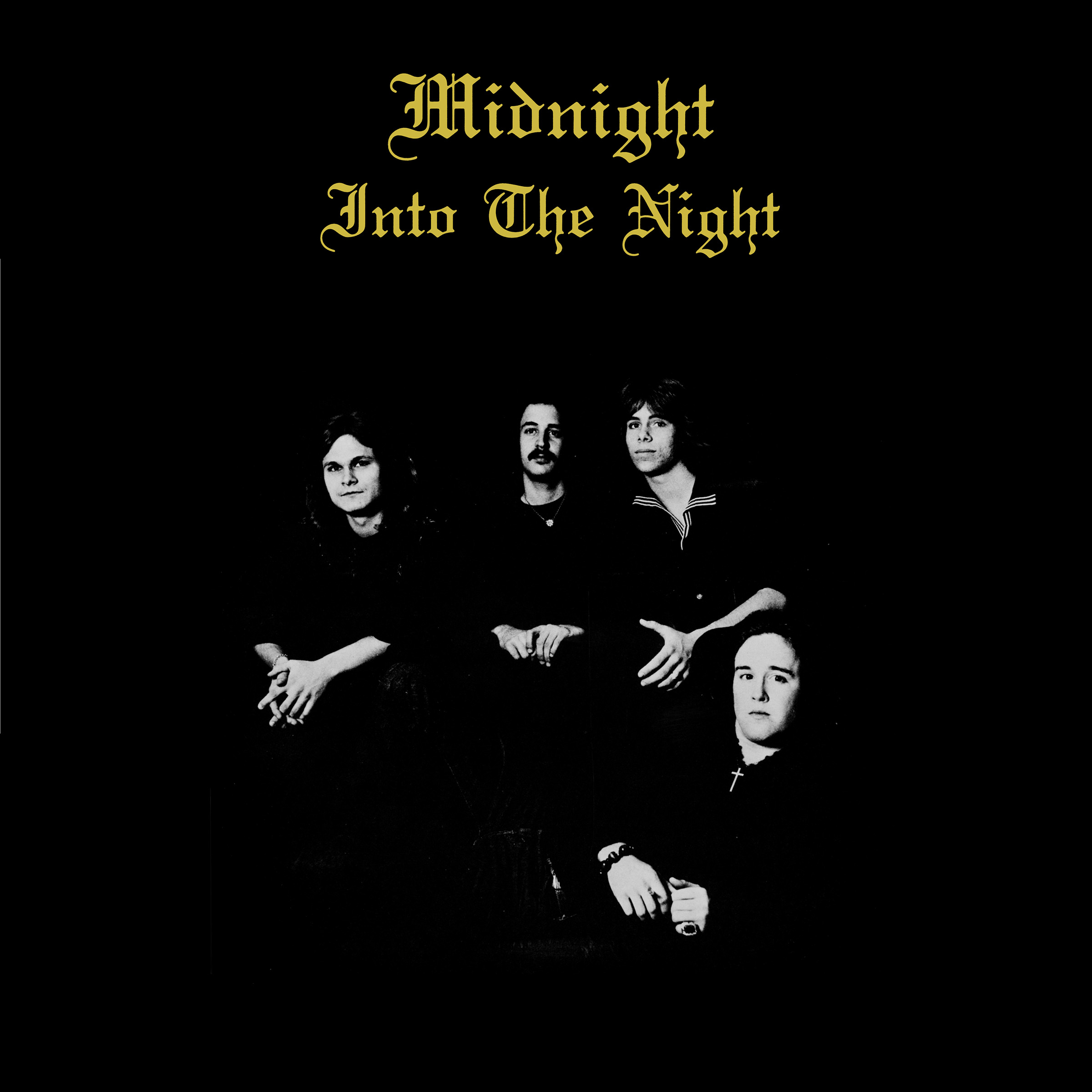 MIDNIGHT'S ALRIGHT FOR ROCKING
Also coming in July from those retrophiles at Galactic Zoo Disk (how we love 'em!) is a recall from the used-to-be back here in our own own hometown. Of course, back in '77, we hadn't heard of these fellows – they were situated down on the southside, and that was a ways to go for a bunch of kids in short pants (we still wear them today, though we're now permitted to travel much further)! Once Midnight got their rock and roll, uh, rockin' and rollin', they played up on the north side too – at the Aragon Ballroom once even! – as well as lots of gigs in the south suburbs. Their style of hard rock, while rough-hewn, was enough to ensure a warm reception from the crowds of somewhat-older-than-us youth rocking and rolling around in those times. Their sound evolved out of a teenaged love of the teenaged strong stuff – Uriah Heep, James Gang and Black Sabbath, natch! – but their own youthful enthusiasms allowed them to come on in a rawer fashion than even they were aware of, at time resembling the unhinged sound of their relatively-unknown contemporaries, Pentagram! Five years or so of trying amounted to a buncha shows, some lost recordings and this found one: Into the Night makes the jump from self-released to Drag City/GZD released after a mere 38 years on July 17th, 2015!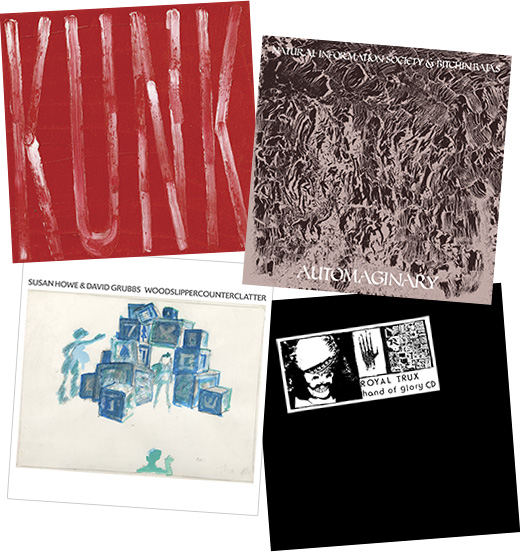 UNPROTECTED SEXTILIS
August! The most distinguished month! A time of triumph! The legends of the Spring all occur in that great and terrible month. Of course, in the Central Valley of embattled California, the greenery looks as if it has ALREADY survived a scrape with August (and that just barely) though it hasn't actually flexed its formidable muscles on us yet. In so many ways, it is so far from today, here in the relative youth of June – and perhaps there it needs to stay. So why invoke it? Because we're putting out a MINDFUCK in four parts come August, and you just might need to prepare yourself in order to stay safe, that's why! Then again, you can just do what you ALWAYS do, and live dangerously - so if the hottest month in memory isn't enough (and oh it will be), why not compound the burn, the stifle, the swass and the resultant STINK with records from Dope Body,Bitchin Bajas & Natural Information Society, Royal Trux and David Grubbs & Susan Howe! Dope Body are bouncing back in a hurry from last year's LIFER with the all-new (recorded at the same time as LIFER) record of spontaneous rock, Kunk. Bitchin Bajas have teamed up with Natural Information Society to create an album's worth of shared space, Automaginary, in which the strengths and secret desires of both bands are revealed! Royal Trux broke up years ago, dummy – and even though they've got a show happening within just a few days of our August 28th street date, they haven't gone and made a new record just for the occasion. Although…we shouldn't put it past them! This release, however, is a reissue of Hand of Glory,which in itself was a year 2000 release of vintage material from over a decade earlier – which makes it 25ish years old today. And that does nothing to mediate the weirdness of the two pieces on Hand of Glory! Finally, on Blue Chopsticks, David Grubbs & Susan Howe use her spoken-word poetry as a stepping-off point for aural adventures. As has been established over three previous collaborations dating back to 2005, Susan's unique reading style provides the key that helps David unlock the door using his idiosyncratic instrumental approaches. And so that's what it'll look like in shops around the nations, come 8/28/15 – if you're not dehydrated now, you will be come late Sextilis!
O MY GOD!!!!
What lies beyond? Only something that'll invoke words of wonder from you – exclamations, even! Why stay in this God-forsaken business otherwise? Only time will tell. Or us - we'll tell. But not this time! Maybe next time...
Keep your ear to the steel rail,
Rian Murphy
Drag City Inc
June 2015