VETERANS OF DISORDER
Times are tough, they say! So they are – and so have they always been! But not for us. In a world poleaxed by cultural divides, class struggles, partisan opinions, the poverty gap, mind-bogglingly violent expressions and (continued) governmental indifference to actual change, we utilize the systems at hand to deal in the propagation of….music! Yeah, and even though there are at least a dozen ways to make it divisive right off the bat (et tu, Spotify?), music is in its essence a thing that exists to soothe and inspire, to distract and amuse; a thing to make you dance, a thing you sing. Plus, it will open doors for you to find your unique individuality, your un-secret bad-assery, your visionary abilities and your excellent (or at least copacetic) taste. Where are the words here that make it any less than an absolute delight for us to be engaged in such an enterprise? There aren't any, and the fact that we've been trafficking in this shit for over twenty-five years means that we might be among the richest people in the world (our accountant say you a lie! – the literalist ed. that could)! Sure, being Drag City is a job of work, and ALL the answers aren't yes – but some of them are Ys, or School of the Flower, Eureka, Dream River, "All Most Heaven", God Is Good, The Spectrum Between, Further, Joya, and hundreds of other less-ecstatic-but-still-classic titles! At the very least, we've found it to be scientifically true that music'll get you through bad times better than bad times'll get you through times of no music! Take it from us – we've been there, down both sides of the street and around the block. And we're still collaborating with amazingly talented people who have something new and different to offer. Their stories are as follows.

THE NATURAL BRIDGE
Among the new and different this month is a record that dares to have the Roman numeral II in its title! OutRAGEous - a new record that calls itself the second of its kind? Not only outrageous, but also TRUE, thanks to the bottomless ingenuity of Ben "Six Organs of Admittance" Chasny. Since the dead-end days of the late 90s (when rock and roll finally died - thanks, Thrill Jockey! – post-rock ax-grinding-dept. ed.), Ben has been hard at work burning his path into and through the verdant green musical pastures where the traditions of centuries come to explode into flame and fly from their own ashes with a phoenix-like swoop of talons and gills! Along the way, Ben's been taken for a low-fi'er, a freak folker, a doom rocker, a guitar shredder, an occultist and more – when the actuality has of course always been greater than the sum of all these parts! In the past year, we've bent your ear repeatedly with word of his latest venture – a musical system drawing on chance operations that manages to work within the long tradition of such systemic thinking, while also exploring the territory in new ways – and with a pack of simple playing cards, to boot! The Hexadic System was unveiled back in February, with the release of the Hexadic album, which found Ben riffin' on compositions he'd assembled using this new approach. Then in April, he issued a bunch more riffing in the pages of The Hexadic System, a manual and tutorial on how to think in this crazy way. Following tours of Europe and the US, Six Organs was deployed before the microphones again, to create an acoustic exploration of not only the same system, but the same compositions made by that system! And because it's such an open system with such great spaces in it for creativity, the songs on Hexadic II are played in entirely separate arrangements than the heavy-electric setting of Hexadic. The acoustic Hexadic material manages to connect even more powerfully with the ancient thought behind this enterprise – and it also allows Ben to play in the open fields of acoustic music, where some of the most inspiring Six Organs of Admittance music has been created over the years! Hexadic II is now available in LP and cassette formats for sonic seekers and neo-folkies alike.

TWINS
This final date of the year for Drag City is a funny one, with not only Six Organs of Admittance but The Silence as well coming back with a second whole record of all-new material in 2015! And just like the 600A effort, Hark the Silence drives ever-deeper into the mystery and majesty of the essence of The Silence – to head-quaking effect! After their self-titled debut, we were left with the impression that The Silence were a neo-psych outfit with chop-tastic abilities and excellent taste in covers material (Patty Waters, Can). Hark the Silence disabuses us of NONE of these impressions – but over the course of nine songs reaching towards the heavens spread over four sides, it stretches our perception of not simply The Silence, but just about EVERYTHING in the process! Songs are composed with extended jamming in the best, most structured sense of the word, and heavy in the most heavily-attenuated way, with touches of keyboards, reeds and woodwinds, percussion and loads of guitars stepping forward to carry the flame forward through the maze that The Silence have laid out for themselves (and us!) to wander. This is psych-folk-prog at its most beguiling. Why are we thrilled, but not necessarily surprised? Because it's Batoh, that's why! Masaki Batoh has been making intensely focused trippy music for years now, over eight epic Ghost albums and a couple solo releases (like 2012's Brain Pulse Music). His music is some of the best contemporary rock coming out of Japan and anywhere else for that matter – but until The Silence are able to get out and show the world their fearsome power, the records will have to do. Fortunately, Hark the Silence does exactly that – and it's out now on double-LP and CD wherever record stores that stock mind-blowing releases are found!

HYPNOTIC UNDERWORLD
Completing the hat trick for November is a reissue of Nuno Canavarro's timeless Plux Quba LP – back on vinyl for the third time around and the first time in ten years! Sure, we've got some CDs from the Moikai reissue still around – and never mind that they represent the one and only digital version of Plux Quba, who gives a hang about CDs anymore, right? Plus, Plux Quba is clearly a two-sided excursion meant to be flipped as it simultaneously flips out the listener. Released back in 1988 with little fanfare of explanation, Plux Quba managed to flip out a select number of European weirdos (and their friends), who, VU-style, all went out and made insane electro-acoustic records of their own over the course of the 90s and aughts and influenced the living SHIT into everyone! Jim O'Rourke himself had been plenty affected by the ambient concrete vibe back in '91, which is why he made sure to reissue it when he got a chance later in the decade. Now we're reissuing the reissue, making it available as it should always be! Nuno Canavarro's music is just the right size to fit into open ears, no matter what decade (or century!) it is. Get Plux Quba and you'll see (and hear) for yourself.

PUSH COMES TO LOVE
Hat trick +1, y'all! Also available in November through direct arrangement only (this means either through mailorder or via one of our direct stores) comes the greatest hits of The Blue Jean Committee, on one specially-etched 12"EP! The sound of '74 is back, and it feels so good! As viewers of Documentary Now! know, the story of The Blue Jean Committee is not a happy one – but music that makes you happy doesn't have to come from happy people! In the case of the BJC, a combination of opportunism, greed, homesickness and vegetarianism made their path through the rock and roll cosmos a brief one – but one that brought sweetness and light to all who witnessed it. Now, Fred Armisen and Drag City Records take great pleasure in bringing the gentle and soft sounds back to modern ears. Run to the record shop and grab hold of "Catalina Breeze" before all the copies blow away!

AN OPTIMIST NOTES THE DUSK
So that's November…and though it seems that we don't even have to talk about what happened in October, it also has this funny way of seeming like a really long time ago – and so, Joanna Newsom! Divers marked her return to record-making after a big five-year stretch following Have One On Me in early 2010. Still, that was an eighteen-song, triple-disc release – can you blame her for taking her time? If your answer is 'yes', then you need to hear Divers. The new Newsom manages to compress years and years of time and life and mortality into an extremely manageable eleven songs and 51 minutes. Manageable, that is, if you're made of STONE! An overwhelming experience in almost every way, Divers is what pop music ought to be in the 21st century (well, like that and the new Missy Elliott – though who's to say they aren't cut from the same cloth?). Such magnificent stuff! Joanna gets heavy thinking about futures and pasts and how it all operates in a circle, but she ultimately keeps the everything of it all (and there's a lot) judiciously balanced and SO sweetly musical. We may never know all the words to the songs, but we're just as likely to never forget the melodies! Which makes for amusing moments in the shower. Well, even MORE amusing moments in the shower. If you care about where the world is going but haven't gotten hold of Divers, you're busted! If you have got it already, you FAILED – you didn't get two, and Christmas is coming! Fortunately, we've got some more here – on dual-LP, CD and yes, Virginia – cassette.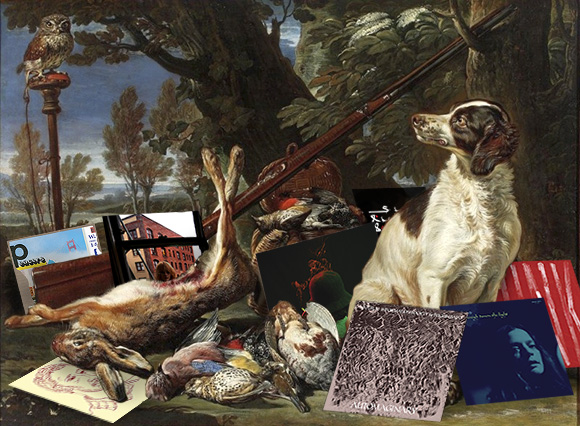 SPOILS
Gadzoom, another year come and almost gone! We can set off to our long winter's rest secure in the knowledge that we wrangled the best we could out of our folks and that they in turn gave us some of the best that music had to offer here in the good old 2015 (it's not too early for 2015 nostalgia, get on board!). We've already referenced the releases from Six Organs of Admittance and The Silence (take your pick!) and of course the just-released Divers from Joanna Newsom. But ding-blast, what about Sir Richard Bishop's Tangier Sessions? Solo acoustic guitar seldom gets more adroit-cum-affecting than on that record. Although Alasdair Roberts' guitar hand on his self-titled album was equally fine in the service of all-original songs-with-singing. On the other end of the spectrum was Dope Body's jamtasm, Kunk – and on the other other end of the spectrum, Bitchin Bajas & Natural Information Society's Automaginary.  And really, if we don't see Jim O'Rourke's Simple Songs on year-end lists, we're…. gonna look for Jessica Pratt's On Your Own Love Again! Or Wand's 1000 Days, Meg Baird's Don't Weight Down the Light, Flying Saucer Attack's Instrumentals 2015 and Peacers' self-titled debut! Plus vintage classics from Frederick Michael St. Jude, Midnight, The Red Krayola, Arnold Dreyblatt, Dawn McCarthy and Royal Trux! Just too much great music to mention – and yet, we managed to up our game and mention ALL of it here.

SINGLES
Well, almost all! Drag City started up back in '89 with a single 45" RPM 7" record and a dream – and we always take great pleasure in throwing as many of those on the schedule as we can (BOTH of 'em!). Here in 2015, they're not the moneymakers that they were way back when (and what is? They don't make record sales the way they used to, brother – can you spare a dime bag?), but fuck it! The singles releases this year all had powerful conceptual underpinnings to them, and if there's anything we like better than a concept album, you guessed it, it's a concept single.Bonnie 'Prince' Billy's "Mindlessness" b/w "Blindnessness" defo fit that bill of lading. We're always deeply suspicious (but otherwise blissfully uniformed) of the dots that connect every Howling Hex release, and the "Butterfly" b/w "Party Shoes" single was no exception. Ditto for Dead Rider, whose thought process is as singularly removed from our perception as their music is confrontationally scintillating at every ear's witness (and for the lucky witnesses of their live shows, eyes too!), with their "New End" b/w "Uncomfy" platter. So gee - only three singles this year, but all winners! Though the nature of the stakes that each are playing for remains unclear.... Twas ever thus, hallelujahtation!

MULTIPLE ATTACKERS
This is to say nothing of the many and varied contributions submitted by our colleagues at Streamline, GOD?, Ethereal Sequence, Sun Ark and Blue Chopsticks. The reissue of OORUTAICHI's Drifting My Folklore is definitely one of the wack-est records of ANY year – though Axis:Sova's Early Surf is a pretty ear-tangling piece of plastic too! And as far as far out goes, the Gazebo Effect opus from S. Araw "Trio" XI takes the every-widening orbit of Sun Araw to new empty places in the universe – which are always our favorite places to go! Back on Earth, Susan Howe & David Grubbs continued their four-albums-and-counting deconstruction of our terran concepts of language with WOODSLIPPERCOUNTERCLATTER, and SK Kakraba brought the earthy sounds of the Kyil over from Ghana and into our electro-static milieu. It wasn't all freakouts though, as The Cairo Gang turned in their best yet, with the pop-studded Goes Missing. Thank you friends – you make it all so much more improbable, which is the BEST way to be, as it turns out.

TOMORROW TOMORROW AND TOMORROW
Twasn't just a year of releasing records – the artists involved in everything we've named above plus a few others managed to make 2015 fun in the flesh as well – which isn't nearly as awful as it it sounds, gang - we're talking about SHOWS, this side of everywhere from north to south! Jessica Pratt was probably the big winner – she played SO MANY shows this year, and she's not even done yet. A second trip to Oz is in the offing in December – sucks to have a record everyone loves, huh Jessica? Get used to it - HA! Alasdair Roberts also played a ton of shows this year – the music is his life, and we know why (because the music is powerful and transformative). He just played on all of Joanna Newsom's UK and European dates after playing his own European tour there prior. Nice one Ali! Elisa Ambrogio did a bunch of gigs too – she's just coming off the road after a month with Peacers on THEIR maiden voyage – all great stuff! Ben Chasny held talks on his Hexadic System and played some music in select towns, which we hope to see more of in the year to come. Laetitia Sadier made it over to the US for the first time since 2011 and the shows were fantastic, everyone agreed! Wand are finishing up their 1000 Days tour, which all reports indicate had been going good and weird. But weirdest of all this year may have been the Royal Trux reunion - and we know, because we heard and saw it with our own eyes and ears! In December, they come to NYC after their Berserktown bow in August, and all we can say to that is yeah, yeah, YEAH! 

IF YOU CAN'T BEAT 'EM, BITE 'EM
If you were Ty Segall and it was 2015 (it still is; you're still not) perhaps you'd be tired of kicking the world's ass by now, mm? Maybe also discouraged by hearing people describe you as primarily prolific, when you felt that this was only an incidental and ancillary aspect of your musical contribution? But that's (just one of a diversity of reasons) why you're NOT Ty Segall! He won't let himself get down while there's more music to do - for music is a universe of possibilities that only continues to expand, and even black holes are just another part of the trip out there! Thus, the cosmos breathes again in January with the arrival of first new Ty Segall album since the halcyon summer of 2014 (do you remember?). Emotional Mugger comes on with a brimmin' brain-ful of plenty to think and talk and act about, and of course, a ton of supa-gnar music and tunes too, all to separate the man-kids from the baby-men. And it will....in January!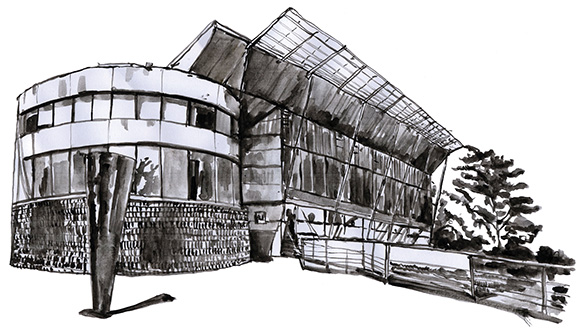 PURE MOODS
Also in January, a new album from High Llamas for the first time in AGES! Though maybe after a year that saw new music from several artists who hadn't made new albums in anywhere from five to fifteen years (!), the four-plus years between Talahomi Way and the new Here Come The Rattling Trees don't seem all THAT long. Plus, there's the making-it-worth-the-wait-factor, as Here Come the Rattling Trees is in the classic spirit and image of of British concept-rockers like Arthur and Odyssey and Oracle, wherein the quiet hopes of the everyday people are confronted with the small tragedies that change brings to all our lives – but done with the High Llamas expert sense of musical mood and subtle color -- and you know that can't be bad, yeah? Yeah, yeah. Plus! Sean O'Hagan had to first stage the piece as live-theater-with-music before recording the material for release. Just one of the things you do for love (of art)! Now's the time – or rather, THEN's the time. Here comes 2016: another big year for Drag City, and by extension, youse!
See you there –
Rian Murphy
Drag City Inc
November 2015