ROCKARRHEA!
Summer breaks, and back to the world. Frankly, we can't wait to get out of the so-called blockbuster season! We're quite fond of dropping a life-changer in the dead of July (like, oh, say, White Fence's For the Recently Found Innocent back in July 2014, OM's Advaitic Songs in July 2012, Andy Kaufman's Andy and His Grandmother in July '13 and the Red Hash reissue from Gary Higgins way on back in July '05 - or what about Ty Segall's Manipulator in August 2014, Six Organs of Admittance's Ascent in August 2013 - remember?); simply put, a great time to prove there isn't just one season or just one day (or maybe....two?) per year to sell records, the way that some patently ridiculous people hanging around might have you think. (Always ask: what's in it for them?) ANYway, this year's hot season turned out to be stone cold for releasable records on the otherwise sunny Drag City side of the street - we had but one (the hot all-on-its-lonesome Born of the Sun from Faun Fables). Did we panic? Not for too many long nights - we'd gotten word from a truly inordinate number of our brain trust that good albums were on their way. So are we surprised now that we've got so much AWESOME on the vine for this harvest season? Hell yeah! Nine albums on the docket between now and Christ's mess - and all of them of the strictly new-and-amazing variety! Now THAT'S doing the Lord's work. With another six titles already set for January and February of next year, we're inclined to reach for our industrial-sized vat of Imodium - gotta keep the output regular, don'tcha know!
THEIR ROYAL HIGHNESS
News Flash!! On September 24th Royal Trux are playing at the all day-long Helter Swelter fest at the Ace of Cups in (seemingly unkillable) Columbus, Ohio!  Just like their other four reunion gigs (three of which even happened), this is a once-in-a-lifetime opportunity to get your ass onto the honky tonk hardwood floor and see the splendor of Neil and Jennifer defying the ravages of their melted-candle generation just as they defied their very own gently-toasted youth back in the day! It's all so very well preserved! Travel to C....caughk! - uhh, Columbus, and see and hear for y'own damn selves.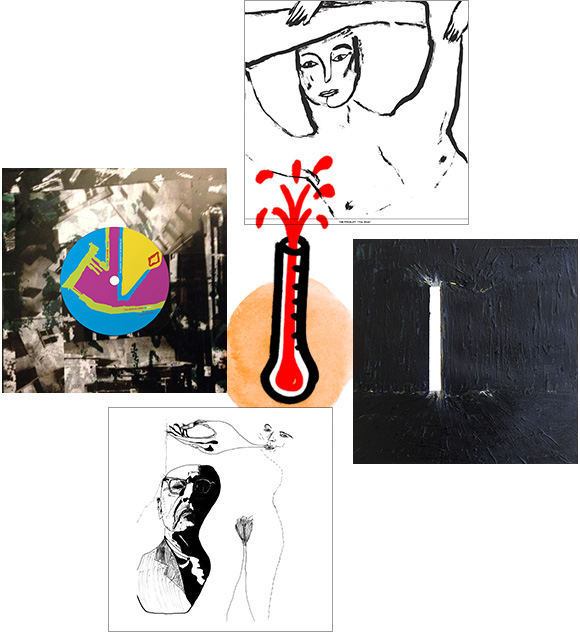 SEPTEMPERATURE RISING
Dateline: summer's almost gone! It's almost gone. We had some good times. But now they're gone. The winter's coming on. Where will we be, when summer's gone? Shit, like yer present author just finished telling you, we got this! To wit: your psycho-emotional heat and light covered for the next six months at least with our parade of new gear, kicking off (through the back of the end zone, natch) in a stellar Septremendous blast! So check it out, here we go: like we wuz saying, White Fence revolutionized July two years back (and counting) with their indelible For the Recently Found Innocent - a record of songs and sounds (and feelings) that just keeps on paying off all these endless, hopeless months later! Might be cool to have a new White Fence record in Supetember, yeah? Nah, nix - we've got something better for you: a pure, uncut Tim Presley solo album! The wizard of White Fence himself, with the cord drawn and his emerald curtains pulled back to reveal...an utter monster! Wild-eyed, astonishing and pale in the light of the day, skinny-jeaned pockets busting out with addictive, subversive, hot and cold tunes expressing the truth in his very (hot and cold) marrow with breathless, throat-choked aplomb! Yes, that's EXACTLY the kind of capsule review of The WiNK that we've come to find money can't EVEN buy. Truth be told, if you've heard Tim's new pop truth in the preview tracks "Clue," and "Long Bow", it's simply Tip Of the Iceberg time for you, because you ain't seen/heard nothin' yet (WHAT. - get-over-it ed.)! Yes, the rest of the album exists in, and will therefore plunge you into, the icy depths below, where only creatures with radically-attenuated metabolisms will survive! It's a magical, savage water that Tim Presley's been swimming in, rife with ice sharks of a crystal blue persuasion - but good news gang, here comes the sun and the iceberg's melting! Yeah, FUCK the iceberg! With Cate Le Bon at the wheel of the production cart and the jungle-drumming of Stella Mogzawa falling about our ears, The WiNK is a wildlife adventure in the kind of bizarro-world that only Tim Presley can conjure. Now that he has, it's actually hard for us to find our way out....so join us here at your own risk, and your earliest convenience!
Dateline: 1977. The paths of glory and shame that twine into the stuff of history are about to be subtly corrupted for the next several generations at least, for this is the well and truly the hallowed year that marks the dawning of ....The Mekons! And nothing else of great significance. It begins! Cut to: 1985, as the first sign of phase two Mekons appears in the form of Fear and Whiskey. Curiously unpredictable and marvelously inspiring! Then 1992: a tape arrives at Drag City HQ (a PO box on the (then-) poor side of town) containing the song "For the Mekons et al". The band singing is Palace Brothers - sign 'em up, fools! And they are singing about the righteous path, the path of The Mekons! Rest of the 90s: many more albums! Good ones! Millennium? Same things. Cut to 2016: The Mekons are still alive (and how! Have you heard the just-released Existentialism?), and so is the love, which includes the unexpected appearance of the Fanatic VoyageLP/CS from a lunatic fringe calling themselves Chivalrous Amoekons! WOW. Renditions of Mekons songs dating from the 80s, 90s and new century, even! It's fitting, because the state of the public mind that The Mekons have been agitating for all this time is now more necessary than ever! Have you looked at the papers? Us neither! What papers? Please. Chivalrous Amoekons are convened by Bonnie 'Prince' Billy, and include Angel Olsen, Emmett Kelly, Danny Kiely, Van Campbell and Ben Boye. They're armed only with an armful of Mekons originals and the heart and soul required to play them! And that's a lot. With the roots of rock bursting from their lungs and through their foreheads, horn-style, these kids play the HELL out of them songs, giving the hell to us to do something constructive with after they're done. Another HUGE debt paid forward, and with eminently pleasing musical properties! A fortuitous thing, then, that proceeds from this record will be donated to Roots of Music in New Orleans, a charity designed to empower youth with music education, academic support and mentorship in the name of the unique music and culture they've got down there - which we can say in more than one context may have given us everything to begin with already? Let the circle keep rolling forward, with Chivalrous Amoekons' Fanatic Voyage.
Dateline: the moment after the next one! That's where the heart and mind of Neil Michael Hagerty is persistently focused, with laser-intensity, perfect recall and a classic cynical shrug. His music and the music of The Howling Hex are emulating that ever-approaching future, with speculative sounds (The New Border Sound, to be precise) built out of bits of the now-defunct rock and roll machine, hot wired to self-destruct upon dispensing their message! Since 2003, The Howling Hex have used a variety of delivery systems, including LP, CD, DVD, CS and the odd 10" or 7" release to mix things up even further. That's where we are today - even further, with the second mega-limited Howling Hex 7" single in the past two years, this one a fully-loaded two-sided opus called "Full Moon In Gemini". DIG, as Neil and the Hex push their New Border Sound into something new entirely, with jams, mini-tunes, chants, solii, and even melody, all rolling together and masquerading as a single song. That's the sound of "Full Moon in Gemini". This 7" is on sale now - point and click, but don't blink or you'll blow it!
Dateline: your very core. Sure, it has a date - ever heard of eternity? Anyway - yes, we like out-music - what, you weren't reading the preceding descriptii? Out-music, otherwise how we will ever be free (now that we've worn out all our ELO records again? - Lynne-ch the ed.)? So we ride on our wheels of tomorrow, made comforting by mere dint of having rolled over the grounds of evermore as well, with the combined grass and dirt and crap of the ages all rolled up in their treads! The freaks at Sun Ark understand this path too, getting at the future by winging the boomerang backwards; we've got several Sun Araw records, a Celebrate Music Synthesizer Group album and another from S.K. Kakraba to prove it! Adding to the peace and chaos is a new Sun Ark record from Rob Magill, The Owl and the Pussycat. Rob's a deep-voyager, painter and multi-instrumentalist, with the better part of 50 records available on his Weird Cry online imprint. Sun Ark felt they had to get involved and bring it to the real and corporeal world when they laid ears on and then into the sounds of Rob's reed drones giving way to spoken-word tripitude. That's both sides of the platter, folks! Thus came to us in a dream-state The Owl and The Pussycat. Customers who mailorder this LP will get the special bonus of additional music 'n art in your new favorite old format, the cassette - so order today!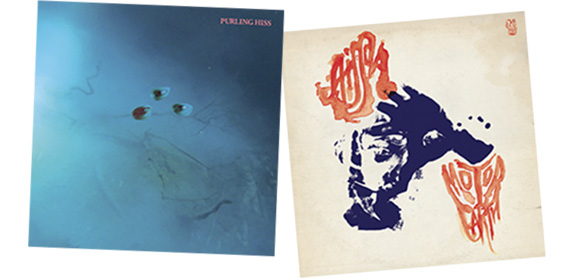 OCTOBEROCTOBEROCKTOBER (WE GET IT! - no-pun ed.)
Yeah, in October - MORE! But more of the same? Naw. September was all about a variety of approaches with nothing in common beyond them turning us ON. This October, the releases embody a state of being that we humbly describe as being all about the rock. When one of the releases is Purling Hiss, what do you expect, man? We've been working with Purling Hiss for the past few years, but they've been exploding our minds since 2009 with full-volume guitar levels and an exceptional hand at the songwriting, which when the ear-splitting slam has faded, stays and plays in your mind as you go about your day. Water On Mars had the two aspects in spades - a thick, but mobile production sound and a bag of licks to kill for. Weirdon recalled some of the no-fi approaches of Public Service Announcement with more sweet tunes - but with the new High Bias, the killer combo is in full delightvestating effect. Preview tunes "Fever" and "3000 AD" have already shown the activity and the range of High Bias, but what can the LP add to this impression? Moar activity and MOAR range - the deeper-you-go-the-higher-you-fly type of activity and range! #1 Hissman in Heaven Mike Polizze has a new rhythm section that are clearly the most fully-integrated partners he's had yet, catching his emphatic stomp while not losing the subtle sliding about that occurs in all the best Hiss stuff. While we can sense the empowerment that Mike's imbued with, it doesn't stop the Hiss piss from flying or the paranoia from striking deep - and frankly, that's as it's meant to be. 2016 is the most ominous year for our society in a long time, which is pretty insane to say - but Purling Hiss manage to make long-distance connections to fuzzy and freaky 80s memories while also making anthemic their dissent in a fashion we expect to be pumping up the volume around this great global nation of ours. High Bias is a cathartically rock album in a world that doesn't see the need to revolve around such things anymore. Purling Hiss show why that's fucked, and you're gonna be really into it.
Also tipping rockwards is Axis: Sova, with Motor Earth, their second record for the GOD? label over the past two EPIC years. As with the Hiss, there's an urgency with regard to the here of now, but with a desire to propagate certain inalienable rights from years gone by in the present music - in other words, to bring hard-swinging elbows of guitar rock crashing into modern craniums in the eternal quest for the hoop, and supremacy. Last year's Early Surf communicated its terms of estrangement through a sieve of heavy static and solar cross-wind; home-fi Axis: Sova music to communicate the outside-inside dilemmas being faced up in the songs. As the title implies, Motor Earth returns Axis: Sova to our atmosphere, gaining a few foot-pounds of production mass on returning. Axis-man Brett Sova's lyrics are getting closer to the old Earthian ways, but there's still a few x-ray visions to be exorcised yet. This means a more directly-wired sound in general, but with moments of partial equilibrium loss, which make for thrilling listening. Motor Earth rolls with the elemental balance of classic rock, but instead of aiming its guns back at the Earth, points them at the sky, with the rigors of deep space much more inviting than our craggy, stagnant human remove.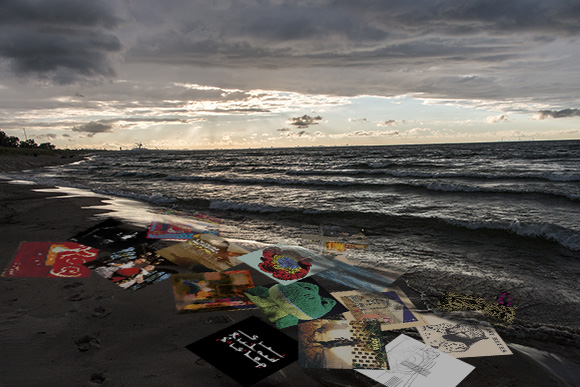 ALL INDIAN SUMMER LONG
New releases....whatever! They were all new once. And now, like butterflies trapped in amber, they are in our catalog....FOREVER. Most of them, anyway - some went out of print awhile ago and we haven't gotten around to getting them back in yet - like King Kong's Me Hungry, for instance! No, we're not saying we have new LPs of Me Hungry (we WISH), but we HAVE spent time and energy bringing back to you the good news on vinyl, as told by Scene Creamers in their one and only album, I Suck On That Emotion. DC p-funk (that's punk-funk, but it sounds more like excellent psychedelic rock) from the empty days following the retirement of the Make Up! Is it possible it's never gotten its due? You won't know until you hear it! And the YouTube link's got nothing on our new pressing, kids! Plus....Royal Trux! Heard of 'em? We only formed the damn label to put them out, numbskulls! Whenever one of their records goes out of print, another star falls out of the skies above Drag City - which is why we've got more LPs of their third and fourth albums, untitled and Cats and Dogs! So you like things that come in twos, do you? What about an early work of Neil Hamburger and a musical work of Neil Hamburger? Raw Hamburger and Sings Country Winners are back at your service! Plus, the glorious chamber pop knee-slapper known as "All Most Heaven", from Rian Murphy & Will Oldham (and a cast of thousands!) And Will Oldham's JOYA! Will Oldham, coming back into print! What's next, "Black Rich Music" (not yet - dry-eyed ed.) And Harmony Korine! You kids like Harmony Korine, right? Well, get in the back of this van and we'll show you what stuff of his we have for you....aww, we're no good at surprises! It's the soundtrack album to his Mister Lonely film, featuring Jason Spaceman and Sun City Girls - and it's a TRIP, even without the movie!  See, these are the things our catalog is just CHOCK flippin' FULL of! We get it - you're lazy, you want someone to tell you what to do. Good! Then buy these records.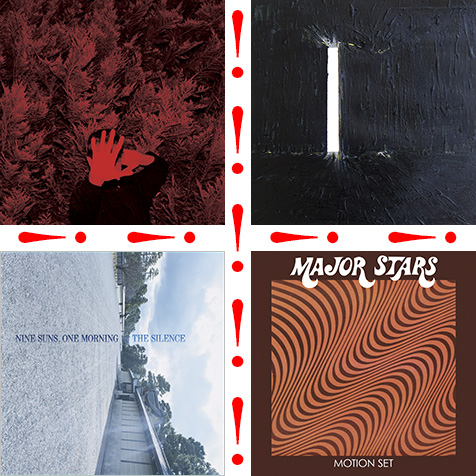 SOMETIMES NOV MEANS YES!
But old stuff - it's not getting any younger, is it? And by now, you've probably heard the news - it's just not gonna quit coming out of Drag City until the year lies spent and panting on the killing floors of history! We've already made it clear with announcements featuring names like Cory Hanson, The Silence, Papa M and Major Stars. And fuck yeah, they all came with music! We're psyched as fuck to share all these records with you - and by share, of course we mean, SELL to you on a one-for-one basis when the designated hour of release is reached. That means November 11th is when you can expect the debut solo album of Wand's Cory Hanson, The Unborn Capitalist From Limbo, featuring Cory in a hall of self-generated (and somewhat slightly broken) mirrors, with pristine acoustic guitars and string-arrangements that can only come from the breezy-but-warm mission-style of the southland. Even more hearts will break than do on this album once it has circulated among the young and restless out there for which it means to provide cautionary and invitational tales. Wandheads are advised to take a double-dose of your reuptake meds and get ready for an enhanced depth of feels - along with the usual coded anti-government propaganda and revolutionary lyric instructions. Some apples don't fall all that far from the tree! Speaking of apples, trees and the teachable aspect of near-fatal head injuries (or something like that), we're amazed to tell you that Papa M is back! The long-awaited follow-up to "Whatever, Mortal" drops hand-in-hand with Cory's album on November 11th, and is its true peer in terms of emotional gravity and conceptual construction. But that's been true of Papa M all the way back in the Live From a Shark Cage days, as a specter of doom roiled above impeccably tilled instrumental landscapes. David Pajo's a craftsman, in addition to being a lunatic, so the music's always pointed forward and therefore away from its component parts - folk and blues, rock and hard rock, the music of all nations - creating a broodingly space-filled meditation chamber of pure new-century sensation. Highway Songs is, as we mentioned, the first Papa M record in over a decade - and we suspect that it's because the types of emotional cataclysm that are so common to the younger set became a bit less frequent in these latter days. Until, that is, the last couple of years, which have been marked with meltdowns, threats to sanity and safety, and finally, incredible bodily harm. Happily, David's back to (almost) standing on his own two feet, spending time with his family and looking forward to the resolve that follows such earthshaking passages. Highway Songs is all about that, and manages to convey the changing moods without almost any words, and in a classically Pajolian manner that now includes the overt ax-work that distinguished his Dead Child phase (after years of being suggested in his Maurice, Slint and M-work). Thrilling, chilling NEW music!
ALSO on November 11th, and also with absolutely no holds barred is Nine Suns, One Morning from the smoking hot barrel (of peace and love) of The Silence! It's their third record in less than two years since they debuted - but how might you know, unless you're one of the scores of truly clued-in heads who've tuned in, turned on and checked out either the self-titled first record or the double-LP (and into the infinite) Hark the Silence? There's no need for shame - just lay hands on Nine Suns, One Morning and you'll be MORE than fine. Given that the records arrive from faraway Japan with only a few words of instruction and direction, we can only assume that part of the reason there have been so many The Silence records so far (don't worry, it's the most compelling part of the reason) is that the incredible music just won't quit with these guys, and why shut off the tap(e) when nothing but gold is pouring forth? The Silence have traveled from acoustic-folk-rock through deep-space and into a prog-infused glam-pop vision with seemingly effortless might and precision. Nine Suns, One Morning recalls the Hark vibes of bottomless jams but applies those vibes to multi-limbed songs, with parts meshing and remeshing in a crystalline, exceptionally stimulating set of progressions. With their rededication to the world of songs, it will not surprise that cover versions of "No Expectations" and "Louie Louie" are mixed into the CD maelstrom (and included on a 7" with the vinyl release), sharing and pushing further the unique energy of The Silence. Come out of Japan and tour for the rest of the world to witness, Silence-kun!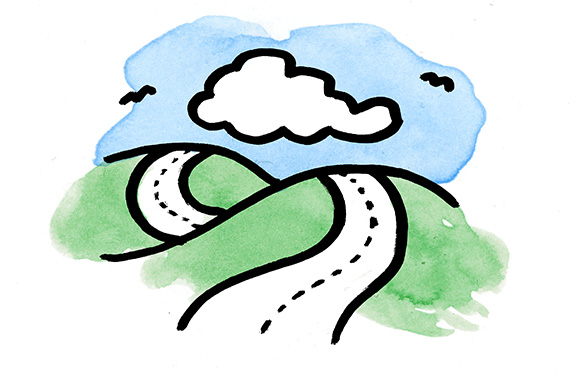 OH FOR THE SHILLS AND FAR AWAY
Sitting around staring at the wall, I mean the computer. 9 to 5 - god bless them checks - sucks! Oh to be sitting around starting at the wall of a van, a dressing room and a club instead! To be orphaned away from our stereo and our friends (and sometimes the refrigerator), with only our phone to guide us, and our precious earbuds. Now that's the life for us! Fortunately, the other side of this life for us has to do with living vicariously through our talented artist friends, with their script-flipping, life-saving yearly musical missives and their travels to such exotic locales as...Portchester, New York! Fargo, North Dakota? Phoenix, Arizona! Oh fuck, we're probably better off staying home. The shithole you know, right? Sure, we'll miss the sweet, stupid punters out there, and their local "delicacies," but that may just have to be left to those beautiful artists of ours out on the road this fall: in America (can you really do "on the road" anywhere else?): Elisa Ambrogio, Neil Michael Hagerty & The Howling Hex, Gary Higgins, Jessica Pratt, Death, Bill Callahan, Purling Hiss, Bitchin Bajas & Bonny Billy, Neil Hamburger, Royal Trux and OM. And Europe: Eiko Ishibashi, Alasdair Roberts, David Grubbs, Death, Wand, Tim Presley and Laetitia Sadier! And don't forget Japan: The Silence and Bitchin Bajas & Bonny Billy! Where we just might have to go in order to properly get our face rearranged by The Silence anytime soon. Don't be like us - don't delay! Get away!
THE NOT-JUST-FOR-PEANUTS GALLERY
Hey tourists! Want some real Chicago action to see? Well, Drag City's not open for gawkin'! But galleries are, and we've got one of our own right next door - The Soccer Club Club, where art shows of many varieties are launched as often as we can get 'em off the ground and into the deep pockets of well-heeled art-lovers everywhere! Why, in the past 12 months alone, we've had installations from Laura Owens and Rita Ackermann, as well as group shows curated by Becca Mann and Kristen Vandeventer. This month, we've got two shows launching - a pop-up installation from Art & Language that just started and only lasts a week, hurry it up! After that, the Galactic Zoo Dossier celebrates 20 years with a display of a number of original pages from the pen of Steve "Plastic Crimewave" Krakow. There's gonna be stuff to see and hear and things to buy, too! And not records man - shit, that's not where the money's at. This art thing might really pay off! Come see what we're talking about at The Soccer Club Club this fall - and on into the future of all things aesthetic. Whew! 
ROYLIN' ON
Once more: Royal Trux! Helter Swelter Fest! Ace of Cups! Columbus Ohio! September 24th! Loads of other bands too! But you know what we think of THAT - or you will, when we SEE YOU THERE -
Have a good evening!
Rian Murphy
Drag City Inc.
September 2016